Caroline Groves continues to unabashedly shape the boundaries of women's bespoke shoes and bags. With 30 years of experience, based in ancient craft of the Cordwainer¹ in England, she is indomitable and undeniably unmatched in her artisan craft. Her namesake label is the result of her love of leather, an eye for beauty, inspirational and respectful of her craft and brilliant interpreter of client desires.
The Art of Craft - a short film about Caroline Groves
Caroline continues to explore shoes with an historical influence that translates into contemporary classics of luxury. She values the right of women to be able to design and wear shoes that define their individuality, emanate luxury and style. Shoes that fit intimately the slender foot or flat arch. Shoes that flatter and are comfortable. Designed to accommodate our desire for art, fashion and what is uniquely 'me'.
Caroline Groves strives to inspire and awe her clients, be true to the craft of cordwainers'. The pleasure created in every step of the process is precious and is there to be shared with her eclectic and passionate international client base.
Note: ¹ Cordwainer - A shoemaker Origin: Old French cordewan, from Spanish cordoban 'from Cordoba' with reference to a soft leather originally produced at this location.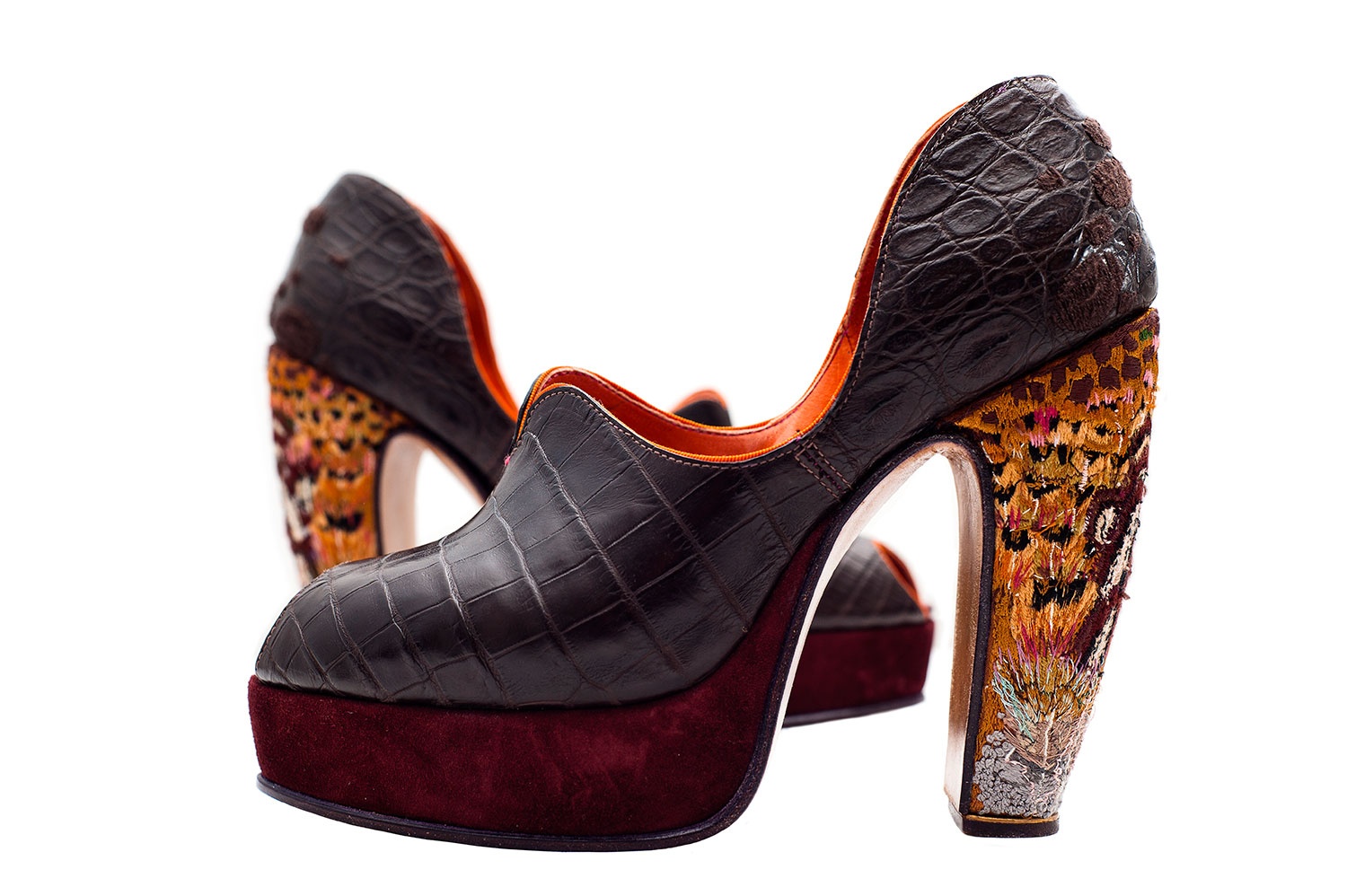 Holbein


The Story
"Caroline Groves is a 'cordwainer' from the fairytale I am going to tell my daughter, in which a young woman seeks out what she has been told is impossible, and in the process discovers an impossibly beautiful pair of high-heeled shoes that fit her foot exactly".  - Nico Kos Earle
This is the story of Caroline Groves. Her creative genius, her love of leather, her pursuit of quality, her shoes are one of a kind. She stands alone.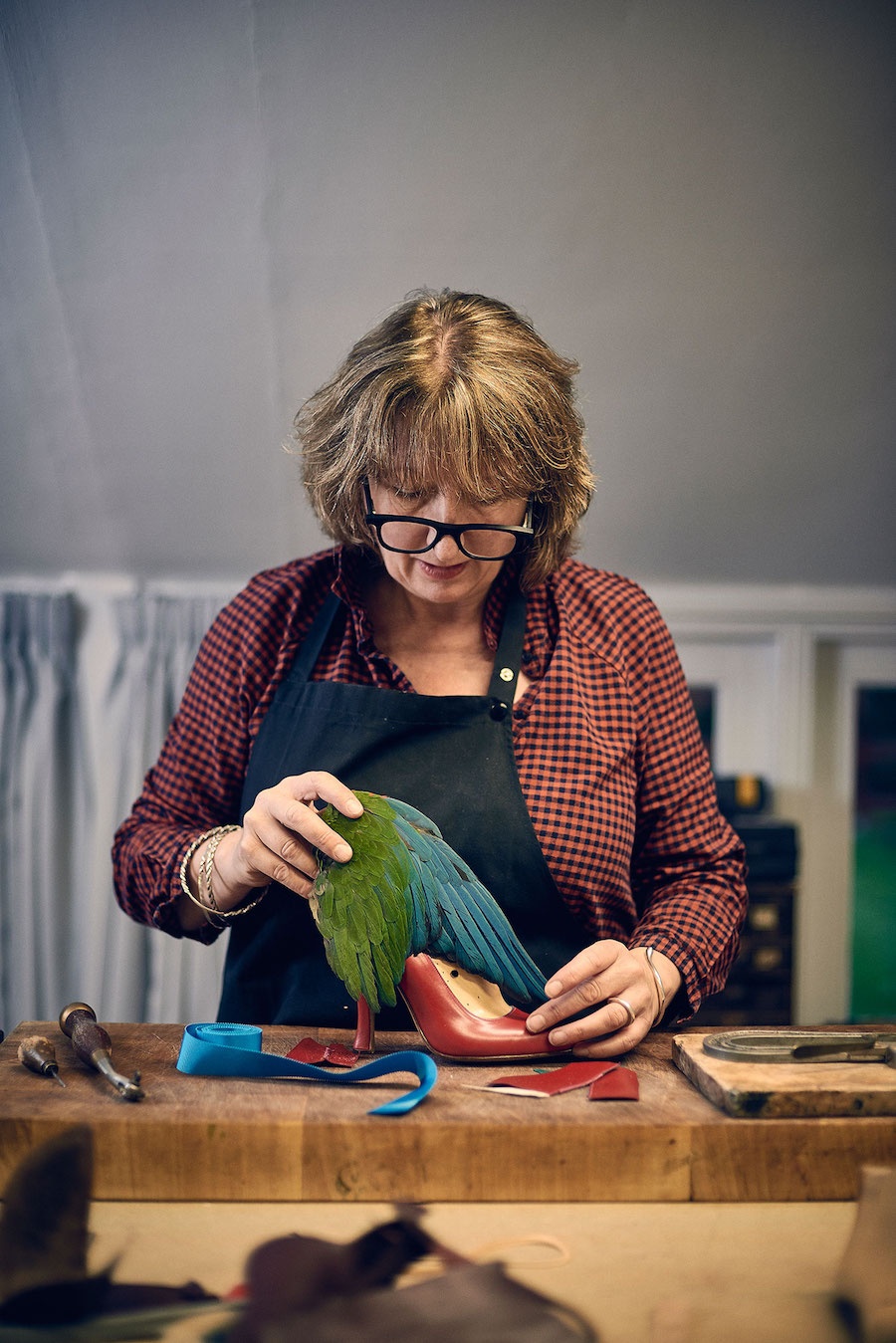 From the roots of the English aesthetic Arts and Crafts movement where her great grandfather, Walter Curtis, a senior cabinet maker working with the influential C.R.Ashbee, her grandmother a talented silversmith & needle woman and her father always seemingly 'locked' in his craft workshop defined in her a natural affinity to all things craft. It is in her blood.
Loving Craft was in Ashbee's blood too. He was an innovator and in 1888 he established a community of craftsmen, the Guild and School of Handicraft in East London with a studio presence in Brook St, Mayfair, London. In 1902 Ashbee moved 150 craftsmen and their families to market town of Chipping Campden in the beautiful Cotswolds. Caroline's family have remained in the Cotswolds and through the generations continued to involve themselves in all things craft.
Stretch & Nail
Loving leather, hand stitching saddlery, creating collages, embroidery, sewing, doing anything creative was a rite of passage for Caroline. It was in 1988 that she started her journey into the art of Cordwaining. Fifteen years in an orthopaedic workshop taught her the intricacies of the foot's anatomy, how to be versatile in design and above all to make comfortable shoes.
Sharp & Cut
Loving art
and beautiful shoes pushed Caroline out of orthopaedics and into her own fashion label in 2003. A journey that has made her shoes to be regarded as pieces of Art as demonstrated in the inclusion of her '
Parakeet
' shoes in the 2015/2016 Victoria & Albert exhibition Pleasure and Plain (now in the global tour of the same name). The sister shoe '
Virtue
' (complete with sold gold fittings) is held in the private collection of Nazim Mustafaev along with a pair of hand carved walnut heel and leather platform shoes with buckle in his Russian Private Collection of 'Shoe Icons' that show case the appreciation of her art and craft. Uniquely exquisite, unmatched craft skills and an unrivalled eye for beauty.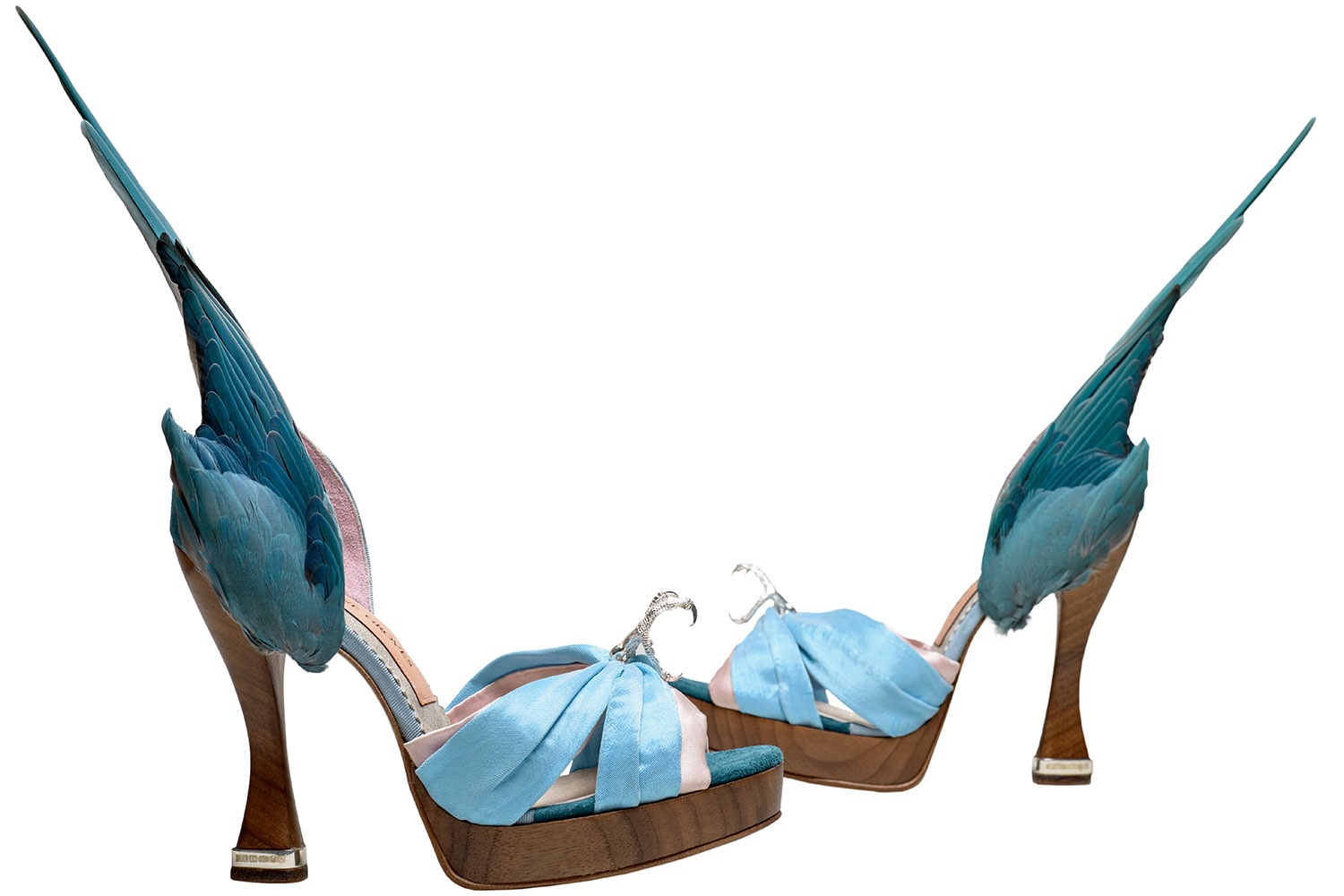 Parakeet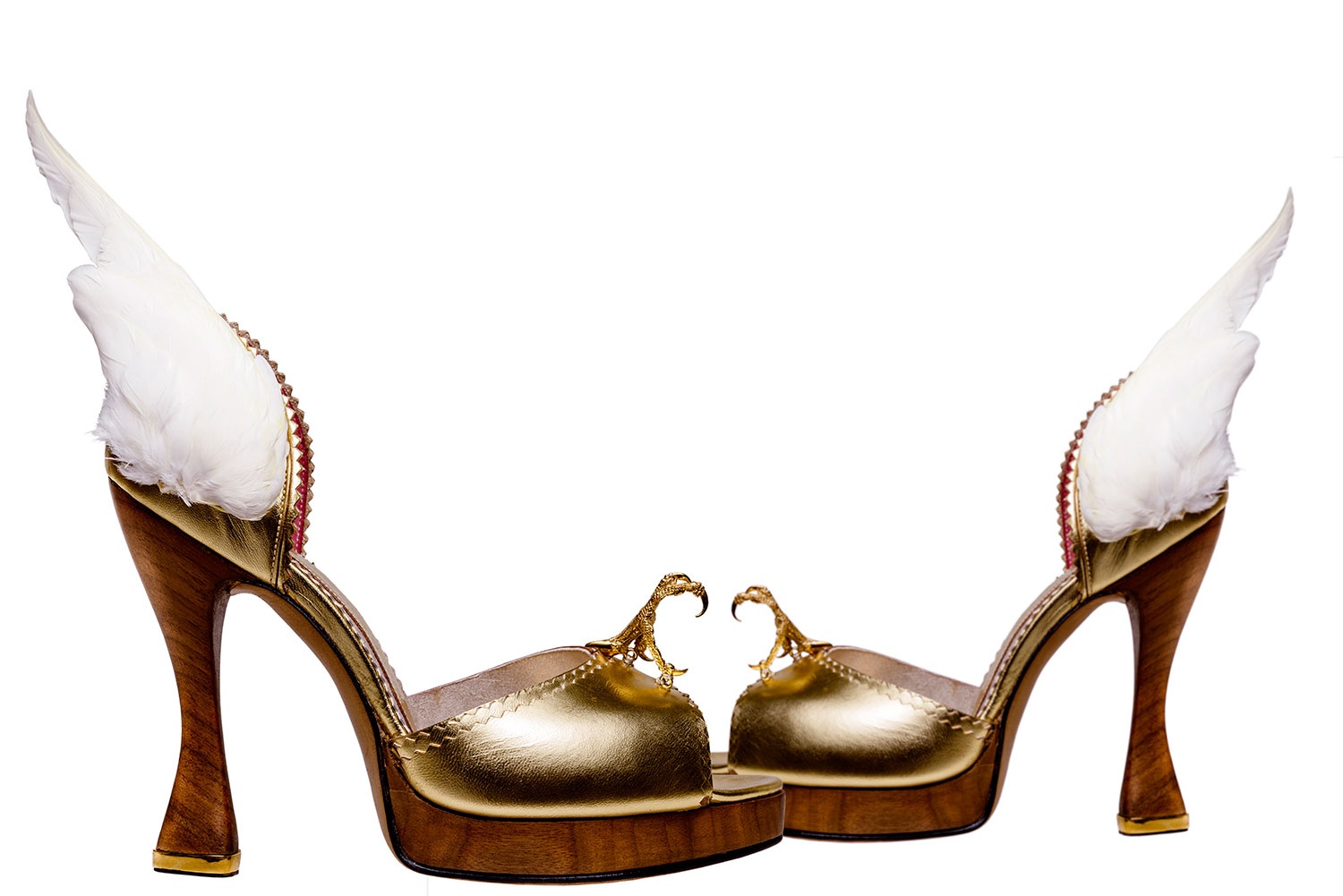 Virtue
Loving Cordwaining
. The City of London is renowned for its history and in particular for its livery and guilds. Caroline is the only female shoemaker in the last 100 years to have been admitted as a Freeman & Liveryman in The Worshipful Company of Cordwainers wearing shoes she designed and made by hand.
Loving the process. Each shoe that Caroline designs is painstakingly made from beginning to end. Oak bark-tanned leather is soaked, mellowed and then wet moulded. Toe puffs for structure and support are cut, soaked, mellowed and skived. There are no shortcuts here. No factory insoles, soles or heels. Her leathers are sourced from the finest artisan tanneries, textiles, embroidery, taxidermy, metals and miniatures are collected. Everything is hand made, no plastics, rarely any glue – just the honed skills of the craft of cordwaining.
Thread & Stitch
Loving the Client
. It is always a pleasure shared when Caroline meets her clients, measures their feet, has Lasts made to their exact dimensions and discusses the designs she has in mind with them. Then she builds up her design from the Last, taking the contours of the foot as a sculptor would work with the veins of marble or a carpenter with the knots in wood. The resulting footwear may include craft skills of; beading, welting, hand embroidery, crochet, lined with silk, laser cut-outs, lace, hand tooling in gold and delivered as the perfect fit for comfort, in design and uniqueness. A luxury beyond anything you thought possible; exquisite, stunning and yours.
The Clients
Caroline's private clients are by nature 'private' and as such. We've asked her to disclose a little about their stories but not the names. Unless of course they are in the public domain as 'A' lister Whoopi Goldberg is.
Client A is an American women living in New York who regards her shoes as Art and as such treats them to the care and display warranted for a Picasso or Monet.
Client B is English, her extensive collection is for her personal use, and she updates her wardrobe regularly with up to 30 – 40 pairs per year.
Client C is Russian and her large collection of shoes and bags follow her instinct of her cultural heritage, which requires collaboration from other artisans for the embossing of leathers, calligraphy and art transfers onto leather.
Whoopi Goldberg is a lover of footwear and her shoes take pride of place in her heart as our current collaboration depicts her life story in shoes.
Client D is an American living in London and loves the Craft, wears the craft and is passionate about its continued rise in popular culture.
Client E loves collaboration: "
Caroline, I don't even know what to say! You are amazing. The time and thought you put into each person and the shoe or boot you are doing - the storytelling involved. The fact that you didn't give up on me when I couldn't decide so I said just pass on illustration... so lets give it a go!
"
Caroline's international clients span the globe with key collectors coming from Hong Kong, South Africa, Russia, Britain, America and Canada. These women are appreciators and collects of Art and Fashion.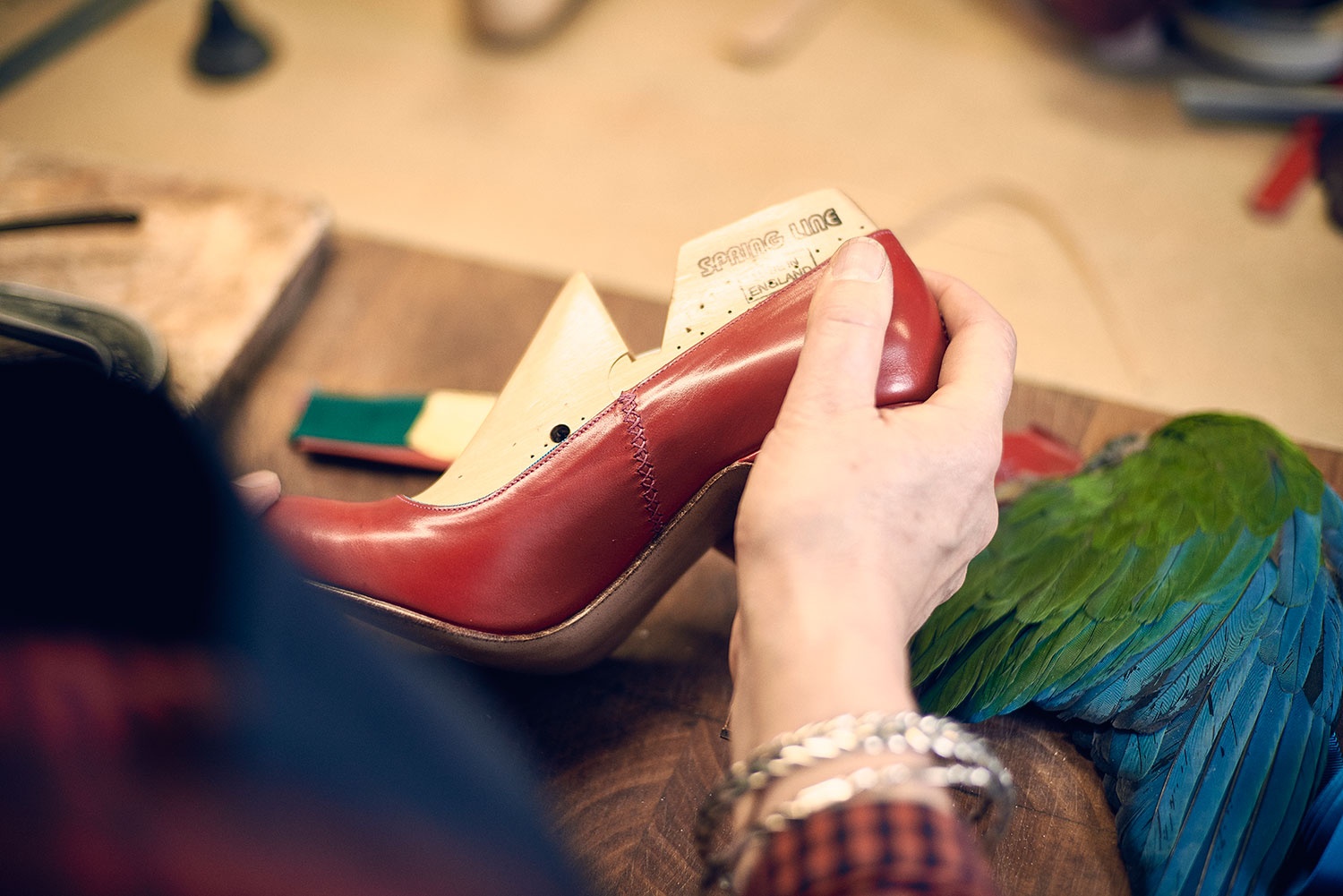 The Collectors: Museums & Private Collections
The Victoria and Albert Museum, London. 2015/2016 Victoria & Albert exhibition Pleasure and Plain (now in the global tour 2017/18 of the same name). Shoe showcased is called 'Parakeet".
'The shoe, 'Virtue' is a gold shoe with white feathers and solid gold fittings and is held in the private collection of Nazim Mustafaev.
'Shoe Icons' is a Russian Private Collection - exclusively made a pair of red leather hand carved walnut heel and platform shoes with buckle named 'Russia'.
Museum of Leather Craft – Northampton, England.
Walsall Leather Museum, England. – as one of 30 contemporary leather workers displaying craft to celebrate the museums 30th anniversary.
Court Barn Museum, England - as one of 10 contemporary craftspeople in their craft exhibition.
Lady Anne Evans has a private collection, which featured in The Guardian Newspaper "Collecting Habits".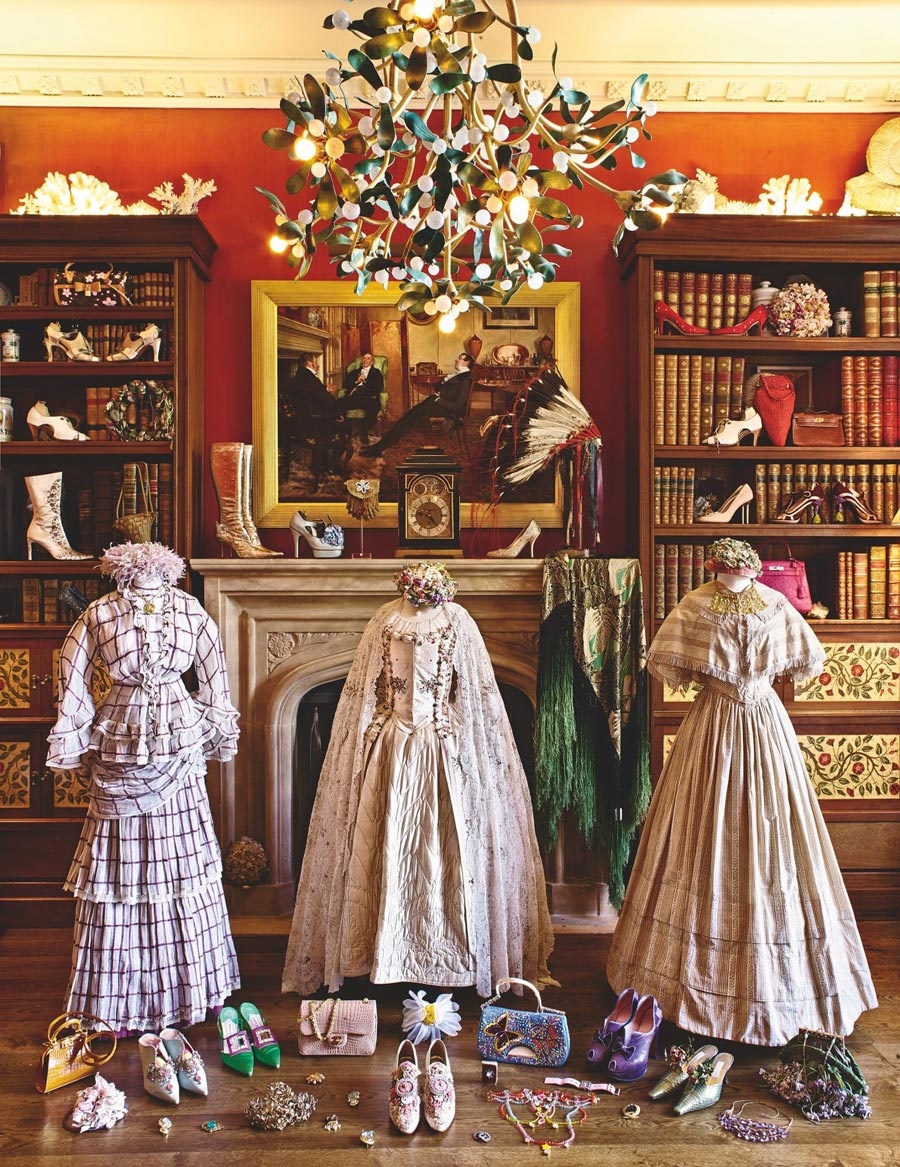 Photo of Lady Anne Evans's collection in Guardian
London Craft Week – a regular exhibitor.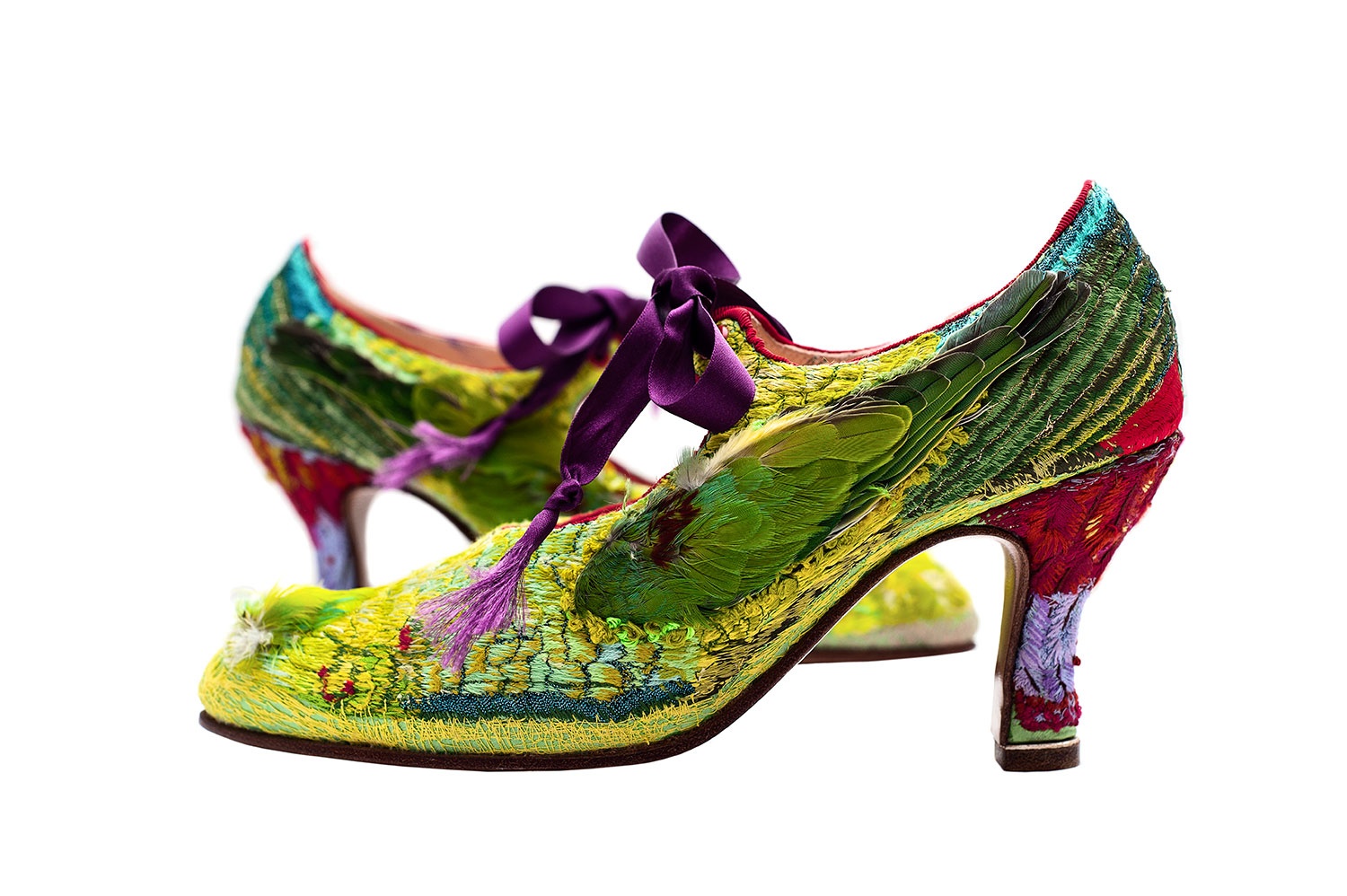 Icarus
*Currently Atelier Groves & Company is raising funds to aid expansion of this beautiful craft. The Offer Document is available upon request.