In a sunny afternoon in May, I visited Takeshi Yasuda at his London home. Located by the canal with fresh breeze, the pleasant living space was full of pottery art made by Yasuda and his wife, Felicity Aylieff, among other potter friends and students' works. The pastry was served on Yasuda's 'Creamware' series plates, fruits on the 'Sancai' ware, and coffee in his more recent work of porcelain cups and saucers made in Jingdezhen.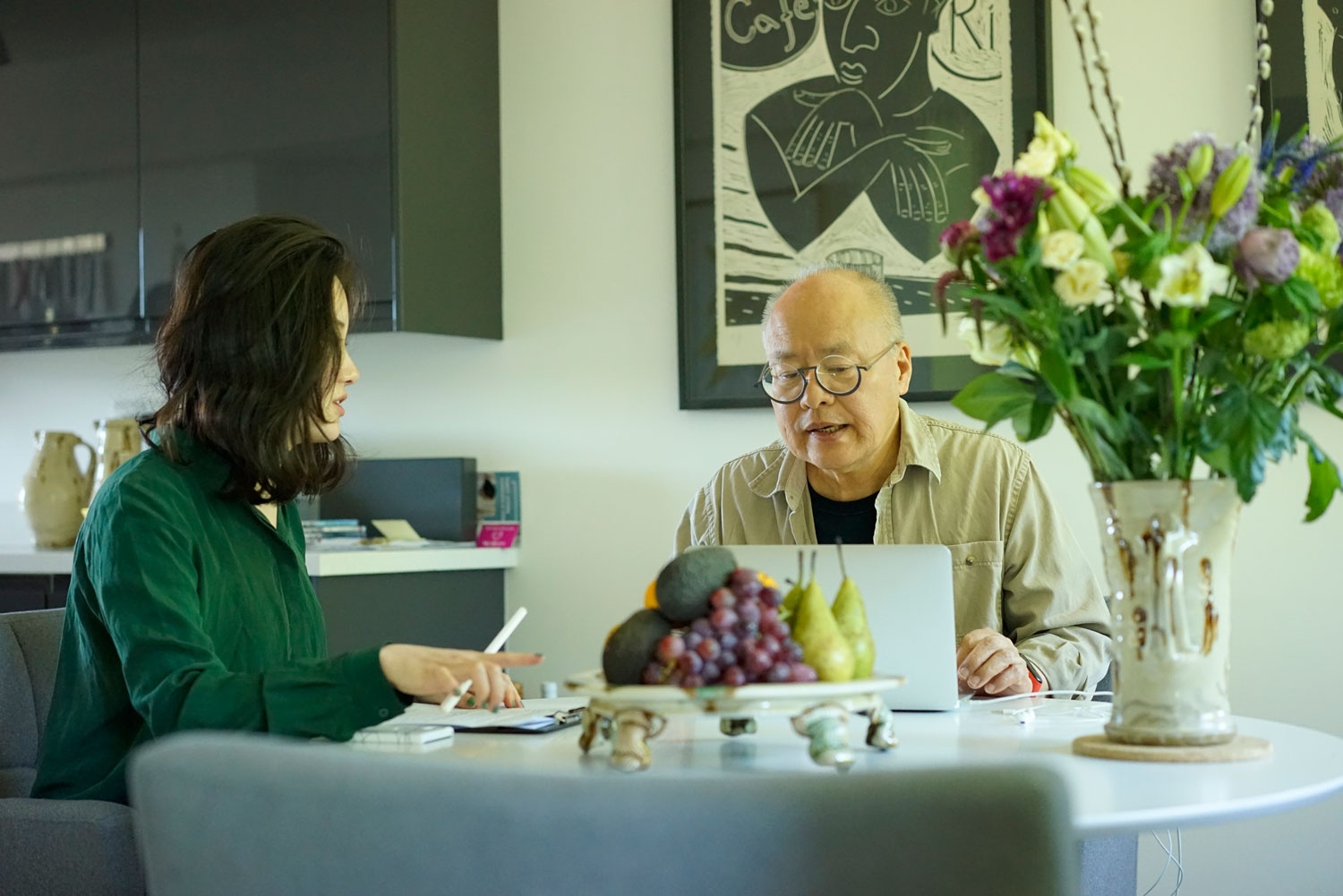 Interview in Yasuda's home in London (photo by Huanyao YE)
I have visited Yasuda once before at RedHouse in Jingdezhen, the studio founded by him, Felicity, and Baixu Xiong, a native of Jingdezhen and ceramic industry expert. As Yasuda's design stories are not unfamiliar to the world, I am particularly interested in his journey in China and bonding with the 'capital of porcelain' - the city of Jingdezhen.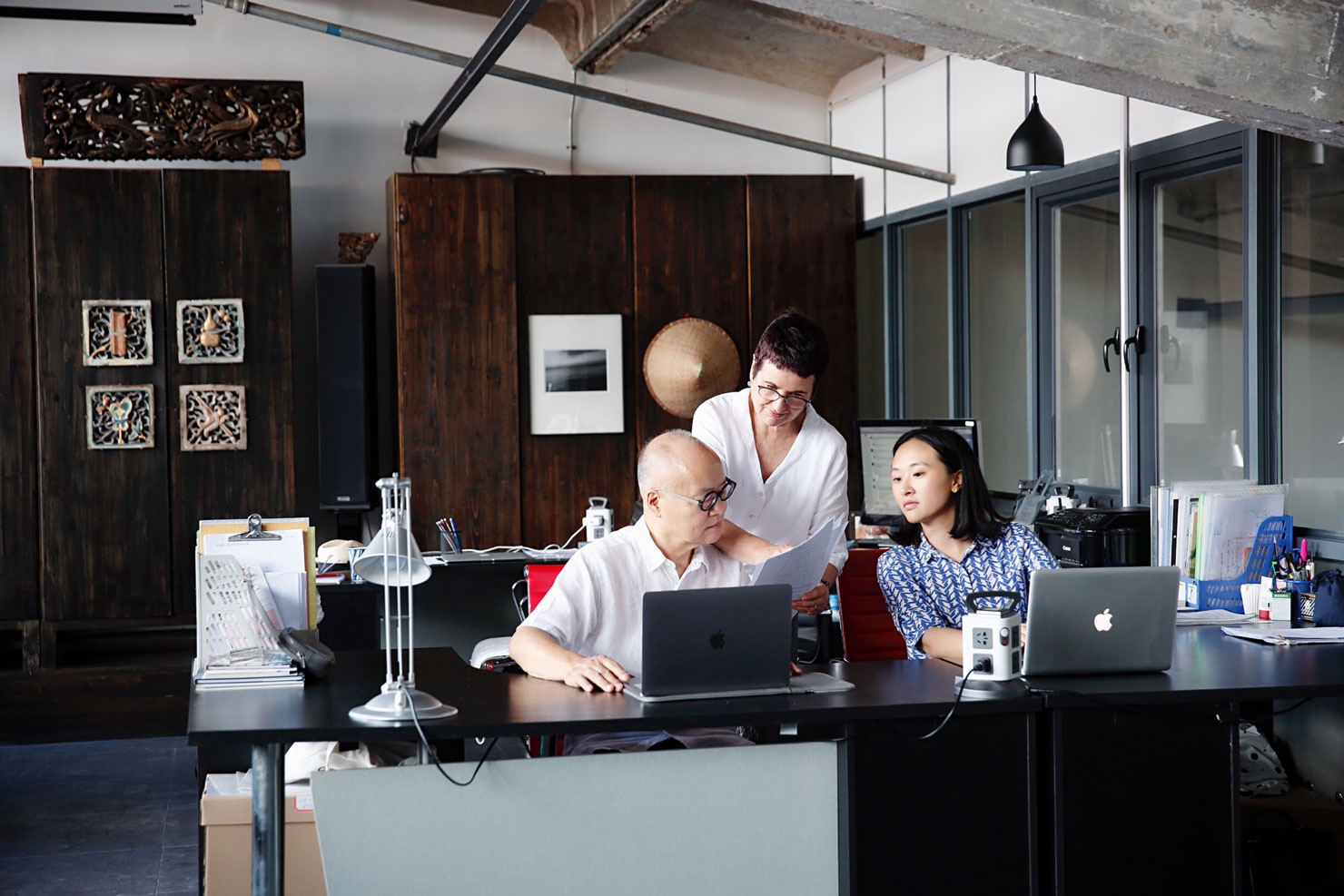 Takeshi Yasuda, Felicity Aylieff and Baixu Xiong at RedHouse, Jingdezhen
Yasuda first visited Jingdezhen in 2003, and it was also his first time visiting China. He was excited, as it has the unparalleled reputation for porcelain. Back in the day, Jingdezhen was very different from now. The town had limited transport connections, no high-speed trains, no tourists; it was a place that people doing wholesale porcelain would go. Even so Yasuda was attracted to the town, seeing everyone was working in related to porcelain everywhere; but at that point, he would not have known that he would stay in Jingdezhen, living and working for over 15 years.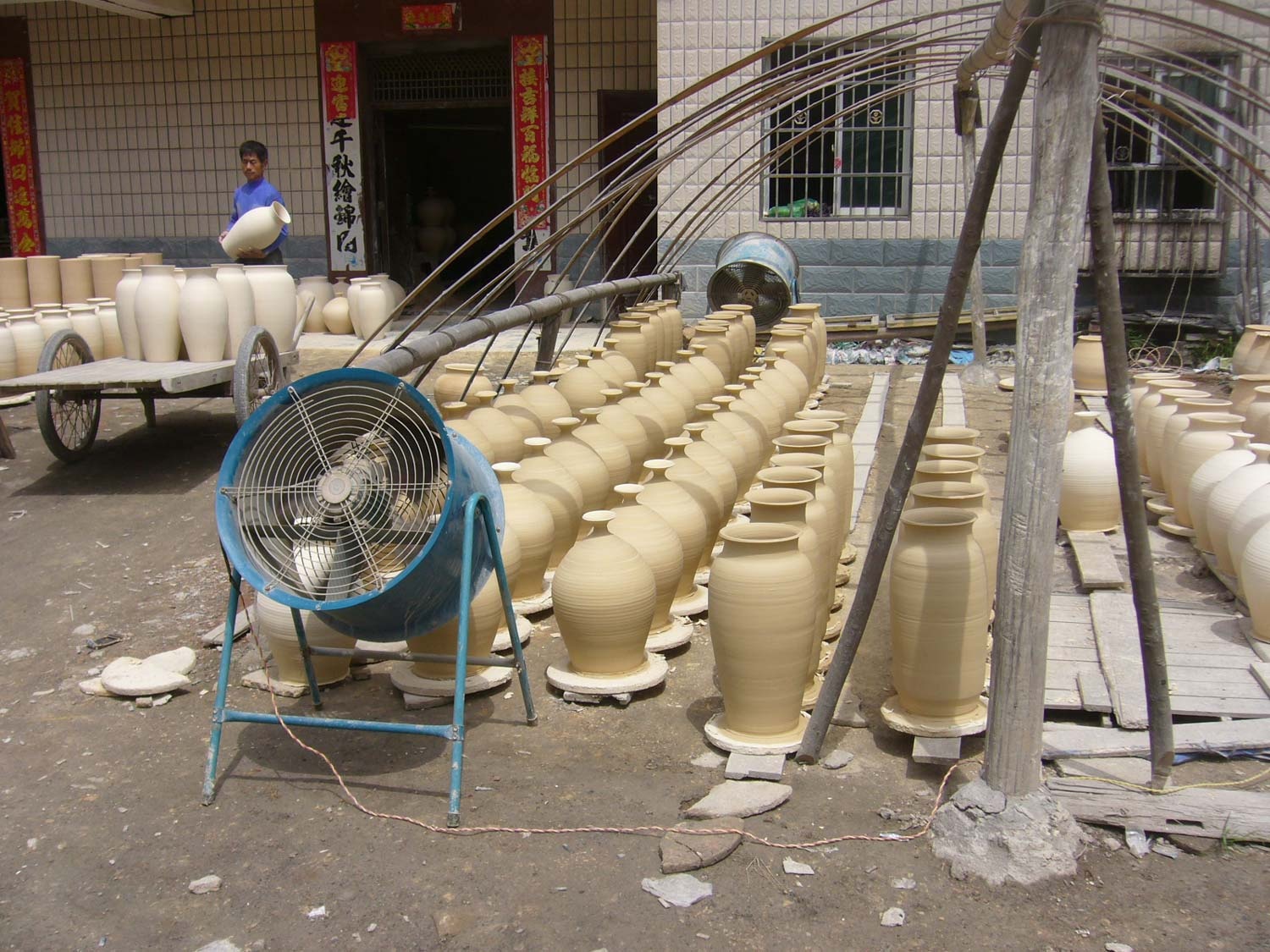 Picture of Jingdezhen, around year 2000
Picture of the Sculpture Factory (2004), which became the location for the Pottery Workshop in Jingdezhen
Yasuda started making pottery more than 50 years ago, but he only started to experiment with porcelain five years ago before coming to Jingdezhen. He had made his previous works in stoneware and earthenware, such as the most renowned Sancai series, Creamware and Unfolding pieces. At the five years of experiments made him realised that the special quality of porcelain might require him to study more in depth, so he thought about going back to Japan to learn. That was also the time he was introduced to Jingdezhen. A change came later in 2003, Yasuda had been asked to set up the Pottery Workshop in Jingdezhen by Caroline Cheng and to build up the international residency platform. He thought it was a good opportunity for him to stay there and learn about porcelain, so he took the offer.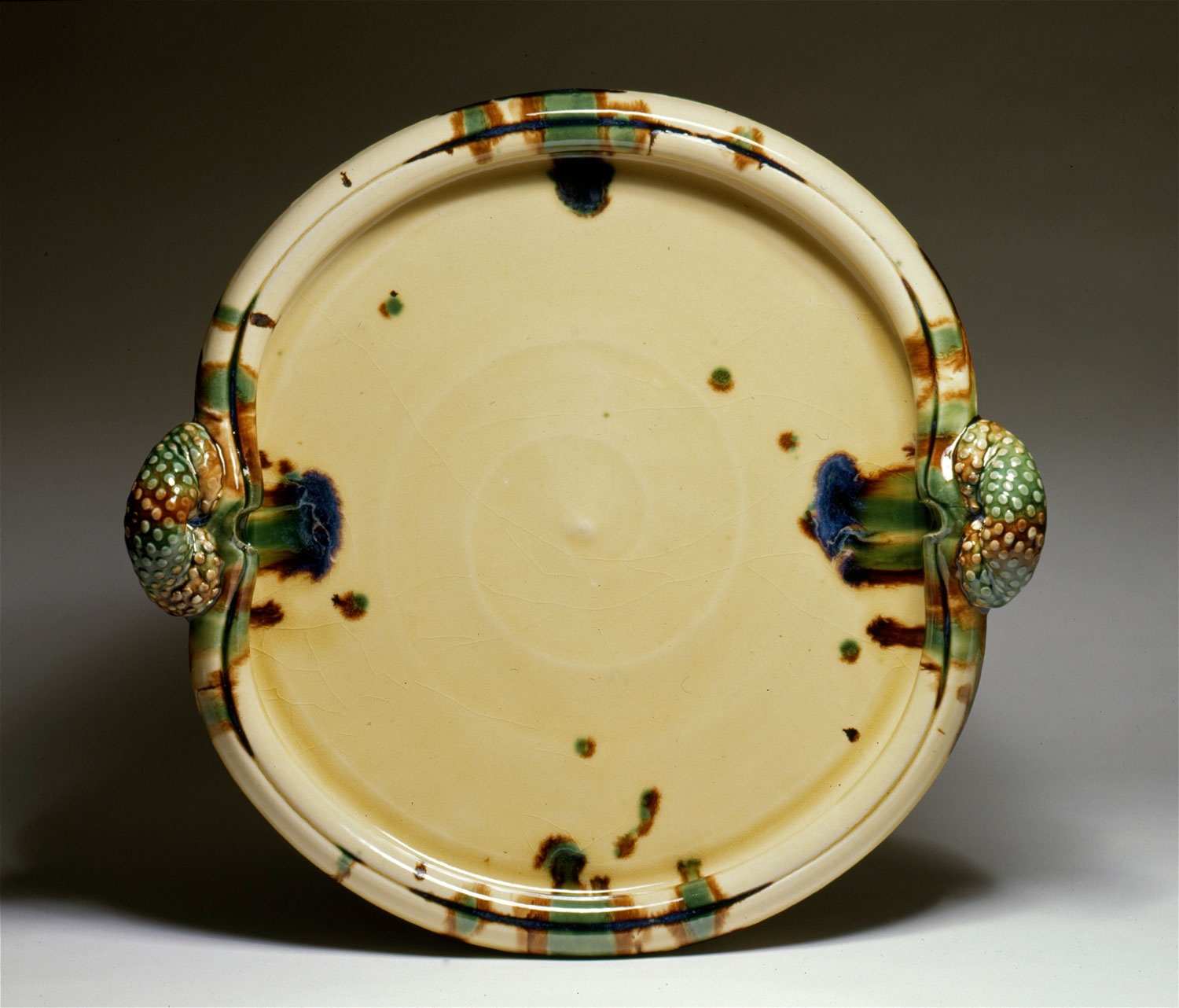 Sancai (Three Colours) series
Creamare series
The initial plan was to establish the Pottery Workshop and manage it for 3 years, but in the end, Yasuda stayed there for almost 7 years. The experience of the Pottery Workshop was remarkable, as it attracted lots of artists and young talents from all around the world to make pottery in Jingdezhen. At the beginning of 2010, Yasuda felt that he should spend more time developing his own work. Then he resigned from the Director position and about a year later, together with his wife Felicity Aylieff, and Baixu Xiong, founded the RedHouse ceramics studio in Jingdezhen. Now in a normal day, Yasuda would spend most of his time in the studio from 9am to 8pm every day, continuing to create more works. His obsession with ceramics was indeed astonishing after so many years, since the first encounter of the Japanese pottery village of Mashiko when he was 19.
Yasuda at work
Yasuda's very organised pottery station at RedHouse, Jingdezhen
An interesting twist happened to Yasuda's work in Jingdezhen is that he started to use mould-making. Before that, he made pottery with wheel and did throwing all his life. However, when asked about the difference between the two techniques, he said that although mould-making is considered as more of product or industrial design approach, 'it is all the same for me, just another tool'. When looking at his recent designs for RedHouse's new design line, it is clear to sense the handmade quality in the objects. A set of coffee cup and saucer used 20 different moulds made by hand, playfully exposing the seam-line from the moulding process on the Qingbai glazed porcelain.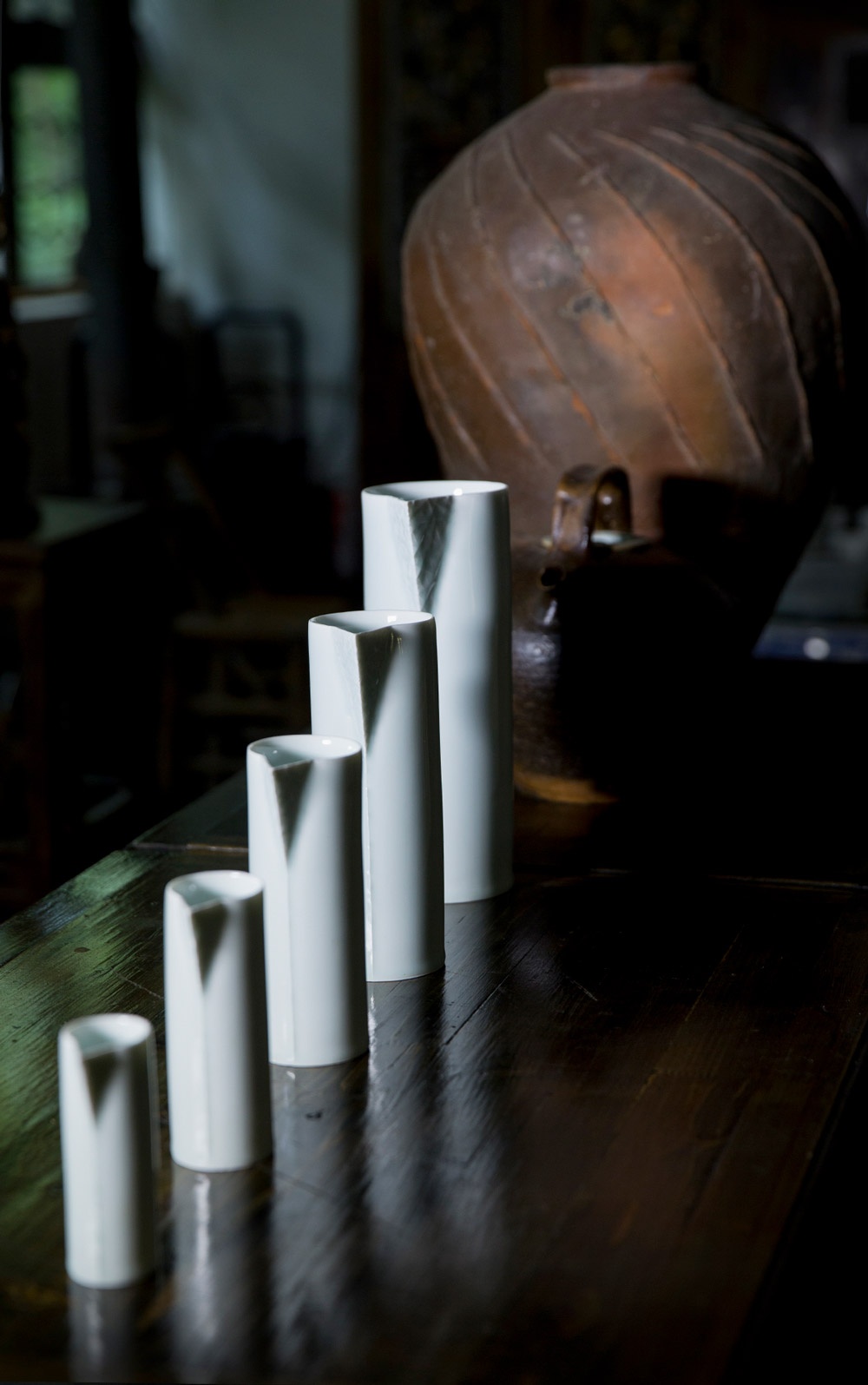 RedHouse Design collection by Takeshi Yasuda
For Yasuda, there was not so much difference in art, design or craft. In fact, he only discovered the division when moving to England when he was 29. In the West, the idea of mass-production came in late in history after the industrial revolution. While in the East, especially in China, mass-production has existed for more than 2,000 years and it was part of the history of art and craft. 'Art', or 'Fine Art', was just a word that was invented for definition needed in a certain period of time, and Baixu did have a difficult time trying to define the works when exhibiting in China. But for the artist himself, a static title or category for his creation was not necessary at all.
Having known that Yasuda has lived in Japan, Britain and China, I was wondering how the different styles of pottery from the three countries might have influenced his works. Surprisingly, Yasuda said that ceramics looked all kind of the same around the world, serving similar purposes, but it was the people's attitude and culture that made them different. In his opinion, ceramics were never regarded as the major part of art in European culture while in China, Japan and Korea, it was an essential part of cultural identity. He also claimed that 'art is a universal language' was not so true, given that the beauty of it might be similar, but the appreciation and understanding from different cultures are different. '
Art is a symbol of unique culture
,' Yasuda said. Despite the fact that Yasuda had left Japan when he was 29 and lived abroad for 47 years now, he still considered that his basic aesthetics and value system was built as a Japanese. And that realisation did not occur to him until much later. He explained that people will naturally adapt to many foreign things in life, like food, but the fundamental part of a person's innate culture would not be changed so easily. Interestingly, when being away from his homeland, Yasuda began to study Japanese culture in-depth, as well as anthropology, in order to understand the commonalities, differences and patterns in each culture, which helped him to turn the awareness into a unique creative language.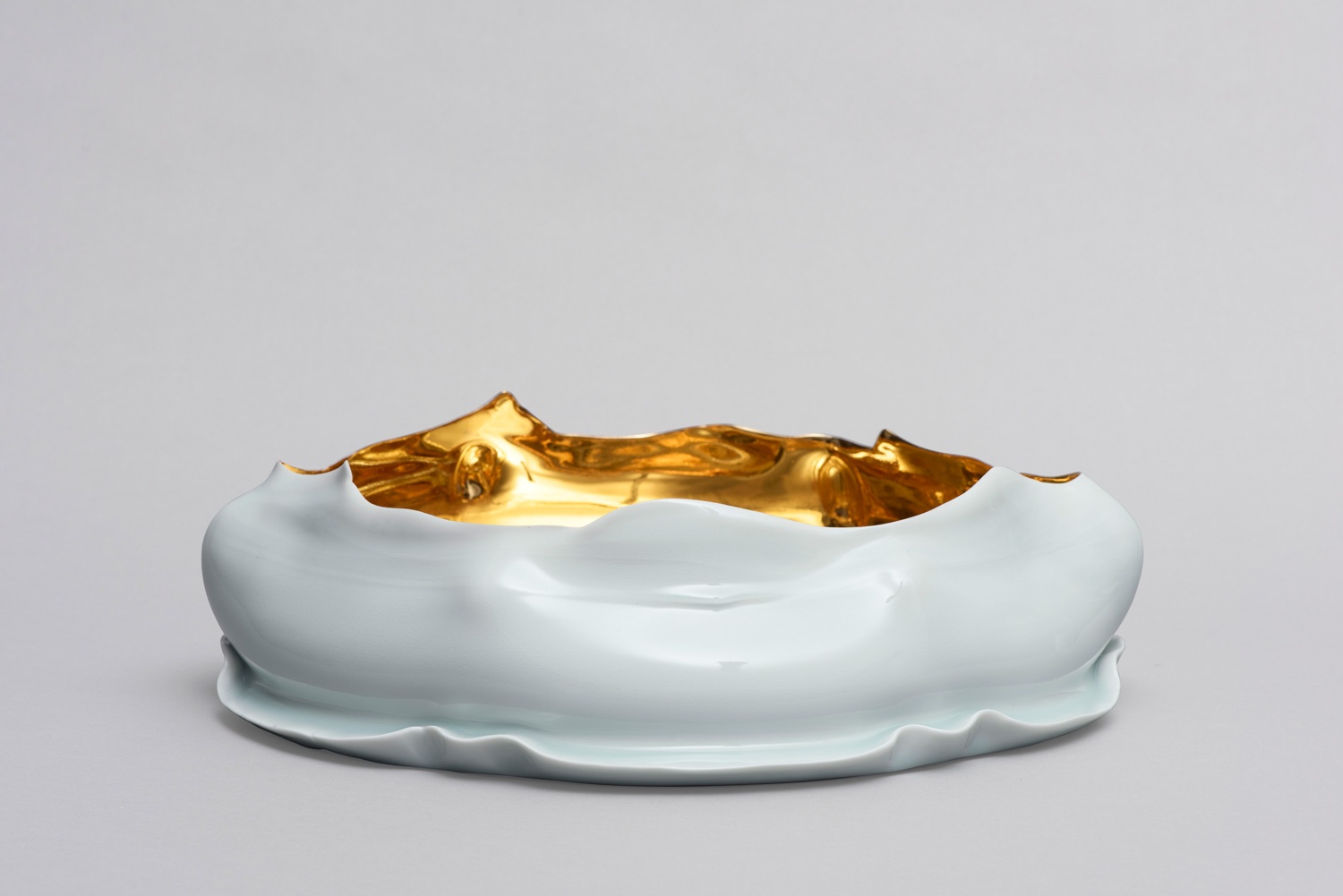 Qingbai Porcelain series with gold

Yasuda shared a similar insight into Chinese artists and designers, that they were starting to realise the unique Chinese culture they carried with them. It was not like the history lesson learned at school, but more about the daily life like growing up with parents, and that was the special thing in a person. An intriguing example was on the topic of 'teapot'. Yasuda shared that 15 years ago, there were no young people making hand-thrown teapots in Jingdezhen, while today more than 150 young potters are making teapots with wood-firing. The so-called wood-firing effect was a new taste for Chinese people as it was considered as a failure in history. It was an amazing phenomenon for Yasuda to witness, seeing the dramatic change of aesthetics making the way to the market through people's natural needs of tea. The sales of tea in recent years was booming as well, showing that people are trying to establish their cultural identity in modern China.

In addition, Yasuda was optimistic about the modern globalisation and did not think that it would make every place the same, as people were modifying the new culture when they were adapting to it at the same time. As a Japanese living in China, Yasuda was often amazed to find yet another Japanese thing that was originated from China. Nevertheless, nowadays Japanese and Chinese culture are so different, and that was what happened after years of modification. Yasuda thought that modern China today might be another Tang Dynasty, with lots of things happening and lots of opportunities for new experiments. 'It is a time for confusion, and a great time for learning,' Yasuda commented on the emerging art scene in China, 'In the West, a lot of things are settled and people become more conservative, so I think the exciting place is China now.'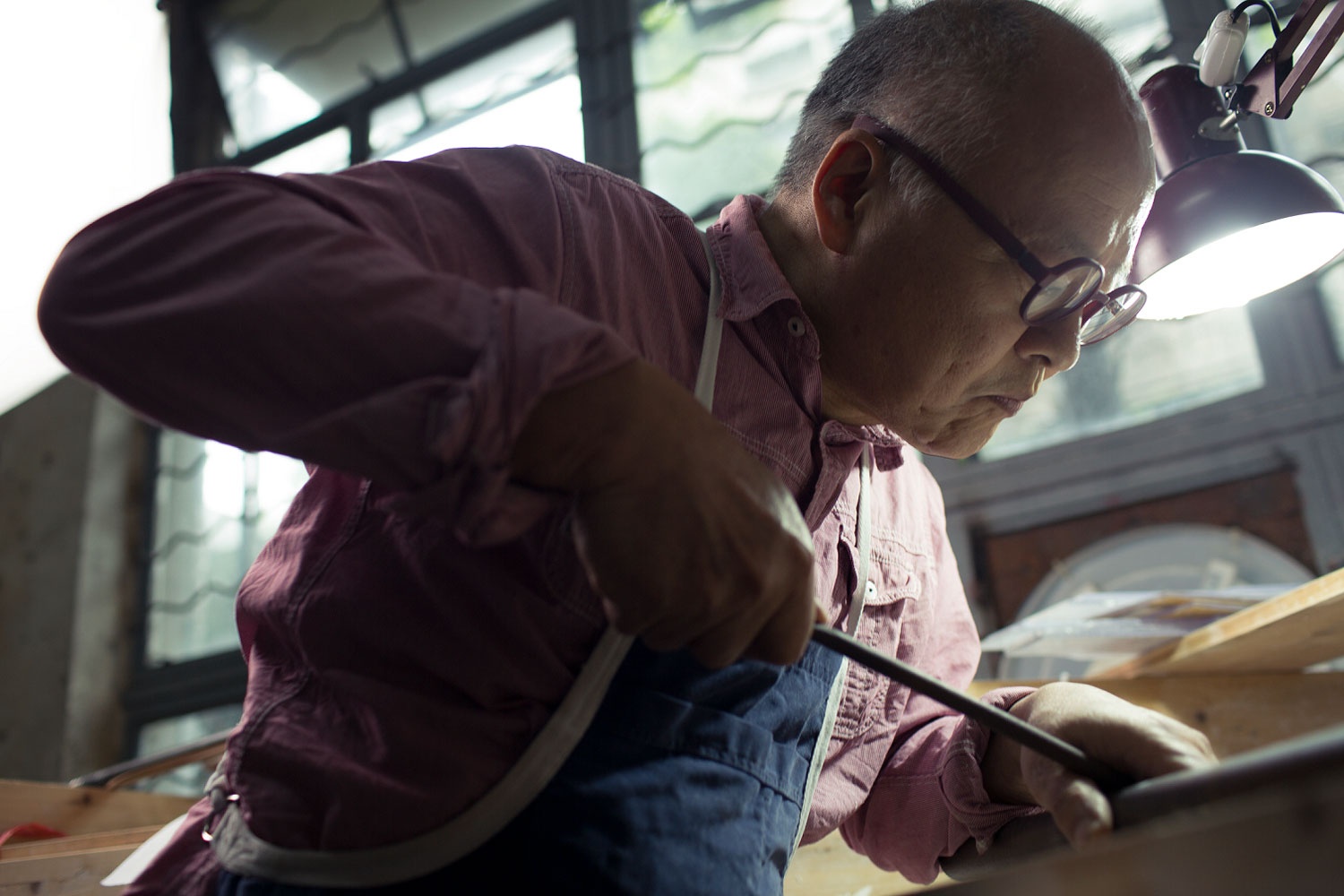 Yasuda working in Jingdezhen
Even though Yasuda has lived in China for a long time, when I asked him about the experience of traveling in China, he said he was not the good one to give the opinions. Apparently, after 15 years in Jingdezhen, he has not been to the famous Yellow Mountain that was only a 2-hour drive away. All the places he has been to were related to pottery: many times in Longquan for celadon, Dehua for white porcelain, Cizhou Kiln in Hebei province, Yue ware Kiln-sites, etc. The only exception might be the Wuyi Mountains and Yasuda had visited there three times for tea. Coincidentally, he is now working on a new series on teapots. Later this year, the new collection would probably be launched in China, and let us look forward to Yasuda's new adventure.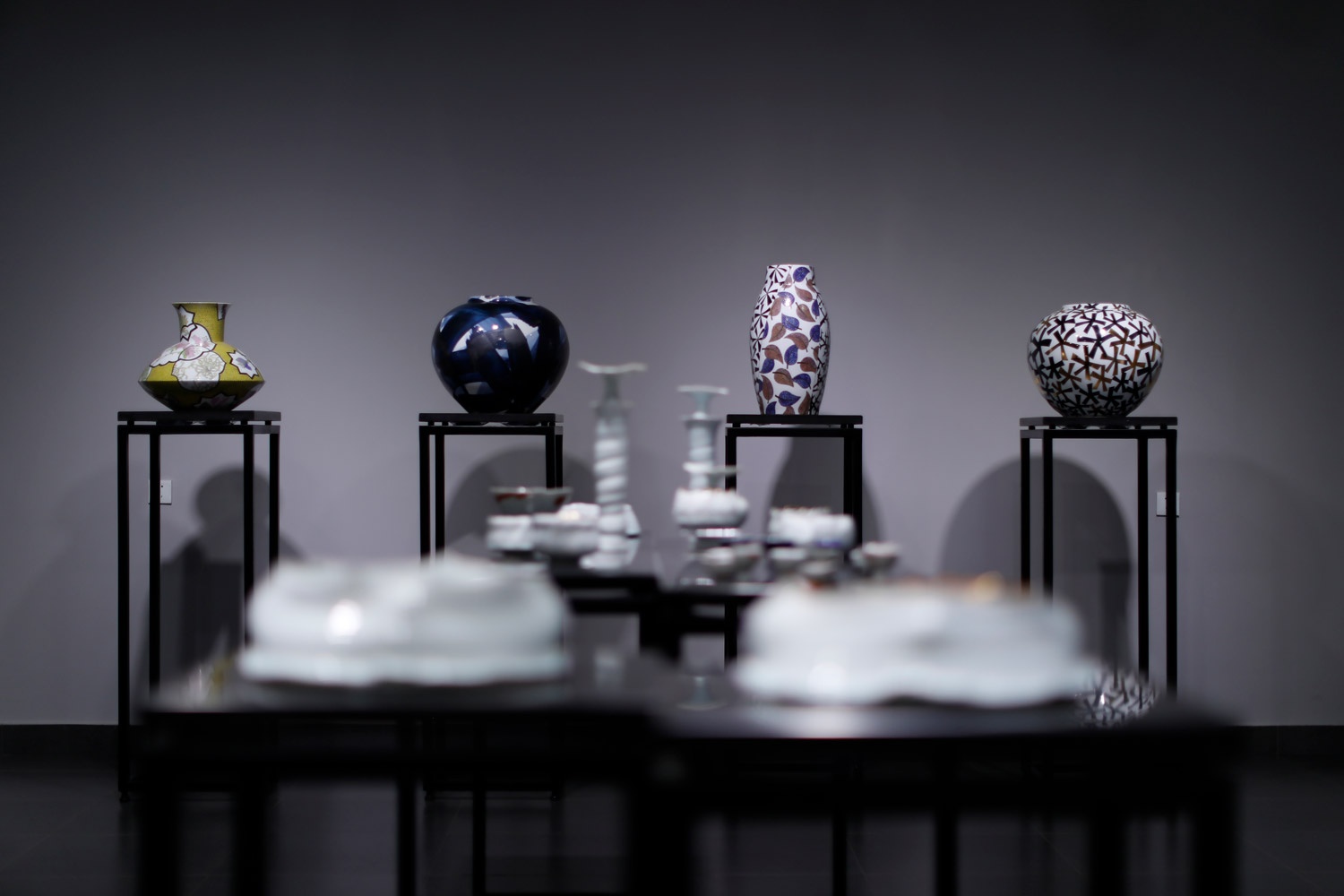 Takeshi Yasuda and Felicity Aylieff's works displayed at RedHouse, Jingdezhen
*If you are interested in visiting RedHouse in Jingdezhen, we are organising a Porcelain Tour for October 2019. For more information, please contact us.


Image source: RedHouse