Yang Zhao is a young product designer graduated from Central Saint Martins College of Arts and Design and China Academy of Arts. She is now doing a MFA degree at School of Art Institute of Chicago.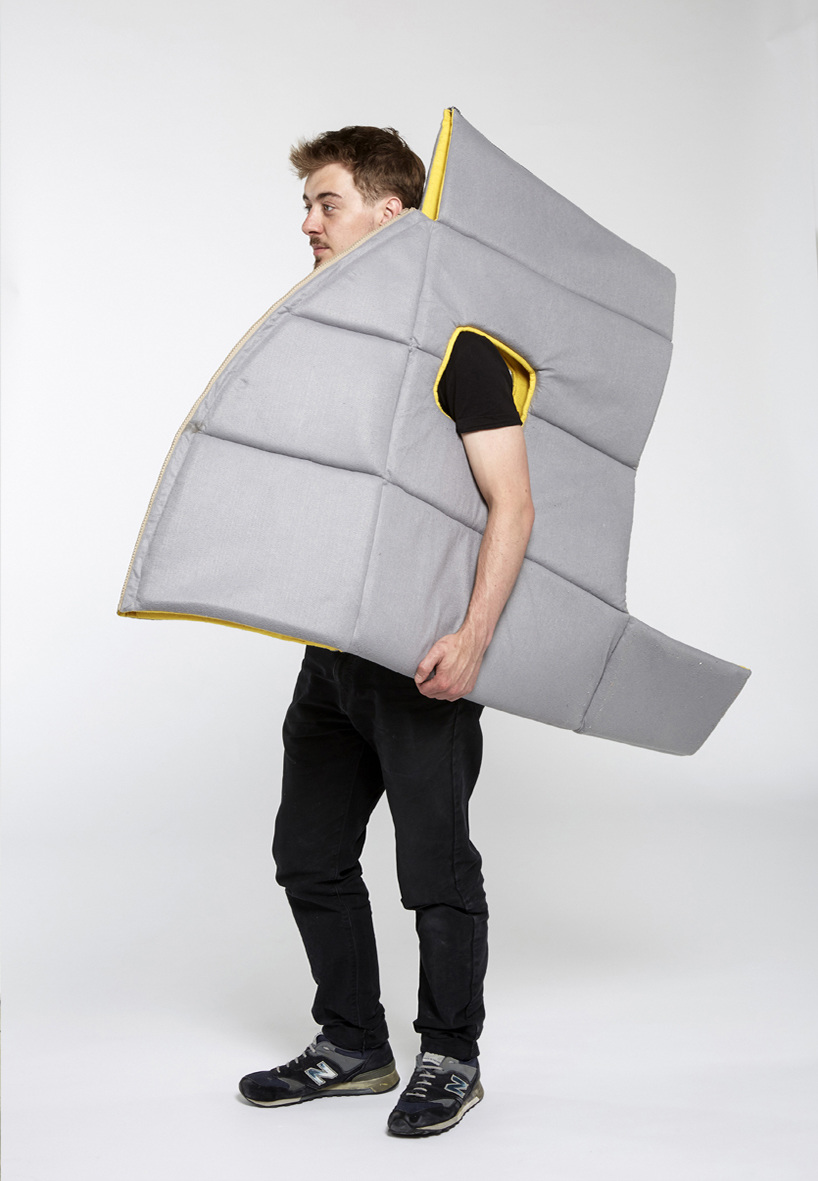 This innovative "soft furniture" piece — SharkMan, is Yang Zhao's graduate design at Central Saint Martins, and was selected by Brainwaves exhibition at London Design Festival 2016. SharkMan is a piece of wearable furniture responding to the need for flexible private space in the contemporary world. It can be altered to provide various levels of privacy, depending on whether the user is on a laptop, reading a book or taking a nap. The design also works as a carrier of personal belongings for moving from one place to another. Two interior zips at the top and front allow the user to transform SharkMan into different shapes easily by themselves.
-
Different ways to use SharkMan: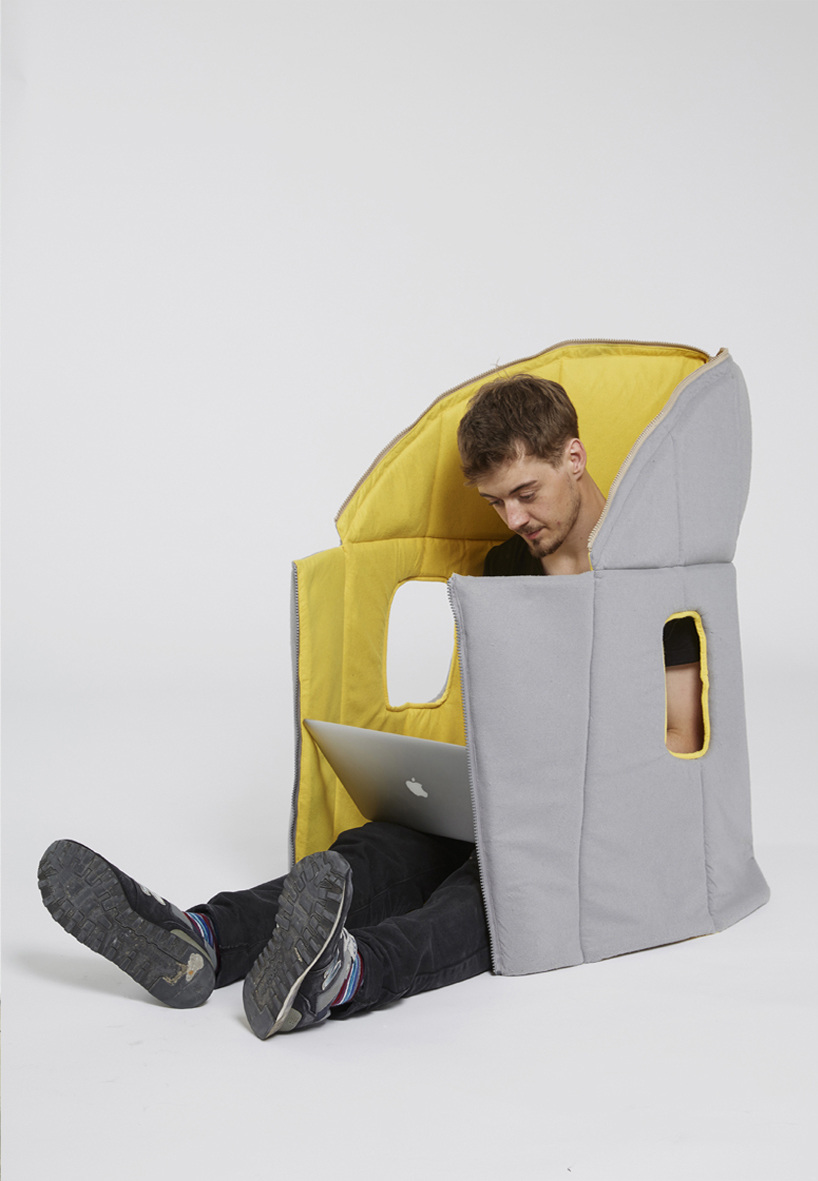 Sit down and work.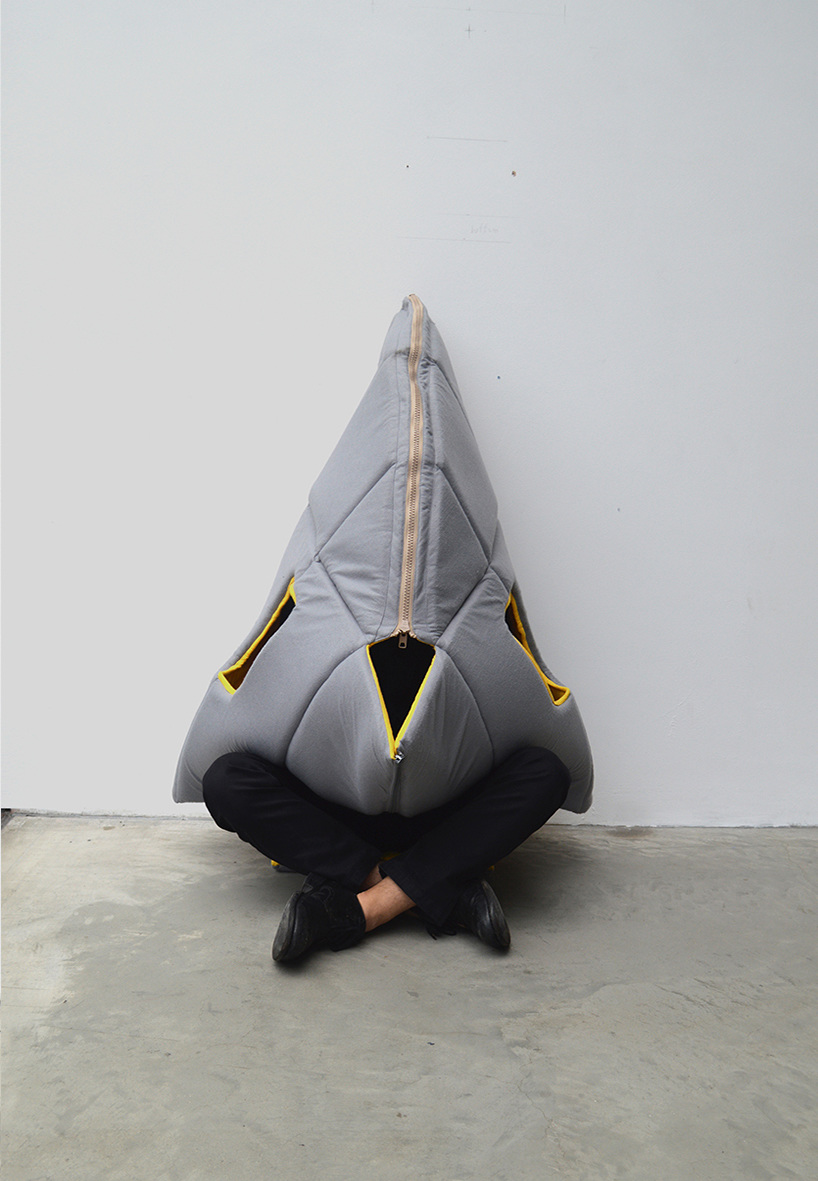 Isolate yourself from the world.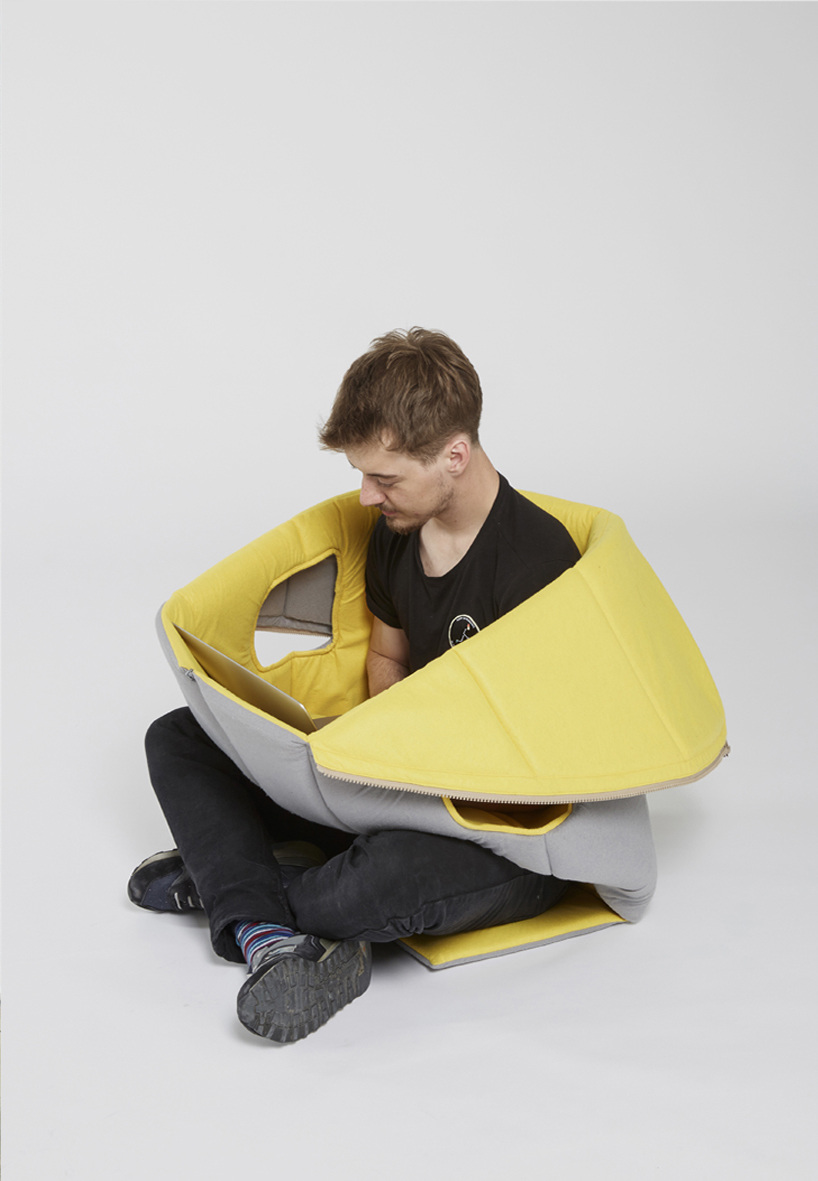 Have some fresh air.
Can't find a place to sit? No problem.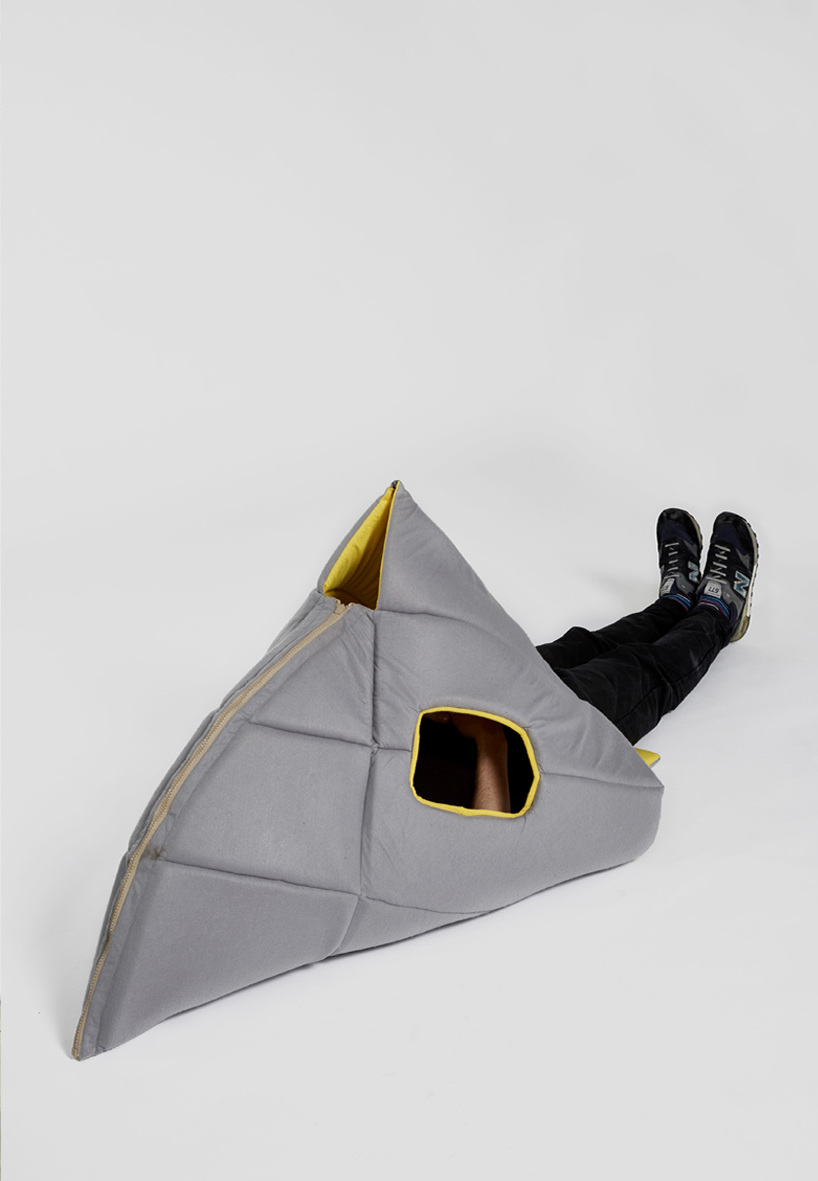 Take a nap.
-
CDC interview with Yang Zhao
How did you find the inspiration of combining furniture and clothing?
In this graduate project, we worked with British furniture design brand Hitch Mylius as our client and the theme is "private space". My tutor Magnus Long taught us not to limit ourselves in traditional furniture but to try any forms of design. I had quite a few thoughts back then, one of them is making a piece of furniture that is wearable like clothes to create a private space. I was about to give up and turn to more conservative design when my tutor and the client both think this idea has a lot potential. So I got a large piece of foam to experiment with, trying to make the "soft furniture". That was the first time I ever played with clothing design. I think blending different design categories together will bring the world more potentialities, and that's what a designer should do.
A designer needs to break the rules and boundaries, making the impossible to become possibilities for a better world.
This soft furniture looks really cosy, and seems like you wouldn't want to get out once you are wearing it… What exactly was the experiment like? What did you do to ensure the functionality and comfortableness?
I bought a piece of giant foam, and the inspiration hit me one night, so I wrapped myself with the foam. For a few days, whenever I got some new ideas, I would crawl into the foam and try out solutions. At first it was a simple cylinder, and the function is mainly for study. I have done some research of the library users. Then I thought what if people want to rest after the study? I added a zipper to the inside of the structure, so that the users can create a private space by zipping it up themselves. I also tested different thickness of the foam, making sure there is enough working space inside while keeping it lightweight.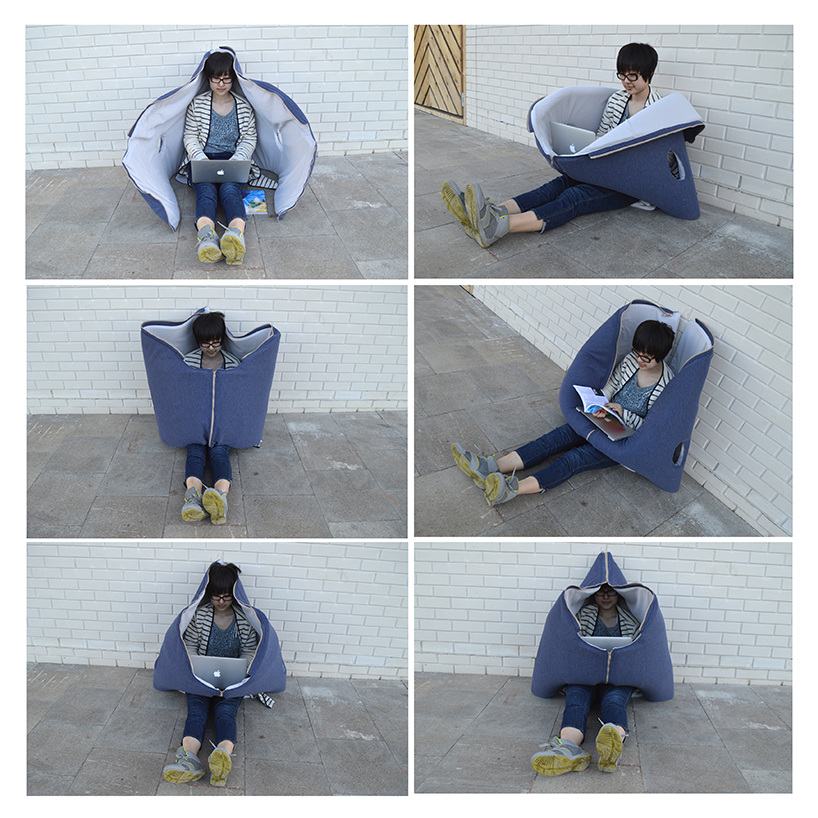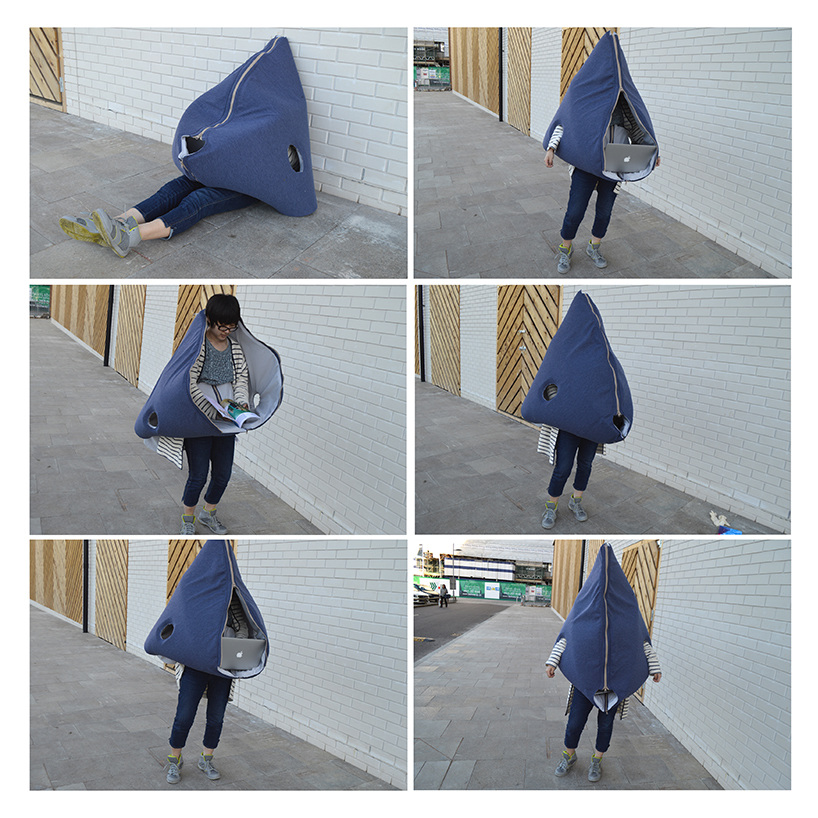 What was the most difficult part in the whole process?
The most difficult part was the sewing, because I did not know how to do it before. Also, I had to constantly test the product, so I travelled with a huge bag of foam everyday between the college and where I live (London zone 3). I felt like being Santa Clause.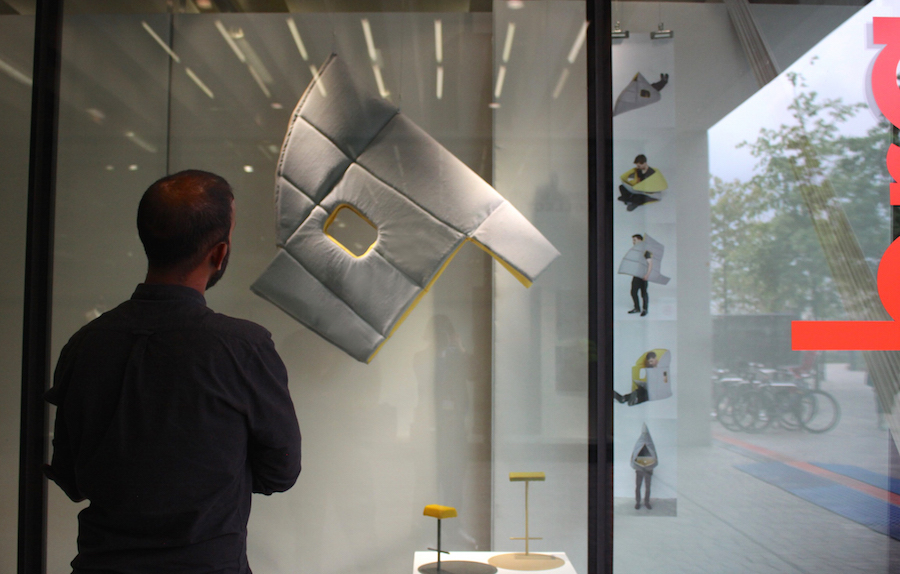 SharkMan at Brainwaves exhibition, London Design Festival
Apart from SharkMan, would you like to talk about your other interesting work?
Sure.

Bottle Ashtray Holder is a collaboration project with Hubbub. The brief was to create an eco-design to use at Villiers Street. My research was focused on bars and pubs, where a lot of smokers left the cigarette butts everywhere on the ground outside, and lots of empty alcohol bottles were produced everyday. So I designed a simple holder for two bottles, one of them being placed upside-down. Users can extinguish the cigarette butts on the bottom-up bottle, while use the other bottle to collect the cigarette butts.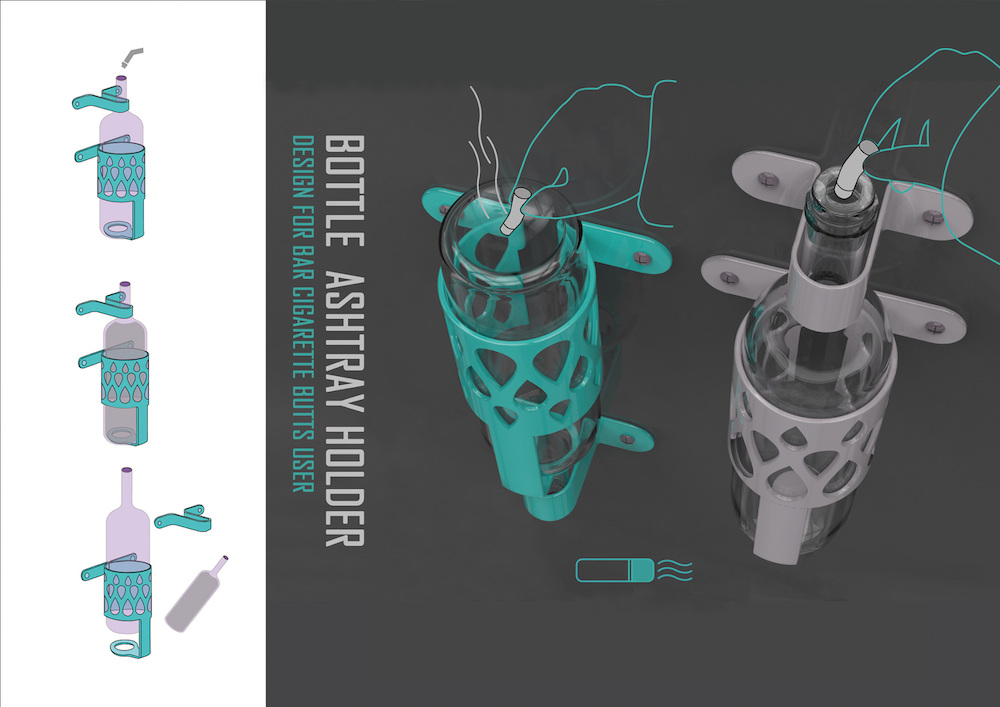 Boxbot is sustainable building blocks toy, which means "box plus robot". All the blocks can be nested into the packaging, which is the biggest part to build the robot. Users will be able to create different robot figures as their preference.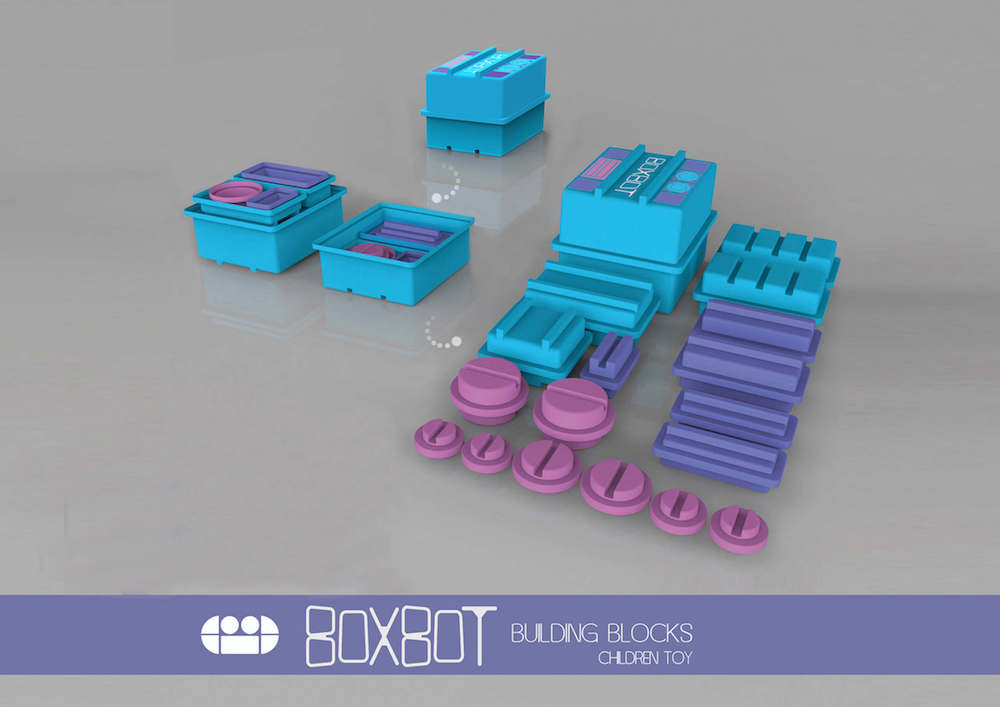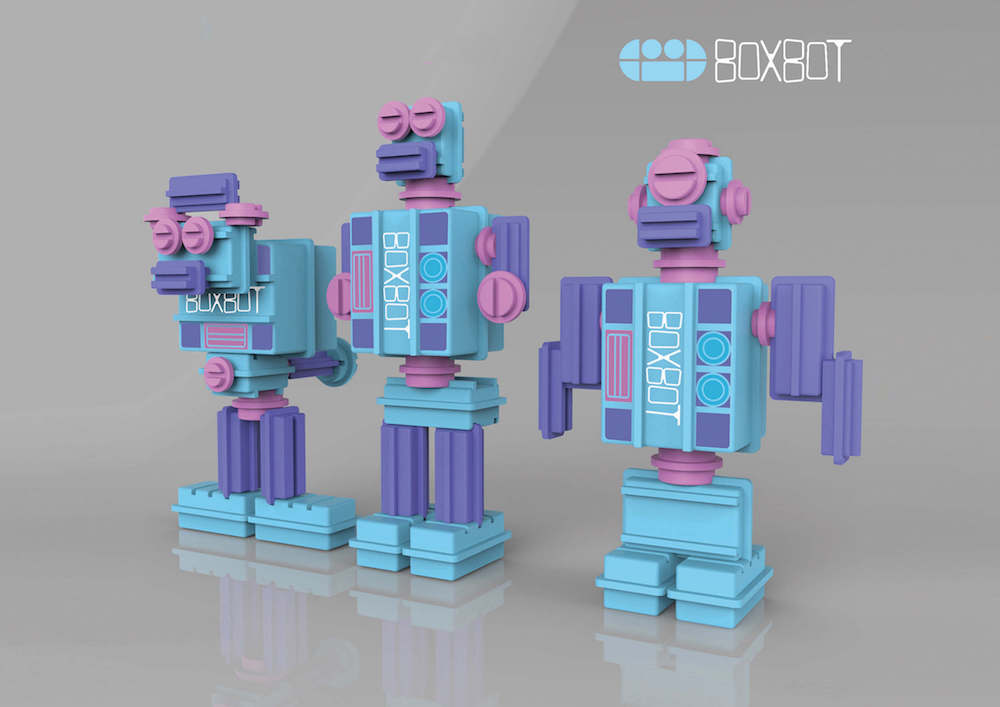 The Second eye is an experimental camera. Some shy people will feel too self-conscious when being taken photos. The camera I designed looks the same as a normal camera, but will have a fake lens at the front when the two real secret lenses are at the sides. So when I point the camera elsewhere,I am actually taking a picture of you! The results shall be unconscious, fun and surprise.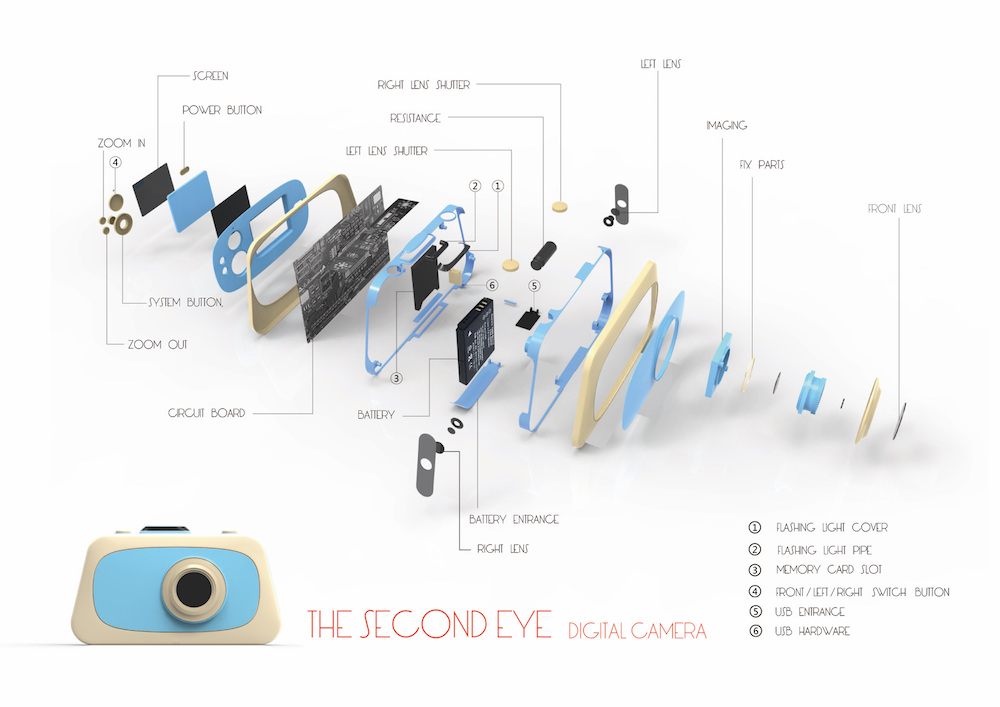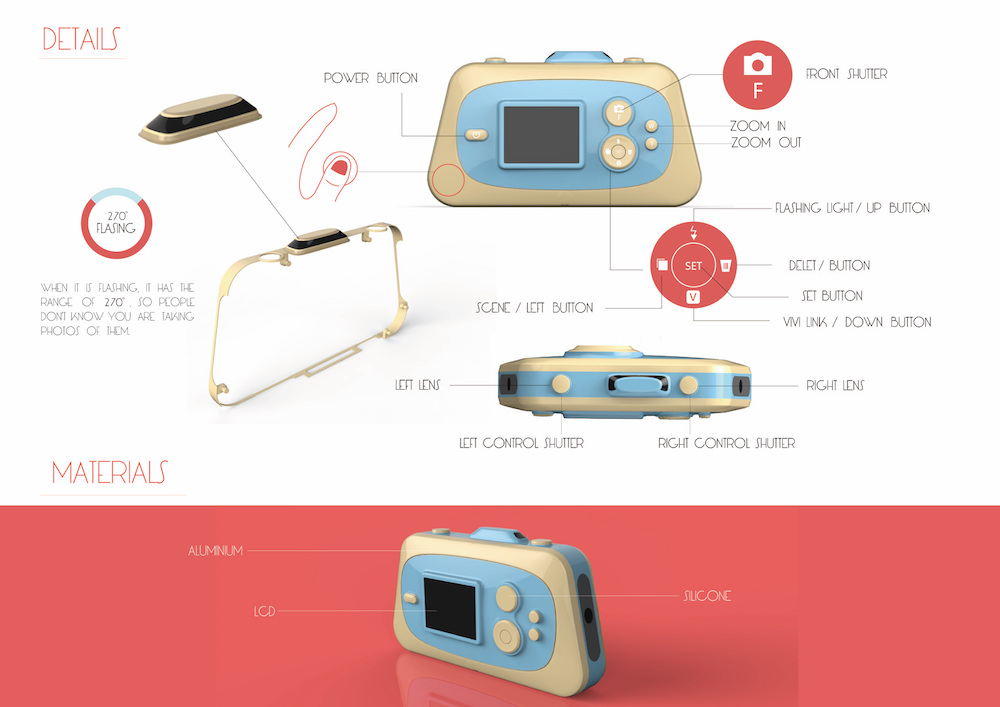 Image by Yang Zhao