Please introduce this Brand.
BUZAO, a branch of the pioneer and experimental design brand BENTU, was launched in 2017 as a spiritual representation of youth and rebellion. Studio BUZAO, the limited-design studio with the same name, was launched in 2019. BUZAO gained independence from the local original brand BENTU, and its design and operation was led by Peng Zeng--one of the start-up designers. BUZAO focuses on unlimited experiments, intends to get rid of artificial creation, expresses itself through the exploration of materials, reveals and enhances the inherent attribute by amplifying the existing substance, let the material guide the design. We emphasize the interaction between shape, light and environment, inject the uncertainties of art creation into the design ideas to challenge the definition of product design.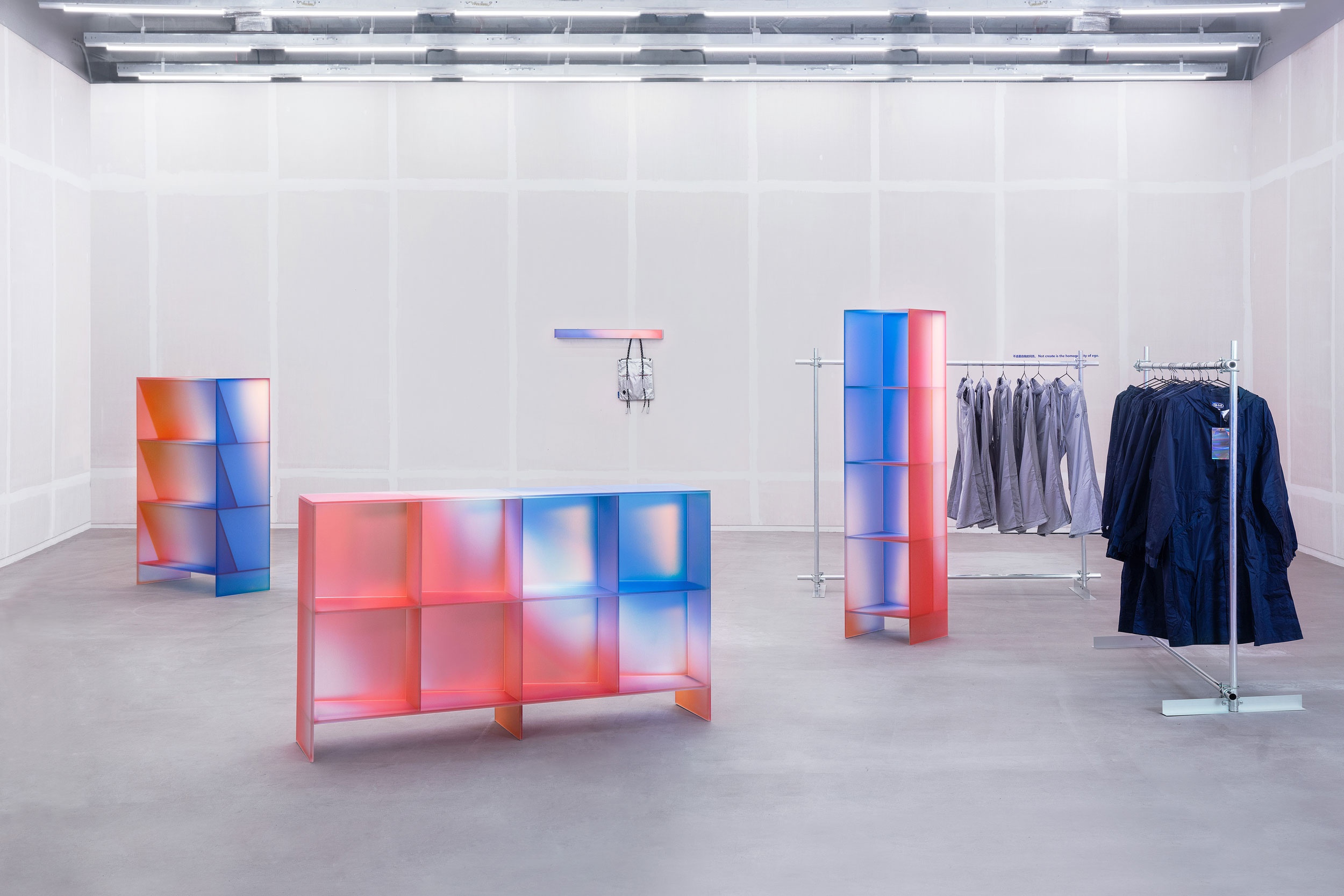 What's the opportunity to launch BUZAO?
Before 2017, BUZAO was still the branch of local original brand BENTU. At that time, we hope to do some design upgrades and cultural excavations on natural substance such as marble and volcanic rock. During the process of dissecting and brainstorming the philosophy of our design, we found its greater possibility and grander vision to break away from BENTU's own theory system. So the idea of gaining independence from BENTU began to take shape in 2017. BUZAO literally means to "not create", rebels from the experience we had from the past. It is the Ego, the reality and the common ground of all individuals who are free fro the limitation of their time. The first series is based on volcanic rock materials. In 2018, the rest of team members joined in one after another, completed our team's first conceptional design and cross-art collections--NULL SET and HOT, and the first installation experiment DYING MARBLE. Since 2019, the exhibition NOT CREATE, ALL CREATE has toured in China, Australia, France, Germany and so on. All these enclosed a vivid image of BUZAO.
The name BUZAO is very interesting, does it have any special meanings?
BUZAO literally means to "not create", also refers to "don't know"--a new catchword in post-millennium China/ a popular expression coined by China's Generation Z. This reflects the driving force of BUZAO's design experiments: unknown materials and process experiments often result in unpredictable results.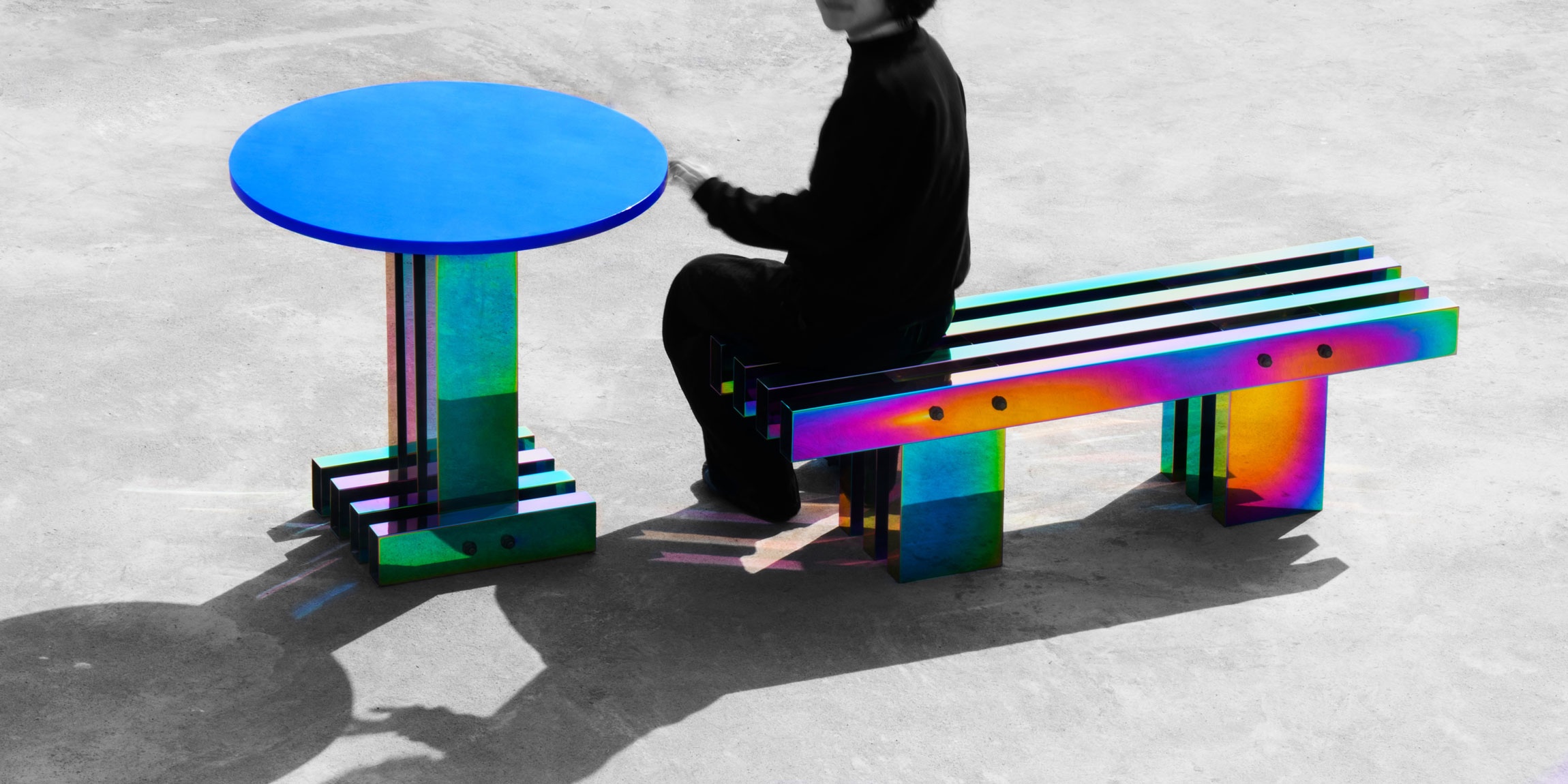 BUZAO is a thoughtful brand, how do you define yourself?
Ego cannot be defined--it is uncertain and even unlimited. BUZAO is a synonym of  "ego". What BUZAO produces is never limited within a lamp, a piece of furniture, or meaningless decorations, and can also be an installation, a performance or an experiment. It should be said that--there are only possibilities that have not yet been triggered, but no limitations. In the state of pursuing the self, we try to dig out the abnormality of substance, extract the traits and crumble the features of the material itself--to prove the self-being and self-recognition.
What's your favourite design?Or the most meaningful work?
Every work has its story to tell. We love them all.
From a perspective of interpreting the crossover of products and art, F--the side table with volcanic rock is rather meaningful. Adding uncertainty into product design logic is a turning point in conventional product design thinking.
F is an exquisite side table. Under the current design, it must be balanced with an original volcanic rock under standard processing, so that its center of mass is stable enough not to fall down. The volcanic tabletop is smooth by machined processing, while the bottom is the volcanic rock in natural state, which show the coexistence of different states of the same material--artificial beauty and natural beauty. The structure of fixing stone is in the form of an industrial tool--F clamp, as the symbol of industry. The black aluminum squares are interspersed with each other, so that we can slide up and down to adjust the height. The spiral components are delicately made from pure copper, which adds an exquisite feeling to the whole.
New favorite designs: HALO. This series follows the design process of BUZAO's 2019 Collection NULL SET, and innovates in materials--put a layer of dichroic color-shift film, try to composites innovation with multiple glasses of optical expressive glasses, constructs a brand new optical experience, and casts colorful halo under the light.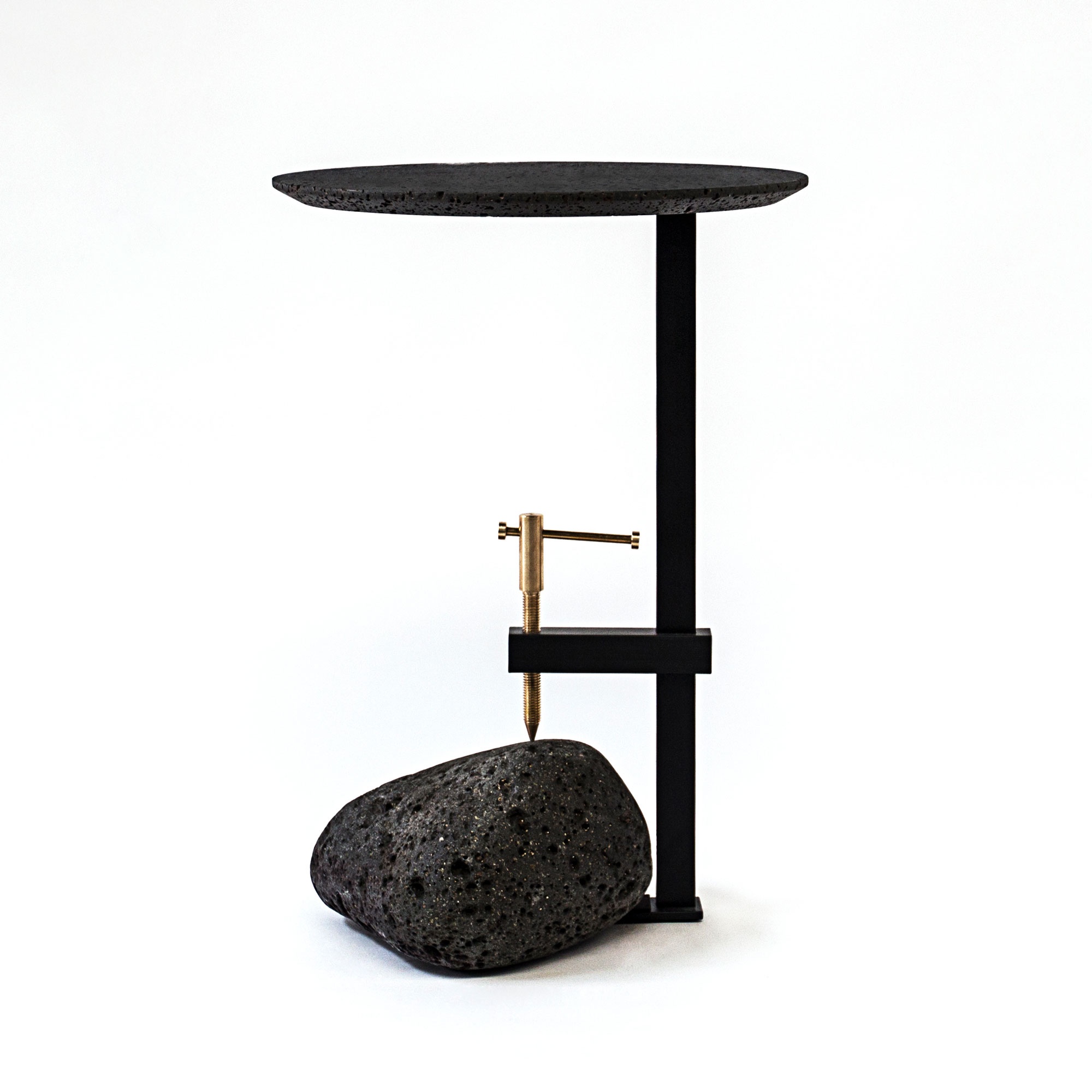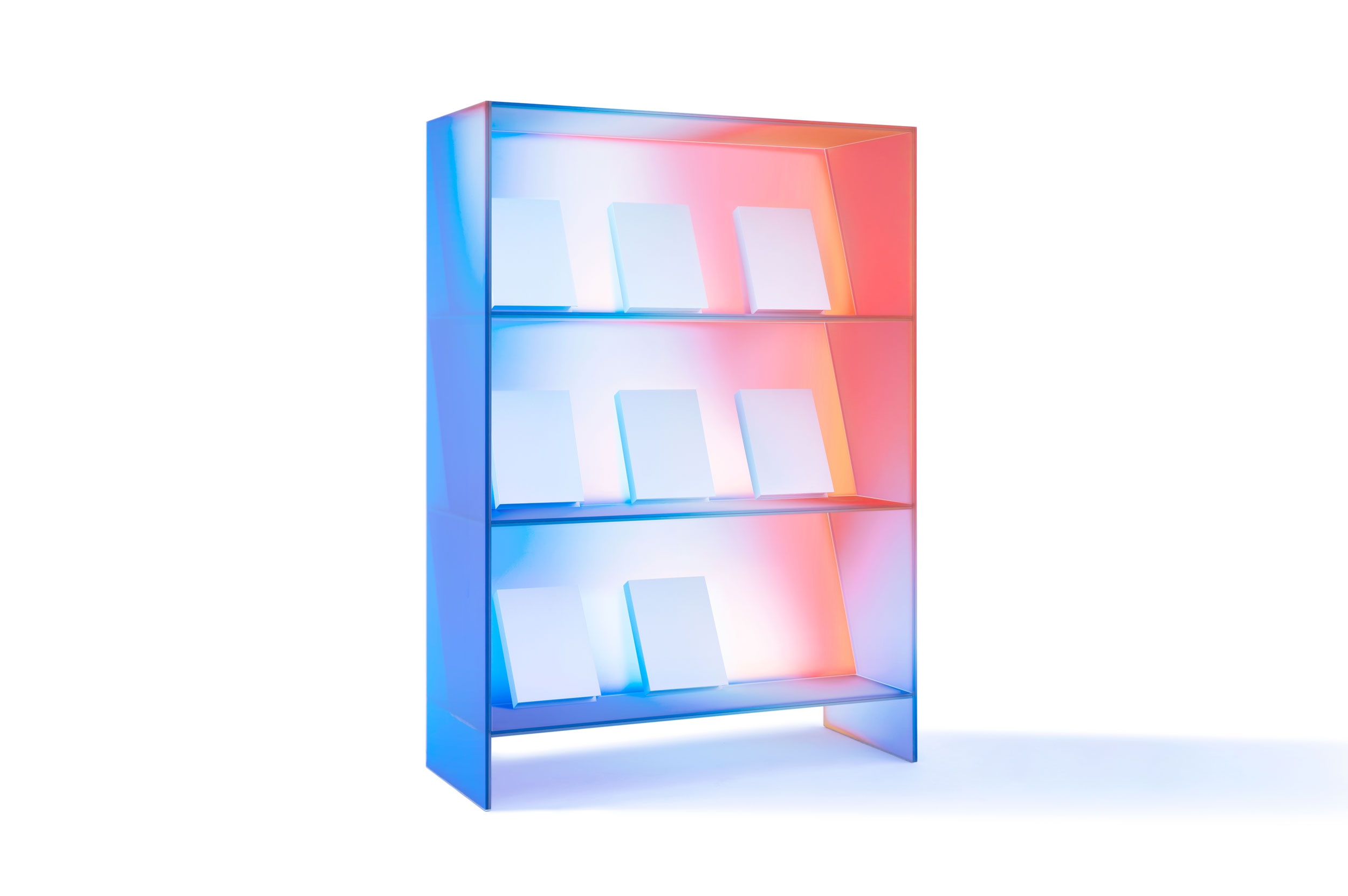 Besides design itself, where does BUZAO draw inspiration from?
Fashion, architecture, graphic design and all beautiful things. Form language reflected in surrounding environment and factory manufacturing process.
Eg. HOT--square tube; groove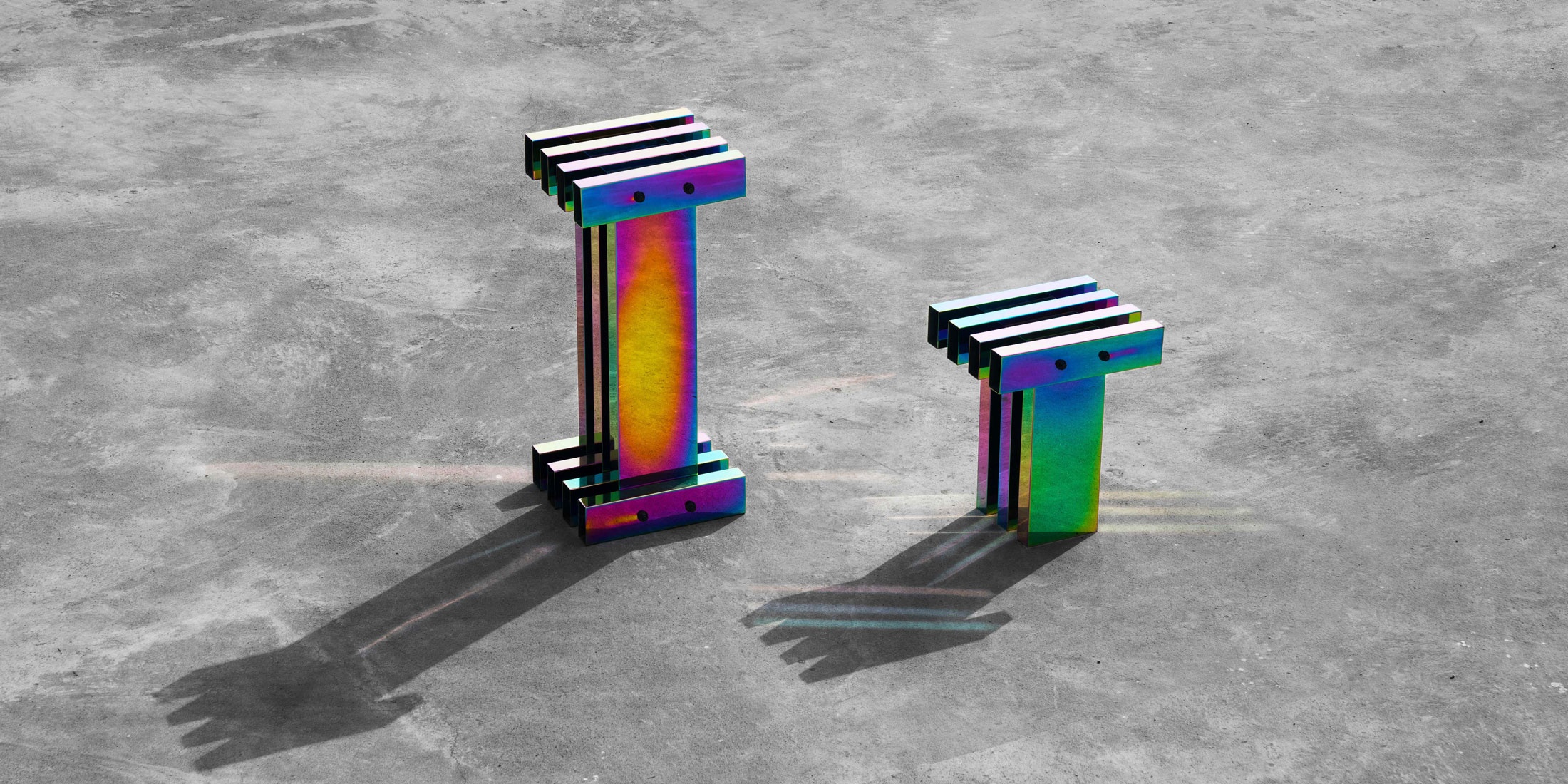 BUZAO likes to research on and use unconventional furniture materials. Talk about your favorite materials?
We have dabbled in a lot of materials, including volcanic rock, marble, electroplated stainless steel, compound-glass, foamed aluminum...new or old, manmade or natural--the labels of the materials themselves are not the elements we judge. BUZAO focuses on the uncertainty or abnormality within the substance, excavates and applies its expression, and finalizes the design that fits the substance.
All materials are choices by self-judgment--we love them all. This year we will launch a collection of dying marble (this will exhibit in Dutch Design Week) , and try new materials--plastics and metal net.
BUZAO's materials are very architectural, do you think materials limit your design?
Materials are bound to have limitations, no matter the performance of each material, the supporting process conditions, or the designer's capture of the material expression, will all fall into limitations. BUZAO combines the known conditions through design, and finds a conjunction of "design pattern" and "material expression".
From BUZAO's point of view, there is no difference between traditional, natural and manmade materials. They all exist already. Material attributes are not in view. What matters most is the uncertainty or abnormality within the substance, which will finalize the design that fits the substance.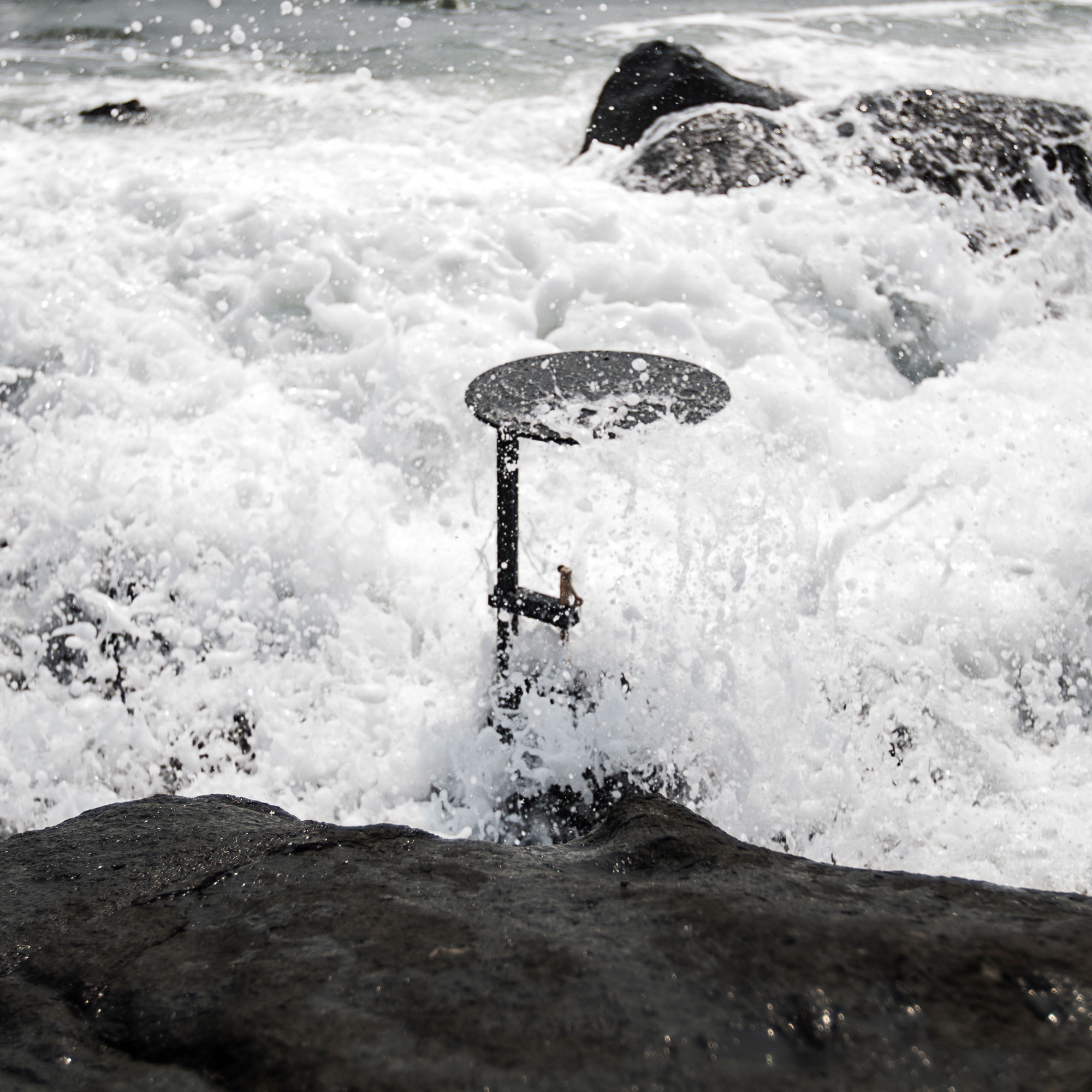 BUZAO produces furniture, lamps, household products, etc. What are the characteristics of your manufacturing process?
China is the world factory with huge manufacturing industries to supply, and a rich and mature industrial background. What BUZAO needs to do is to deconstruct, utilize, overturn and graft on the basis of existing mature technology.
You also have some interesting exhibitions, street exhibitions, such as NOT CREATE, ALL CREATE, can you briefly introduce the message you want to convey to the public?
Besides products and installation art, our team also tries to find more angles to interpret and express the status quo of design. The first independent curatorial was held in early 2019, which revealed the core concept of the brand. It expected to inherit the free spirit of off-site parade during "1979 Star Art Exhibition", broke the conventional form of indoor display through the mobile exhibition on the street, which rebelled the self-absorption of contemporary design with this playful form.
The exhibition "NOT CREATE, ALL CREATE" is a reverse exploration of the substance. Its core exhibits is a set of continuously activated dyed marble installations. 
The dyeing is borrowed from the coloring of agate fraud--the workshop use chemical dyes to recolor inferior stones, making the colors of agate and jade look more expensive. We use the techniques of art installation to decompose the dyeing process steps, extract and evolve the characteristics of "artificial" and "adsorption" from modern industry, then obtain the expression of pure blue artificial color organically spreading on the surface of natural stones. The structure of absorptive rock crystal unfolds along the timeline and is left speechless. The high-saturated blue, a concrete artificial symbol invades the marble--which is well-known as the classical and natural imagery, and obtains a "new" material of high contrast and contemporariness. Not create, all create--BUZAO provides its self-interpretation.
All substance is existing and cannot be created--BUZAO just extracts and decomposes properties within substance,  and let them abnormal. What BUZAO produces is irrelevant with material substance, but makes relationships between it and human--which interprets the ego of designer or the viewer? There is no way to know. BUZAO creates nothing, yet nothing can be created. "Creation" is just discovery.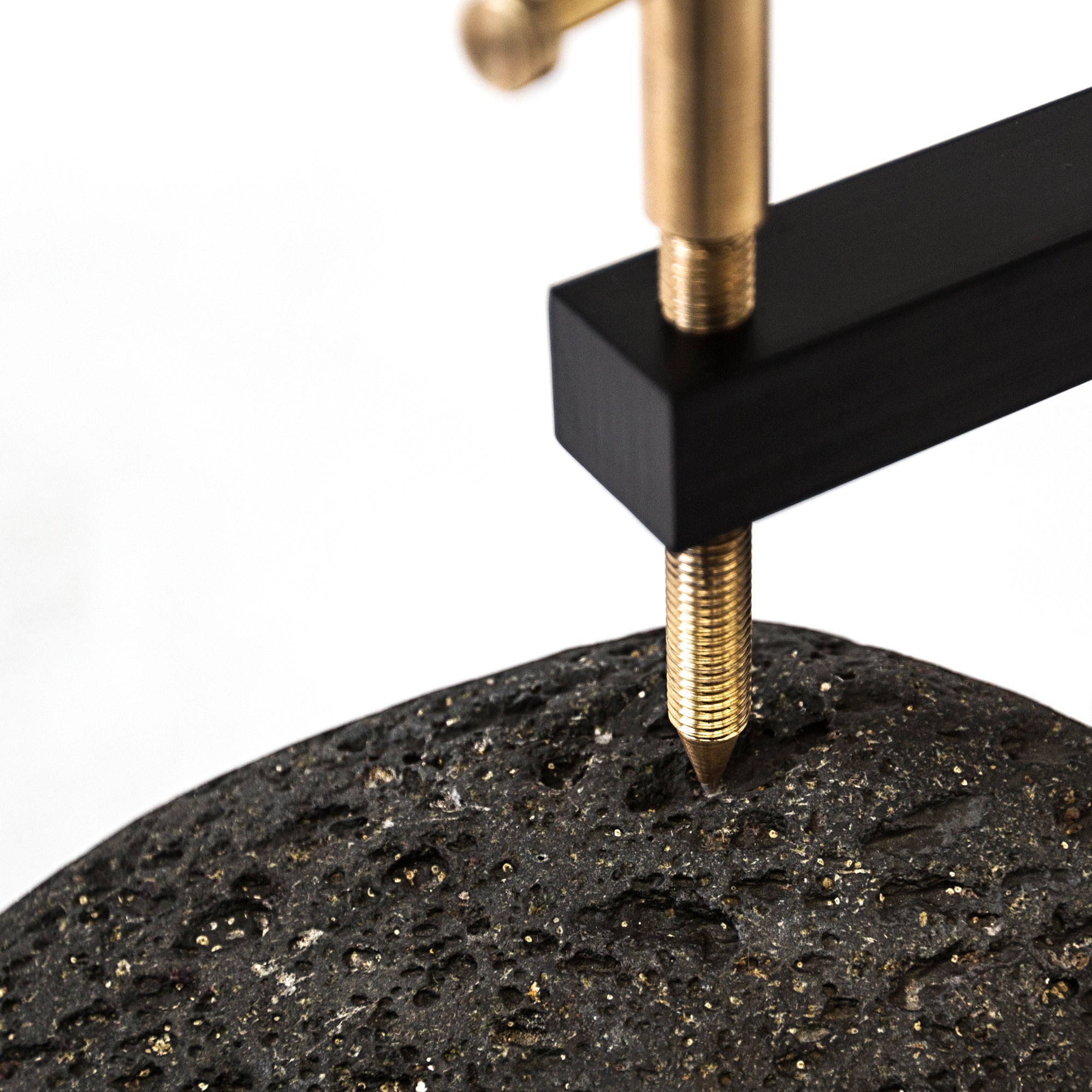 Was there a particularly joyful moment in the establishment and operation of BUZAO?
The joyful moment came when we found, in the finalisation of our design, that the imagination is consistent with reality; when we went through a period filled with depression and anxiety.
What is the creation environment of BUZAO?
Allow maximum freedom to develop the personality, integrate with the market in the most concise framework.
Designers have more or less their favorite brands. Are there any fashion, creative and design brands/designers you particular appreciate?
Nature's creation, haha. Specific to brand--Comme des Garcons /Balenciaga /Mooooi......
What influence or inspiration does Chinese cultural background have on BUZAO's creation?
Benefiting from China's rich historical heritage, many designers draw inspiration from the material and cultural heritage and create a large number of works. This kind of national and humanistic design is more popular in the world. But every coin has two sides--such convenience also results in insufficient thinking and research, and the works are relatively thin in content. BUZAO does not avoid the original cultural genes, but try to get rid of its representative and label, to explore the nature of substance. We believe that the essence that drives all things in existence develop is the same, which is real and free from the limitation of their time--that is the "ego".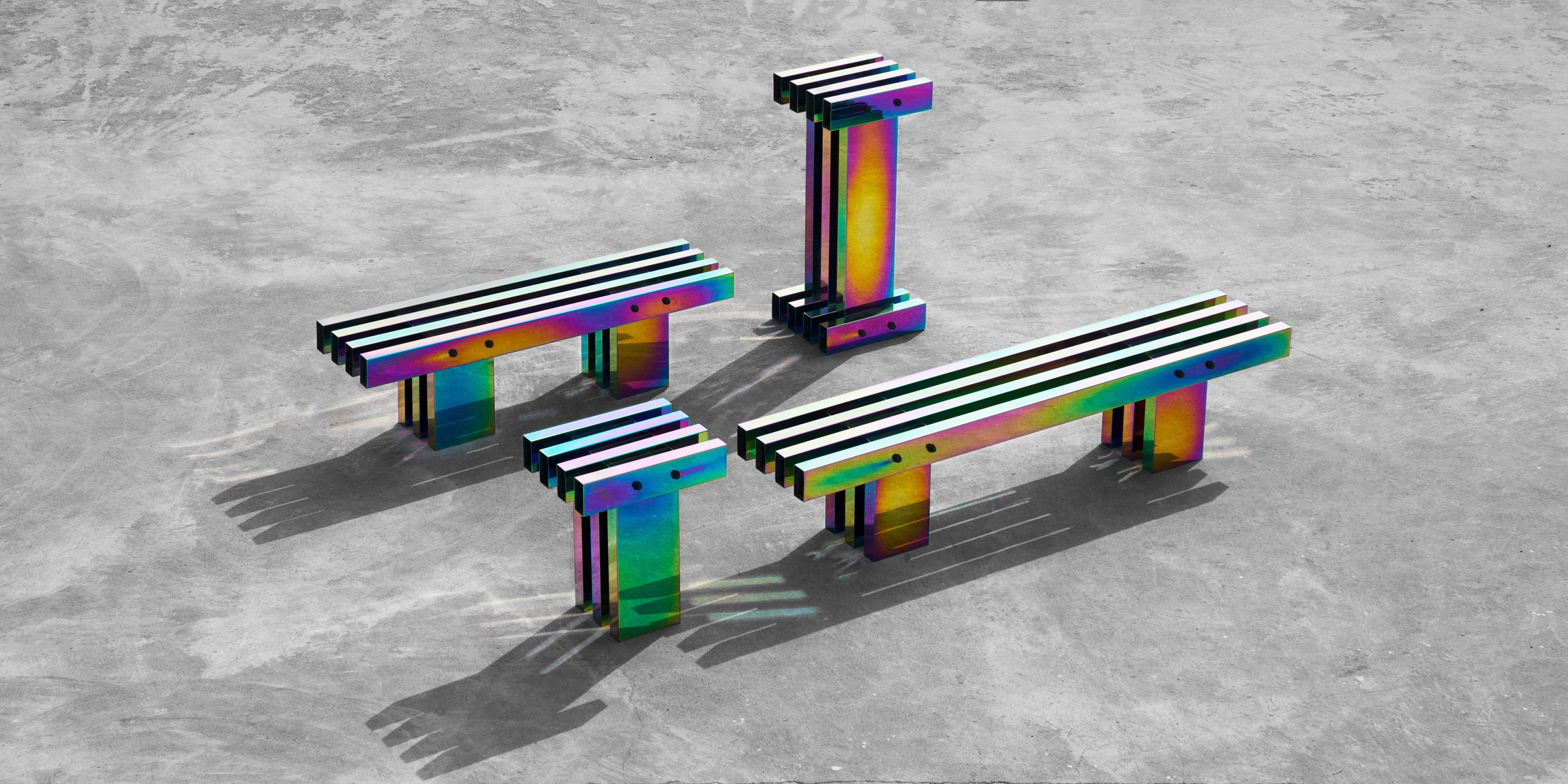 As a young brand, what's the biggest challenge BUZAO has faced?
The collision and choice between self-awareness and market selection.
Let's talk about BUZAO's future expectation and next target.
Maintain itself in the present and the future.
BUZAO has accumulated several design series last year which will be released in the first half of this year. Based on the socio-economic situation of last year, commercial products are planned and considered, so the new design series will combine functionality with style. In the current work, optimize our design expression, perfect product details, and be able to do yourself well.
Later, DISLOCATION--the first marble design series will be launched. We abstract a common joint filling process of marble, so that its texture is segmented and dislocated.
PIXEL--the second marble design series, a combination of natural material and computer language form, is an exploration of representing nature by means of pixels.
About Belong New York
Based in New York, it is a professional design consultancy and art media company. Belong New York dig and curate worldwide avant-garde furniture, art and interior design, helping independent artists connect with global resources. By collaborating with worldwide galleries, institutions and independent artists, Belong New York is confident to provide customers with professional service of integrated artwork procurement, architectural and interior design consultation.
Image source: BUZAO