REN Hongfei is the founder of furniture brand WUSHE. The following interview with Ren was conducted by our partner Belong New York.
Hello Ren Hongfei! I heard you have just won the golden dot award of Chinese furniture design. Congratulations! Would you like to talk about the design concept of the winning work "floating chair"?
The floating chair has rhythmic lines that looks a bit like a terrace in the southwest of China. The variable lines were naturally integrated with ergonomics; then formed the chair legs, armrests, and backrest effortlessly as a whole. The shape of the floating chair is quite emotional, but a lot of my careful thought and calculation regarding the plywood material went behind it.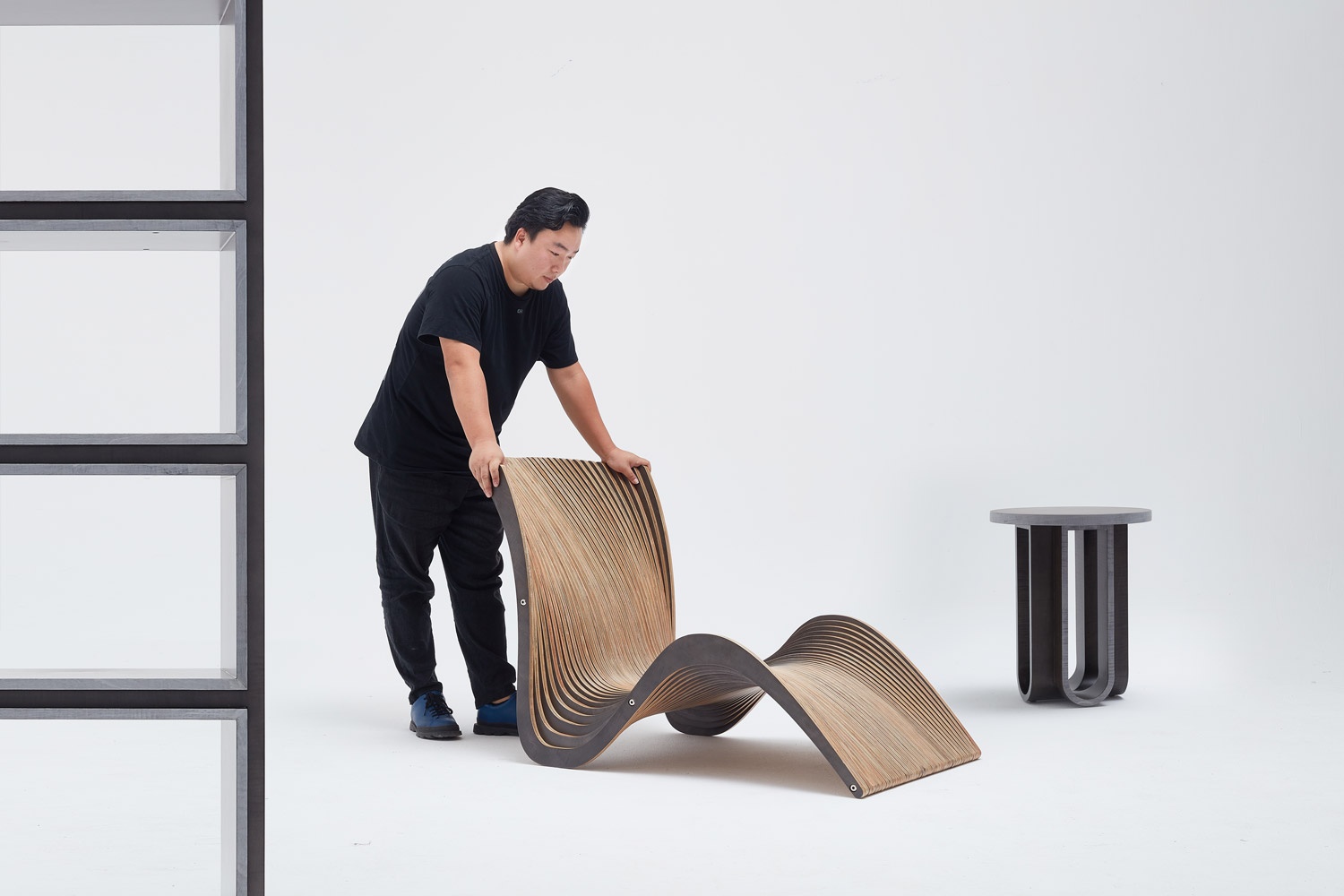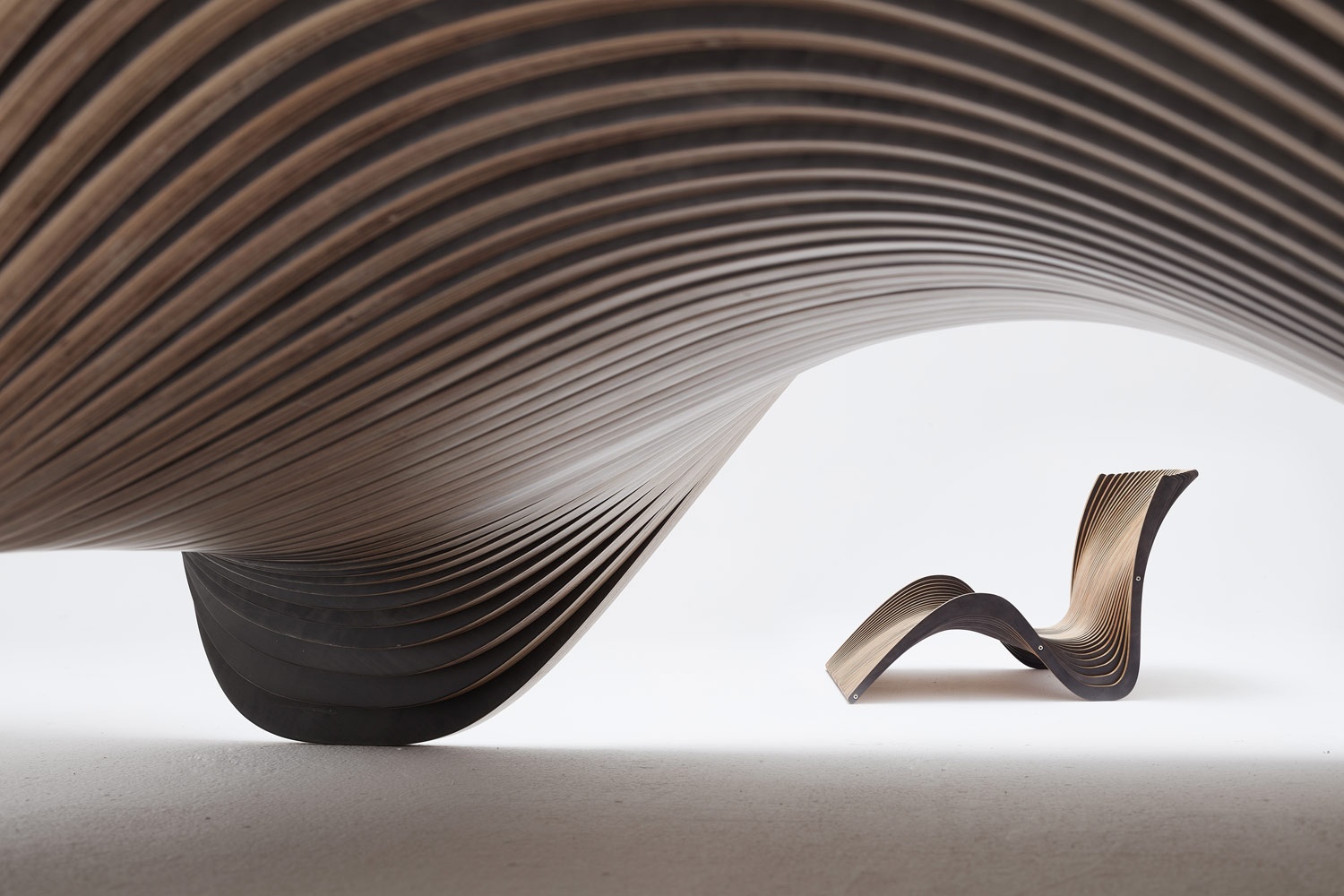 In this era, it is very valuable to maintain your own style. WUSHE has done it. How do you define your own style?
Probably like many designers, the original intention of creating a brand is to design what you want freely. Through the brand, you can fully express your desired lifestyle. During the past period, I'd like to go to some furniture thrift stores, where I can strongly feel the furniture or utensils are more attractive after the precipitation of time. Unfortunately, some furniture may be discarded as the lack of design intention or quality. As a designer, I have been thinking about what kind of characteristics can make the art work more vitality. I'm beginning to think about one day seeing WUSHE's furniture in a thrift store. WUSHE is always going to be making the work last longer and keep vitality.
Which one do you like the most in your work? Or which one means the most to you?
It should be "Dai Mo" series. It's more meaningful for me at this moment. This series of products is a reflection on my previous design thinking. I'd like using the most minimalist language to express design. My previous design work used to be more outside expression, more variations. However, the new design of this series is relatively inside expression. Regarding to its process, detail and temperament, I hope the design will focus on its inner, assuming such furniture can accompany our life much longer.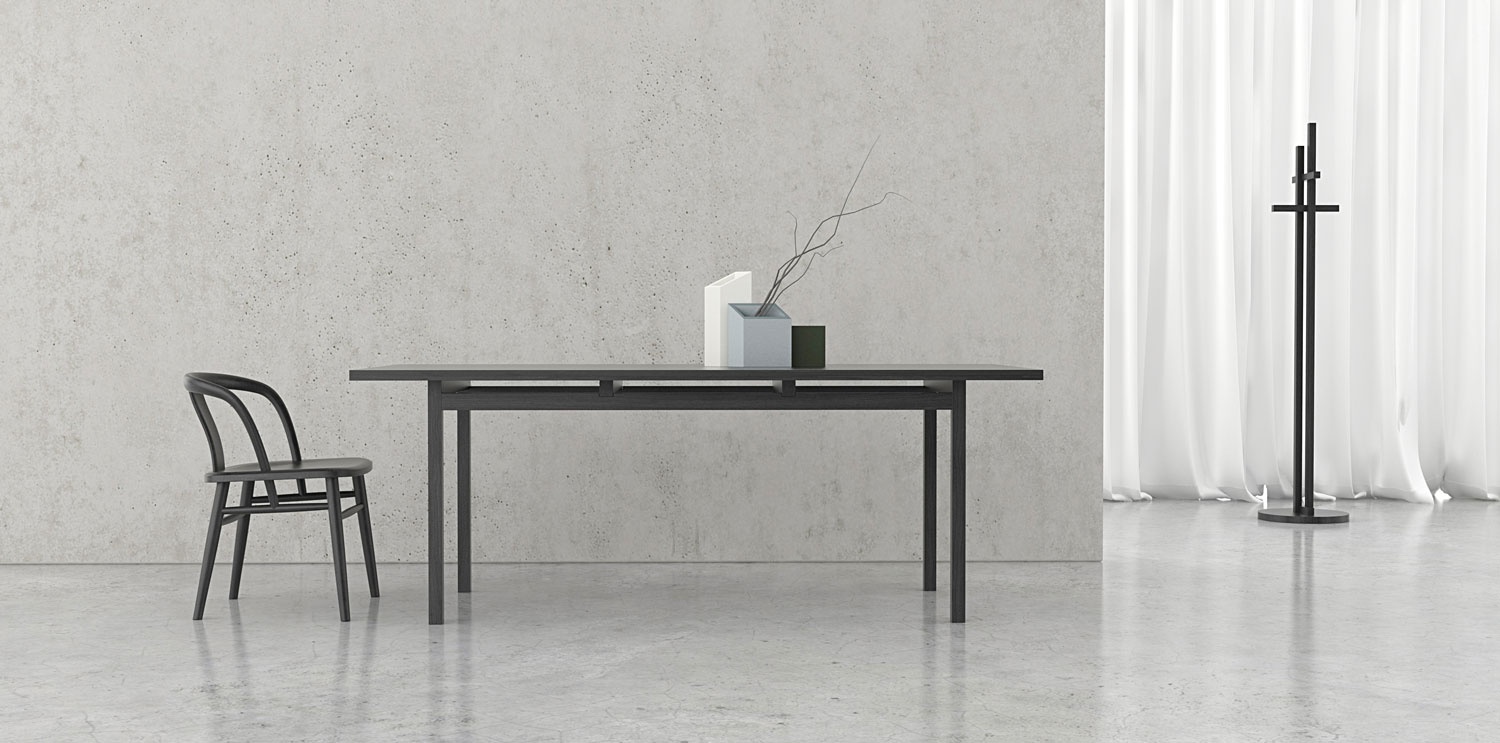 In addition to the design itself, where do you get inspiration?
The inspiration of design is relatively broad. When I am thinking about a piece of work, it will be considered connection with almost all the information of life, such as eating, shopping and shopping. Therefore, the most important theory is to focus on life itself and keep relaxed and happy.
You are enjoying studying and using wood, a traditional Chinese furniture material. Why? In 2013, you tried to create "FOX chair" with Corian artificial stone, which was very impressive. What other materials will you try in the future?
My favorite materials are not only wood, but also leather, stone, metal, etc. Of course, when it comes to design and distribute these materials in furniture, wood is undoubtedly the first consideration. Each material has its own natural properties, and it is good to use materials accordingly. As we know, Asian people's innate favorite is wood. Since ancient times, our buildings and even coffin chamber are all made of wood. And also, I and a few designer friends together closely visit and do research of Condehouse, fei tuo and other six top furniture companies in Japan. Each of them has decades of accumulation and precipitation, their countless excellent design almost all designed with wood, however, those full of solid wood furniture will not let us feel drab. Wood is a living material, even each wood has its own story through its growth as the different weather and natural environment. It takes a long time or even hundreds of years to become a huge tree. I hope every designer and craftsman should hold a heart of respect before designing and making.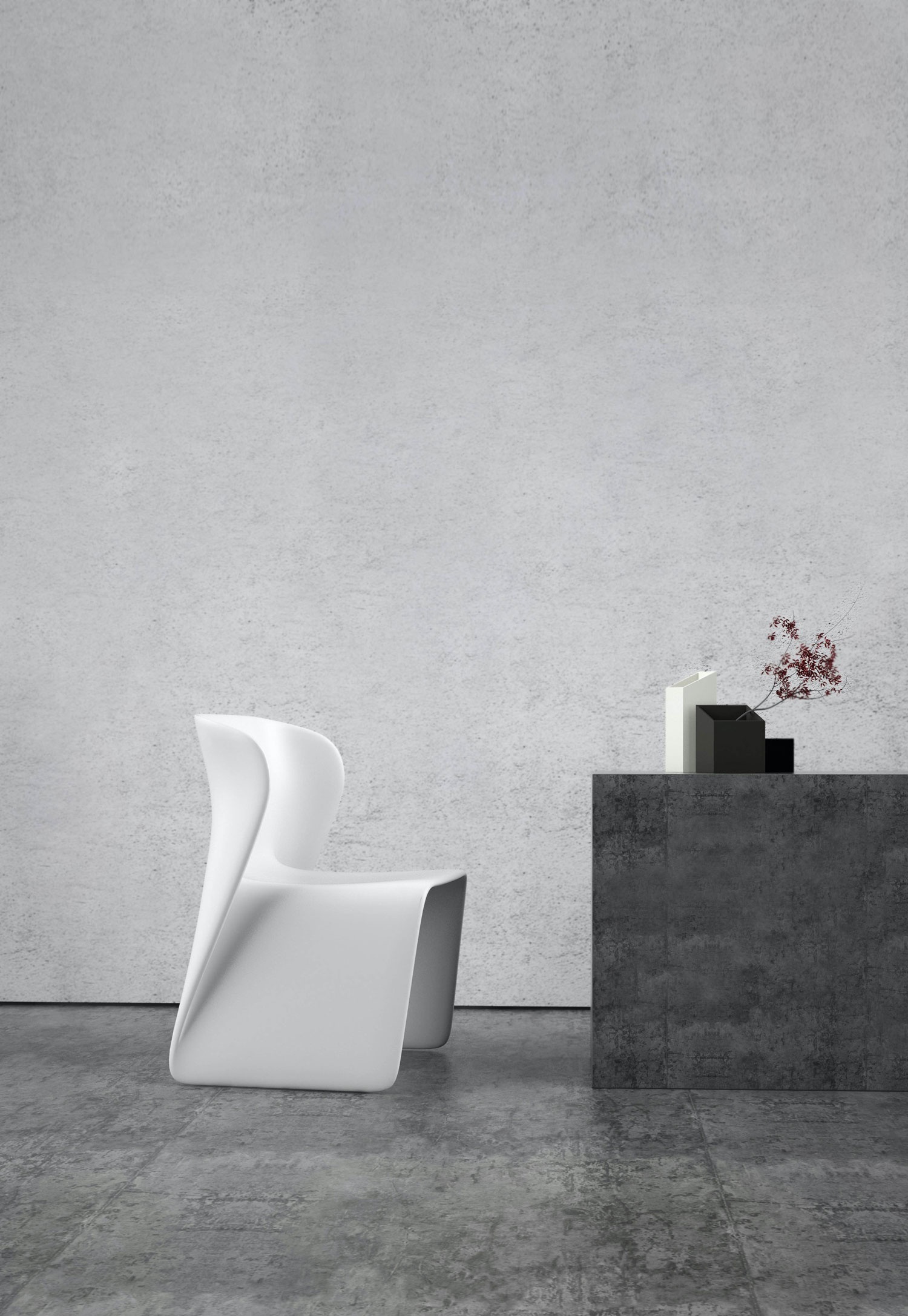 As we know, you are also a curator. The "R.E.Design" explored the re-emergence of contemporary mahogany as a furniture material a while ago, it's a very interesting exhibition. What would you like to tell or express to the public as a curator?
The participating exhibitors in the "R.E.Design" exhibition are a group of 80 independent designers. They all have more than 5 years working experience and most of their time were designing commercial related projects. Design services have many restrictions, but design itself needs to be creative and experimental. "R.E.Design" exhibition provided a platform to let us discuss and determine the theme, create, communicate with each other, and speak through on one critical point of design. The theme and direction of each exhibition are very critical. By taking into account the pain points of the industry and the professionalism of the design, it can make such an exhibition achieve a certain height. The collective voice will also be more powerful, hoping to give the whole industry, companies, and even consumers a little inspiration and new understanding. It is also a good platform for every designer to communicate and learn. As a participating designer, I also reflected on and made breakthroughs in my previous works and ideas again and again.
From being an independent designer to run your own furniture brand, you need to think more about user acceptance, market feedback, etc. Do these have an impact on your creation? Is it a good thing or a bad thing?
Yes, of course. The market feedback is also a critical issue that designers must consider. The market feedback will have directly impact to the design. Designers must balance design with the market demand during the creation. However, as long as the brand positioning is clear, and the market positioning is also clear, the design work can't be completely affected by user's feedback. It's also important to be yourself to some extent.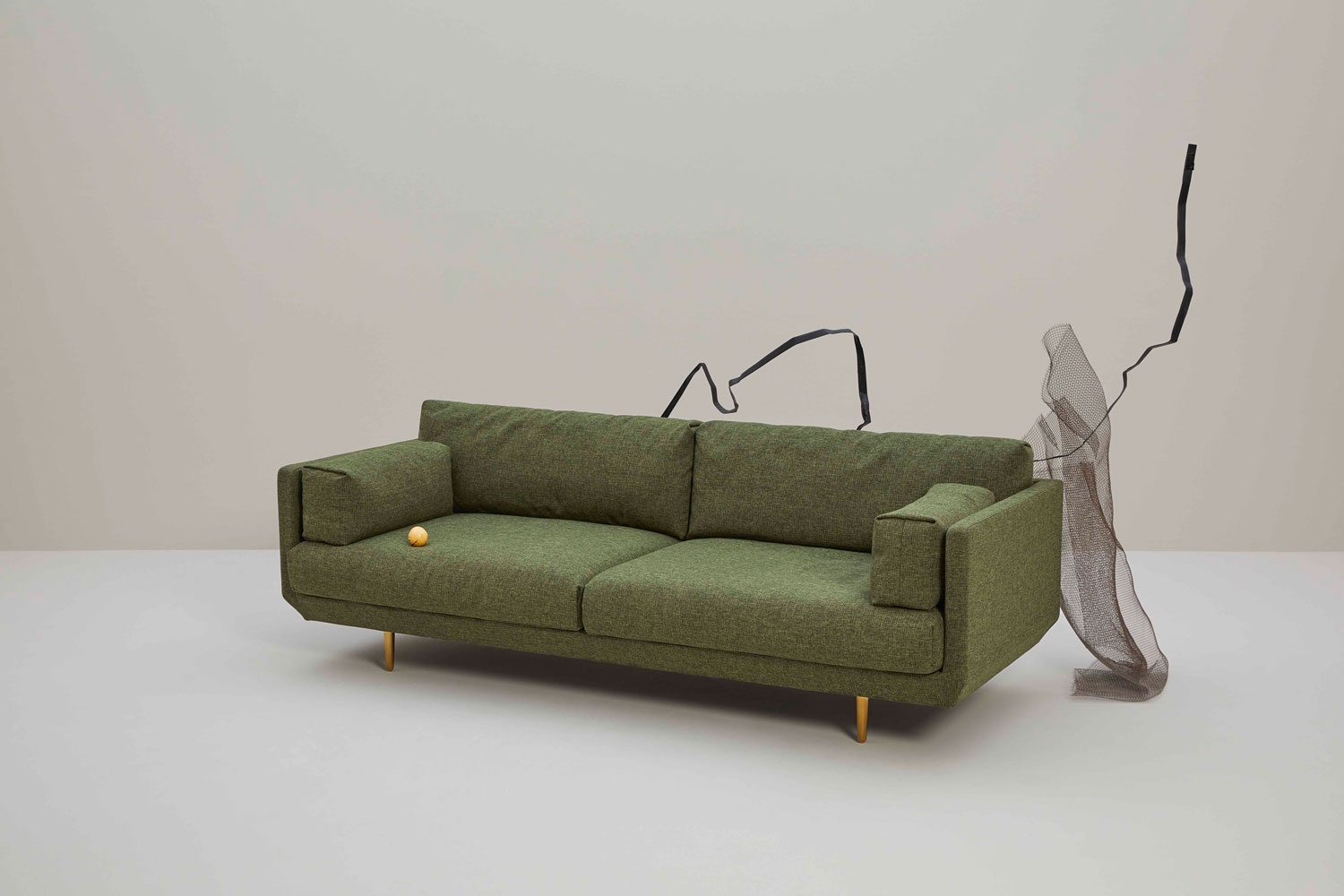 For most people, the practicality and beauty of furniture can't seem to have both together, good-looking but not easy to use, not easy to take care of. In your creation, does practicality and beauty come first and second in your creation?
I have always felt that the foundation of furniture design is easy to use, comfortable and durable. These foundation principle must be achieved first. In addition, beauty is what I have been pursuing all the time. Practicality and beauty these two points are not conflicting. Designers have to choose from the two and balance them get together.
Designers more or less have their own favorite brands, do you have a particular appreciation of fashion, creative, design brand/designer?
Menu from Denmark and DESALTO from Italy are two of my favorite brands. Regarding to designer, I like Japanese sensei and French bouroullec brothers.
Your design combines Chinese elements with Western minimalist elements, including eastern philosophy thinking. Can you talk about why you prefer oriental aesthetic? How do you see the potential of Chinese elements on the international stage?
Although our design education is many years later than that of the west, our furniture and household utensils almost aligned with our long standing culture. We have our own unique eastern aesthetic system, For example, our brilliant Ming dynasty furniture, yuan and song vessels. Chinese contemporary design also needs its own aesthetic system and values. We can learn design method and manufacturing process from the west, but the eastern aesthetic and values can't be abandoned. Aesthetic likes the blood of our body, can't be giving up. When we design an object with an eastern aesthetic, when we measure an object with an eastern current lifestyle, more and more excellent Chinese furniture works will naturally appear.
When our economic strength increases rapidly, the output of culture is the country's real strength and confidence. Regardless of how many westerners are been influenced, it would be great if more Chinese consumers were able to confidently accept products developed with eastern culture.
Expectations for yourself/ WUSHE, and the next goal?
I do not expect my company to have a rapid growth. I only hope that I can do more and more good products as long as I can in a slow pace. I also hope that I can continue growing up with WUSHE constantly making progress.
Image Source: Ren Hongfei