As a knotting craftsman, Zhu Rongfan has combined this traditional Chinese handicraft with her background in costume design; this has given her works the traditional charm while maintaining a sense of fashion. When she was travelling in Japan, she found that not only is the Japanese craft industry well-protected and that it is also constantly evolving to be better. Oh the contrary, the Chinese traditional handicraft industry is almost stagnant. From then on, Zhu started looking for a way to combine traditional craftsmanship with modern aesthetics to inspire new forms of creativity in Chinese handicraft products.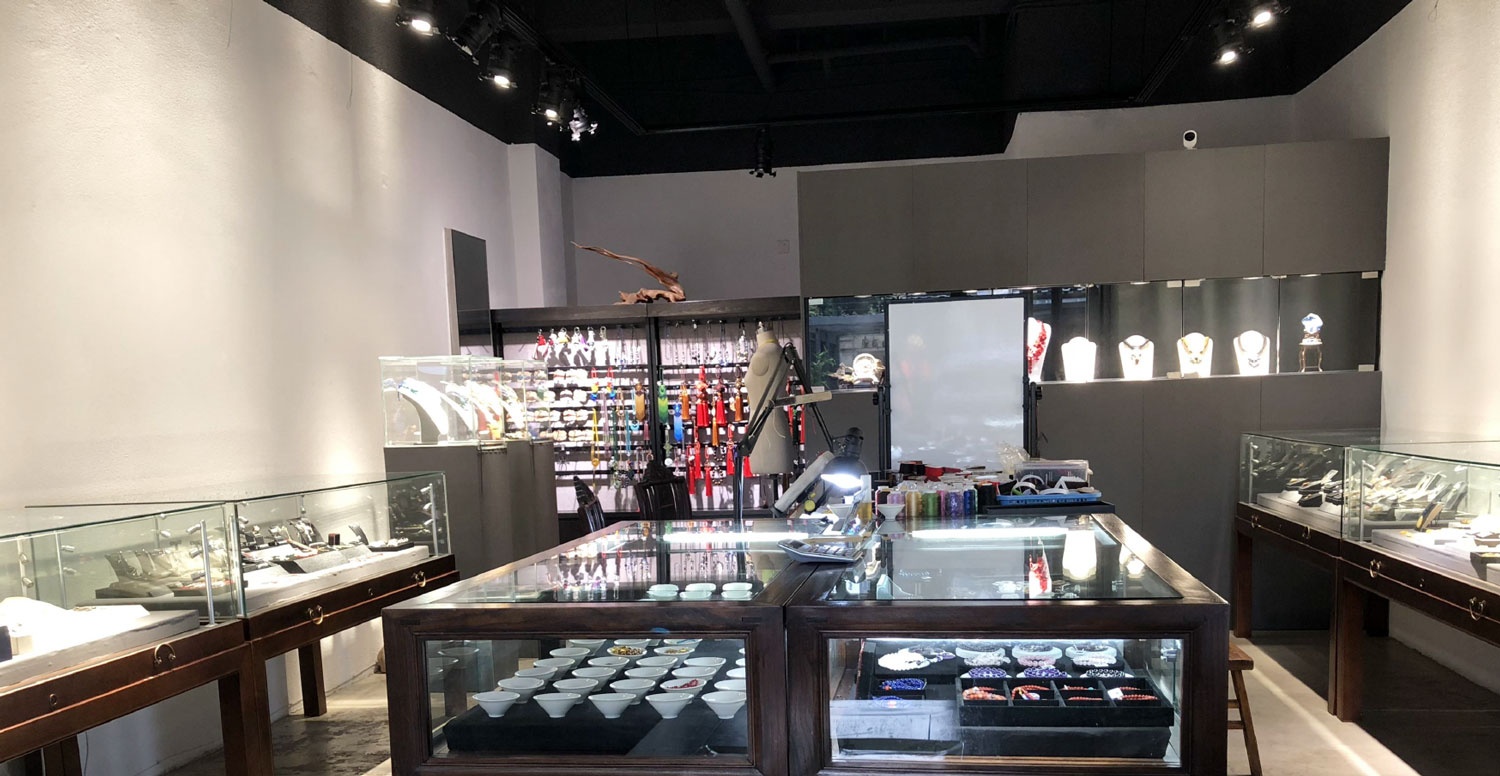 Zhu does more than carrying forward traditional craftsmanship. In addition to her passion for design, she works with the Chengdu Disability Association to actively encourage disabled people and their families to participate in creative knotting projects. Inspired by the folk story of the five-petal lilac, in which those who find the five-petal lilac can find true love, Zhu designed a series of knotted accessories based on this theme with her team, in the hope that this project will inspire the disabled community in Chengdu.
Zhu is adept at using different materials as the basis for her creation,  such as matching natural stone with silk thread. Her series calledThe Blossom of Fortuneare based on the five-petal lilac flower, inspired by a traditional Chinese couplet. To reflect its meaning of prosperity and happiness, Zhu specifically used jadeite, beeswax, coral, amber, red agate, and high-grade coloured silk as the materials. Natural stone such as Emerald and honey wax are from customers.
Zhu uses silk as the basis of the entire necklace, which is composed of several gradually multicoloured five-petal flowers and leaves that are hand-knitted, in ochre, red, brown and more colours.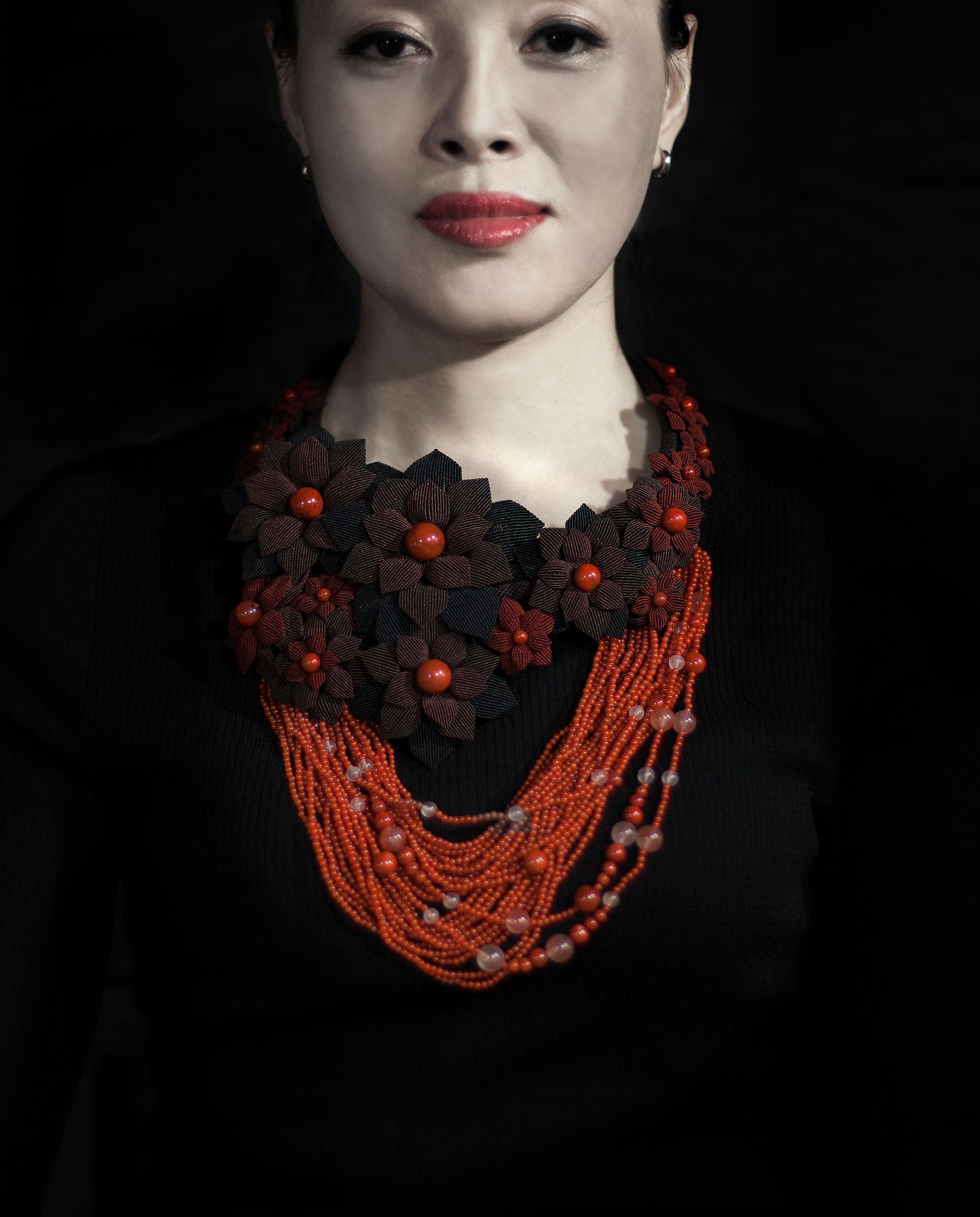 The whole necklace is fixed around the main rod made of traditional auspicious knots, and the petals are braided with traditional knots. This set of designs was carefully polished by Zhu, and it took three years to complete from the idea to the production.
The knotted installation artwork "Exquisite Bondage", which is created by Zhu and her team and is also inspired by the five-petal lilac, is a reflection on the underlying pressure and restrain of love, as people can restrain their loved ones by giving them too much what they don't necessarily need.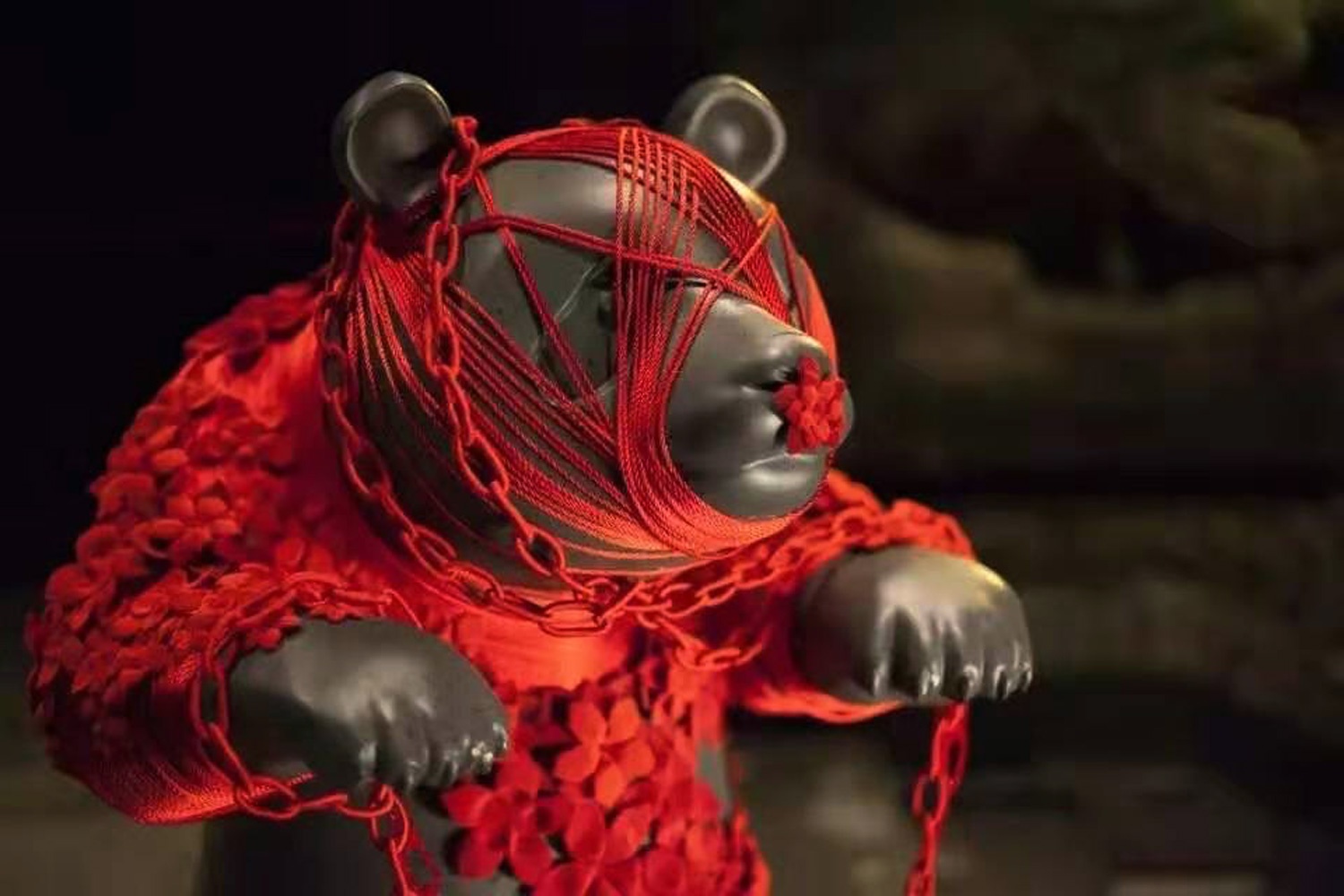 Moreover, Zhu incorporated Chinese literary mood into her works to endow a piece of jewelry with a deeper connotation. The original idea of the series Retrospection of the Ancient Rhymeseries came from a classic Chinese novel namedDream of Red Mansions, in which one of the characters, Ying Er, said: "If we make all the different knots we can think of, it will take as long as ten years." The use of knots in the novelDream of Red Mansionsvalidated the idea that knots were widely used with many patterns as ornaments traditionally in China. Hence, Zhu began to actively search for and collect a large number of traditional knitting techniques, and innovate on them for modern use.
In this series of works, she designed a lot of knitting accessories with different patterns and colours. In these combinations, she found more possibilities in the combination of traditional craftsmanship and modern art.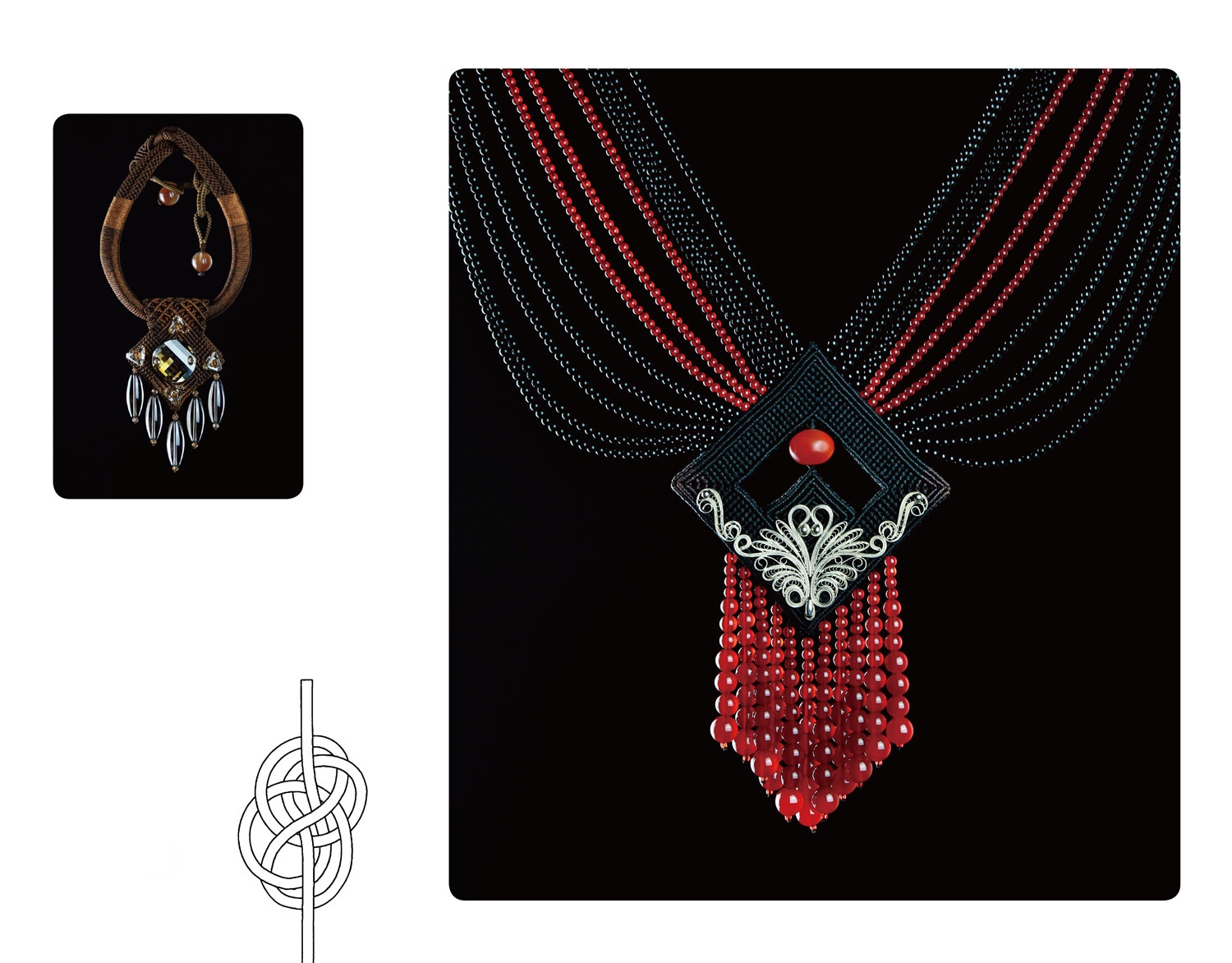 The series Xiangrui Caishengmeans "the superiority and beauty of things". In ancient times, red and peach-coloured ropes were often used to form rhombuses to resemble the look of diamond flowers. The necklace series use carved jade, coral and hand-knitted traditional patterns such as the fortune knot and the oblique knot.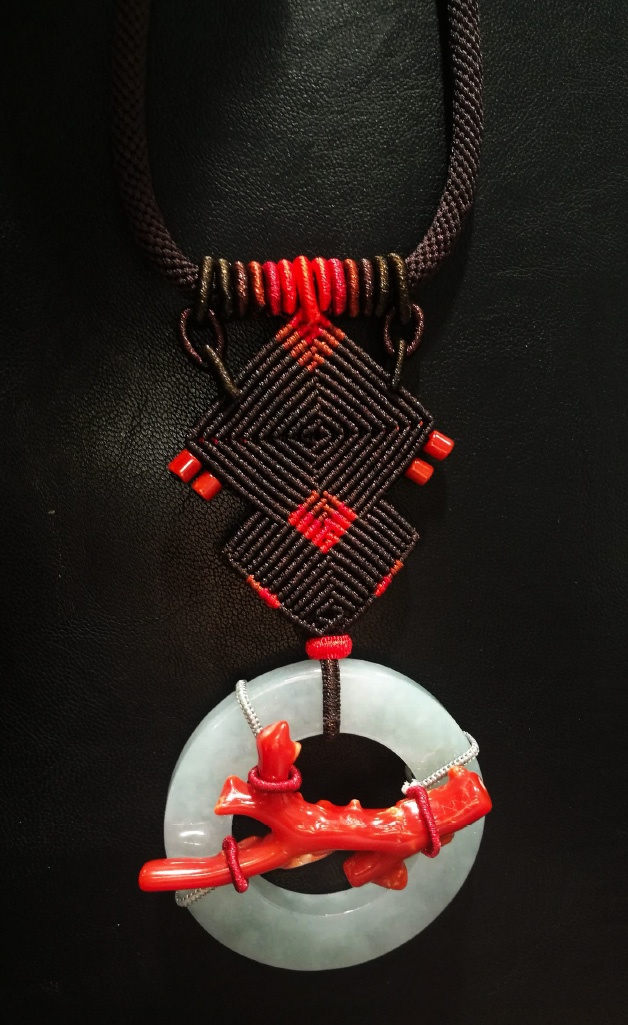 It may be a long and arduous journey to bring traditional handicrafts back to the public's sight, Zhu believes that the combination of the modern and traditional craftsmanship can restore the Chinese handicraft industry.  In her own way, she is teaching her skill to more people and makes more young people and those who love the art of knots know this traditional art.
Image Source:Zhu Rongfan