BANMOO, founded in 2006 in Shanghai, by LV Yongzhong, Chinese architect and artist, is a contemporary Chinese furniture and lifestyle brand."Ban", or halfness, is a quintessential quest for the balance of utility and Taoism. "Moo", or wood, represents the exploration on materials and forms which contain the origin of natural life.
Lv Yongzhong

Vice Director of China International Interior Design Association (CIID)
Vice Chairman Member of the Art Display & Decoration Committee under the CIDA
Chairman of Lv yongzhong Associates
Founder and Chief Designer of BANMOO

Born in 1968, graduated from Tongji University in 1990 and stayed on as a lecturer for almost 20 years. A common thread through these variegated experiences is his deep-rooted respect for traditional Chinese culture and the unique discourse he brings to the practice and expression of modern design. His works have won numerous awards and is seen as an influential Chinese creative designer as reported in both international and domestic media.

- Invited to design window showcases for Hermes flagship store from 2008 to 2010
- Works exhibited on 'Dutch Design Week 2008'
- As judge of the 'iF design Award China 2009'
- Invited to 'Hong Kong Business of Design Week 2010' as guest speaker
- Project 'Water Chamber, Suzhou, China' was awarded as 'Best of Category—Corporate Space Small' in the 2011 Global Excellence Awards by IIDA (International Interior Design Association)
- Awarded as 'The Top Ten of the most Influential Interior Designers' by China Institute of Interior Design (CIID) in 2011 and 2012
- Invited to be member of 'Hall of Fame' by 'Interior Design China'
- Works exhibited on 'Milan Design Week' from 2010 to 2013
- Furniture works were invited to Beijing Poly Auction from 2012 to 2014
- Honoured as 'The Forbes China most Influential Designer'
- Honoured as China Life Magazine"National Spirit Achiever"in 2016
- Honoured as 'Artist of Life' of the Art Display & Decoration Committee of China in 2017
BANMOO Collections
-
SUZHOU Chair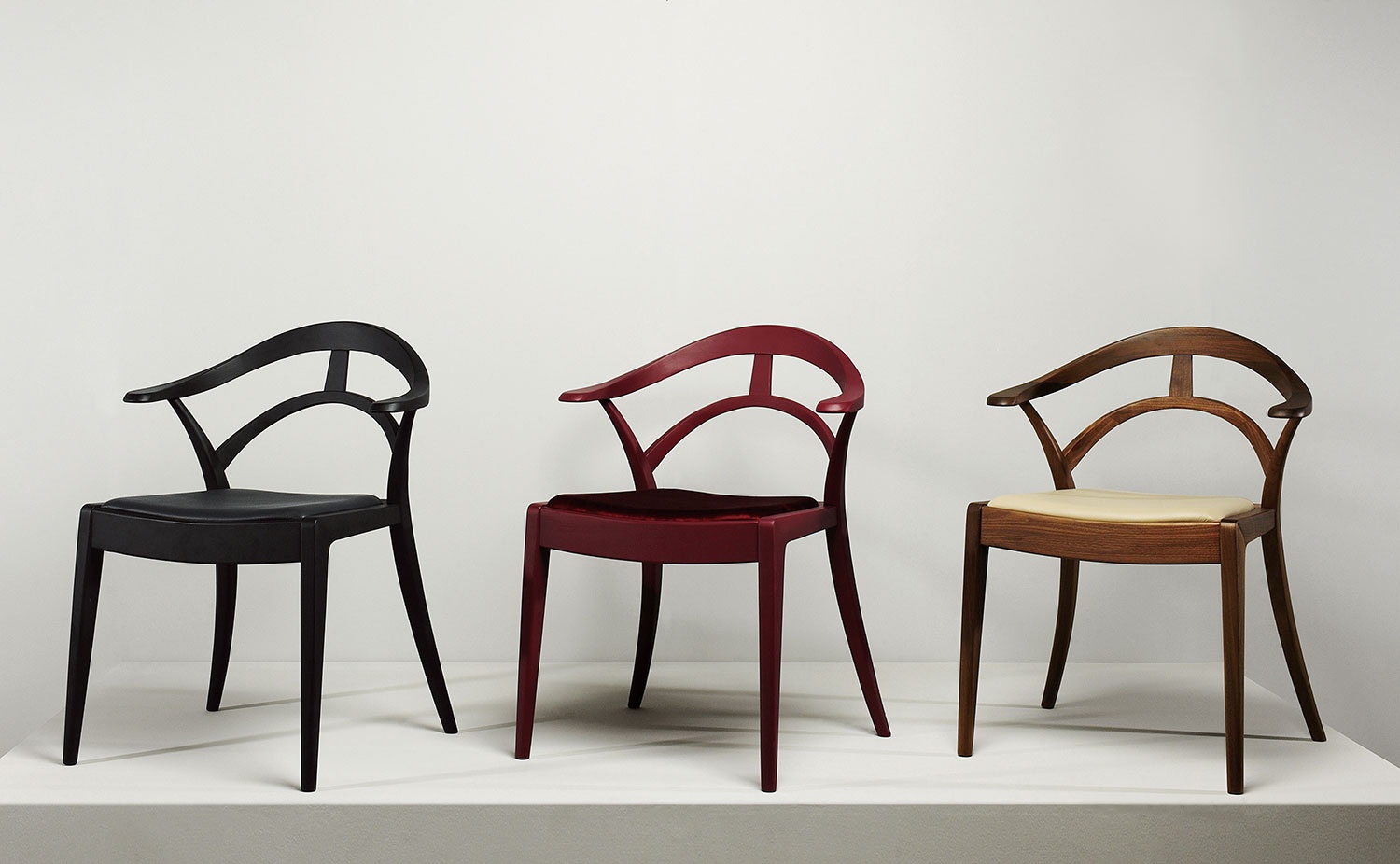 American walnut/American Ash + Leather,2011
W580mm×D550mm×H750mm, Seat Height 440mm
The Suzhou Chair is inspired by Suzhou city in southeast China, well known as "city of gardens". The graceful lines of this chair interpret the characteristics of the layout and structure of gardens. From many perspectives in this chair, one can see the waterway bridges and pavilions, and perhaps can even imagine listening to the soft tone of Suzhou dialect.
-
ESSENCE Screen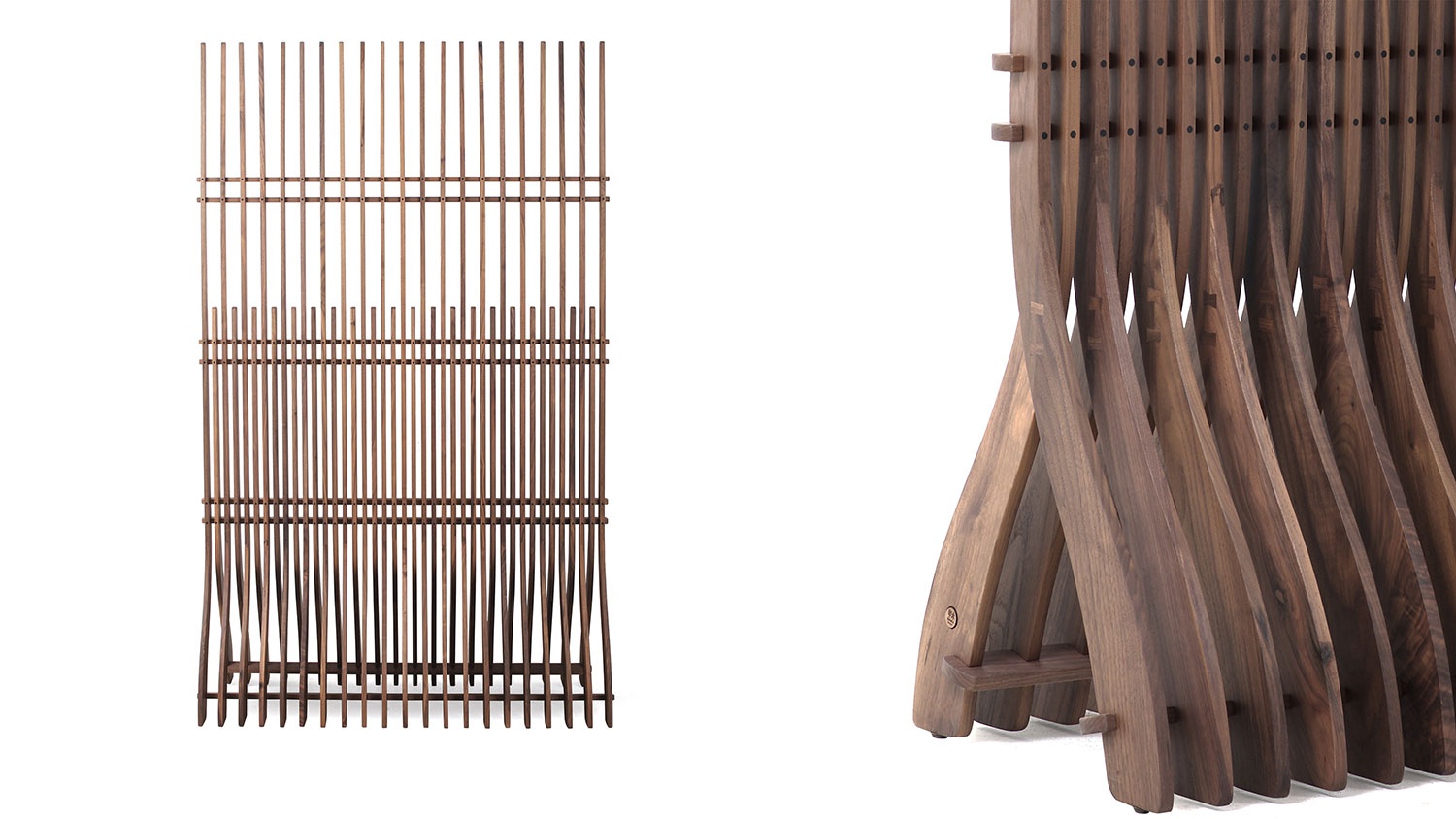 Designed in 2005, American walnut
W1235mm×D450mm×H2000mm

Two template sheets of different heights are horizontally connected in an interposing manner. Each template takes on the characteristic shape of Chinese calligraphy strokes. The intersection area leads to an ideal density to curtain off the sight. Hence the space is separated but not isolated.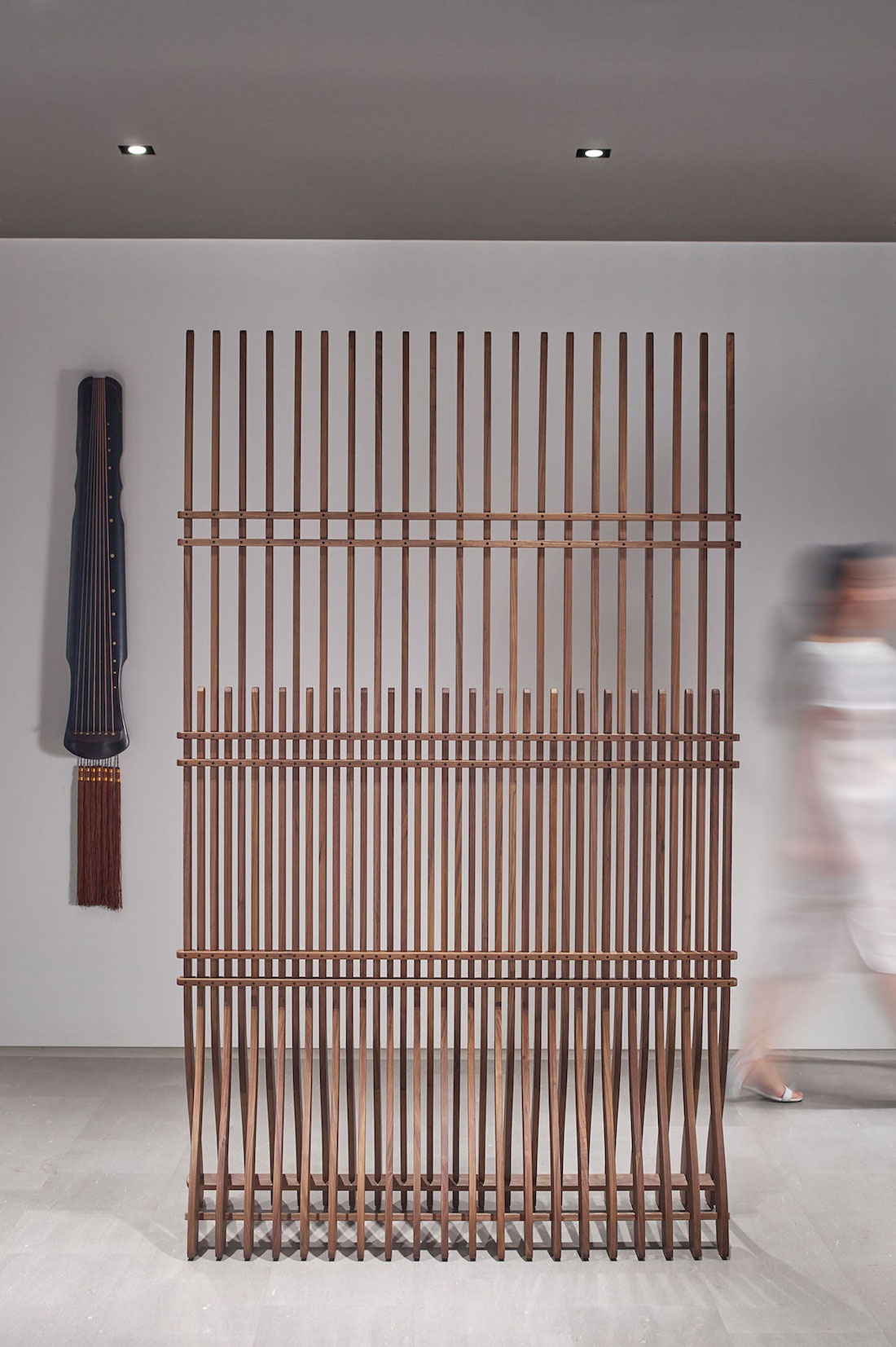 -
SEVEN STRING Table
Designed in 2012, American Ash
W1200×D430×H670

This table is evolved from a specific type of table that is used for SEVEN STRING QIN, an ancient Chinese instrument with seven strings that are plucked. The profile of the table is reminiscent of the costume worn during the Han Dynasty. In order to achieve these curves with solid wood, instead of steaming bending wood, an exquisite refine craftsmanship is critically required.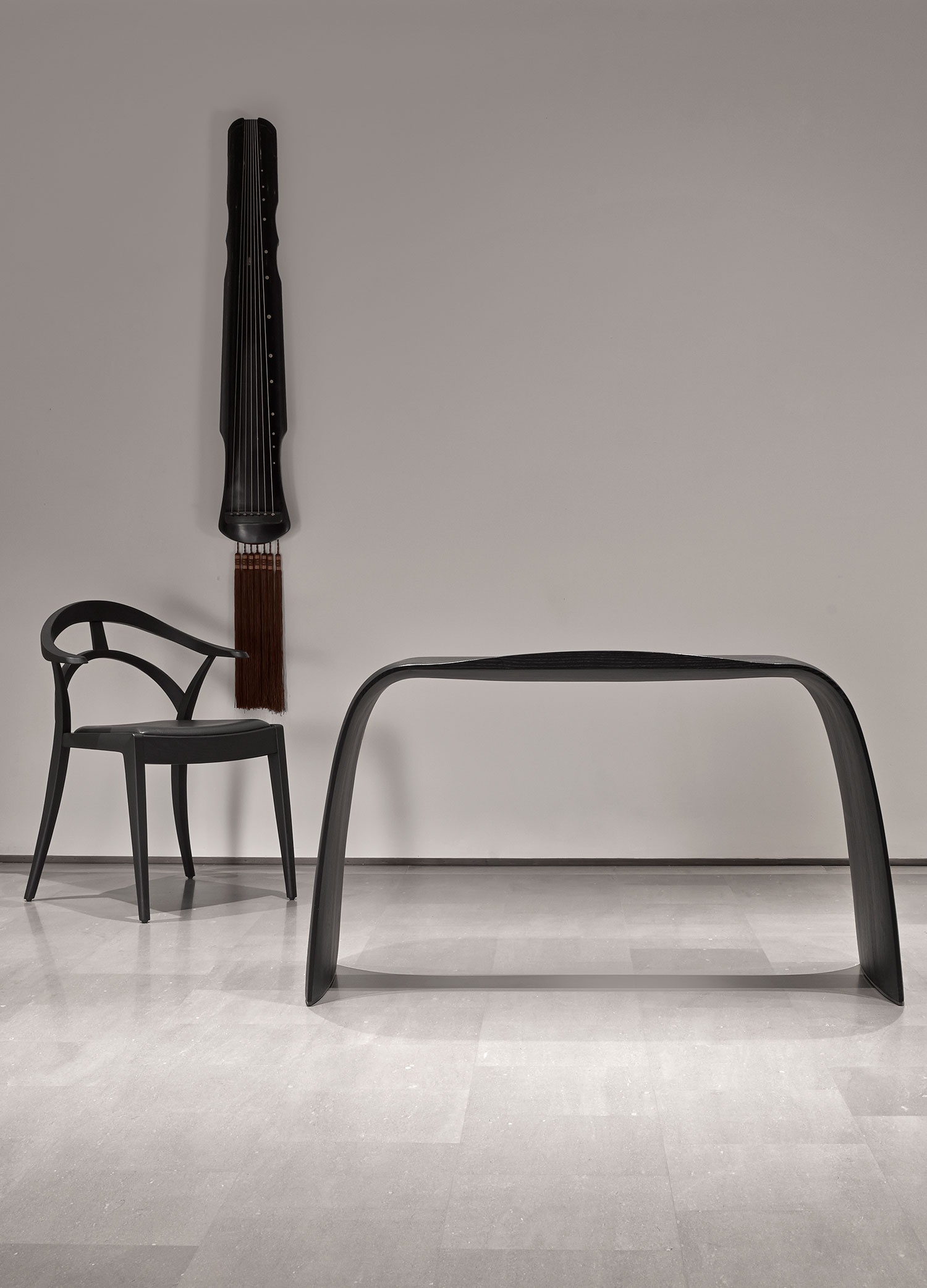 -
THE MESSENGER Writing Desk
American walnut, leather, brass hardware, 2013
W1370 mm×D665 mm×H810mm / W1560×D665 mm×H810mm / W1760 mm×D750 mm×H810mm, Table Height 750mm

This desk was inspired by the Messenger's Letter written by the famous Chinese writer Sun Ganlu. It carries you back the memories of paper writing, and also applies to nowadays information era. The smooth handcrafted curved lines on the table edge, combining with the leather surface, makes it unbelievably comforting to touch. It is like a courtyard for your mind where the inspiration flows.
-
THE MESSENGER chair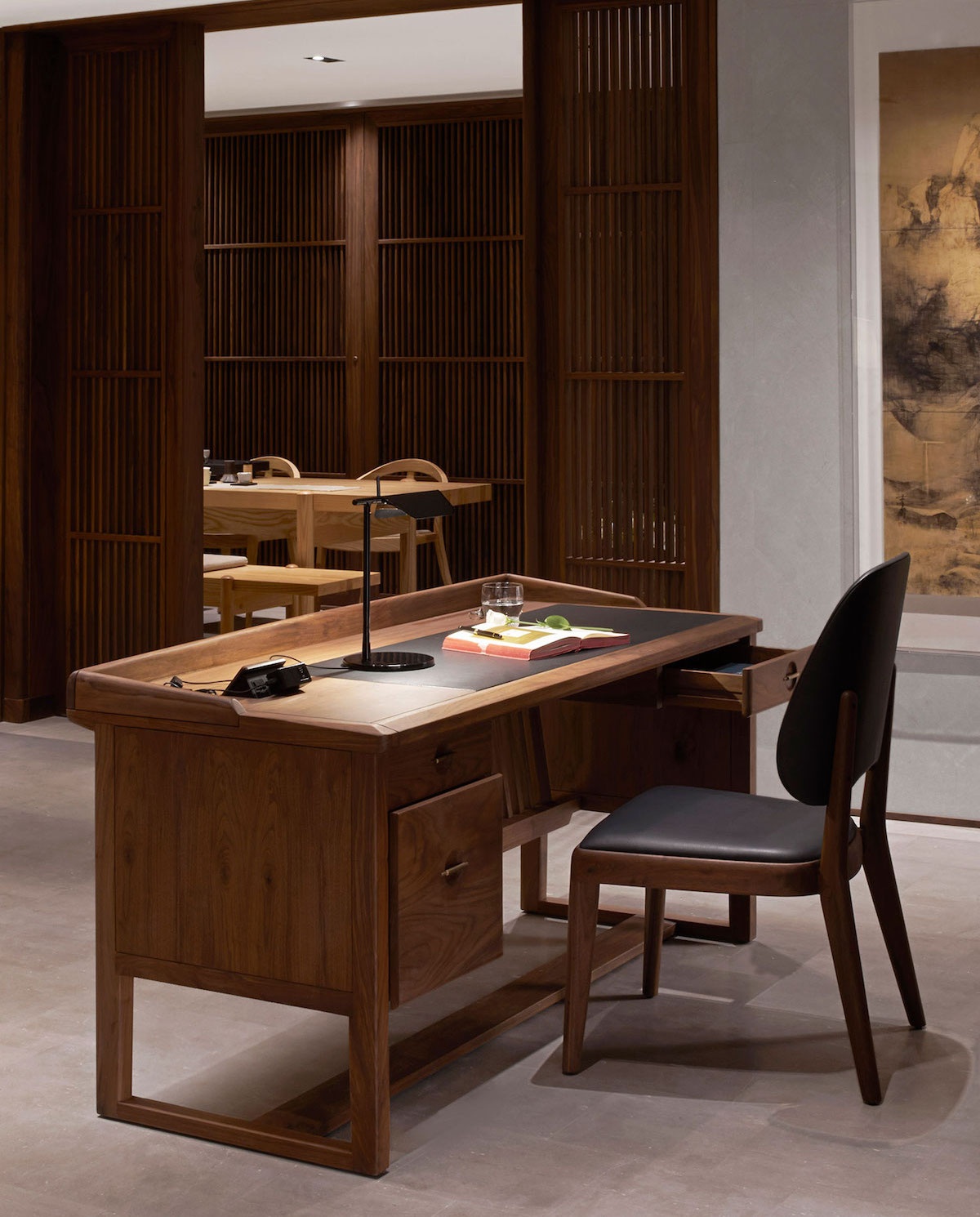 American walnut + leather, 2013
W510 mm×D570 mm×H950 mm, Seat Height 440mm

This chair was born in perfect consideration of sitting posture. Its remarkable comfort comes from the support on back and waist, by the 3-dimensional curved back cushion. The solid American walnut frame is combined with leather cushion; elegant fine lines evoke notions of both strength and delicateness.
-
ANHUI Emperor Desk
American walnut,2011
H750mm×W2320×D1030mm / H750mm×W2530mm×D1120mm

'Anhui' Emperor Desk, recommended by 'INTERIOR DESIGN Magazine', an immediate hit in the marketplace as soon as it was launched in 2011. The entire piece is made of American walnut. With the simple lines, with the asymmetrical balance, the design evokes a more interesting but classic interpretation of the desk. Not until you can touch it, until you can sit at it, will you discover its surprises and less apparent details and features.
-
ANHUI Long Table
American walnut, African mahogany, 2007
W1600mm×D900mm×H750mm / W1800mm×D900mm×H750 mm / W1980mm×D1030mm×H750mm
-
ANHUI Tea and Bar Cabinet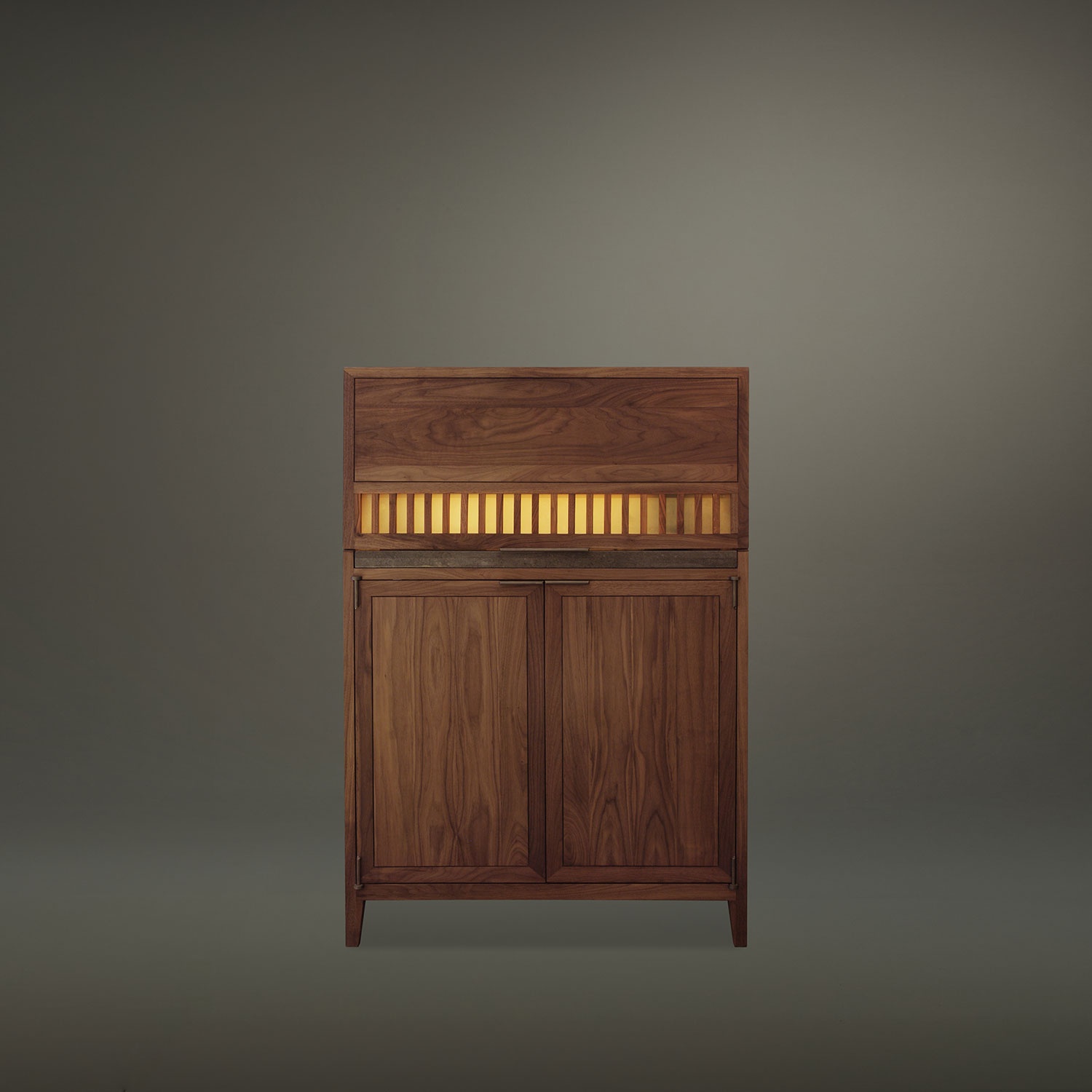 Designed in 2014, American Walnut, LED Light, Marble, brass hardware
H1400mm×W960mm×D490mm

A standalone and mobile mini-bar that you love in five-star hotels. You can put it in your office, study, dining room or even bedroom. The Japan-made hinges allow you to lift with a single hand the upper part, which will move back discreetly as it rises, and unfolds the warm-lit marbled operation desk. The warm LED light, the two plugs and a quiet mini-refrigerator gives it all the luxury functions you could hope for.
-
SONG Arm Chair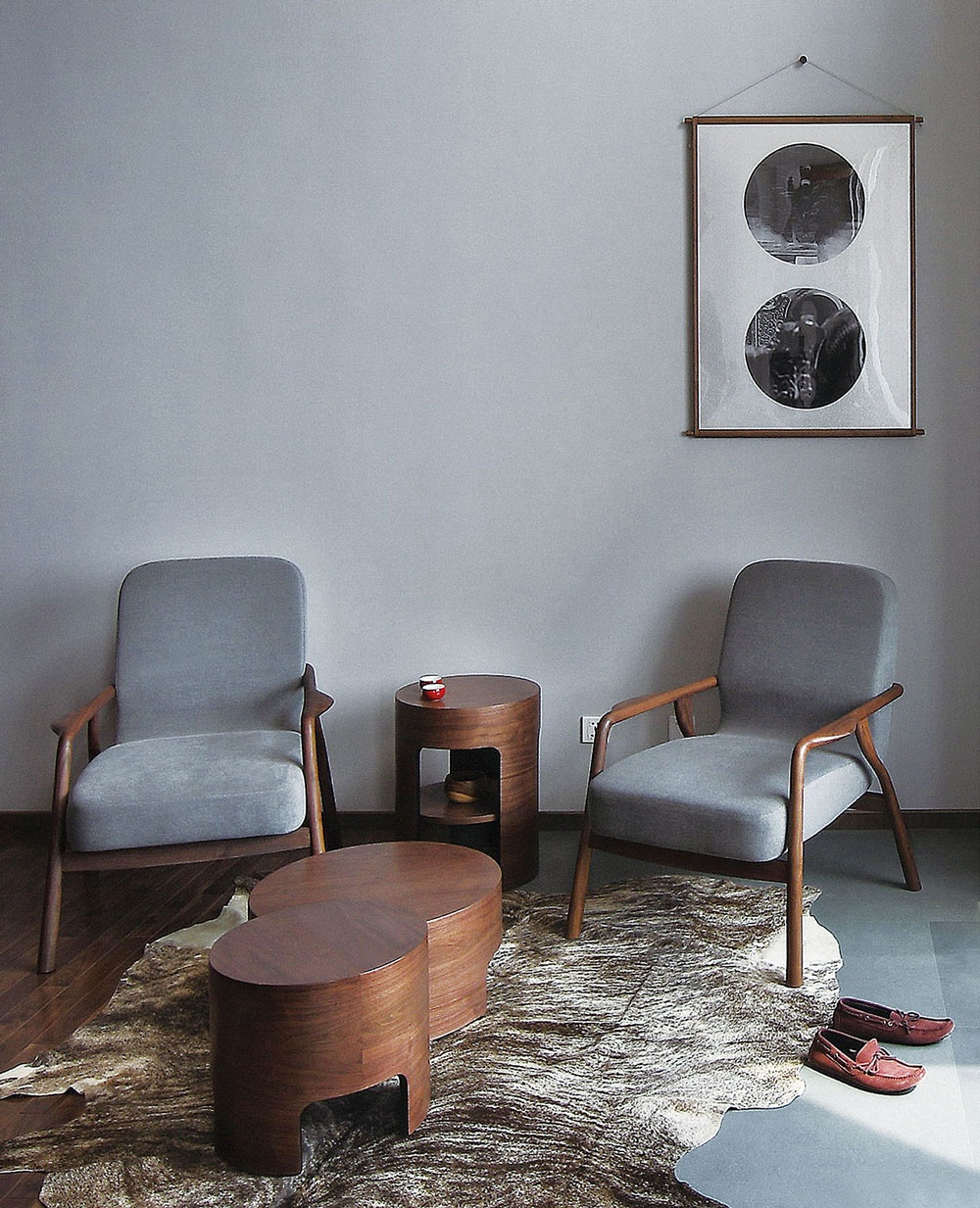 A good armchair possesses the power to carry you to the memories and stories of past generations. This is a chair you can display anywhere: lounge, living room, bedroom, office, as you wish. The lengthened seat increases its comfort, as the widened arms add a warm tactile experience. This chair is to be touched, and you will appreciate the beauty of Mother Nature and the wisdom of excellent design.
-
HORIZON Desk/Bench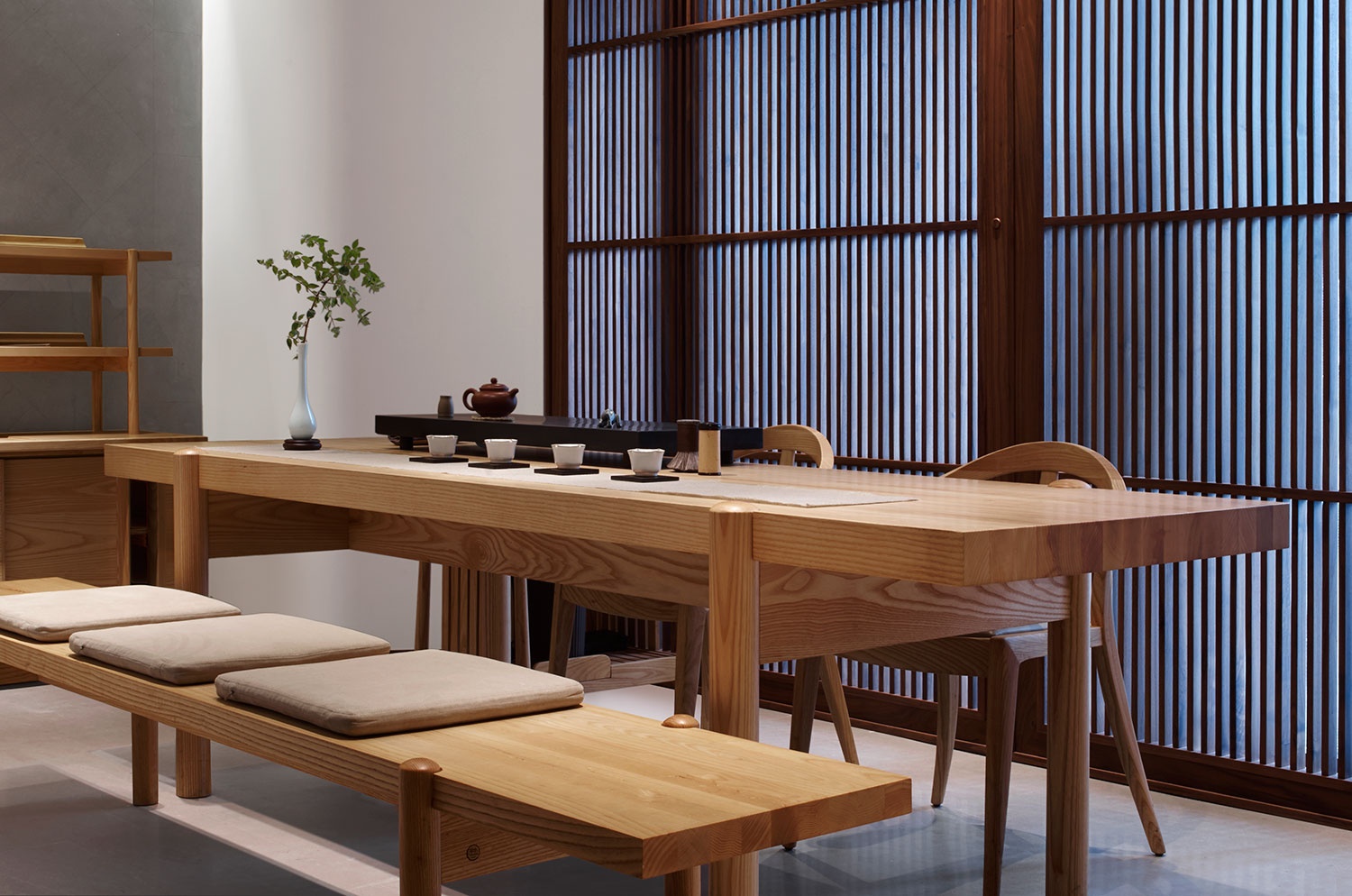 Designed in 2011, American Walnut/American Ash
Desk, W2480×D780×H720
Bench, W2480×D430×H430

The elegant quietness of the "Horizon" series could be felt on all the pieces. The focus is on the control over the logic correlations of its height, depth, board thickness, surface dents and columns' diameter.