In the recent opening of LOEWE Foundation Craft Prize 2018 exhibition at Design Museum in London, there is a unique stool among other incredible artworks. Multiple layers of bamboo veneers merge into one and sculpt a beautiful streamlined shape. Min Chen, the creator and the only Chinese nominee of the Prize this year, takes the inspiration from Hangzhou, where he was born in an artistic family.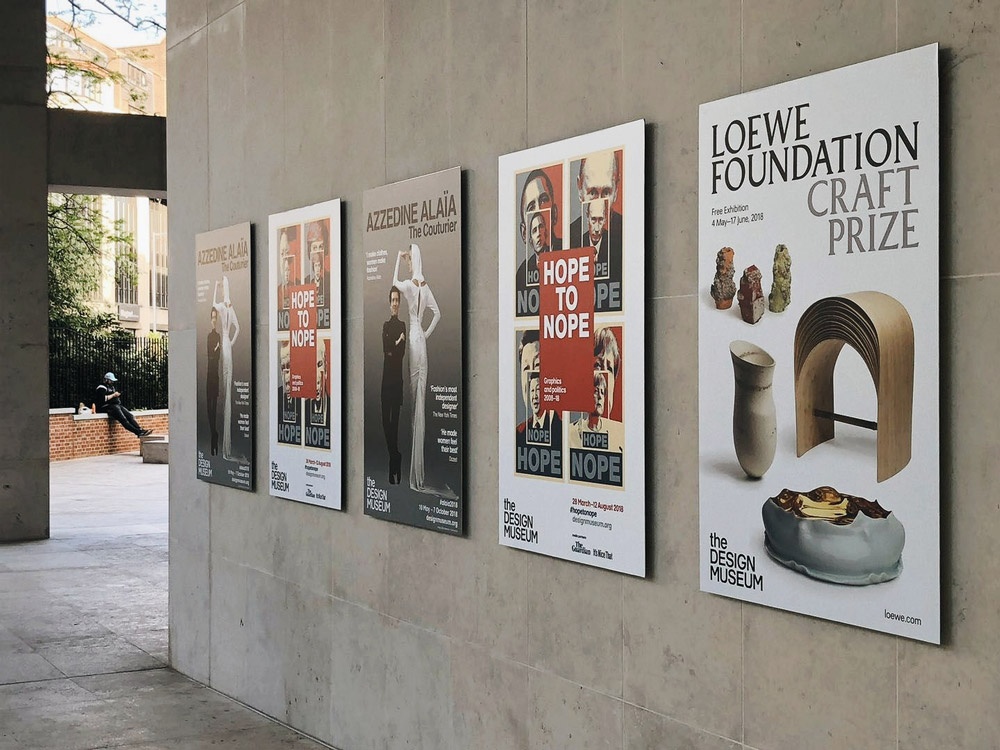 LOEWE, one of the world's major luxury houses with over 170 years of history, and its LOEWE Foundation launched the second edition of the LOEWE Craft Prize, to celebrate the contemporary craftsmanship. 30 finalists that exemplify artistic finesse and technical prowess were selected from close to 2,000 submissions across 86 countries by a panel of 11 experts.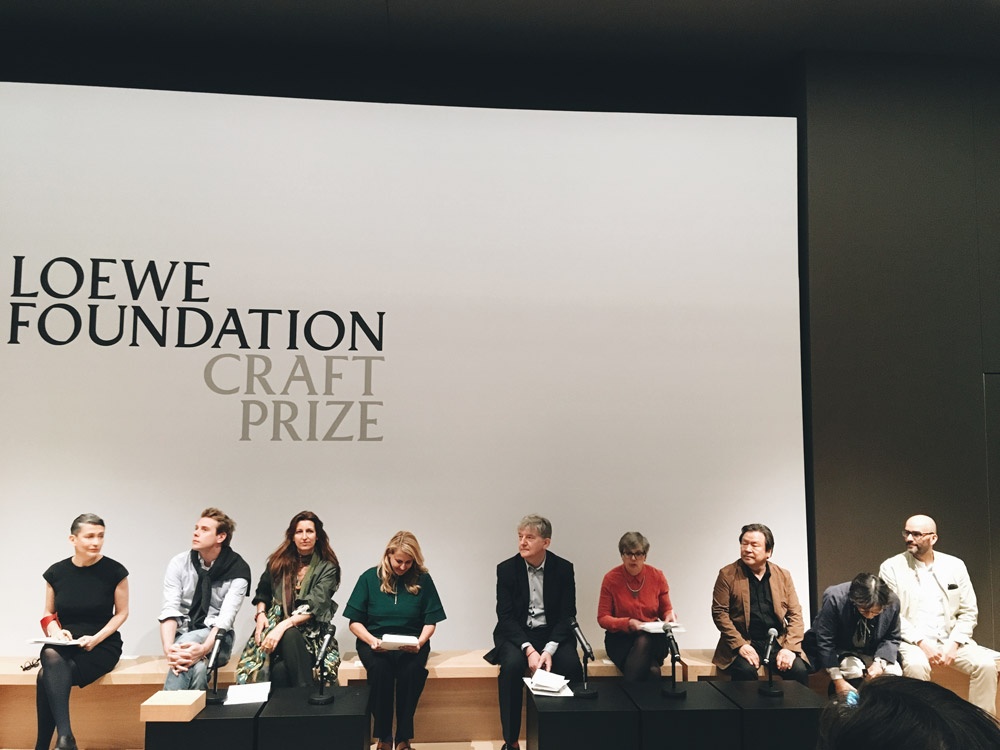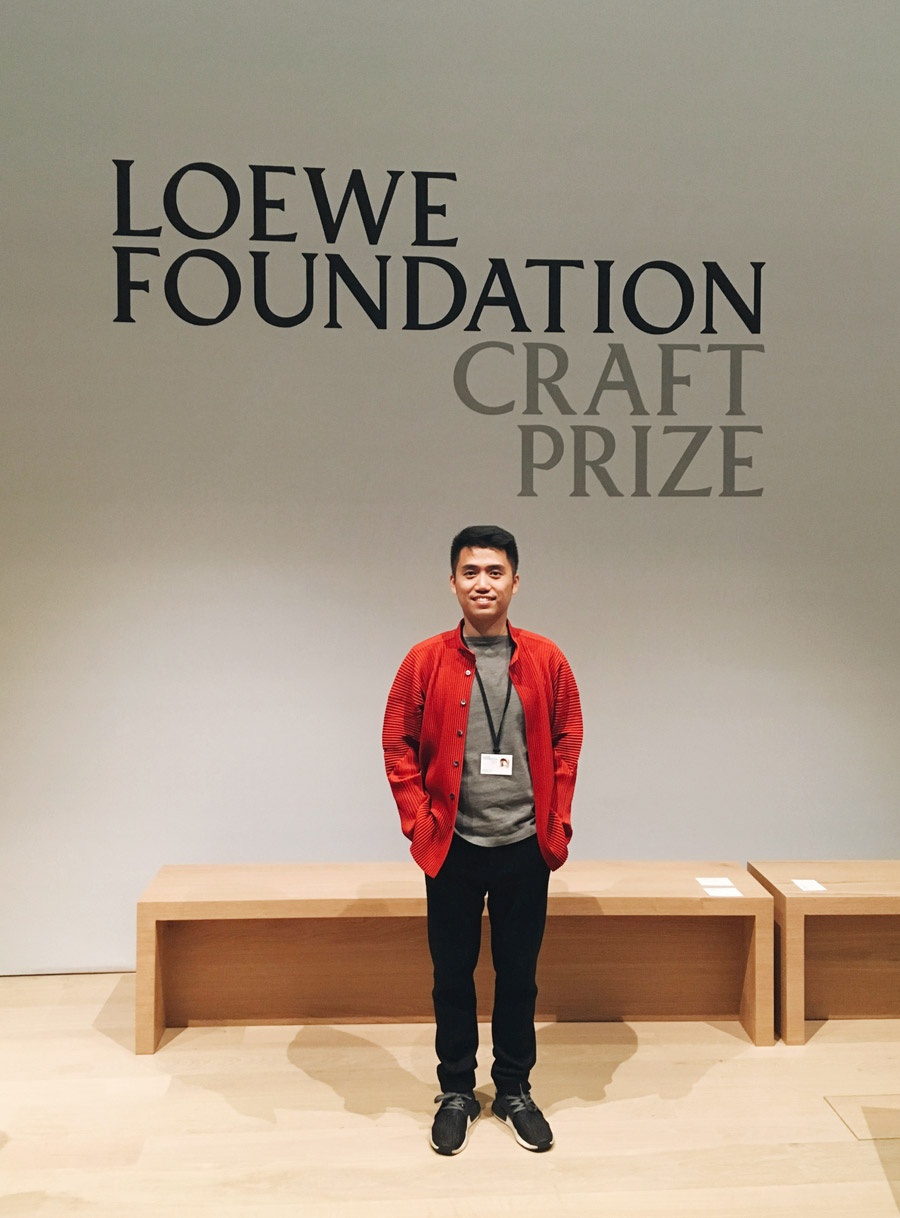 Min Chen commented: "Craft is a treasure that inherits the intelligence and culture from us humans since thousands of years ago. At this digital age where everything gets more virtual and artificially intelligent, Loewe Craft Prize sends an important message that craftsmanship needs to progress over time. I am very honoured and thankful to be part of the exhibition, and full of confidence for crafts innovation and design in the future."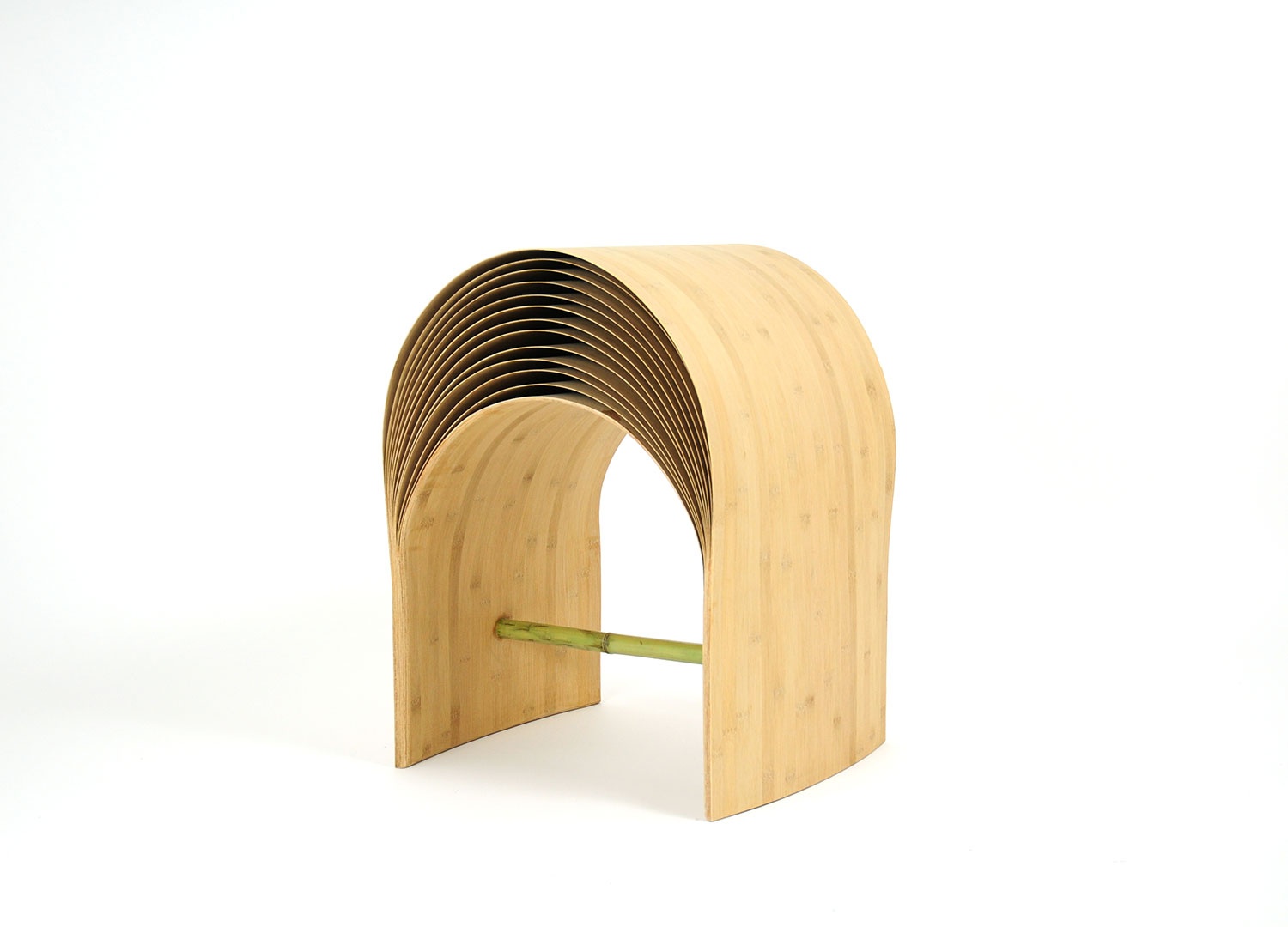 Min Chen considers 'flexibility' a good theme for his city, Hangzhou. Having been the capital of China in Song dynasty has made the culture and tradition of the city quite different from its neighbours, let alone the magnificent West Lake in the middle of it. Hangzhou is regarded as the happiest city in China where people's lives are peaceful and slow-paced.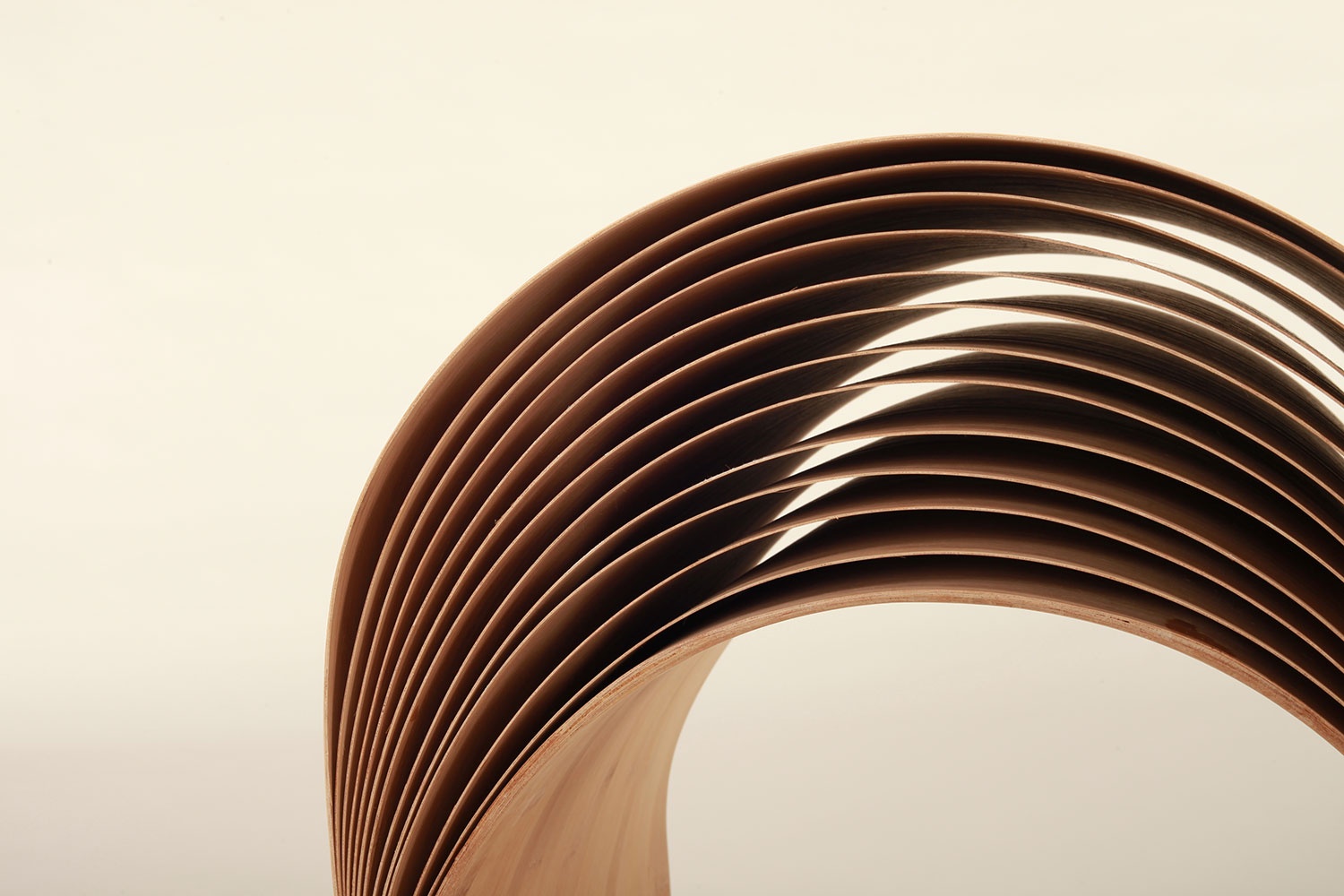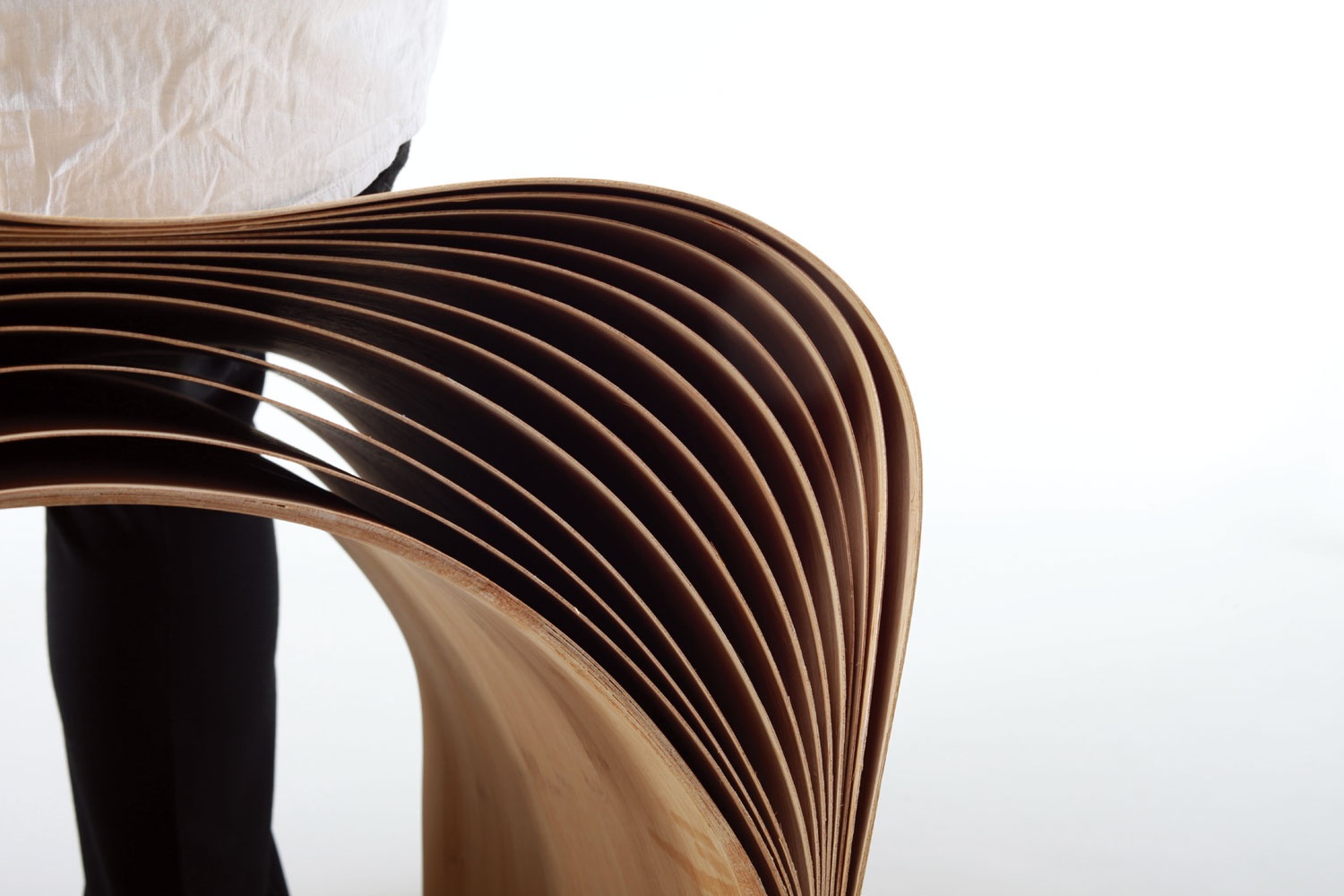 The Hangzhou Stool consists of 16 layers of 0.9mm thick bamboo veneer, all different in length. They are bent in an arc shape and glued together at the last 25cm of each end. One piece of raw bamboo stick penetrates in the veneers and combines the two ends of the stool. 16 layers of bamboo veneer produce a very special curve, looking like the ripples on the water surface. When the user sits on it, the more weight the stool receives, the deeper the arc will be bent in the centre, and therefore the more elasticity the user will feel.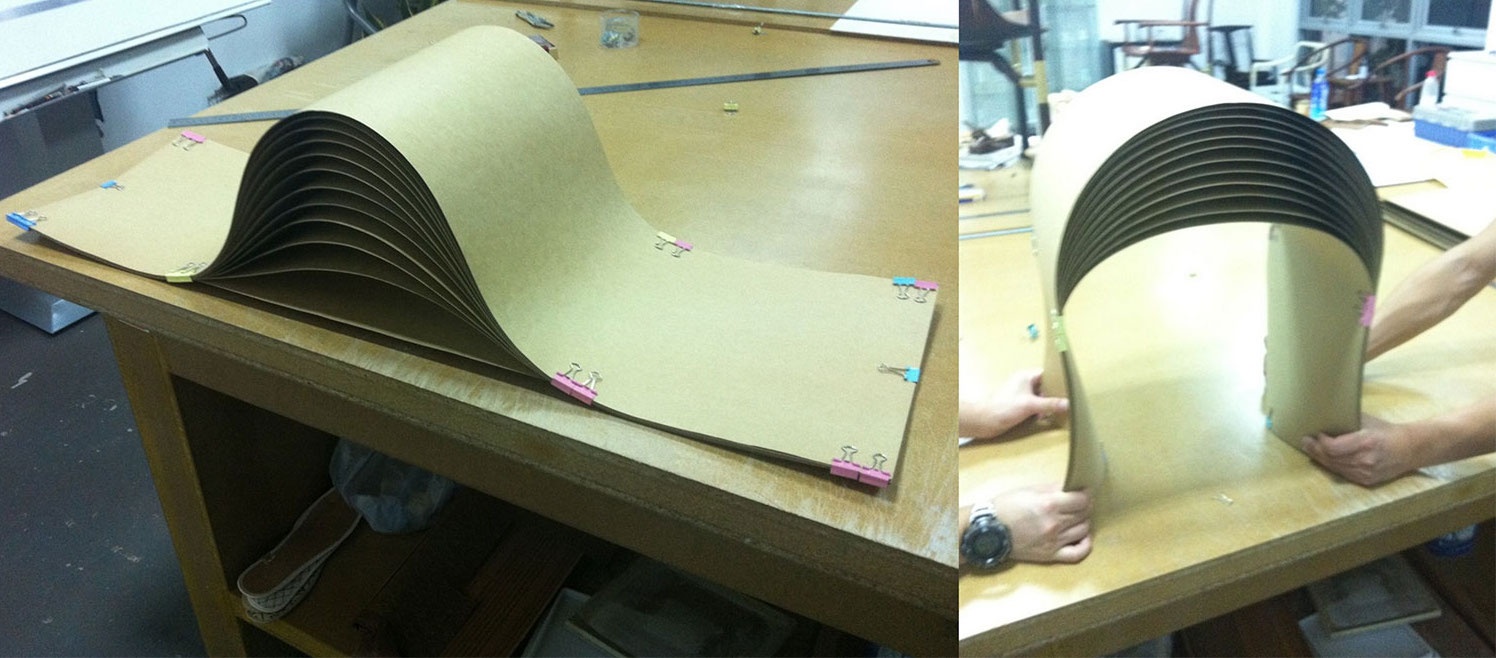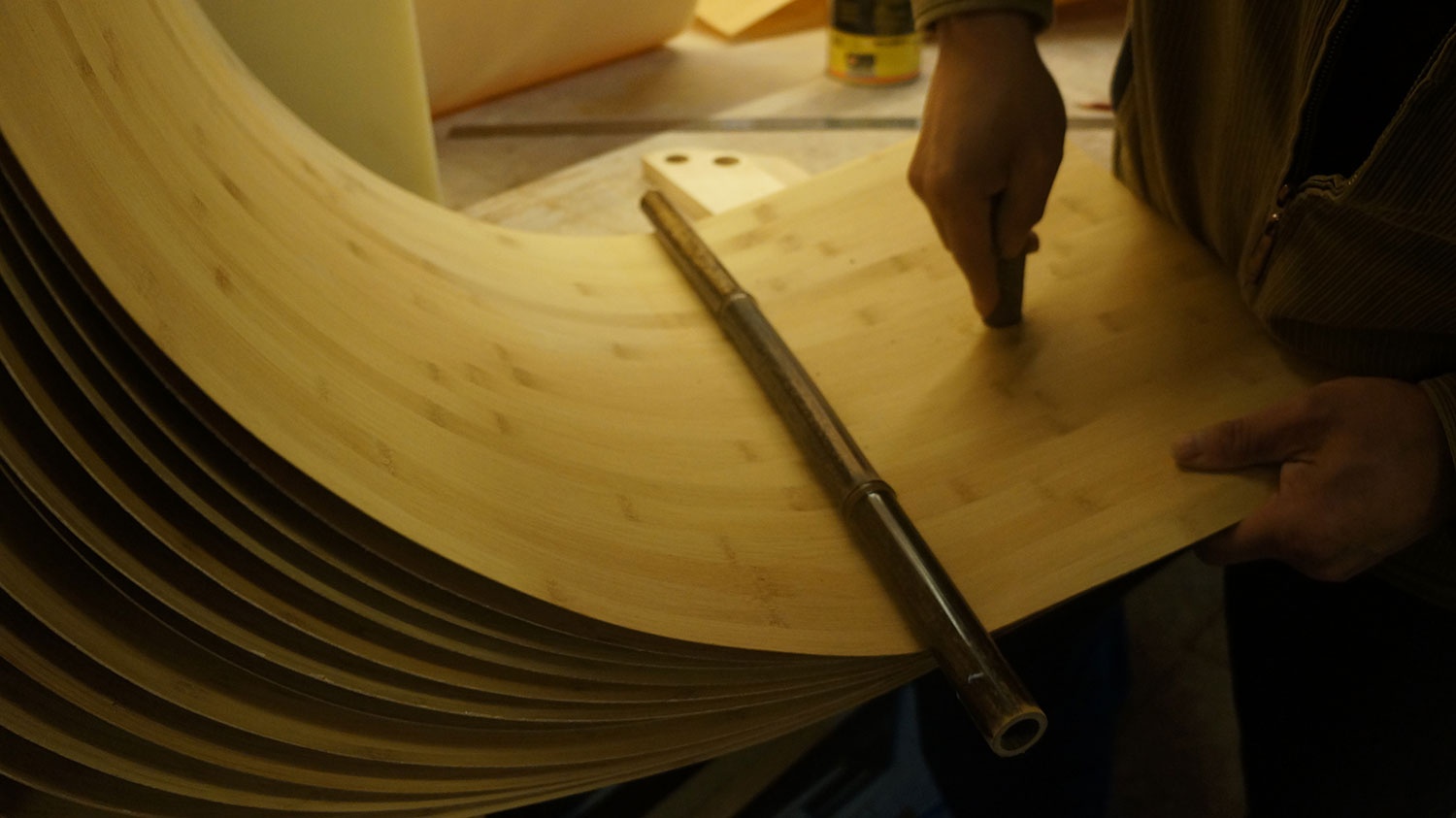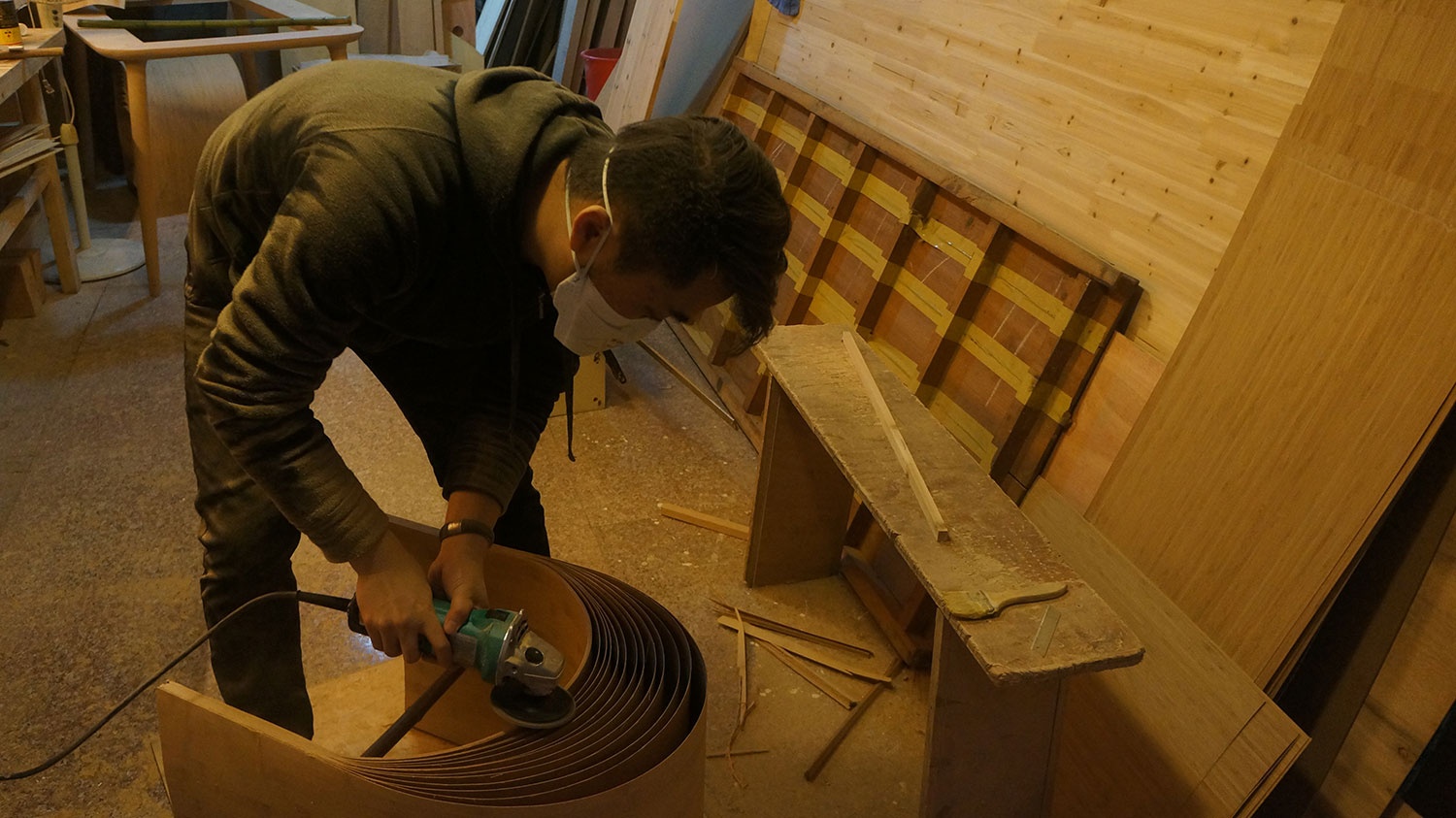 Working process, Hangzhou Stool, 2013
Min Chen has started his training in Chinese calligraphy at a very young age and has maintained an interest in traditional Chinese arts and crafts to this day. In 2001, he went to study at the Köln International School of Design (KISD)  for two years. He then completed his BDes(Bachelor of Design) at Design Academy Eindhoven. After working with Satyendra Pakhale in Amsterdam, he went to the Domus Academy in Milan for his MA in Design, graduating with distinction. He then worked at the Domus Academy as a project assistant and also started working on his freelance projects.
In 2010, he returned to Guangdong, China, focusing on advanced industrial design. In 2012, he set up his office in Hangzhou. Since then he has been invited to teach at the China Central Academy of Fine Arts in Beijing, China Academy of Art in Hangzhou, and Tongji University in Shanghai. Min has participated in many design exhibitions and trade fairs all over the world, like Salone Internazionale del Mobile in Milan, Maison & Objet in Paris, Orgatec in Cologne, Dutch Design Week in Eindhoven, etc. His works have been published in many international magazines and books like Wallpaper*, Elle Deco, ICON, AXIS, Architectural Digest. Some of his recent works were exhibited in museums include the National Museum of China in Beijing, the Louvre in Paris, and Triennale in Milan.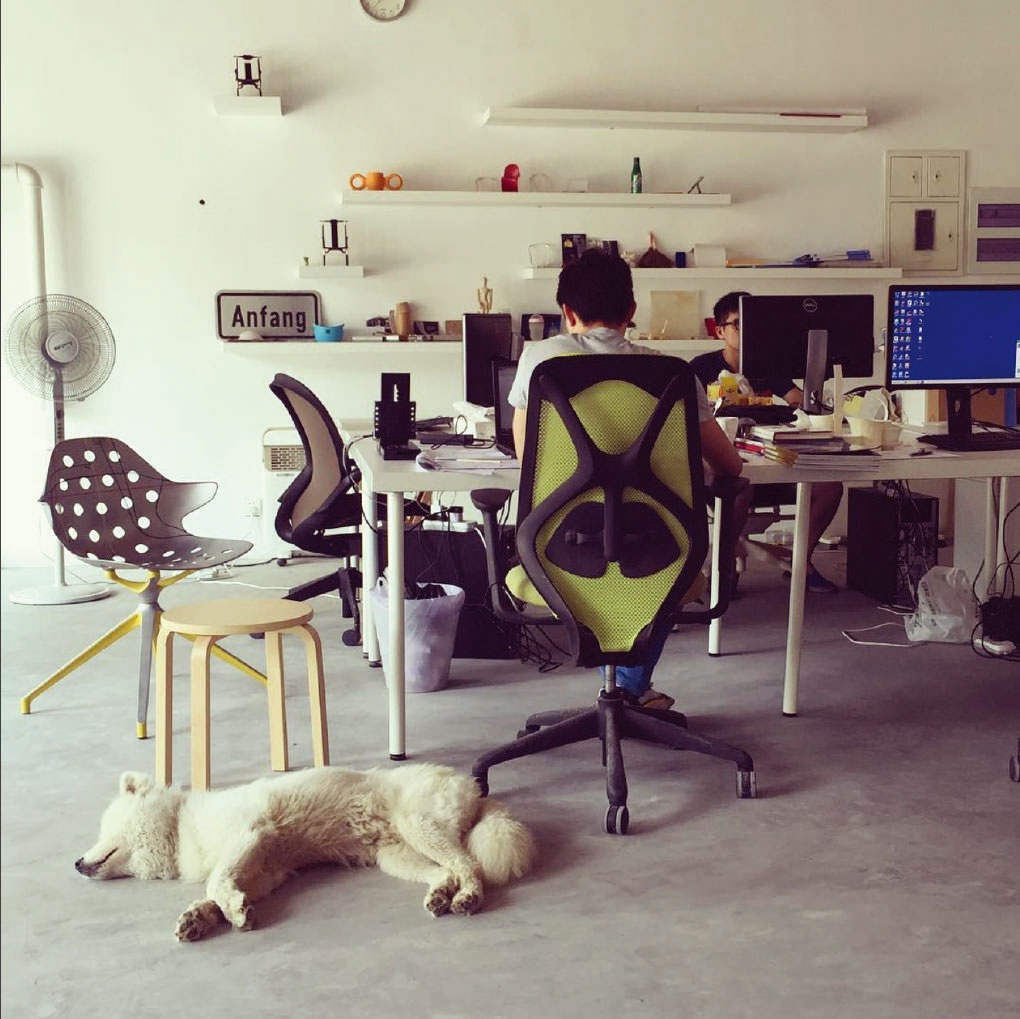 Inside Chen Min Office
Min is deeply drawn to languages, which he thinks are very beneficial to communication. He speaks Chinese Mandarin and Cantonese, as well as German, English, Japanese, Italian and Dutch. He also sees design as a language, which has its origins, depth and history. "It stays open and evolves over the time. It expresses life in all aspects, and becomes the essence of it." Min's goal is to find the Chinese language in the world of design.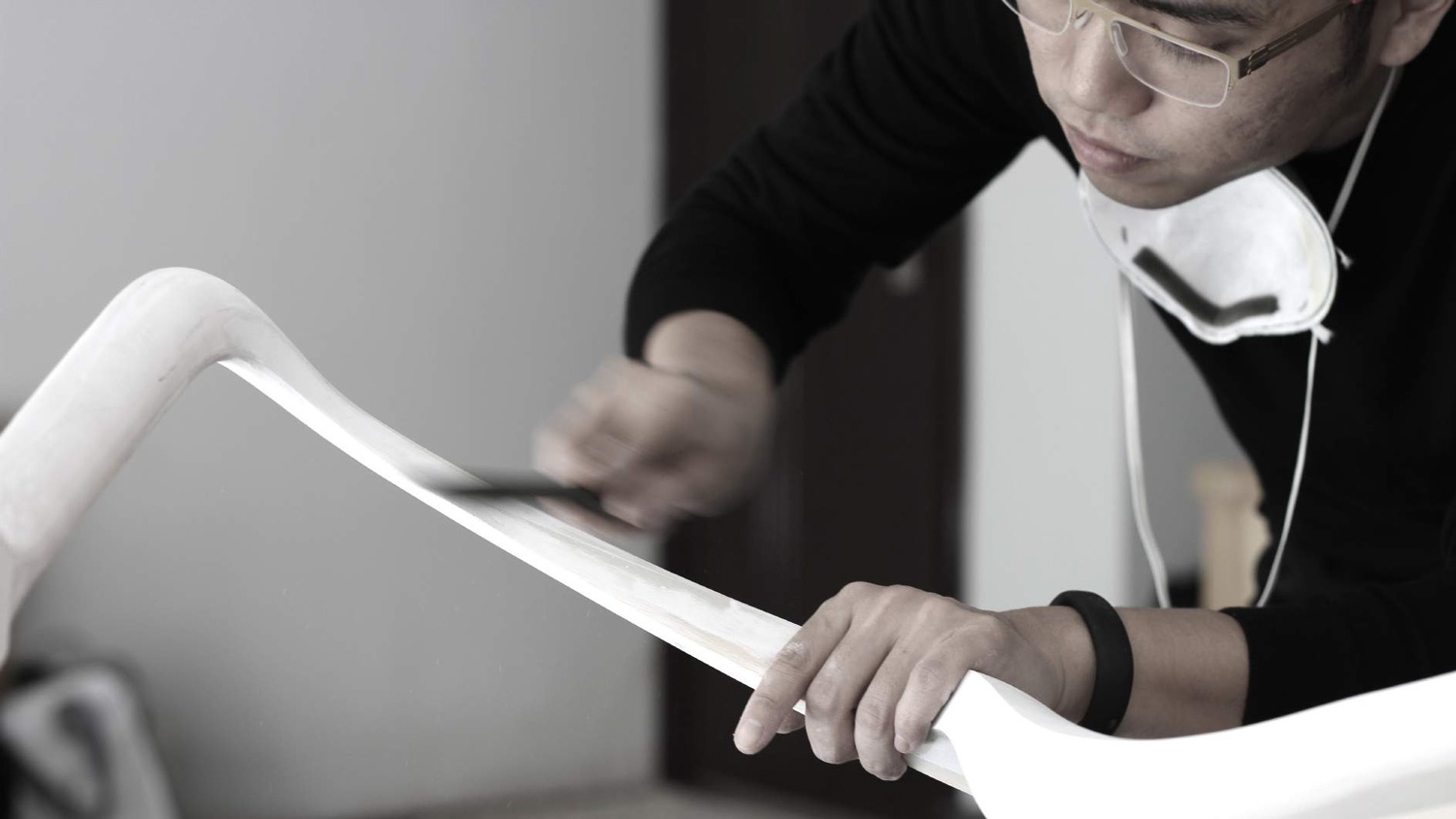 Min Chen likes to 'think by hand'
More works of Min Chen:
Min's Chair
As one of the most classic Chinese furniture, the Ming style carries a special gene of oriental simplicity. This project explores a series of Ming furniture in a modern technological and social context in China, in order to bring back the essence of Ming furniture to people's lives in a more contemporary and innovative yet practical and ecological way.
China Kitchen
China Kitchen is a combination of the high quality of 'Made in Italy', the most advanced European industrial standard from Veneta Cucine, and the comprehensive research into the extensive and profound food and cooking culture of China by the designer Min Chen. It is the first kitchen that specially caters to the requirements and convention of the Chinese.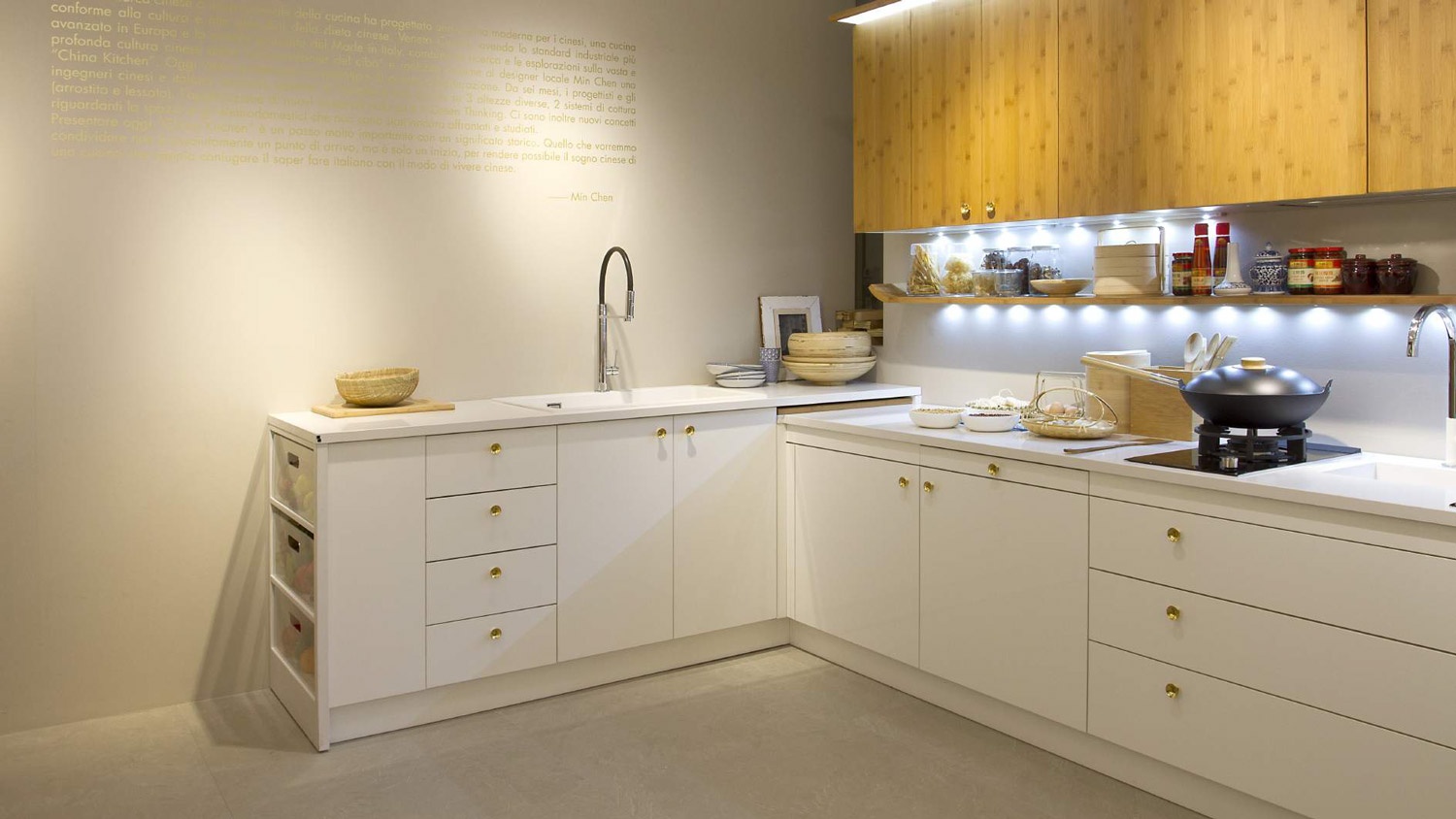 Mu 木
"Mu" (木) means wood in Chinese. The form expresses the essence of the form of a tree. When you put two "Mu" (木) together, they become the character "Lin" (林), which means forest.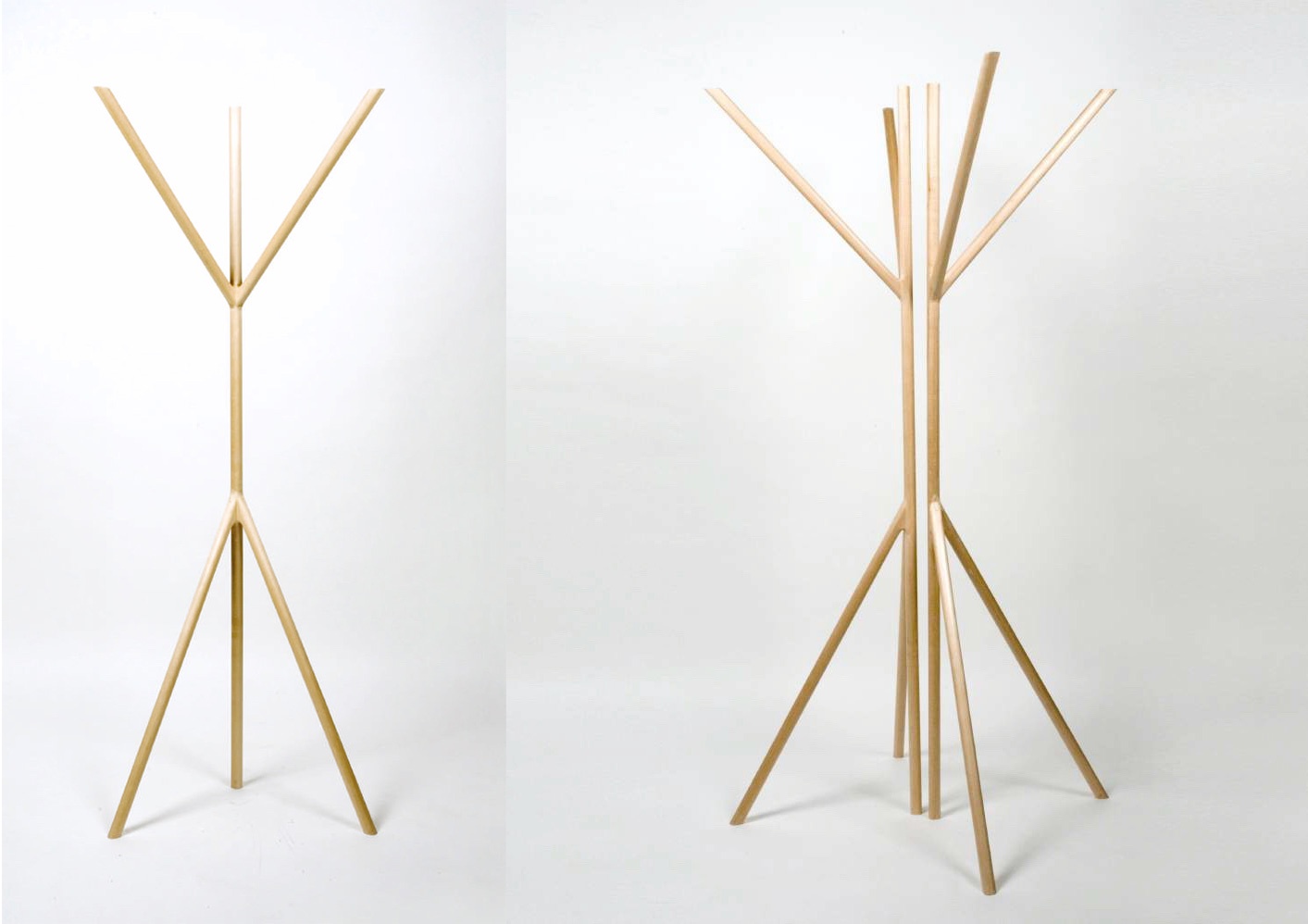 Gong 工
The Chinese language is composed of characters, and characters are composed of strokes. This is how Min Chen uses the material as the strokes to create his Gong and applies it as a building element to form his furniture series like the Chinese language. Gong initially comes from the form of beam-to-pillar joints; therefore it has a substantial capacity in constructing. From table to shelf system, Gong continues its possibilities.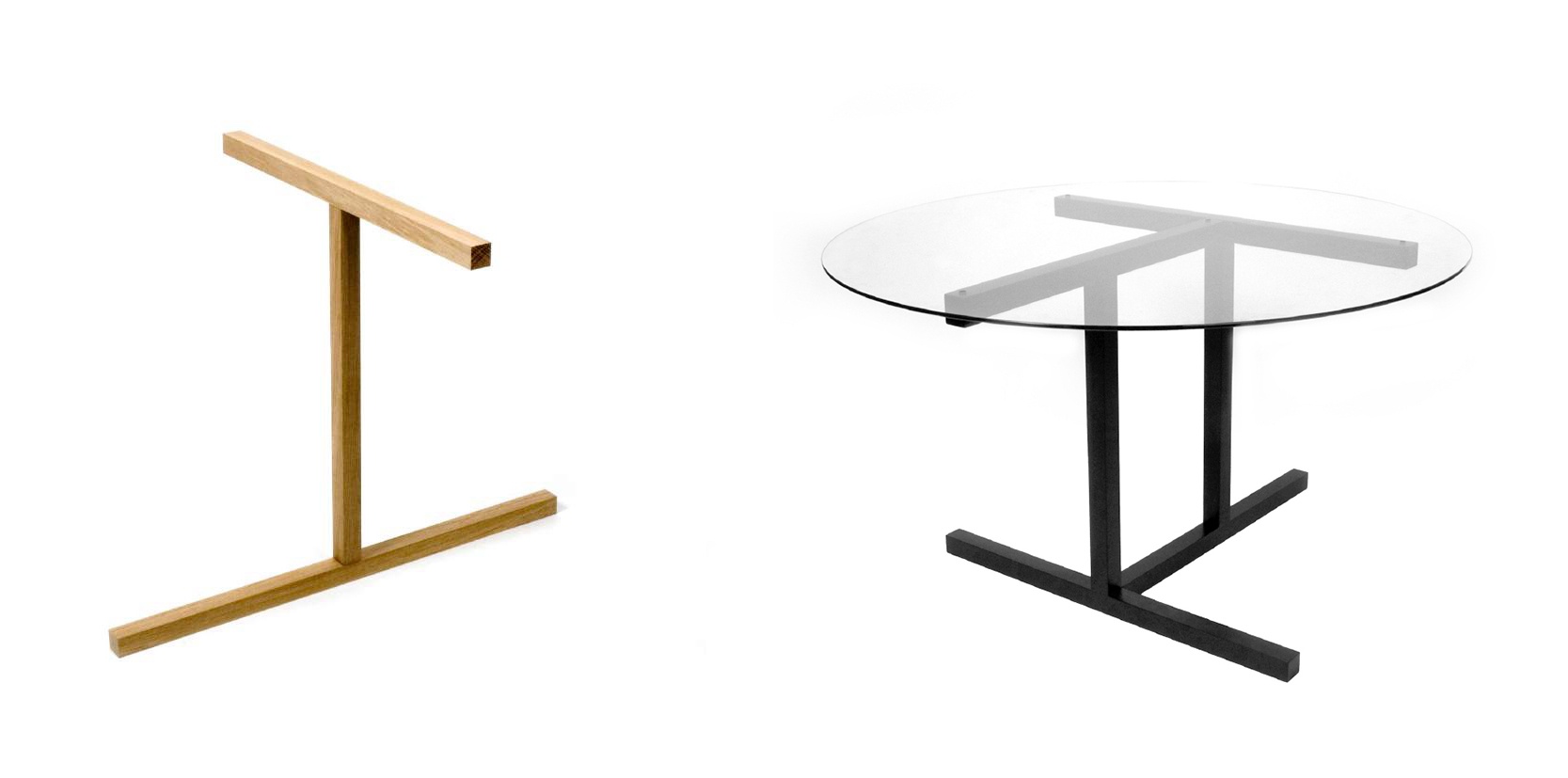 y Bench
It is a systematic furniture design that contains two sets of elements: unified seating board and legs in 2 sets of lengths. A thickness of 3 cm is applied to all elements. When installed, they are all connected by one universal metal joint and stand in 2 levels. Moreover, when more elements are connected, more products can be composed, like table, bed, etc.
Steamer
One material, three standard modules, flat package, easy assembly by end users. The STEAMER series apply the rational use of the material bamboo by a complete industrialised way of manufacturing to develop the sustainability of the product to its high limit. However, the innovation doesn't stop at the technical level but digs deeper into the heritage of the Chinese culture and tradition. The form of the traditional steamer is interpreted into a modern context of living environment and represents an exciting direction of "Neo Chinese".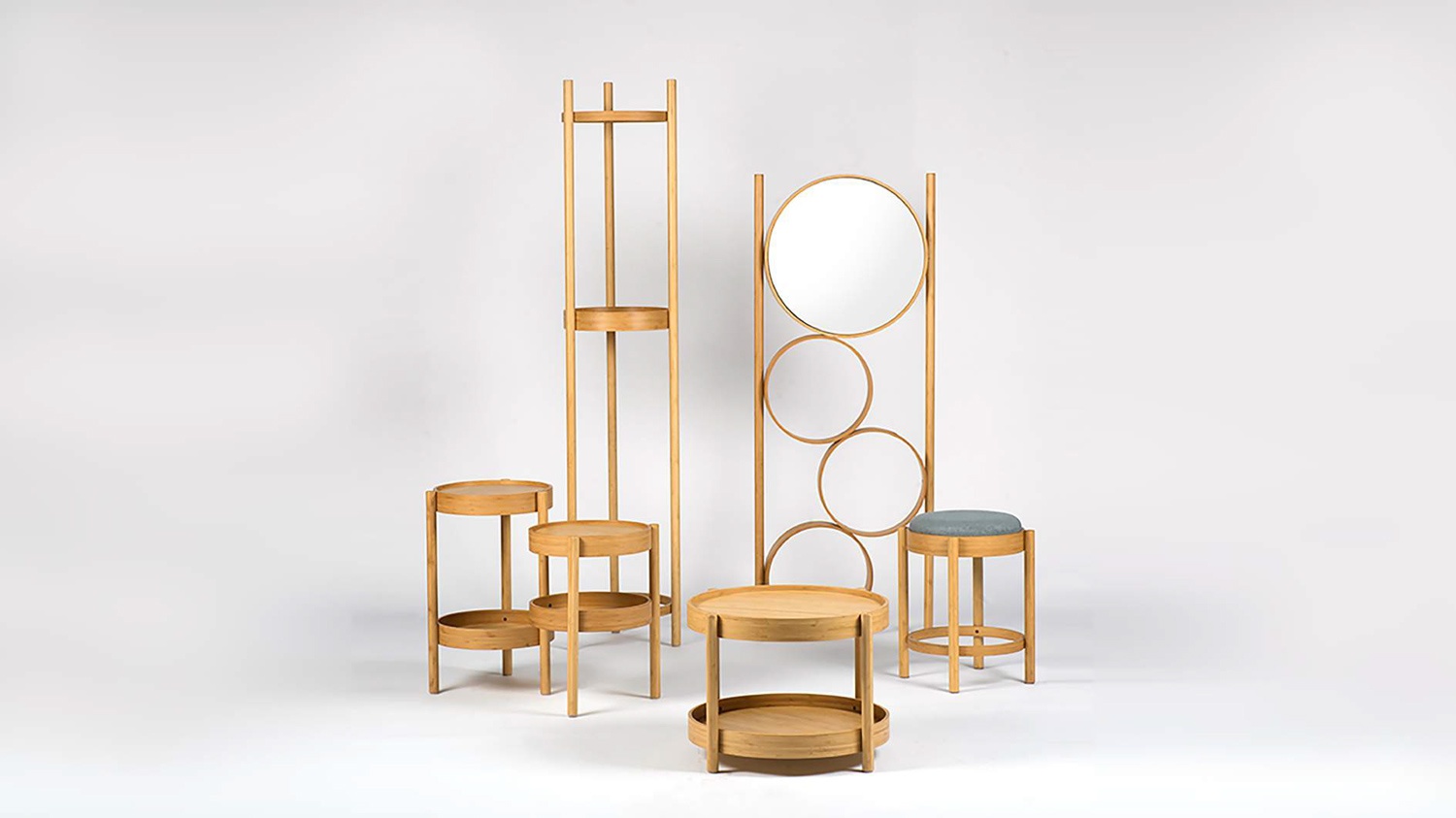 Embodiment
"Embodiment" develops the craft skills and techniques from traditional earthwork and conserves the details of an ancient Chinese window into a block of crystal resin. The LED in the frame envelops the antique window and casts light upon it, upholding its history and spirit.

Materials: Polyunsaturated polyester resin, aluminium alloy, LED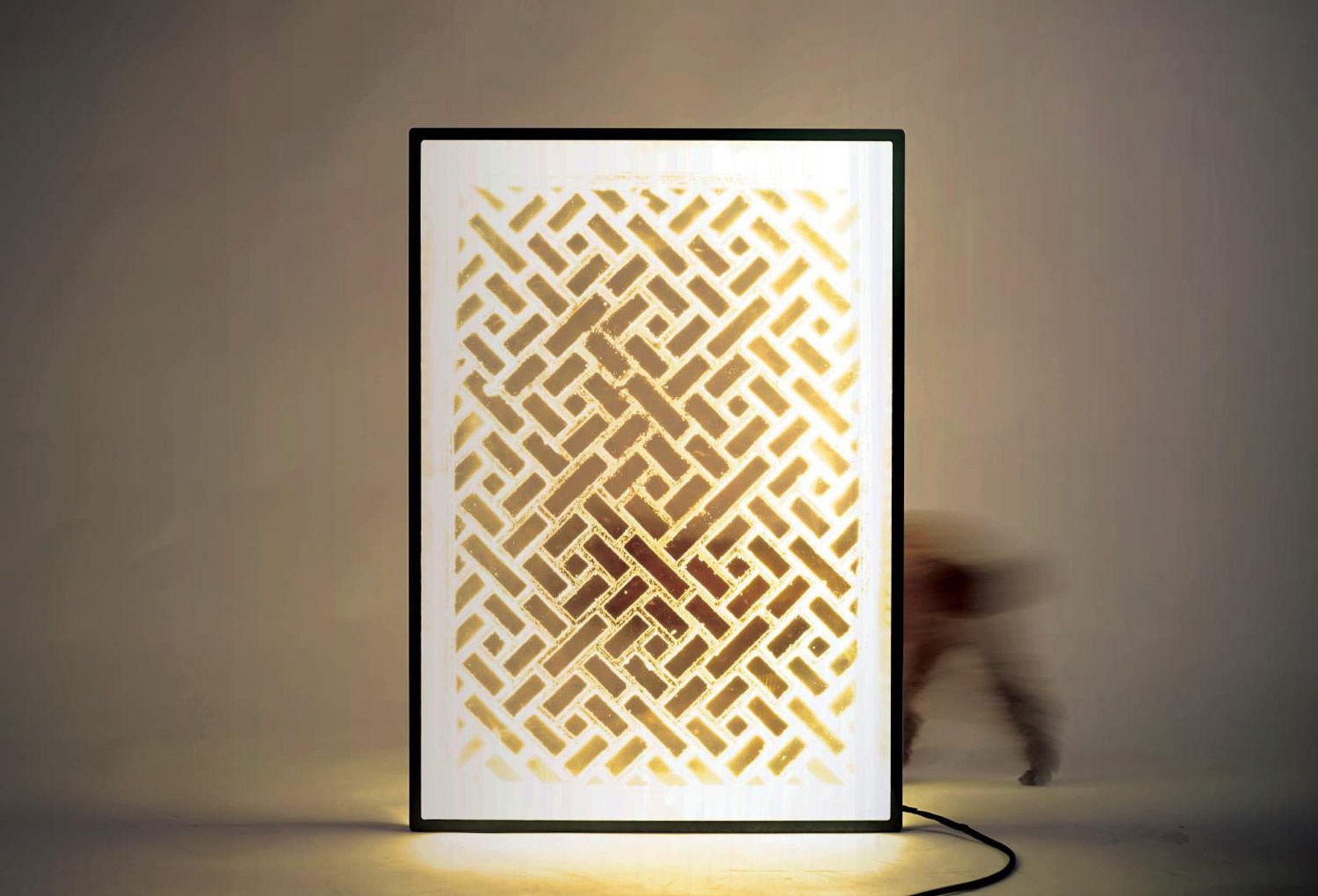 Tri-NIKE
Tri-NIKE comes with a new footwear concept of non-left-right and only in S-M-L sizes. The whole footwear is made of one piece of synthesised fabric with a triangle-structured pattern. The pattern not only functions as body protection but also brings a fresh looking.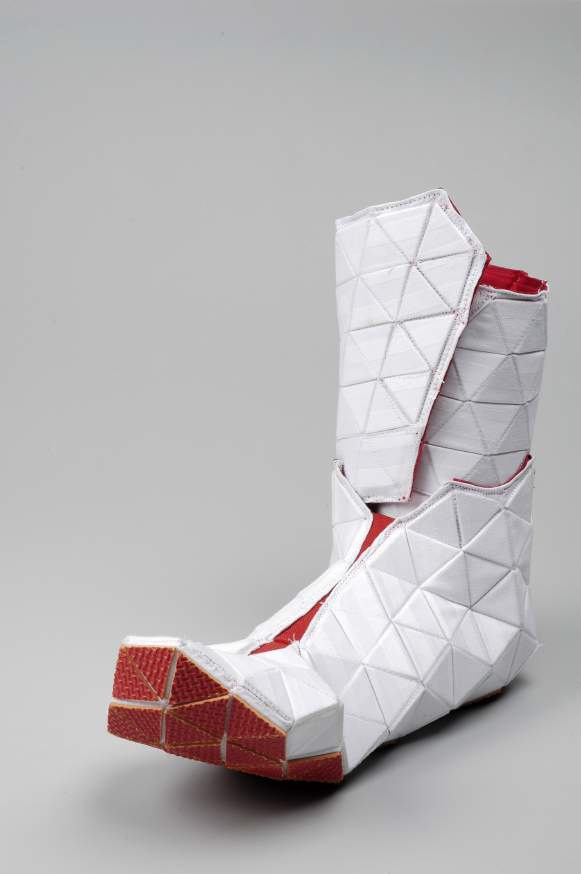 Sense & Sensibility
A set of glassware uses mathematic function curve for its shapes. Rationally precise-controlled curves express perceptual forms.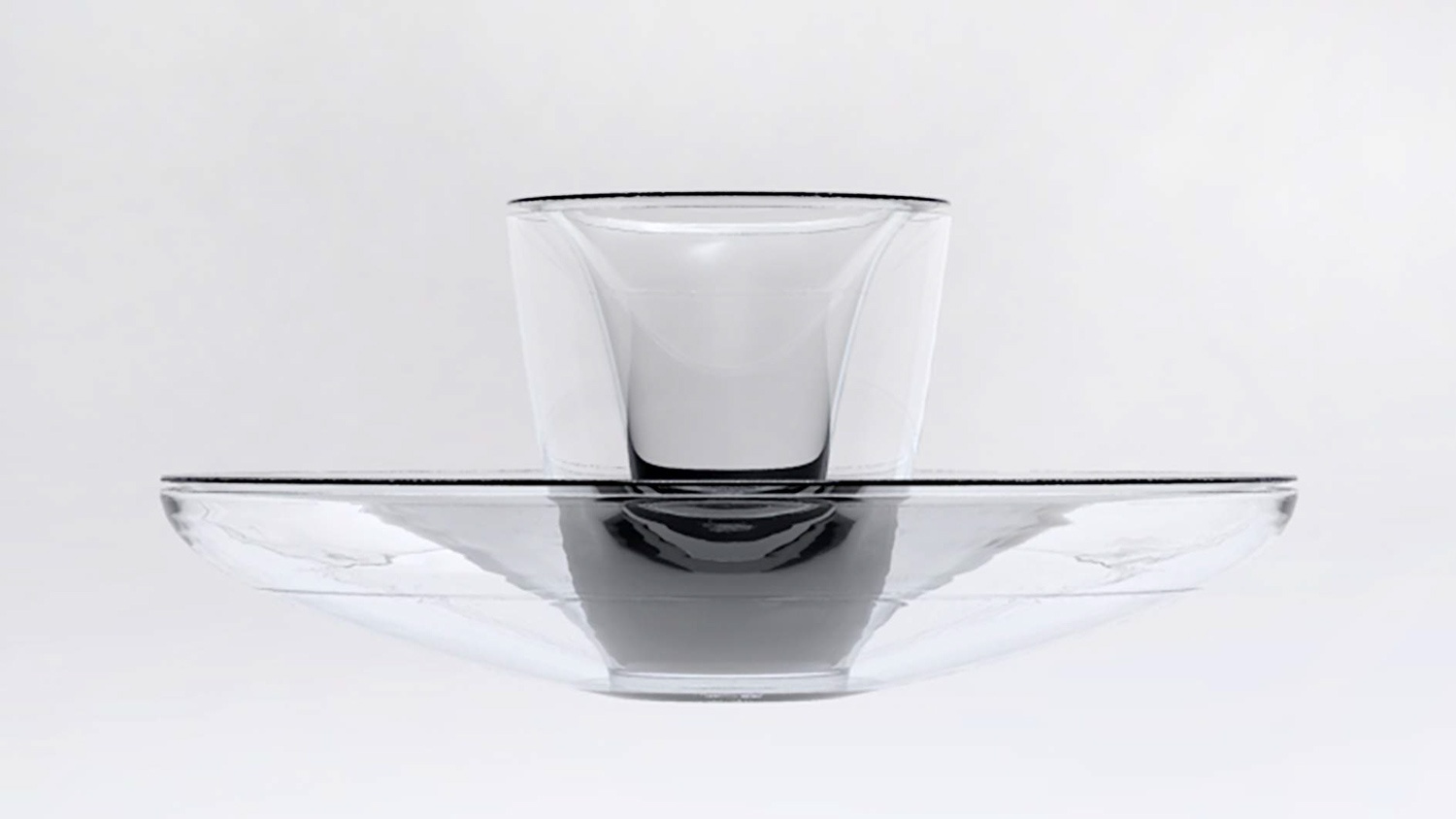 Airfall
As a particular kind of space divider, the plastic strips of the Airfall are so sensitive that they can continuously catch the airstream as the power to rotate themselves. The twisted parts of the strips give out mild reflections which make the whole Airfall a watery feeling. The beauty of the Airfall is not only the constant and slight movements inside it but the cosy calmness it gives off. Just like a bird fleeting over the water, people will also leave some beautiful waves when they pass by the Airfall.
Image Source: Chen Min Office