NONG STUDIO, based in Shanghai, Milan and NewYork, was established in 2015 by Dr. Chasing Wong and a bunch of experienced international designers. Nong Studio provides a variety of design service, including old buildings' renovation, high-end commercial interior design, high-end residential interior design, and industrial product design. The team is composed by a group of excellent designers with diverse cultural backgrounds, which leads to the unique identity of Nong studio – Creating harmonious and elegant space by emphasising Cross-boundary design While Integrating Art, Decoration, and Design.
Nong Studio firmly believes in the design approach which integrates art, design, and culture to achieve a more bold and innovative style.
Based on practice, Nong Studio desires to create an artistic and dramatic interaction between material, form, and light, which is more perceptual than rational. In another word, instead of conforming the design to a formulaic style, Nong studio provides more artistic, sensory and dramatical experience to the customers.


Project 1: Seeking Treasures at NONG STUDIO
When tracing the history of Shanghai, what occurs to old Shanghainese first is Suzhou River. Industrial buildings beside the river have witnessed the prosperity and decline of concessions as well as the emergence of national industries. No. 1247, South Suzhou Road used to be the private granary of DU Yuesheng and then turned to be the warehouse of Commercial Bank of China established by DU Yuesheng. In April 2017, NONG STUDIO restored its facade and internal space, a respect for history. It integrated history and modern elements and allowed us to learn about the past and dialogue with classics. With new artistic vitality being instilled, the "old man" who had waited for so long finally made an elegant and graceful gesture.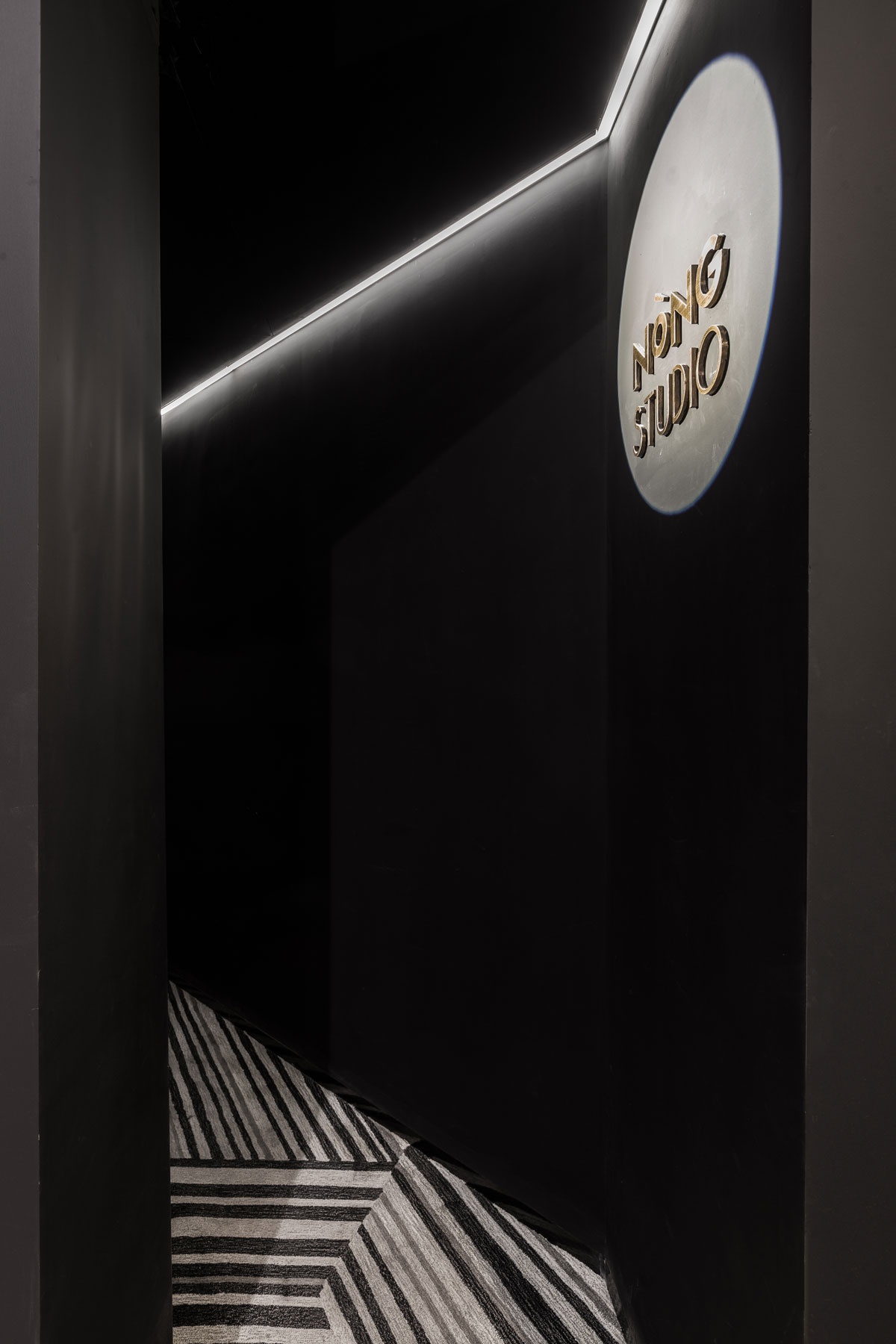 The external appearance is a restoration of history and NONG STUDIO on the second floor fully demonstrates modern fashion and humour. In the design, the entrance area is intentionally darkened. The full black space brings about a "sense of distance" to visitors. However, as the electronic sliding door gradually opens, they will be greeted by the bright and open office with a floor height of 4.5m. The exposed hundred-year primary structure wooden beam and wooden floor retained in the space allow visitors to encounter history. We carefully protect them with reinforcement treatment. As NONG STUDIO move forward, they come to the final delta area. Two-story space design makes space fully used. From the entrance to the inside, the space conveys the feeling from narrow to open and narrow again. In terms of texture, in addition to the hundred-year wood structure, modern materials such as brass, glass, marble and stainless steel are applied, thus realising an inter-dialogue between history and modernity.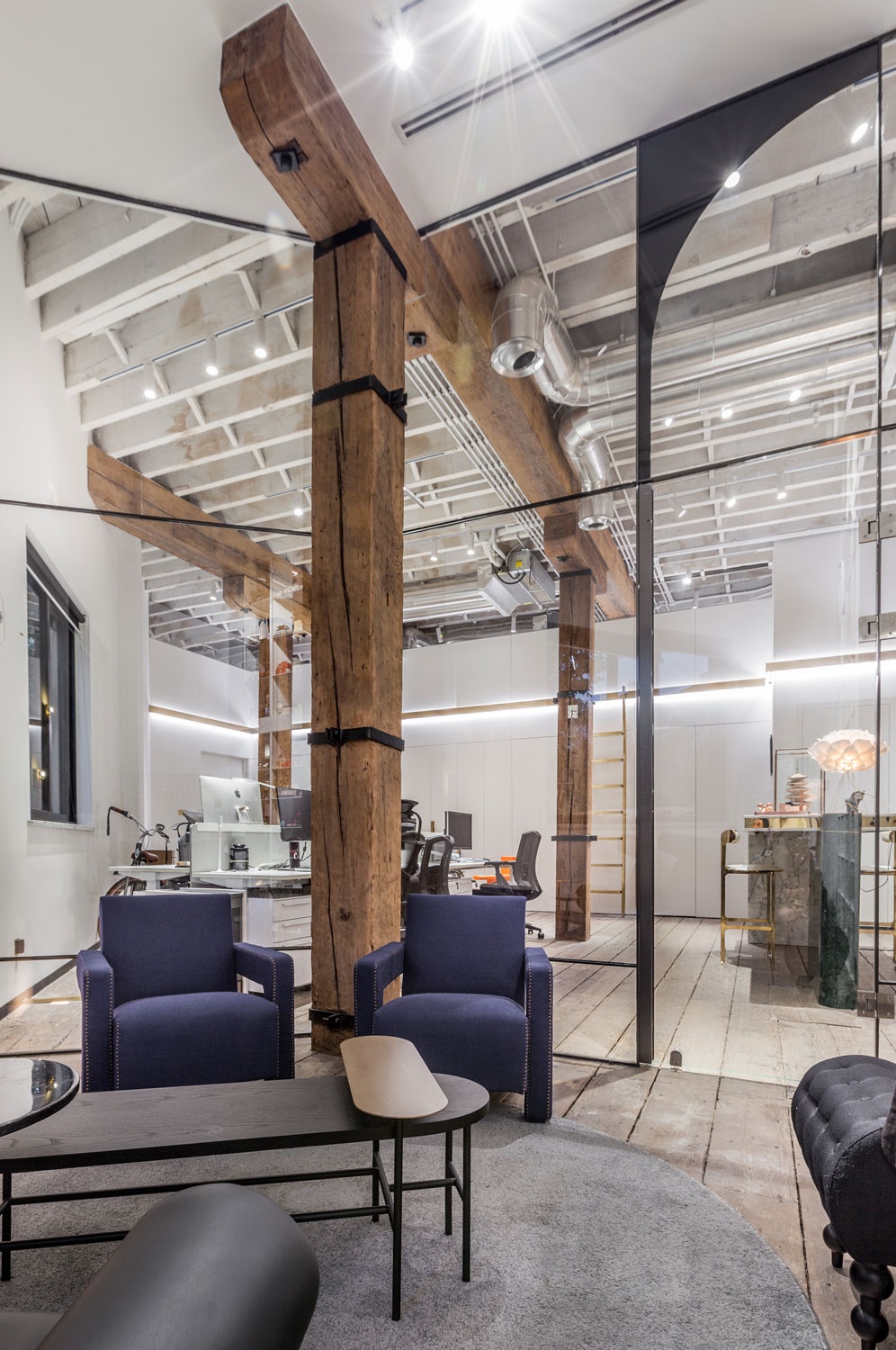 Creativity is not a job but a lifestyle. We pursue interesting experience in design and life. Some over-standard elements are added in the vintage space so as to be immersed in free creations. Design is about nothing but elegant presentation of a space in a relaxing and bantering way.
Regards to functional design, NONG STUDIO didn't organise the space according to privacy or efficiency level which is common in traditional office design. Instead, NONG STUDIO arrange the space based on interaction possibility. The main creator working space is situated at the entrance area. Around it is an auxiliary material space, audience space, golden bookshelf and discussion area. It's like the space logic of a library. The working area is in the middle surrounded by the bookshelf material area, thus making the main creator working space an information processing hub and increasing the possibility of interaction. The golden bookshelf is a space highlight that you cannot avoid after entering the space.
Its design concept sources from the Chinese saying, "Within books, one can find houses of gold". It displays foreign and Chinese books related with design art, and antiques, toys, design works and Lego models brought back by the founder Chasing Wang from more than fifty countries in the world. The mobile golden bookshelf can effectively connect the two-story space of the main creator office area. It not only helps fetch books on the higher level conveniently but also makes it easier to utilise the storage space on the second floor. The other side of it, the collection shelf, is the white stainless steel display frame in the conference room. It includes the VITRA Miniatures, car models of limited edition and works of art with master autographs. The two display define the audience space, the stair space and the office space of the main studio. One is solid while another is transparent. The latter is a glass display, which separates the audience room, the office area on 1st floor and the big conference room on 2nd floor. Moreover, it creates visual connection and communication, behind which is exploration of space ambiguity.
When NONG STUDIO are confused about the so-called style and material, they take our original creation impulse on design for granted. In a house of gold full of dreams and stories, it seems that NONG STUDIO have imprisoned ourselves for so long that they don't know what to play and how to play with it. When design can tell a person's life and experience, it's already a pursuit of emotional essence rather than a trendy finished product.
Project 2: ORO - Tiramisuteca pasticceria design
" We prefer stores to be located in historical locations. But we also want to be modern destination. One step in the past and one in the future". It is required by the Brand founder.
The Italy-oriented brand devotes itself to heritage tiramisu recipe of generations, using natural ingredients without any artificial additives. But on the other hand, the business model is extremely modern, futuristic even-it's an online-based pasticceria brand that are designed to be suitable for long-distance delivery meanwhile kept the taste quality. It is required to be represented "balance" in the store design.
The first concept store in Shanghai is located in one of the previous French concessions. The store itself is an architectural montage- a space that embodies the bridges between the authentic and modern, past and present, historical eras and cultures- literally divided into two. One side, straight stepping out from 20th-century Milan, richly ornamented woodwork, floored by dark brown terrazzo, concealed by the paneling, a montage harks back to subtle feeling of Milan post-modernism. The opposite side, designed in a modern appearance, is paved with pink terrazzo, pink bespoke wallpaper and illuminated ceiling highlighting brand's idea.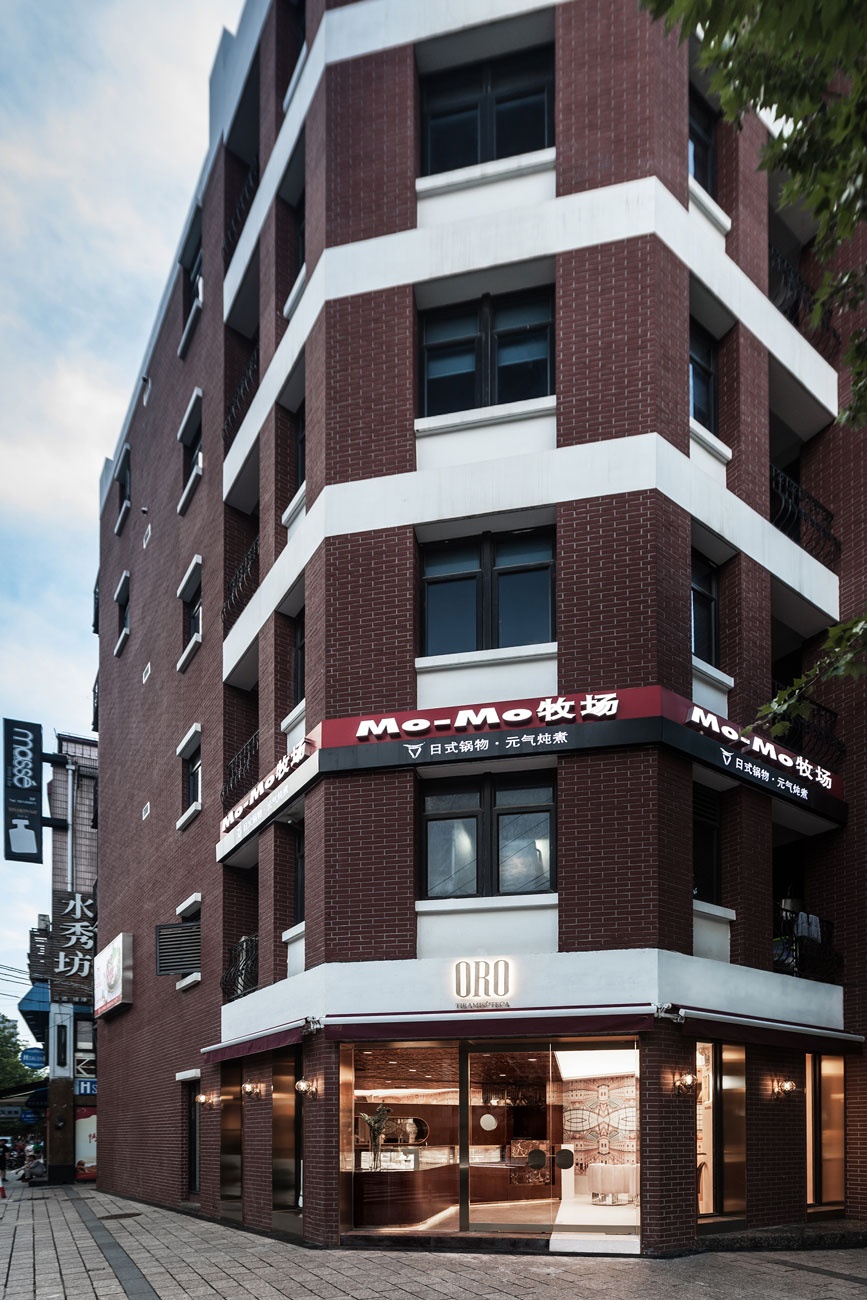 The store represents the meeting of two worlds, connected by a sharp division line of two different colour terrazzo, reminiscent of the art of terrazzo. Innovated in fifteen century's Italy, different colours in terrazzo are made from different minerals added into the same base material. The same inspiration on the wall, the pattern of pink bespoke wallpaper illustrates the other Milan icon----Galleria Vittorio Emanuele II,when dark walnut wood meets the pink bespoke wallpaper , the true nature of the brand is made that clear: both temporally and spatially- which, gifted by generation heritage, does not shy away from any creation or combination.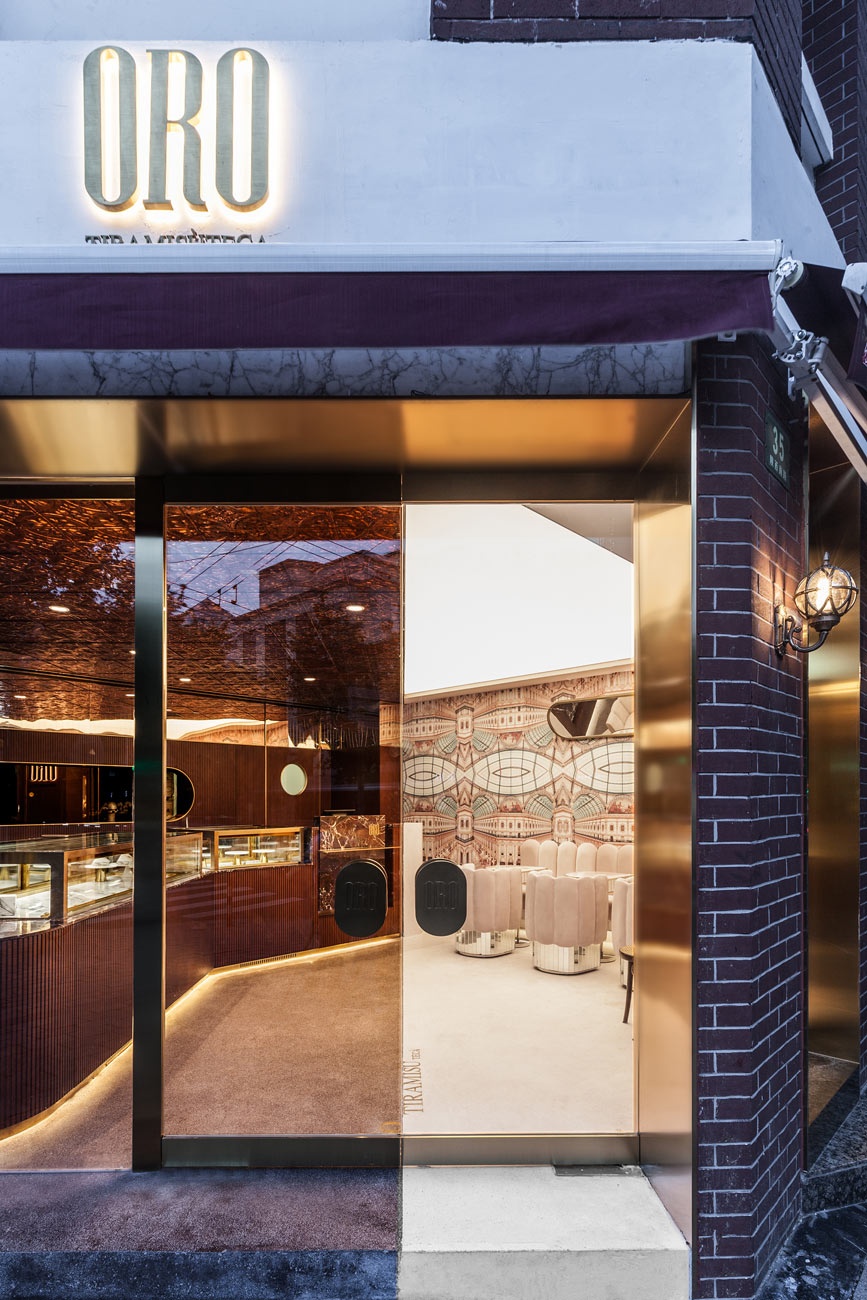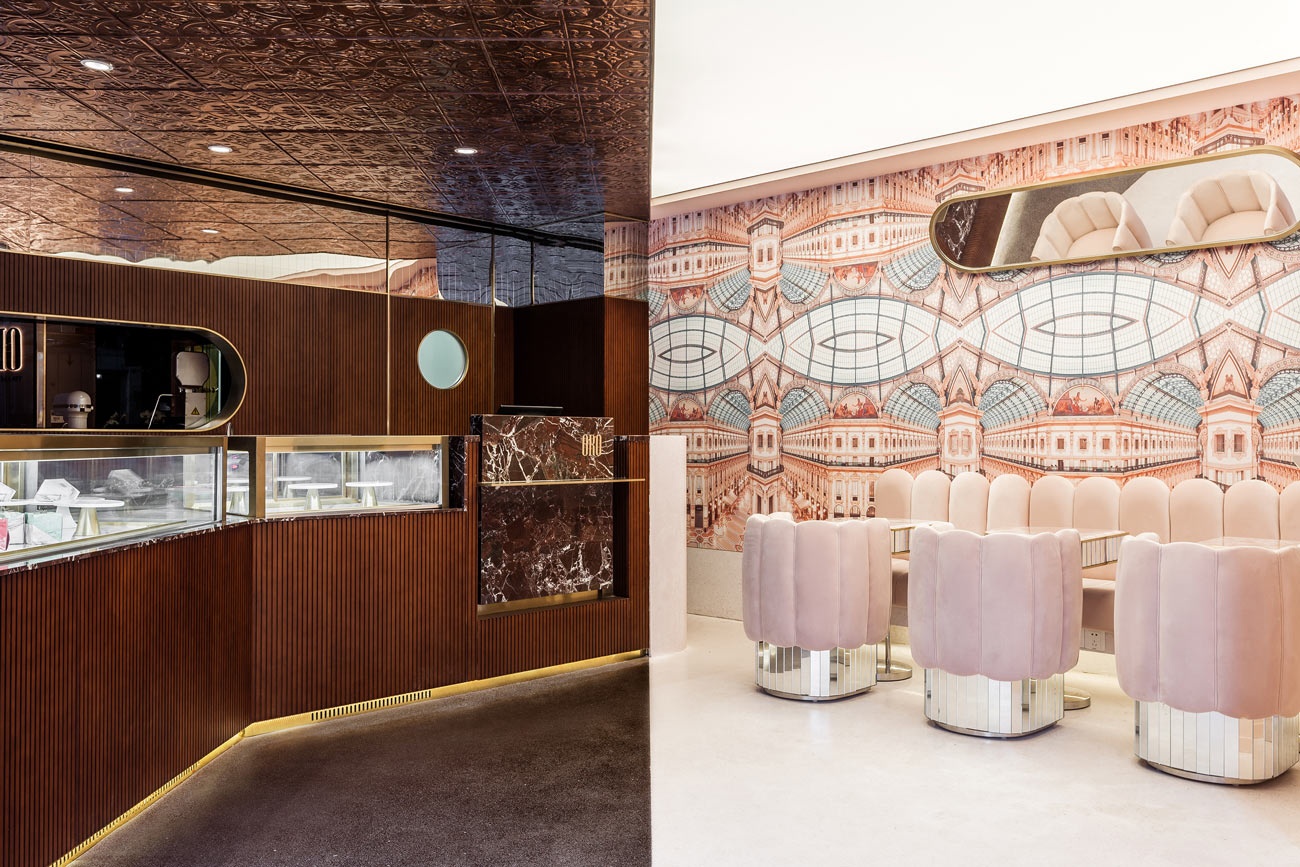 The main goal of the project was to create a space that presents a perfect balance between contemporary and modern Italian cultures, which almost since when tiramisu was born after World War II.
The result emerges an assemble of pink-velvet furnished sofas which take the shape from ladyfingers used in tiramisu recipes representing Italian modern design, combined with traditional Italian soul of the brand emphasized by walnut cabinets and marble counter. It gives anyone who enters the instant understanding of what I set out to achieve. It is very obvious the first moment you walk in.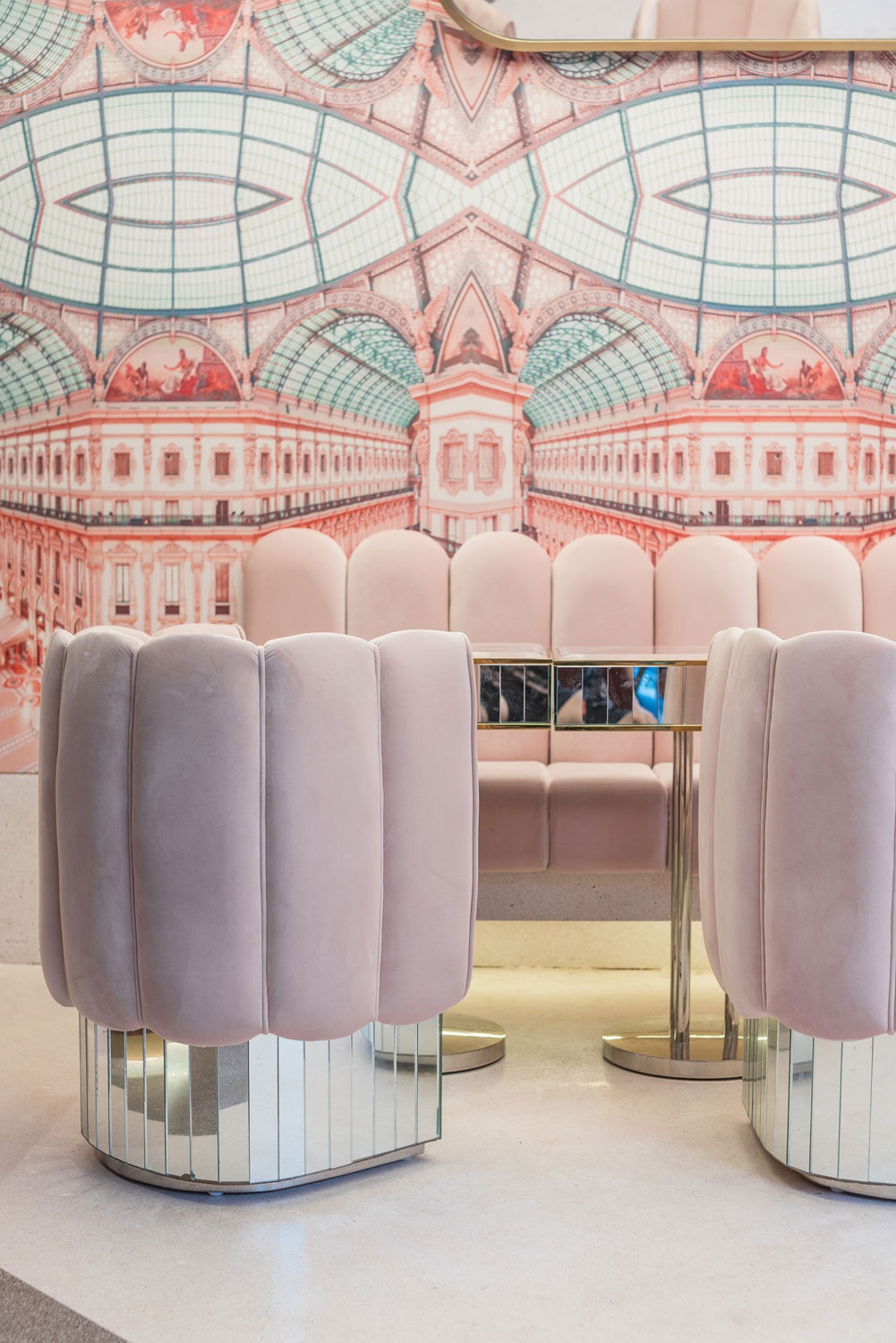 The idea was based on many research and archives that our team have collected when traveling around the world. We have always admired and wanted to work with traditional Italian unique craftsmanship. While on the other hand, Milan-based post-modernism masters like Ettore Sottsass elegantly radical style was one of our biggest fascinations. While paying attention to his tribute and focus in design, NONG STUDIO decide to commit ourselves into our own creation.
Project 3: MY DREAM WEDDING Dress Boutique Store
My Dream Wedding Boutique, located in No.386 West Jianguo Rd, Shanghai, China, where is used to be French concession area with lots of high-end boutiques, cafeteria and restaurant, envisions itself as a fashion hub, a gathering space for customers and fashion stylist to admire, ponder, exchange, learn, and consume. It houses the new flagship store for MDW, a young Korean wedding dress brand, alongside a mixture of fashion-focused retail concepts.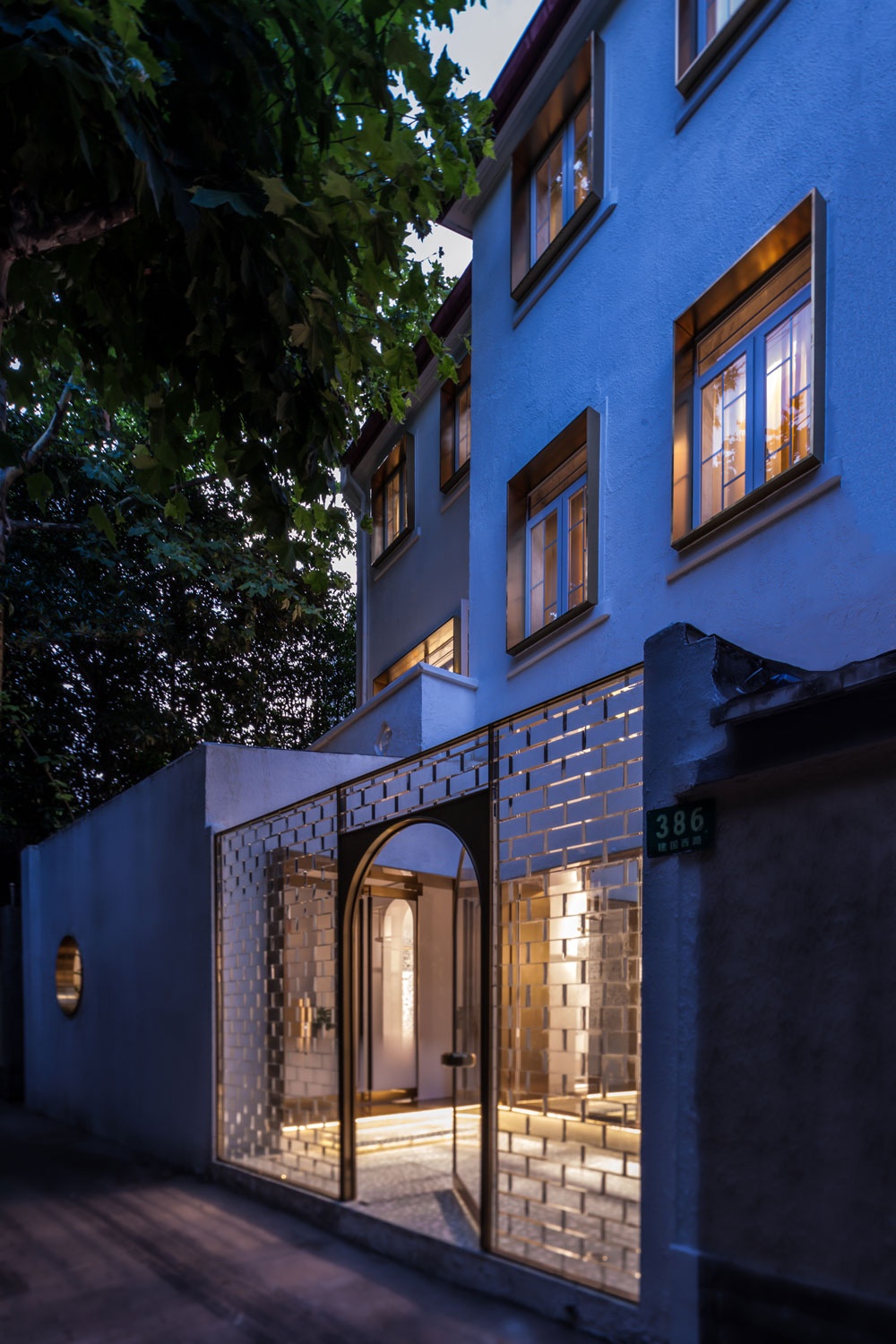 When designer first came to the western-style house located in Shanghai French Concession, the proprietor described to us how an unmarried young girl rebelled, went through metamorphosis and finally found her true love. Hence, we thought of The Secret Garden in which Mary broke into the forbidden garden and there Mary and Collin found the key to happiness, and experienced a poetic resurrection with the garden. Therefore, we prepared a "secret garden" for young girls to make the wedding gown shop become the place where young girls' dreams are hidden.
In order to create the conception of unexpectedly entering a time and space, we use materials to invert the interior and exterior spaces. They use glass bricks on the external walls and leave the internal walls exposed with original bricks. Only white gradient glass is added as separation. The light sprays along the gradient white from the ceiling to build a kind of ethereal realm amid fog. The only bright colour in the space is a colourful stone arc-shaped door which is like the door in the ruins leading to the other time and space and ushering in unprecedented spaces one by one. The fitting room is the key to happiness like in the story. They use white curtain to discard all disturbances and let young girls in a magic-mirror-like space surrounded by mirrors on three sides, thus completing a poetic resurrection.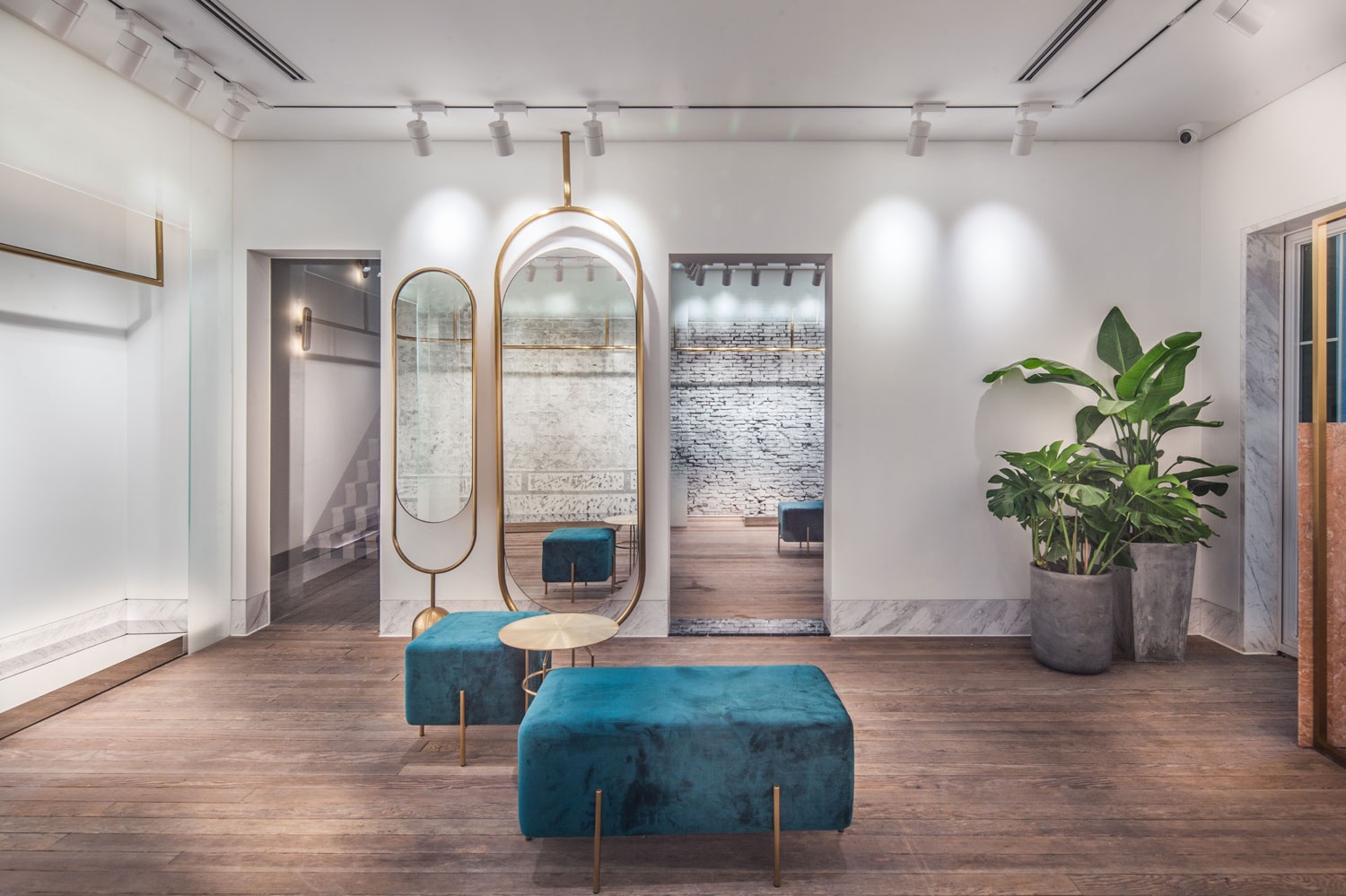 "For us, we have been trying to find a harmonious coexistence between two extreme elements of being artistic and being commercialised. We are just expressing contradictions and harmony in a relatively mild way."
Image source:NONG STUDIO