DING Hao is a sculpture artist based in Beijing, China. His works are inspired by traditional Chinese architecture, landscape paintings and modern society. Born in Zhucheng, Shandong Province, Ding completed his undergraduate studies at the Shandong University of Arts, and his master's studies in sculpture at the China Central Academy of Fine Arts. After holding a teaching position at the Wuhan Institute of Technology from 2015 to 2017, he is now pursuing his doctorate at the Chinese National Academy of Arts. His critically acclaimed sculptures have been exhibited across China and the world.

Ding has exhibited worldwide, with work collected by the National Art Museum of China, Hubei Art Museum, China Sculpture Museum, Casa das Caldeiras Cultural Association, Oct, Vanke, Rosewood Sanya hotel and other institutions and private collection. Several works have been enlarged as public sculpture for urban space.
Moon Palace, 2018, 90x95x25cm, stainless steel
Moon Palace takes reference from the Moon Gate in classic Chinese gardens and stands out as an independent component to resemble the Lunar Palace in Chinese myth. With the essence of the elegance and craftsmanship of Chinese gardens, Moon Palace tells a garden story of its own, right in the front of the viewers at this very present time. Moreover, it invites the viewers to interact in its story and dialogue, therefore, is bridged between the viewers and the artist.




Tower of Babel, 2015, 300x50x50cm, wood/bamboo
Tower of Babel echoes the Chinese spiritual pursuit of 'Mother Nature's Masterpiece in Man's Hands' and seeks for the perfect harmony between architecture and nature. With its oriental roots, it represents a quite different composition with its western peers. The artist attempts to explore the western impacts upon Chinese traditional architecture culture, sympathising the increasing lost identities and withholding the respect for and legacy by Chinese traditions. By using super-realistic approach, the artist decomposes Chinese architectures and imbeds them with the modern components, destructively constructs a spiritual world with his unique language.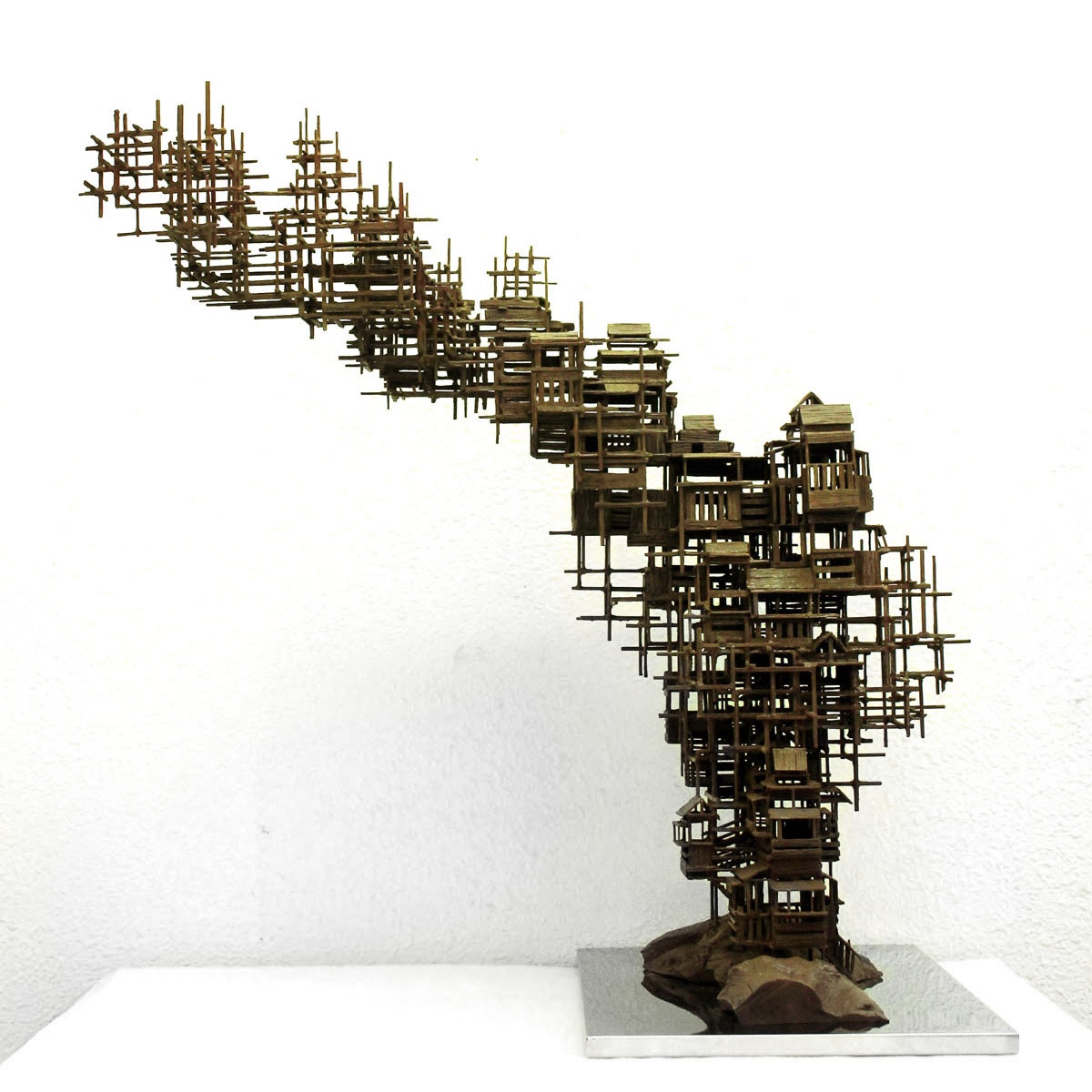 Gone City, 2015, 63x93x97cm, purple sandalwood/teak

Gone City depicts a group of rising and disappearing ancient architecture. It is the artist's reflection on the concerning extinction of traditional architecture and its culture. Ding explained: "The modern architecture in the Chinese cities now are often disconnected with the tradition, culture and lose the ability to communicate with nature. I feel China is losing its own judgement of lifestyle and value with the breakdown of the traditions. I think as well as the exploration of new architecture, it is important to focus on the reconstruction of the beautiful, poetic and natural dwellings as we had in the past."
—
Exhibitions:
Collect 2019, 28 February - 3 March, Booth 7.3, Saatchi Gallery


Image Source: Ding Hao