Among the many key elements of typical Chinese lifestyle, 'tea' is undoubtedly high on the list. Tea culture is vital in Chinese social interaction, hence the furniture for tea ceremony plays a significant role in Chinese furniture design. The most important piece of furniture in a Chinese home, often situated in the centre of the living room, is literally called 'tea table' in Chinese, which is similar to 'coffee table' in the West.

Contemporary Chinese designers nowadays continue to play with the theme, bringing out new innovative possibilities derived from traditional tea furniture. The following are our selection of some of the best furniture designs related to tea.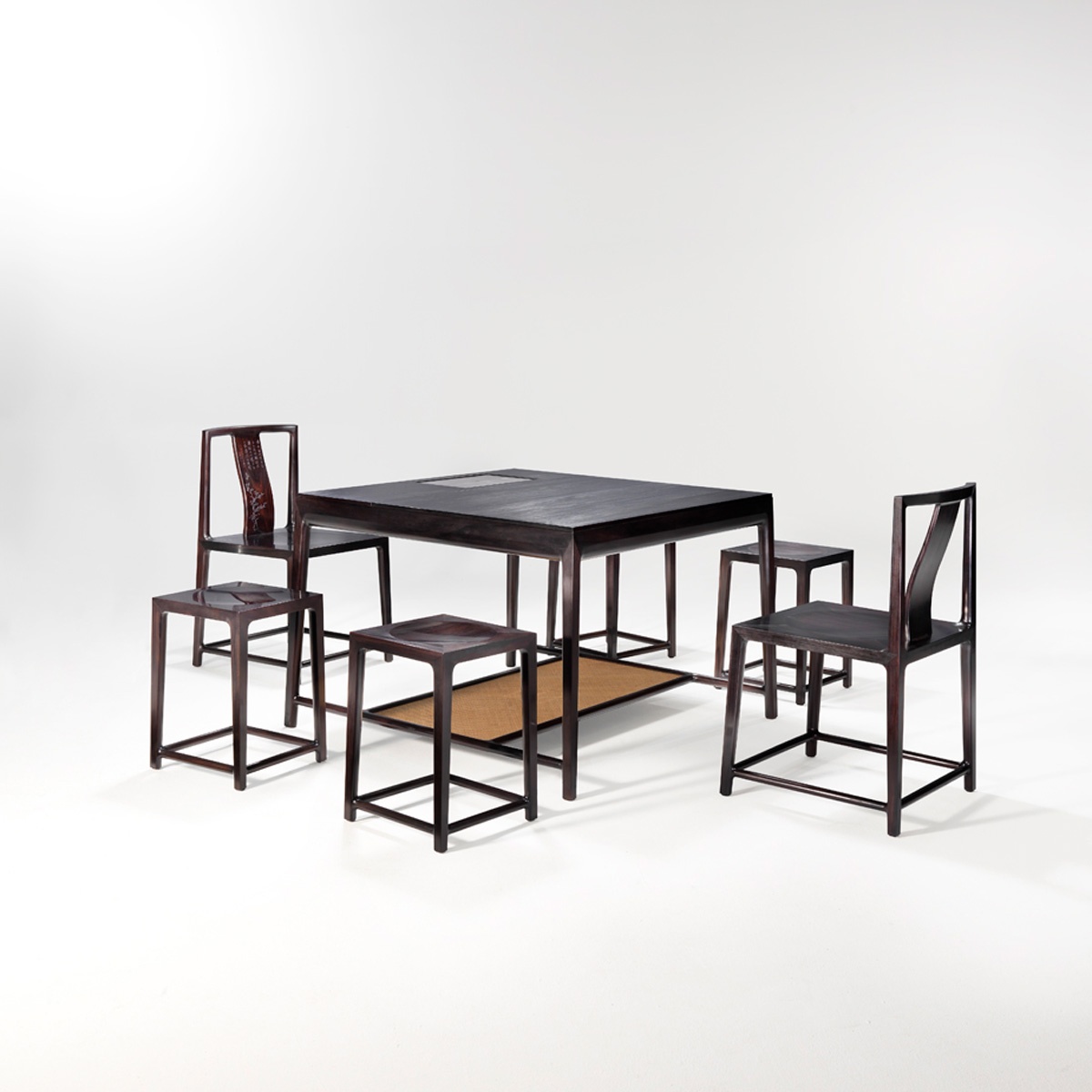 Da Tian Di tea ceremony set, Shang Xia
Shang Xia is a brand established by designer Jiang Qiong Er with backing from the Hermès Group, celebrating a fine lifestyle that combines the best of the East and the West. The name comes from 'as above, as below', a profound philosophical pursuit of the Chinese – a symmetrical, balanced beauty between seemingly diametric poles. Tea drinking, almost like a sort of art in Chinese lifestyle, often inspires Shang Xia's creations.

The Da Tian Di tea ceremony set cleverly merges a tea tray and tea table into one, showcasing the Ming-dynasty elegance while being practical and innovative at the same time. Under the table surface layer, there is a bespoke tea tray made of luxurious Duan inkstone and an electric stove for boiling water. All the electric wires and plug are tidily hidden inside the table legs and supporting structure. The name of the set comes from ancient Chinese symbolism – 'Da' meaning huge, 'Tian' meaning sky, and 'Di' meaning earth – with the overall implying that the meaning of the universe can be revealed through the drinking of tea.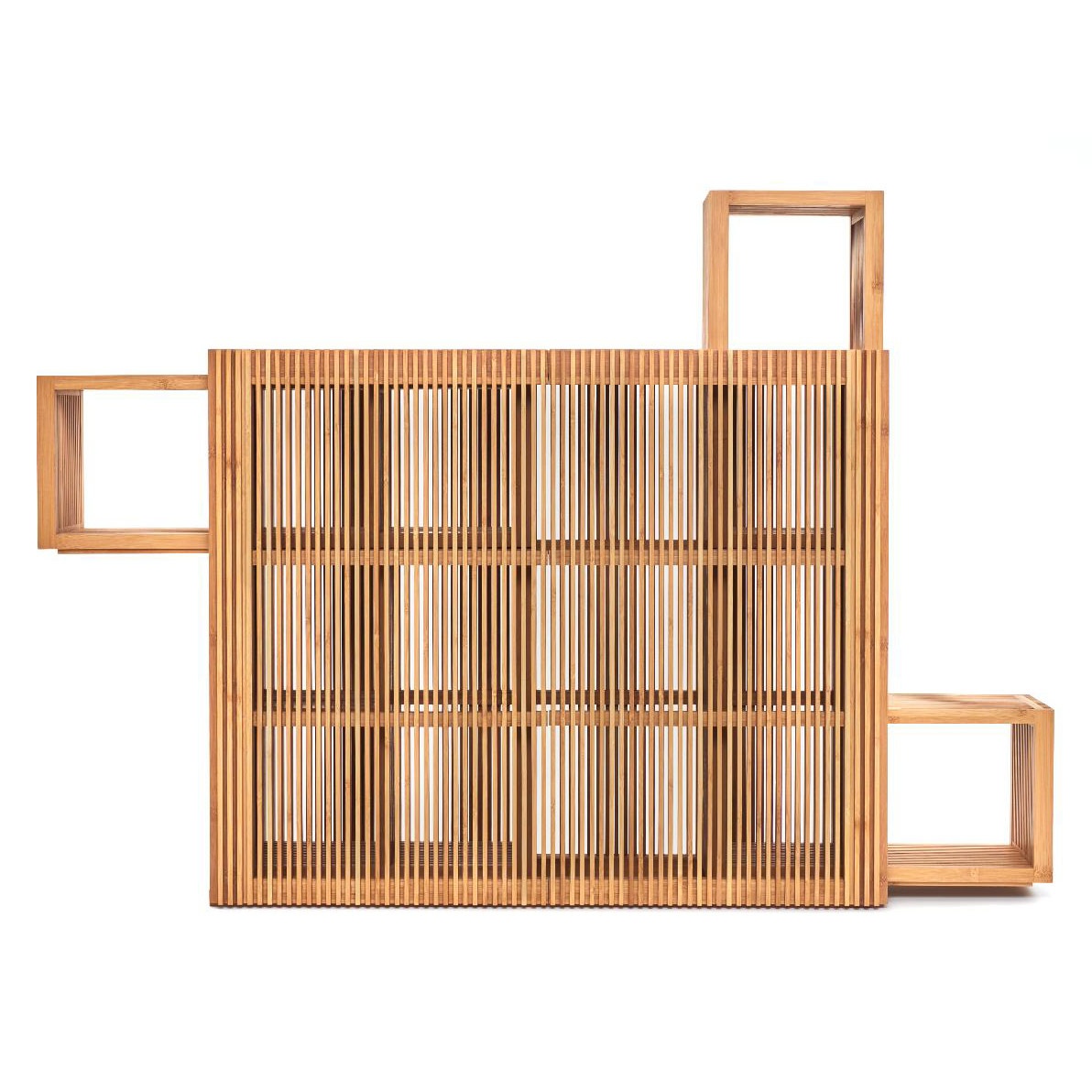 Ying Ge (Modular tea cabinet), Jeff Dayu Shi for Dragonfly Design Centre
Jeff Dayu SHI is interested in using bamboo and natural materials to make his design works. He is dedicated to creating new eco-friendly Chinese furniture that pays homage to classic values and traditional crafts.

His Modular tea cabinet is a combination of tea cupboard and curiosity cabinet that provides a place to store and display a variety of items. It is made of Moso Bamboo, and the doors are formed by assembling bamboo slats into a grille effect that reveals the inner collection subtly from different angles. Each frame contains a separate shelf to put away tea wares, vases, incense holders and so on. The huge surprise in this cabinet is that there is a mechanism to allow the trays to be movable from three directions, which can transform the cupboard into many different shapes and gives it a sculptural character.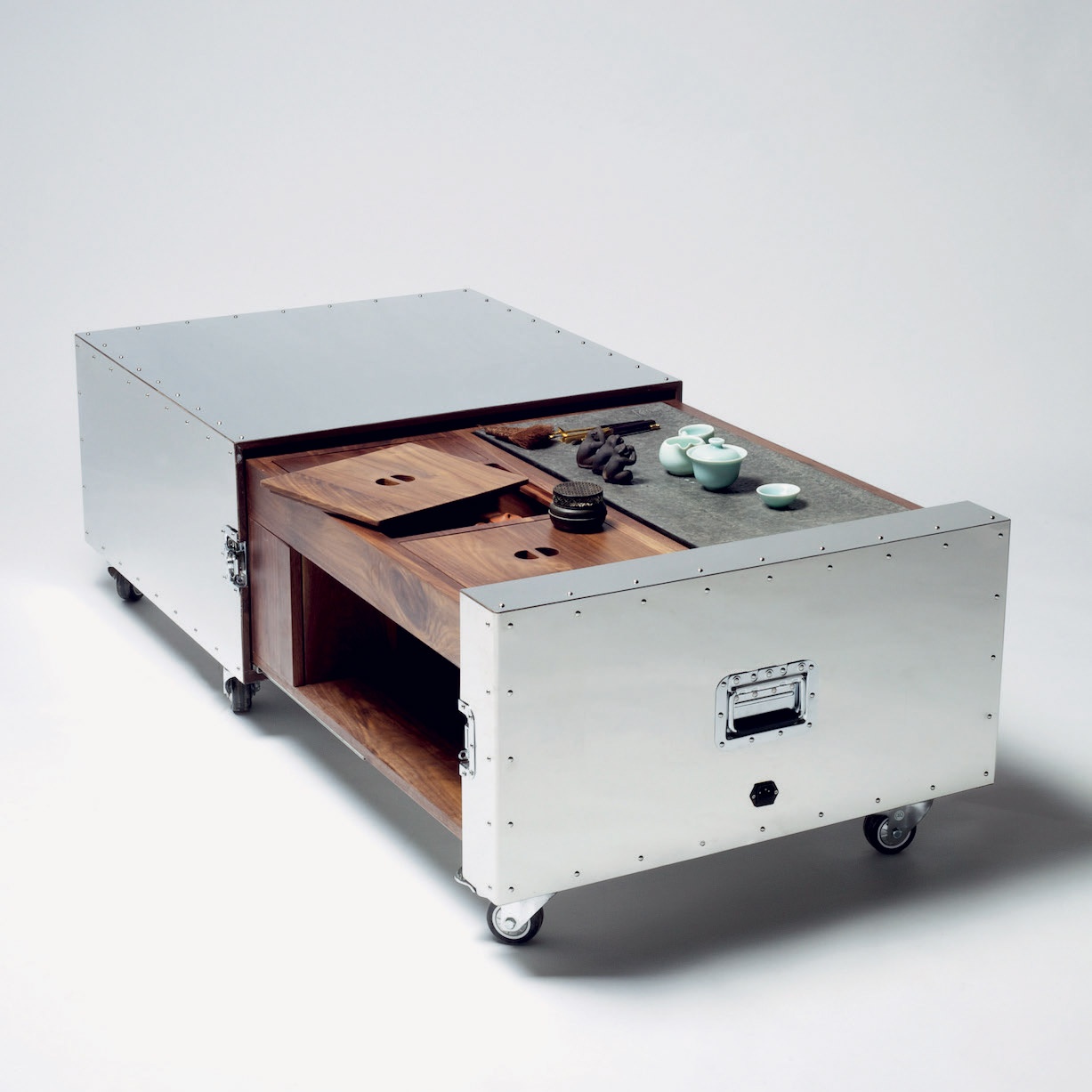 Tea table from the Crates series, Naihan Li
Naihan LI is a Chinese architect and designer. After graduating from the Bartlett School of Architecture, she collaborated with Ai Weiwei as a coordinator for the Jinhua Architectural Park development.

Li wanted a place where she could live and work at the same time, and so designed a series of flexible, mobile furniture pieces that could be moved around easily. The mirror-finished stainless steel box is neatly transformable – when the handle is pulled, the box magically becomes a tea table. The playful spirit of this furniture lies in Li's unique design language. The Crates series also includes a bookshelf, a single sofa and a writing desk.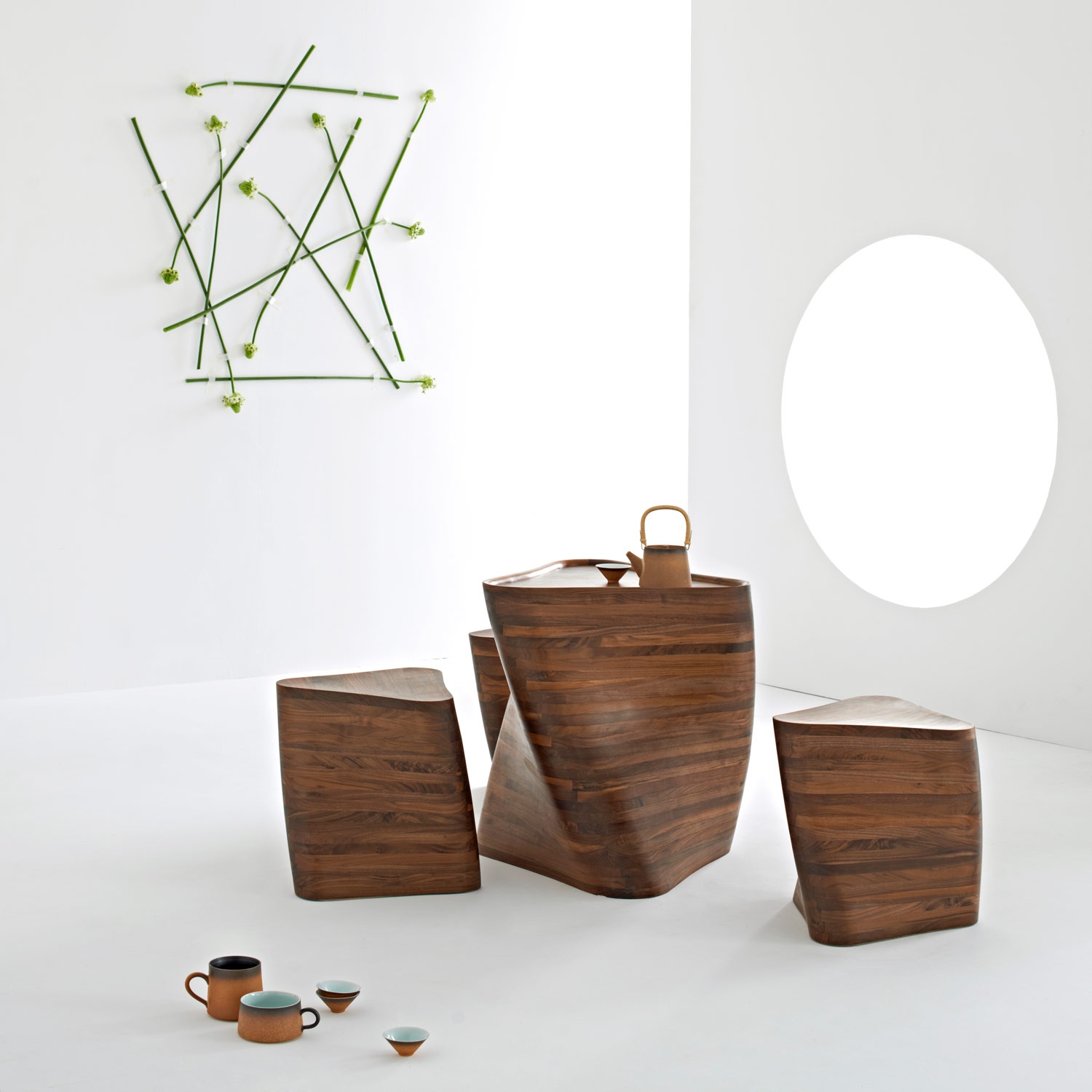 Three Walkers table and stools, Hou Zheng-Guang for MoreLess
Inspired by Laozi's quote, 'with few there is attainment; with much there is confusion', furniture designer HOU Zheng-Guang founded the brand MoreLess. The Three Walkers is one of Hou's classics, coming from Confucius's wisdom: 'when walking in a party of three, at least one of them can be my teacher.' The organic form of the stools and tea table perfectly expresses the beauty of the material, while being multi-functional. It creates a poetic image of three people talking about their ideas and learning from each other while having tea together.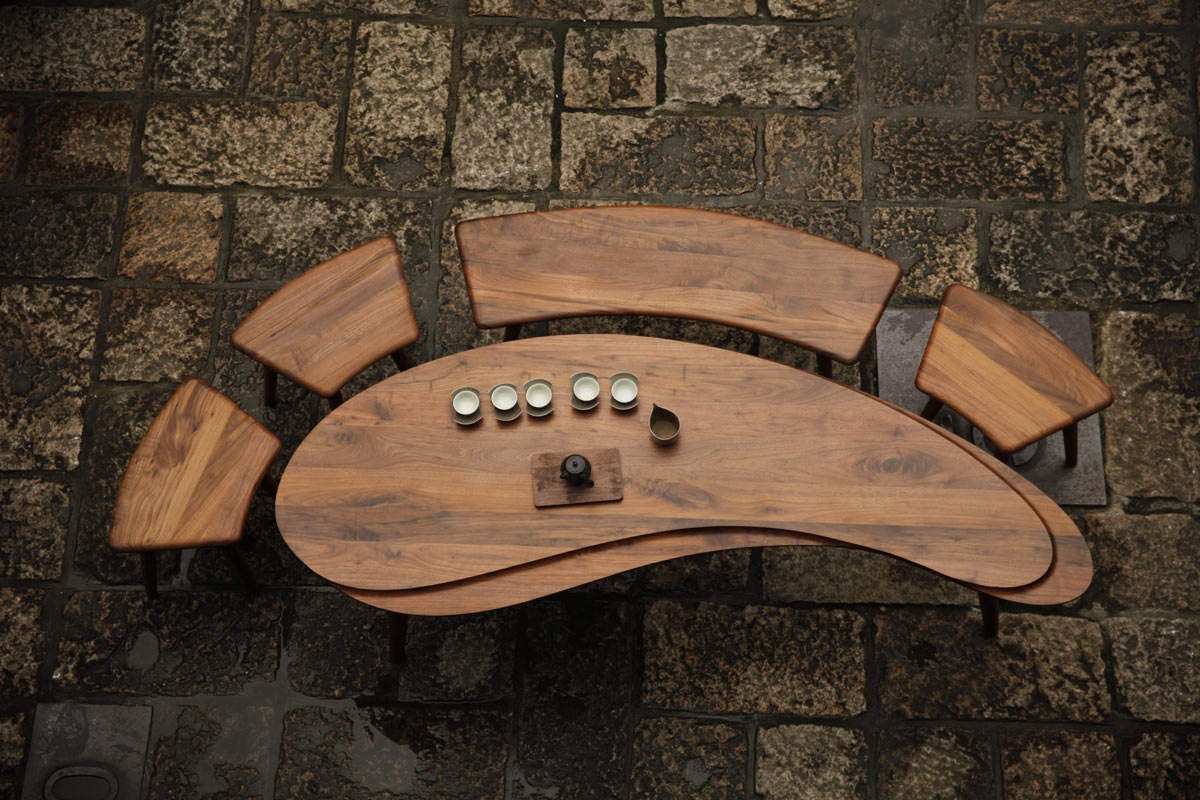 Another work by Hou Zheng-Guang – the Big Fish tea table and bench – was inspired by a fish swimming in a lake. The vivid shape is intended to make guests feel the calmness and charm of nature when they are having a cup of tea around the table.
Couple tea table, Xiaojie Zhu for Opal Furniture
Xiaojie ZHU is a famous Chinese designer who founded Opal Furniture. He loves wood and making furniture that combines traditional and modern elements. 

Unique design sometimes comes from unexpected events. During the production of a tea table for his 'Forest' series, the Zingana wood used for the tabletop broke into two pieces that looked like the traditional Chinese symbols 'Yin' and 'Yang'. While the artisans were still discussing how to repair the broken parts, Zhu suddenly realised: 'why not simply make it a tea table that cracked into two pieces?' He then decided to create an interesting height difference and, as he was inspired by 'Yin' and 'Yang', named it the 'Couple' tea table.
Horizon table, bench and cabinet, Lv Yongzhong for Banmoo
LV Yongzhong, a Chinese architect and artist, established his brand 'Banmoo' in 2006.

His Horizon table is multifunctional – it can be a tea table, a dining table or even a worktable. The simple and elegant shape and structure can give one a Zen-like feeling. The focus is on the proportional control of and logical correlation between the table and bench's height and thickness and leg diameter. The surface is carefully hand-polished in order to keep the natural texture of the wood.
There is also a side cabinet from the 'Horizon' series, which can be used for display against a wall or as a screen to divide the space, as well as a perfect storage solution for tea and snacks.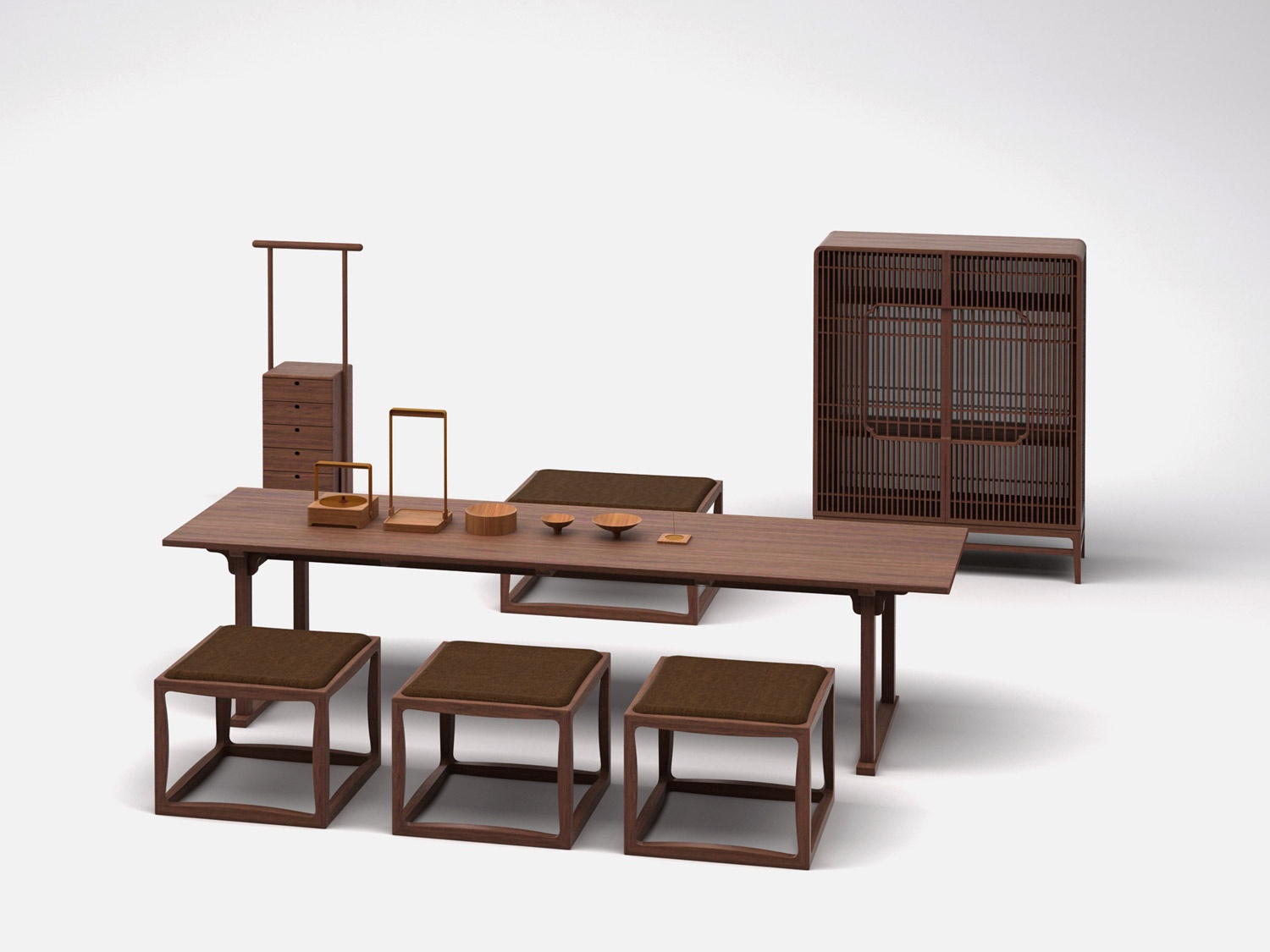 Ting Feng tea set, Shen Baohong for U+ Furniture
U+Furniture is an original brand created by Shen Baohong in 2008. U+ was inspired by Chinese traditional culture, links with nature, humanity and aesthetics with the aim of producing new Chinese contemporary style furniture. 

Shen Baohong was inspired by the aesthetics of Chinese classical gardens in the Jiangnan region, and utilises natural changes in material and soft curved lines in his furniture designs. His Ting Feng (courtyard breeze) tea set is just like a miniature Jiangnan garden – elegant, charming and calm.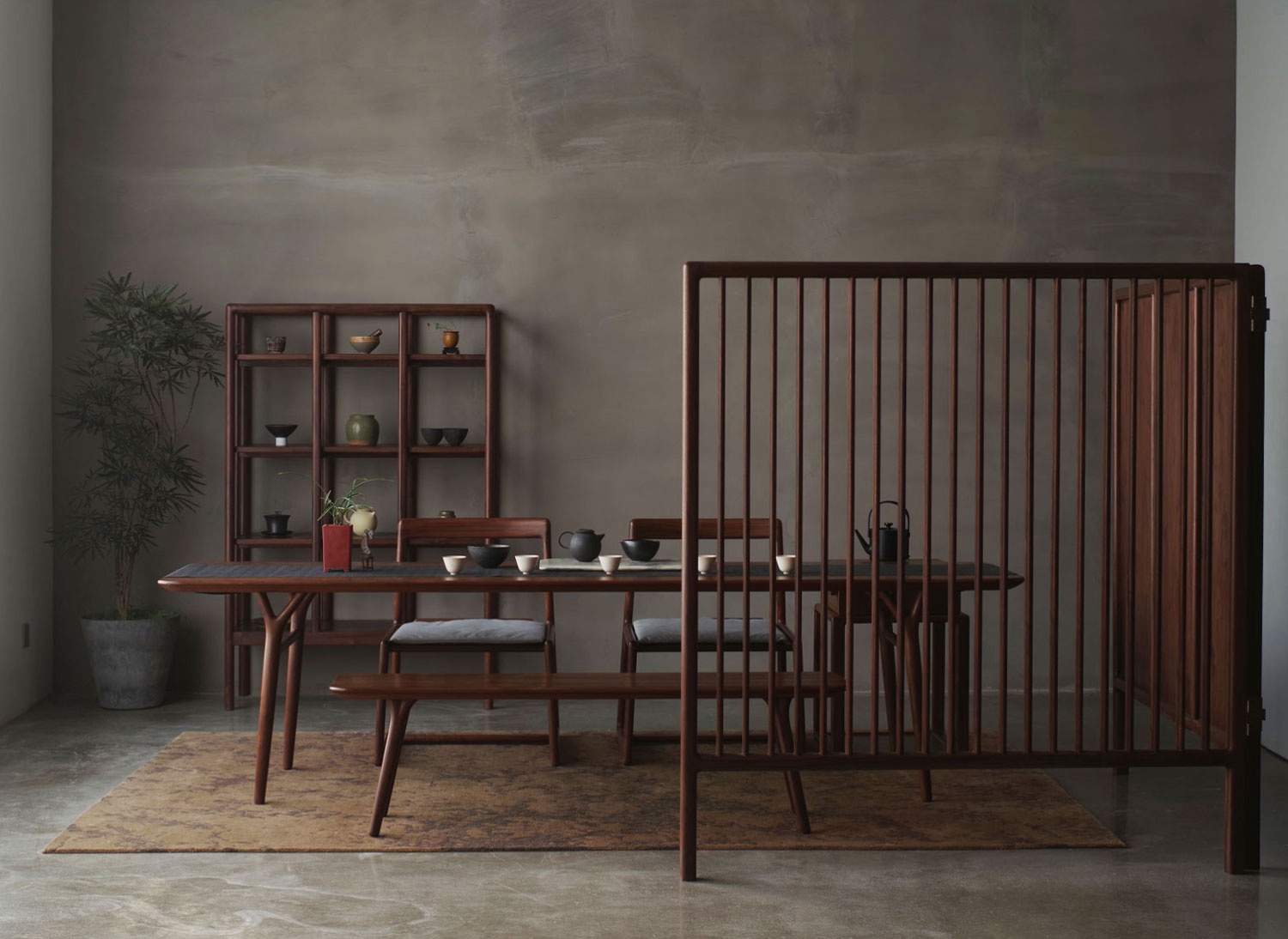 Zhiji (soulmate), Wu Wei for Thrudesign
Thrudesign was founded in 2011 by WU Wei. Inspired by ancient Chinese wisdom, Wu focuses on creating natural, simple and timeless furniture pieces, with consciousness about sustainability and philosophy of 'slowness' in mind.

Thrudesign understands people who love tea – a good tea table would be the most used object in their home. Wu invited several tea experts to participate in the refining of  the table, in order to decide on the best height and width for making tea comfortably and being able to have a good conversation with fellow tea drinkers. All the edges of the furniture are smooth and round, making it tactile and harmless, which is also Wu's understanding of the good relationship between furniture and people. 'Zhiji' means soulmate in Chinese, and the series also includes tea chairs, a bench, screen and display shelf, which can together form a relaxing tea space.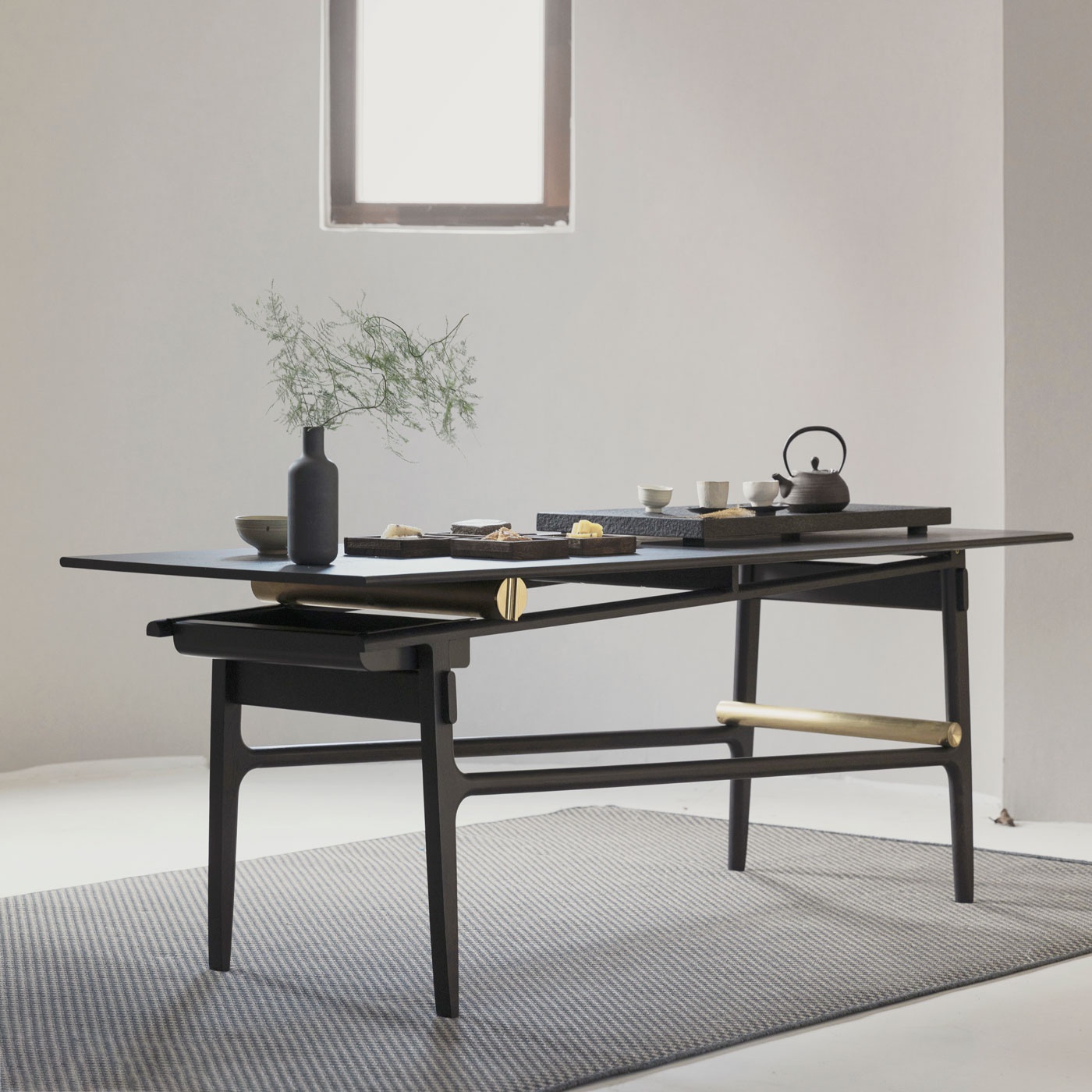 Founded by Kiran ZHU and YANG Xili in 2013, Ziinlife is an emerging creative brand with ingenious, heartwarming designs. The works of Ziinlife are often seen as 'a lovely surprise' – inspired by daily life and humour, intelligence and warmth to everyone.

Similar to Shang Xia's tea set, the Flow Tea Table also works as a tea tray. In the middle of the tabletop hides a long groove that allows water to flow. A tray is hidden underneath the tabletop to contain water. It is a functionally convenient design for tea drinking as well as dining. The table looks like a static painting from the side, while the delicate angle of its beam creates a sense of motion. This visual movement produces a feeling of imbalance, mimicking flowing water. The 'flow' lies in its form and function.
*All the above designers and studios are included in the book - Contemporary Chinese Furniture Design: A New Wave of Creativity by Charlotte and Peter Fiell with Zheng Qu (founder of China Design Centre), published by Laurence King in October 2019. It features over 400 exemplary works representative of the new wave of creativity in modern Chinese furniture design. Click here to find out more