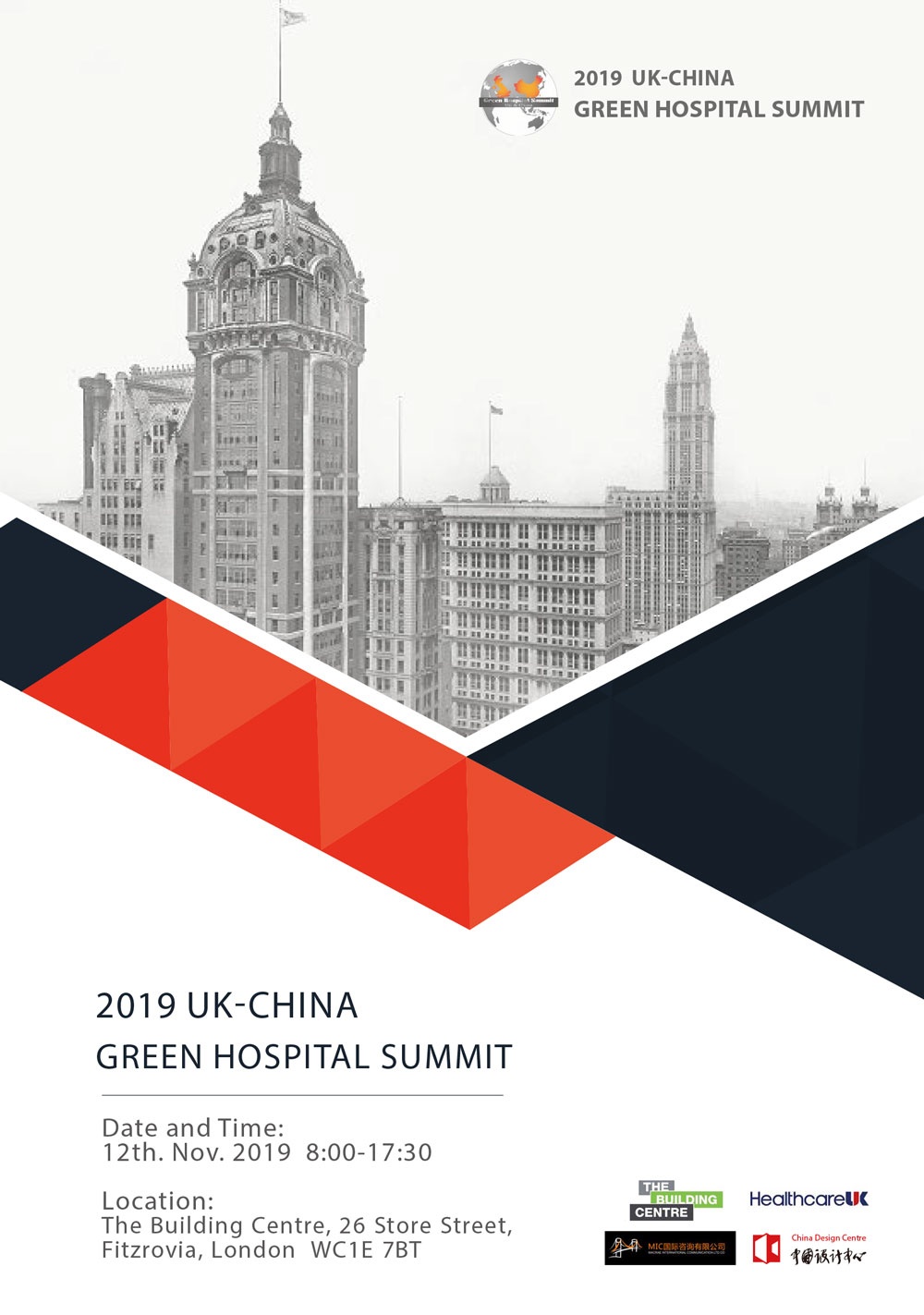 Date & Time
12th November 2019, 08:00 - 17:30
Location
The Building Centre, 26 Store Street, London WC1E 7BT
The UK-China Summit aims to strengthen the academic and practical exchanges and cooperation between the two countries in the field of hospital development and operation. 2019 UK-China Green Hospital Summit is the third conference since 2015 and will be held in London on 12th November 2019. The theme of this year's Summit is "Smart Hospital Development".

The Summit's purpose is to connect British healthcare experts and architects with Chinese hospital leaders and to understand the trends of the smart hospital development. It will help create opportunities between the UK and China in healthcare industry.
Co-organised by The Building Centre, MIC and China Design Centre, and supported by Healthcare UK, the Summit will bring 18 influential Chinese hospital and state-owned company leaders, government officials and healthcare architects to the UK for an interactive discussion with UK healthcare specialists about smart and sustainable hospital design and development.
This year's summit will explore subjects such as the future trend of the UK and China's hospitals, smart hospital system and its design and construction, green material, and digital innovation for health management.
The Summit will include speakers from Shanghai Health Capital Construction Administration Centre, Hospital Architecture System Research of Chinese Hospital Association, Shanghai Ninth People's Hospital, Healthcare UK, PLP Architecture and Great Ormond Street Hospital for Children. The key participating companies include Shanghai PM Firsttrack, Shanghai K&Z Construction Project Management, Shanghai Construction Group and Tongji Architectural Design (Group).
Limited places available!
Programme:
08:00 – 08:45 Registration
08:45 – 09:00 Introduction - Colin Tweedy, CEO of The Building Centre
09:00 – 09:10 Healthcare UK officer
Morning Session: Smart Hospital Trend
09:10 – 09:50 The Future of the Hospital in UK Hospital Model - Crispin Walkling-Lea, Head of Healthcare Planning, Great Ormond Street Hospital for Children
09:50 – 10:30 Chinese Hospital Development Trend - Zhang Jian Zhong, Director, Shanghai Health Capital Construction Administration Centre
10:30 – 11:00 Tea break
11:00 – 11:40 Digital Innovation for the Health Management - Healthcare UK
11:40 – 12: 20 Chinese Hospital Smart System - Luo Meng, Party Secretary, Shanghai Ninth People's Hospital
12:20 – 13:00 Sustainable Design in The Francis Crick Institute Building - PLP, UK
13:00 – 14:00 Networking Lunch
Afternoon Session: Panel discussion
14:00 – 16:30 Smart Hospital Opportunities
Smart hospital pathway design, construction and green material

Smart hospital logistic management and IT system
16:30 – 17:30 Networking – tea & coffee
Previous Events:
2016 UK-China Green Hospital Summit