Since the First Bluetown & Greentown China-UK Conference in 2016, China Design Centre has been establishing a strong platform to facilitate knowledge exchange and bring together western and eastern creativity to support China's new type of urbanisation and rural regeneration. Apart from organising research and conferences, China Design Centre led several study trips with delegations from China's major developers visiting projects and towns in the UK, Netherland, Germany and Switzerland.
Between 7-8 Nov, the 2019 Bluetown & Greentown China-UK Conference organised by China Design Centre was held at Wu Town Graceland. Led by Mr. Weiping Song, President of Bluetown Group, about 330 people from Greentown & Bluetown Groups and their collaborators attended this conference. The Conference was a great success as it triggered a lot of positive discussions among the lecturers and the audience during the presentation, Q&A session and after the conference.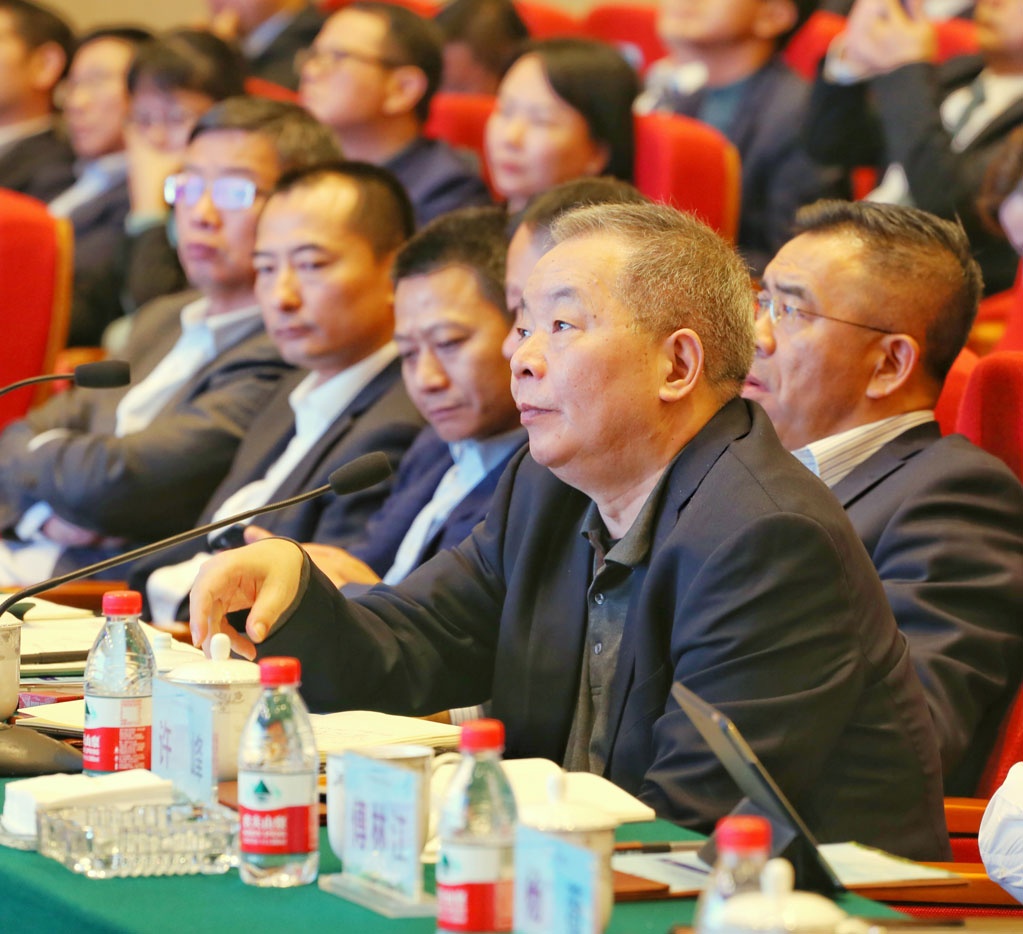 Mr. Weiping Song, President of Bluetown Group led the audience to participate in the forum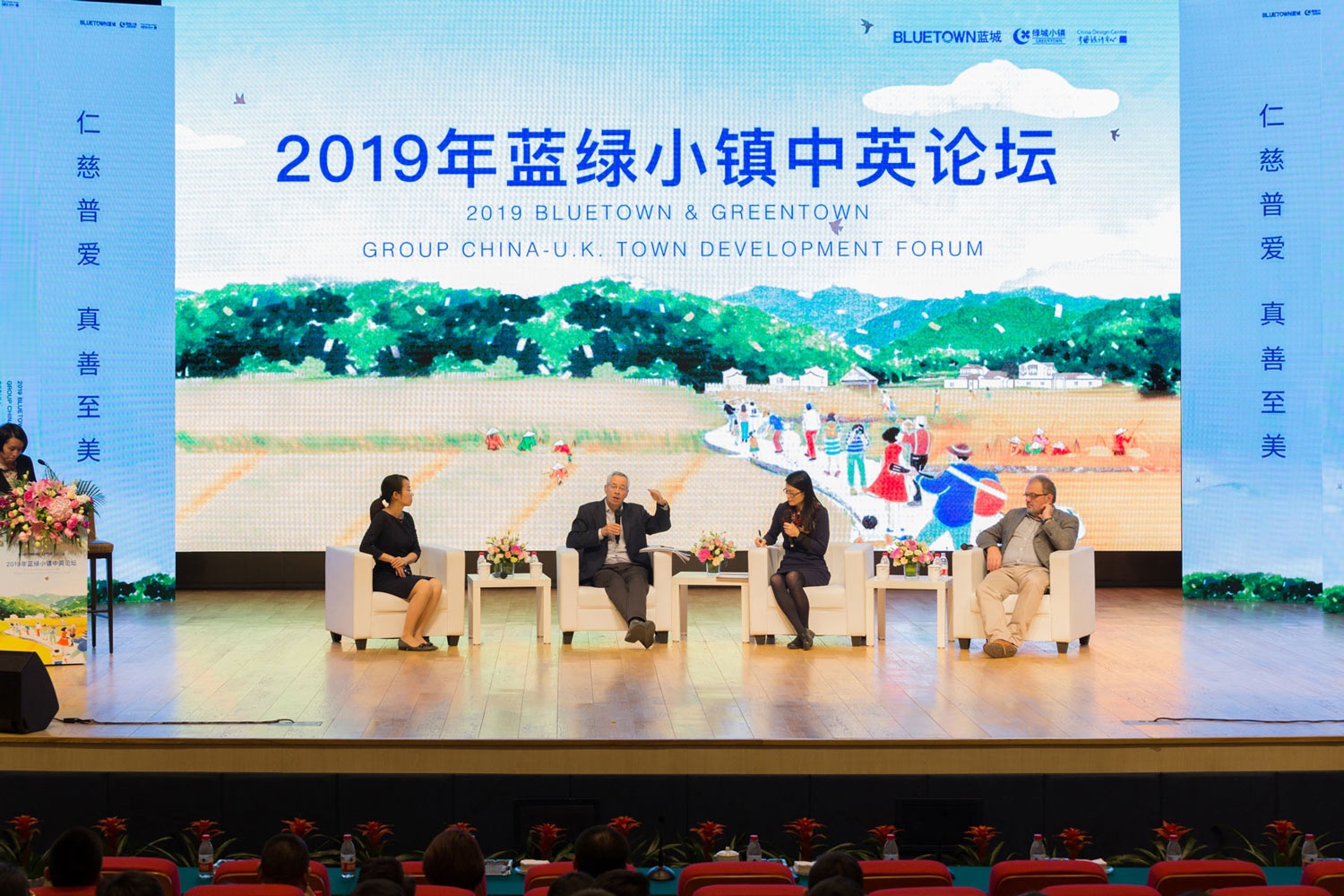 Keynote lecturers answer questions in the Q&A session
China Design Centre built up a strong research team and carried out six-month studies for four topics: agriculture and town development, child-friendly town, happy senior care and healthy towns.  The following experts were invited to lead the research on each topic and presented at the conference: Dr. Richard Baines, senior academia at Royal Agricultural University; Mr. Tim Gill, independent scholar, advocate and consultant on childhood; Dr. Hans Becker, Professor of Humanizing Care at Utrecht University and an economist; and Dr. Yingying Tian, Director of China Design Centre in London and Partner of Shanghai STP Planning and Architectural Design Company. Each speaker delivered a lecture at the conference. The four topics of research were carried out with the contribution from Dreiseitl Consulting, Letchworth Garden City Heritage Foundation and TCPA.
Keynote speakers were invited to give lectures at the conference
Based on the agriculture research presented in the 2nd Bluetown & Greentown China-UK Conference in 2018, Dr. Richard Baines, Dr. Yingying Tian worked with Prof. Herbert Dreiseitl at Dreiseitl consulting and Letchworth Garden City Heritage Foundation/International Garden City institute, and continued to explore potential models of developing organic agriculture, agriculture belt and food system for Chinese towns. Dr. Baines started the lecture by reviewing the history of British agriculture, pointing out that modern industrialized agriculture has separated production and consumption, and disconnected people from the land. He emphasized that postmodern food system, including organic production, local food supply and circular food system, will form a sustainable relationship between town and country. Dr. Tian introduced Garden City's original agriculture concept in Howard's model, compared the current food system in Letchworth Garden City and elaborated the role of the town team in land/environment management and maintaining a healthy base for food business to grow. By case studies of successful large organic farms and organic food supply businesses in the UK and Germany, the team suggested a route map for Bluetown/Greentown to experiment organic farming and add values to social, economic and environmental aspects to achieve an integrated development of agriculture and the town.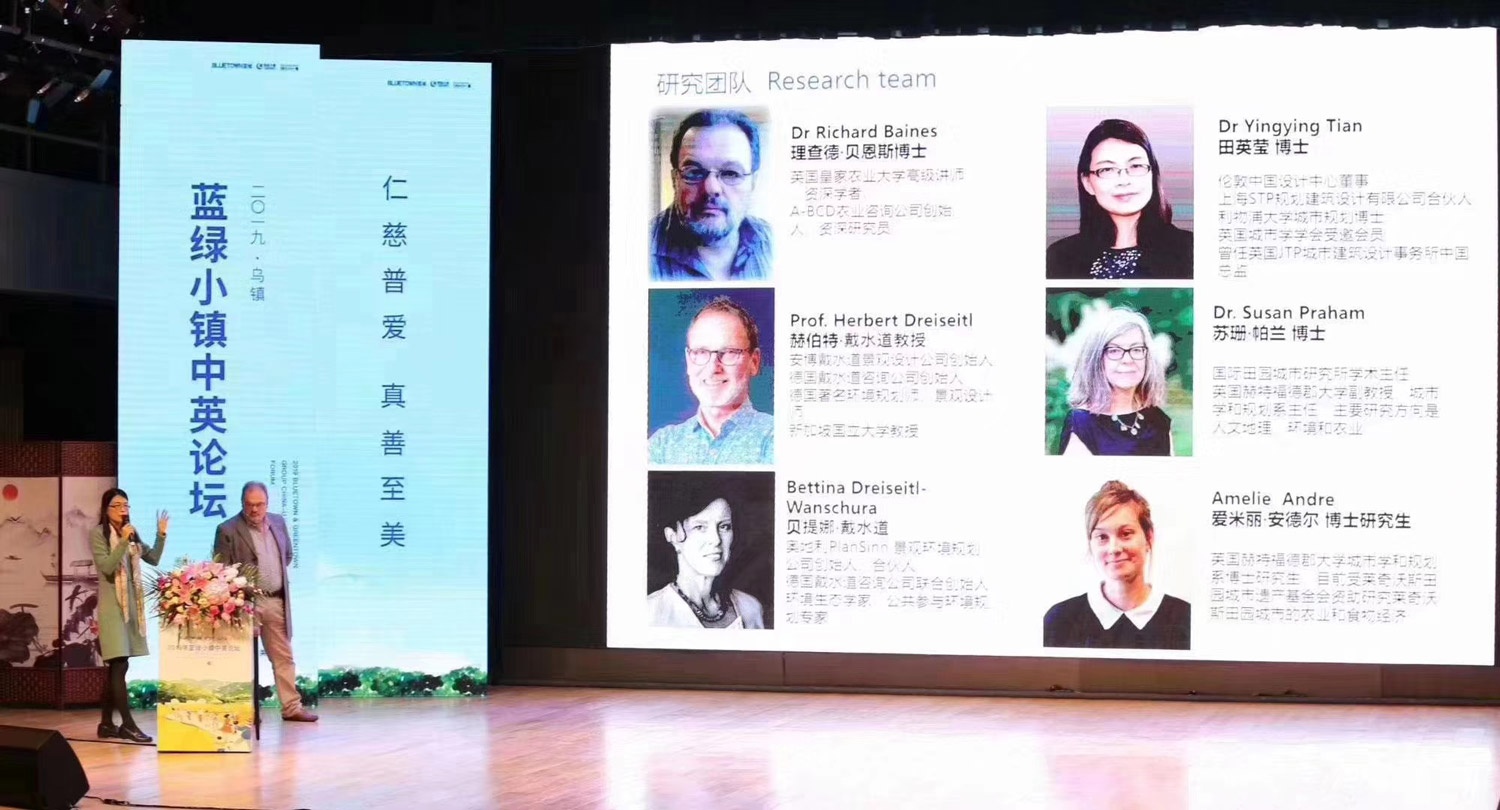 The research team worked together on the topic of Town and Agriculture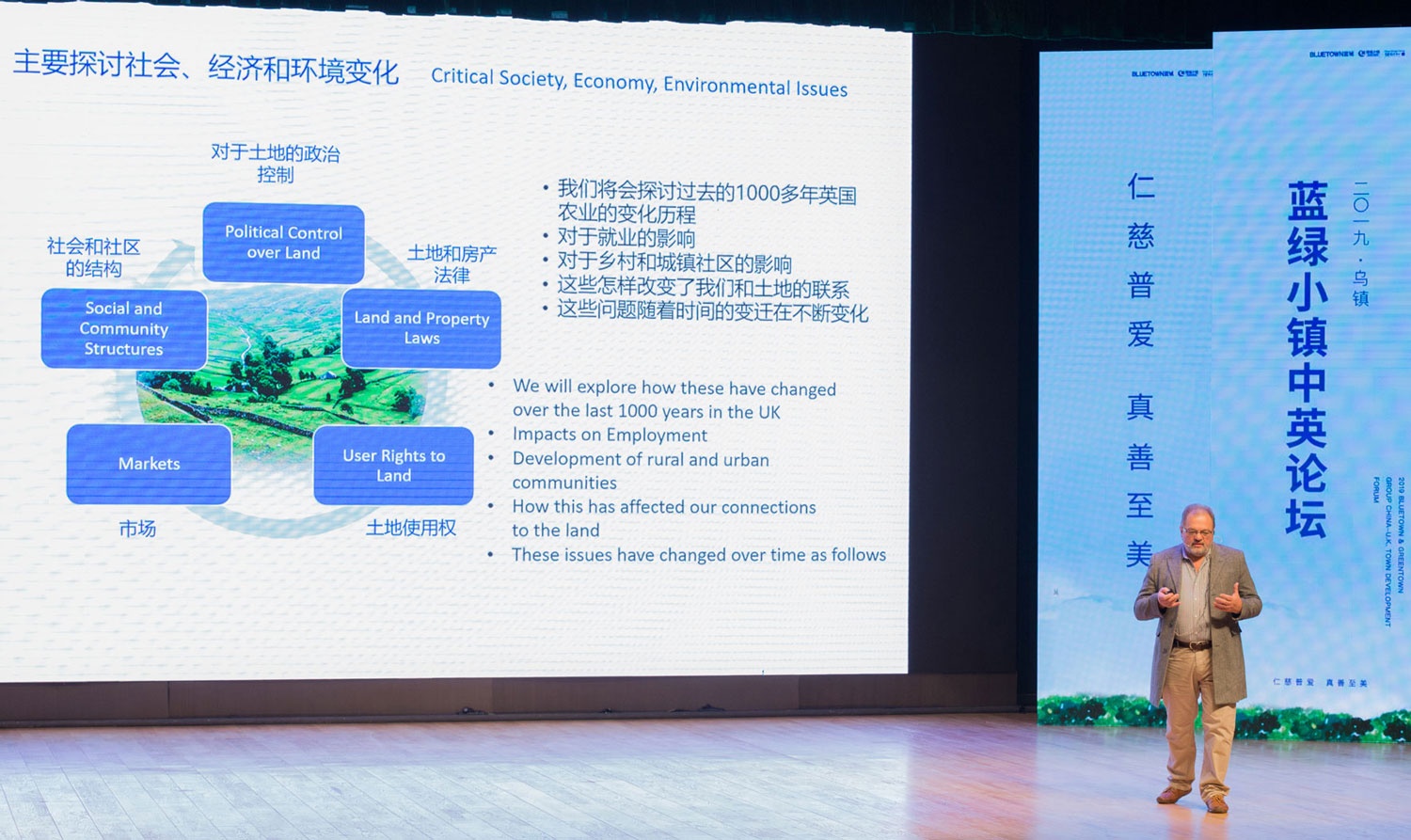 How the UK's agriculture system has changed over the last 1000 years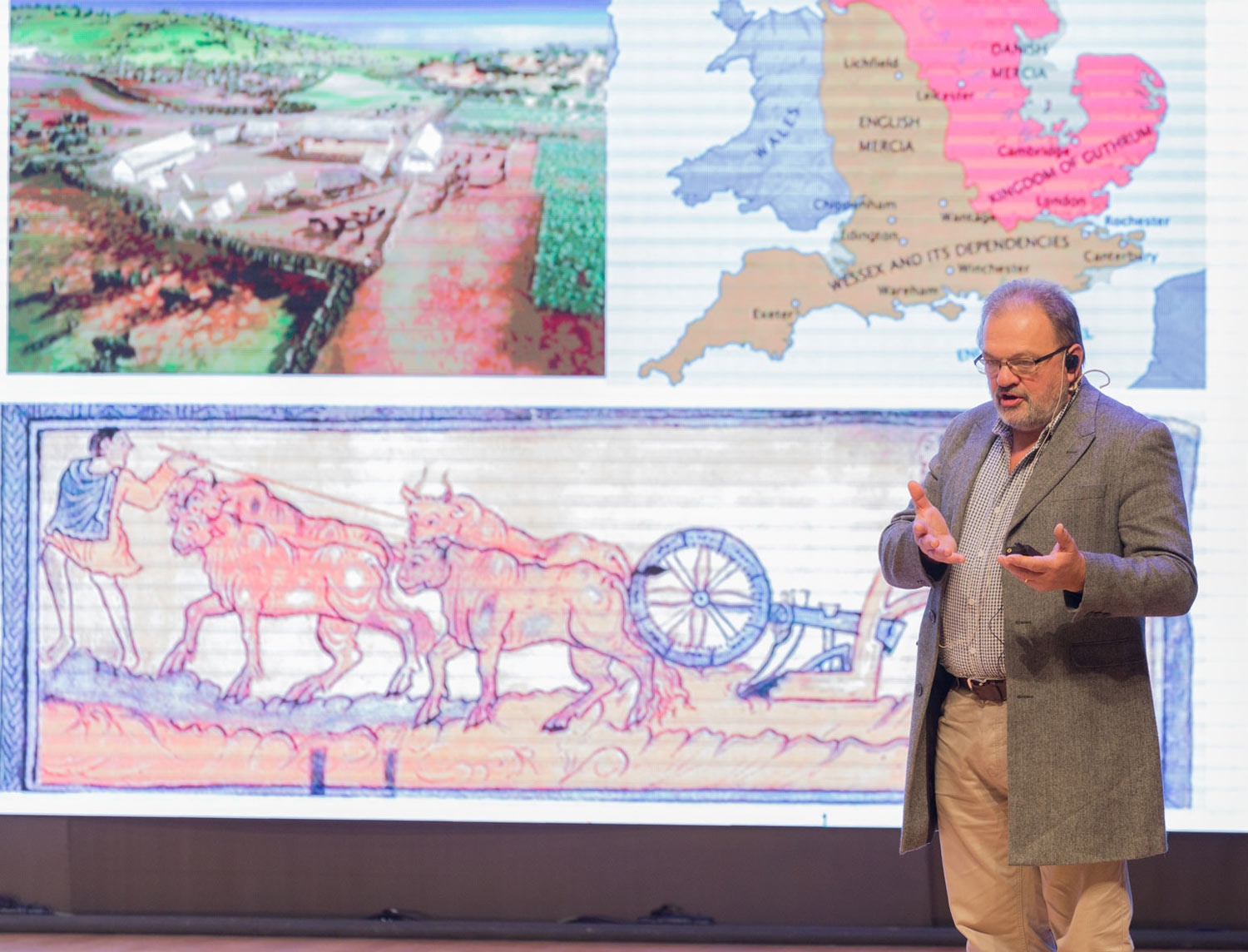 Dr. Baines started the lecture by reviewing the history of British agriculture
Dr. Tian introduced the current food system in Letchworth Garden City
Tim Gill, Dr. Tian and her colleague Chia-Yun Wu, Senior Urban Designer of China Design Centre, have carried out a joint research on the topic of child-friendly towns. In the presentation "Building Child-Friendly Towns--Lessons & Insights from around the World", Tim Gill shared his ideas on two contrasting views of education followed by an in-depth discussion of the relationship of play and learning. Mr. Gill emphasised that letting children have space and time for free play is vital to promote growth. Children should be allowed and encouraged to explore and take risks independently in the public realms and gradually become more independent and take more responsibilities in the journey of childhood. The talk encouraged all the project managers, urban designers and architects to rethink how we can offer the next generation better places in the town to grow up. Mr. Gill used cases of different scales to show the child-friendly design strategies in towns, playscape, public realms and play spaces. He summarised all the findings and gave recommendations on how to build child-friendly towns to Bluetown & Greentown.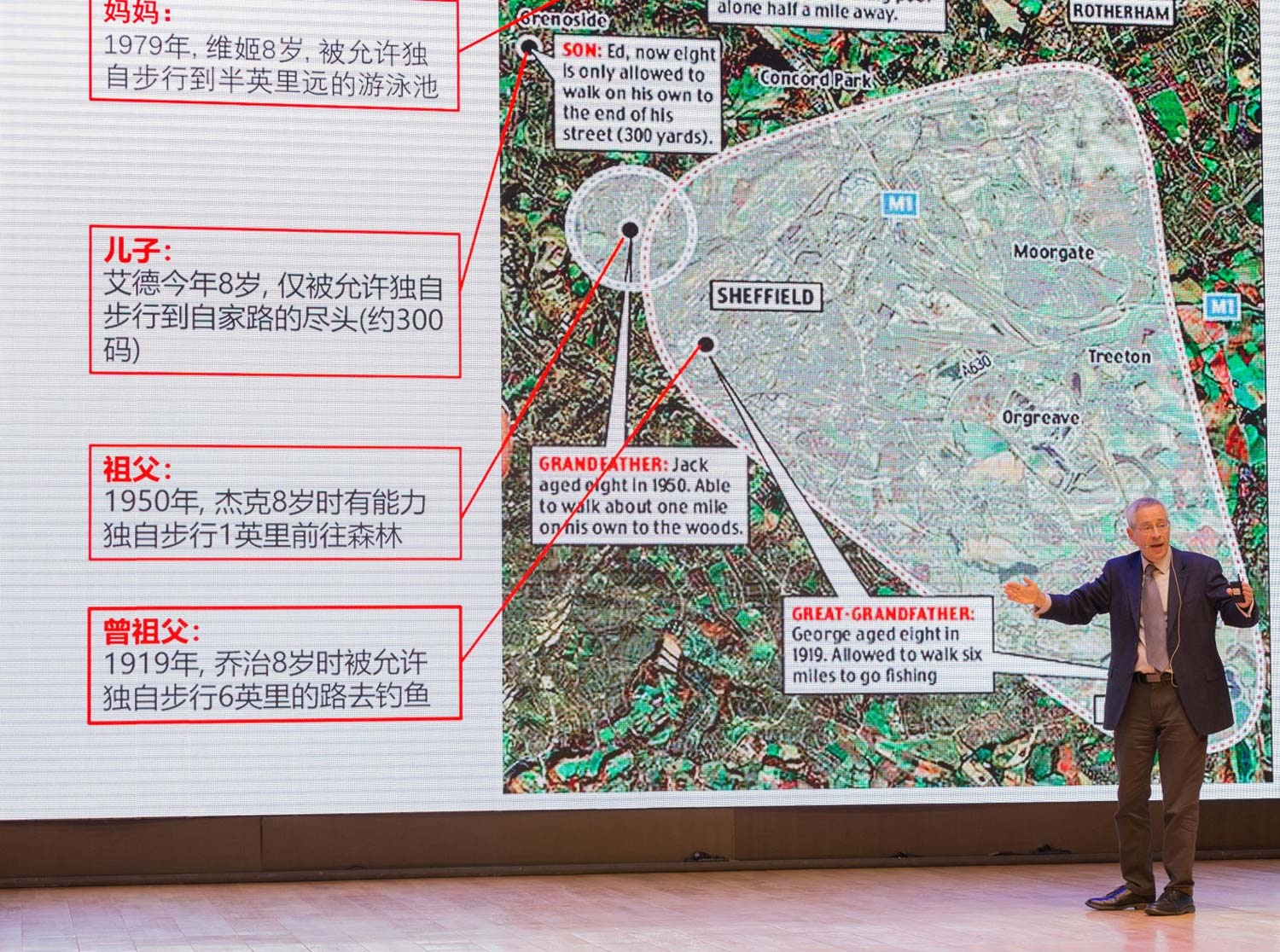 Mr. Gill pointed out that home territory for children has reduced significantly in 4 generations.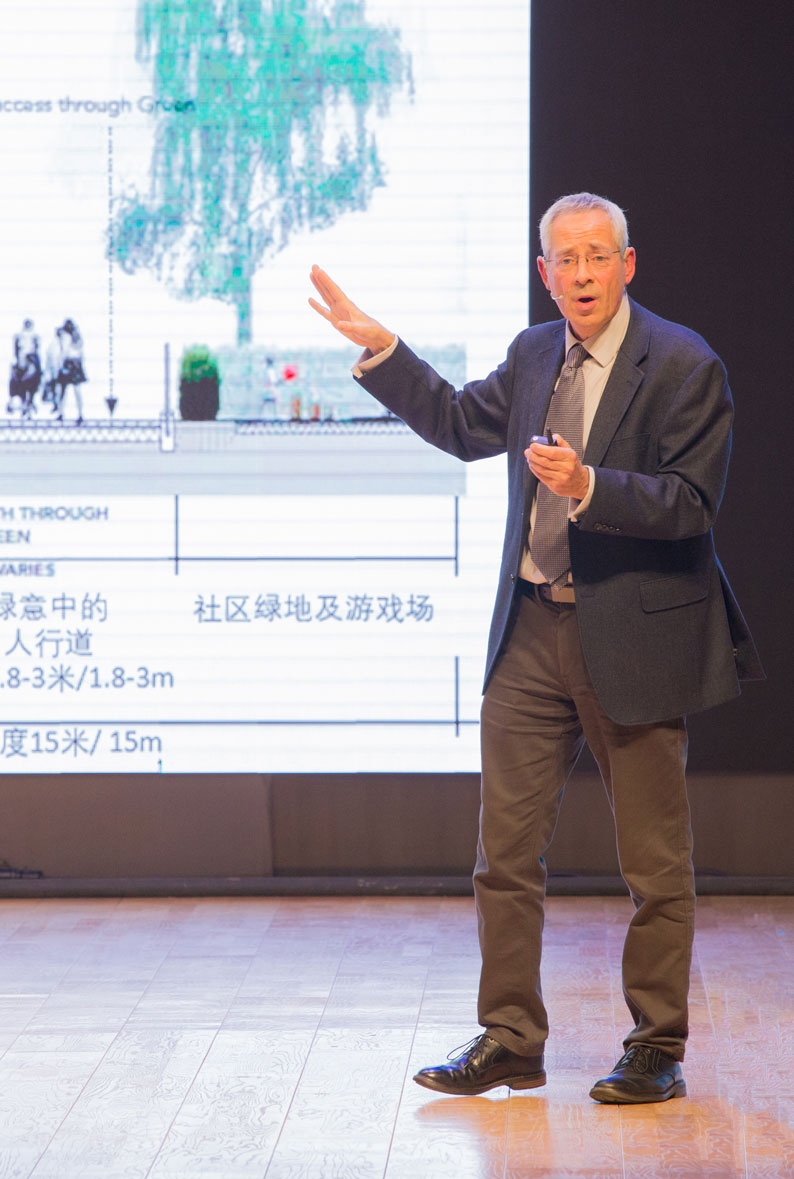 Mr. Gill presented the child-friendly design strategies
In the lecture of "Happy Senior Care Philosophy and Practice", Dr. Hans Becker, Professor of Humanizing Care at Utrecht University in the Netherlands, shared his life story about how he stepped into senior care field which was considered as a misery island in the past. He used to be a professor of Economics and were invited to be the chairman of the Humanitas Foundation in Rotterdam in 1984. By repositioning the focus of elderly care, Dr. Becker invented the concepts of happy retirement and built up revolutionary lifetime lasting apartments with entrepreneurship mindset. Dr. Becker presented a video to allow the audience to experience how the happy retirement concepts work in practice and how the elderly enjoy their lives and live with joy and positive energy in the Apartments for Life. Even though the illness cannot be cured completely, it is only a small part of life for the elderly.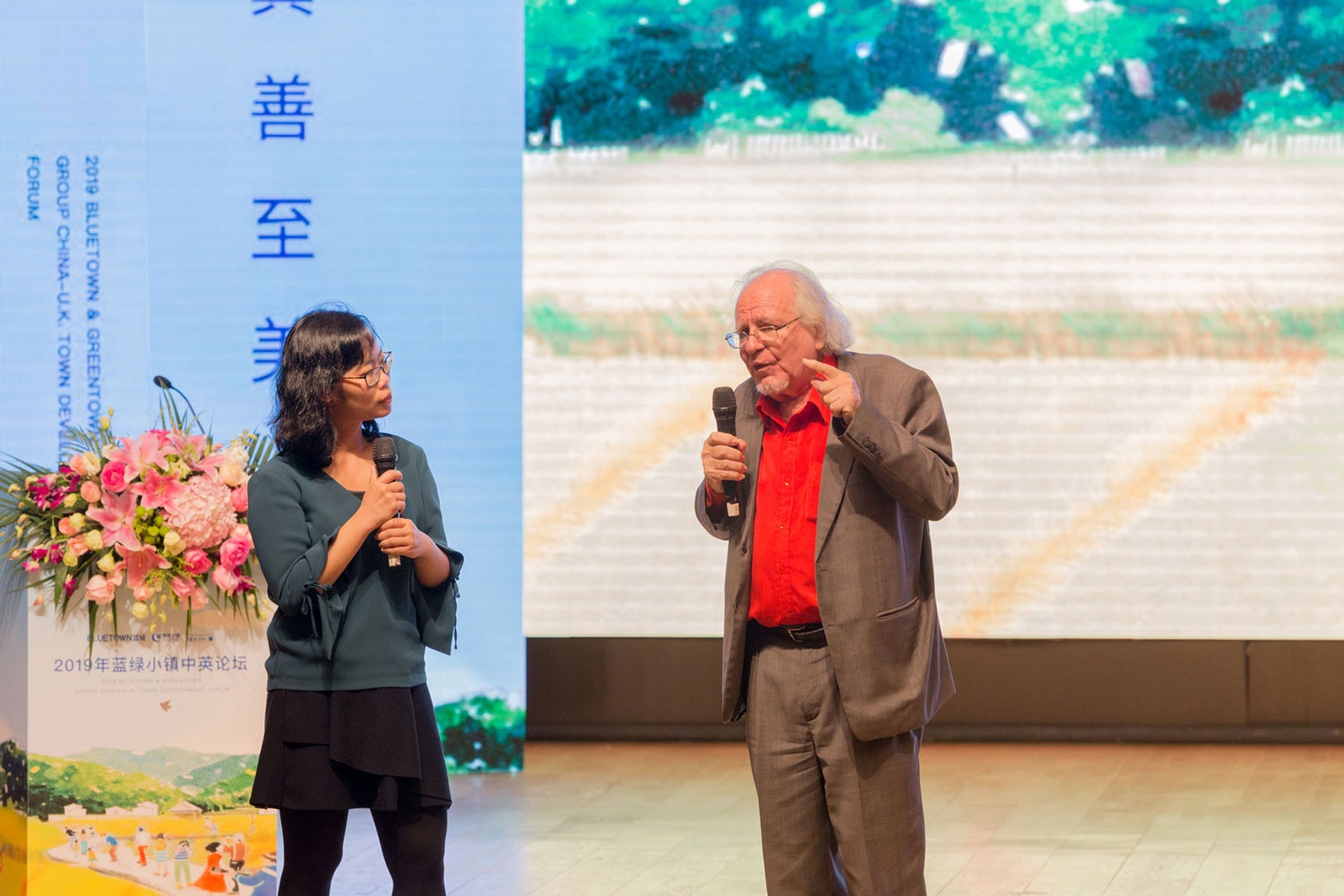 Dr. Becker elaborated the concepts of happy retirement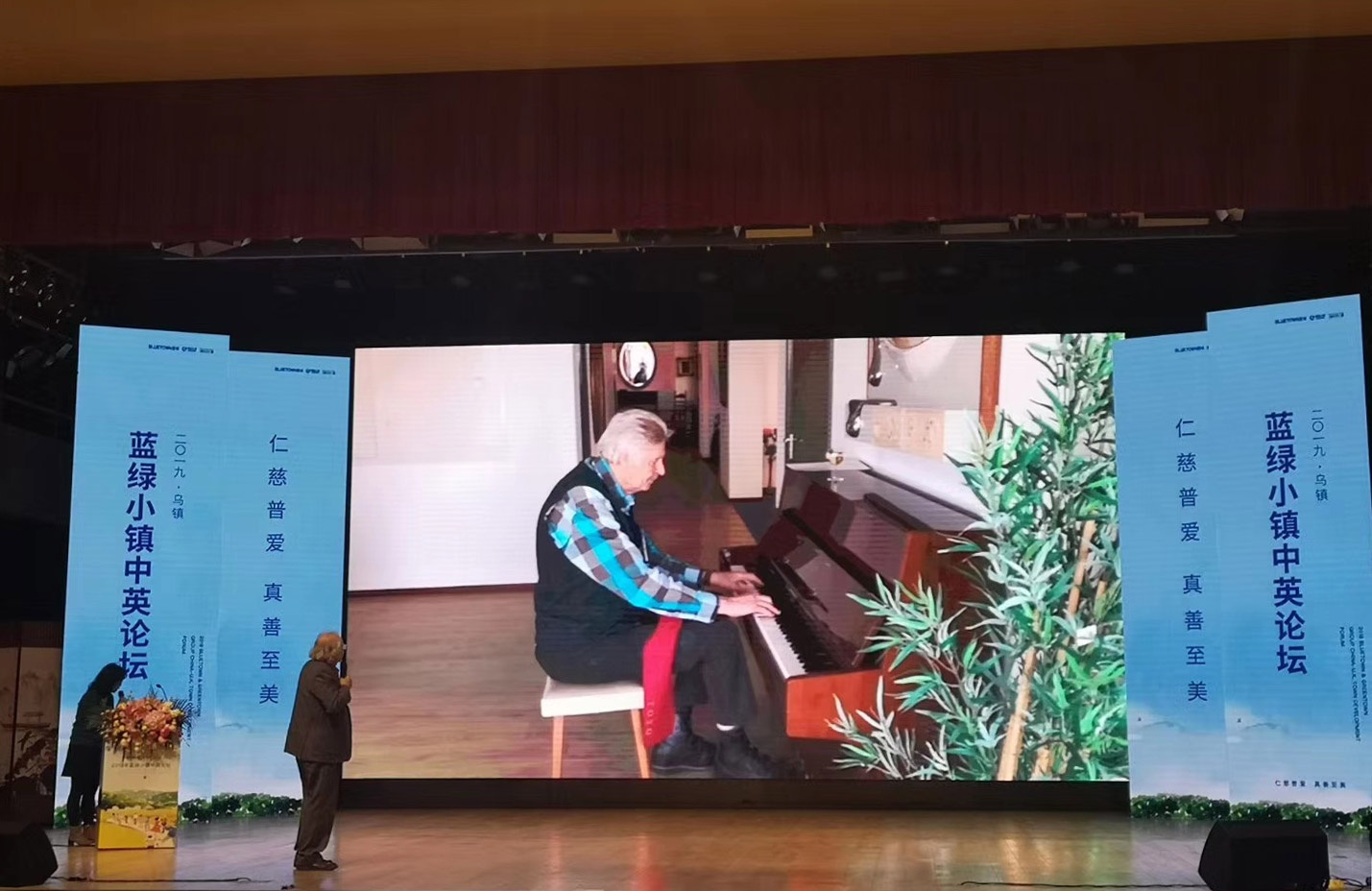 Dr. Becker presented a video of Apartment for Life
The research of Healthy Towns was a collaborative work between China Design Centre and TCPA. In the presentation "Healthy Town Planning", Dr. Tian reviewed the health situations and causes of illness to people in the world, particularly in China and in the UK and summarised the key elements of maintaining both physical and mental health. Dr. Tian also reviewed  public health management strategies and environmental policies in the UK as well as the ten principles proposed by NHS in the Healthy New Town Programme. She presented in-depth findings from the case study which covered different approaches to maintain people's health such as providing multifunctional green infrastructure, promoting active lifestyle and introducing innovative healthcare service. The lecture came to a conclusion that to build a healthy town, developers should work with local government, businesses and local communities and endeavoured to provide health-oriented built environment as well as well-coordinated health services.
Dr. Tian introduced the research team for the topic of Healthy Towns
In addition to the lectures given by four external experts, the head of Changzhi Town project, Mr. Mao, and the head of Wu Town Graceland, Mr. Zhu, presented the planning process and construction achievement of the two Greentown flagship projects. The experience accumulated in the process can be good resources and references for other Bluetown & Greentown projects. Miss Wang from Bluetown's Tea Life Platform also introduced the research outcome on health management services and presented a smart phone software to help people keep balanced nutrition and active life style.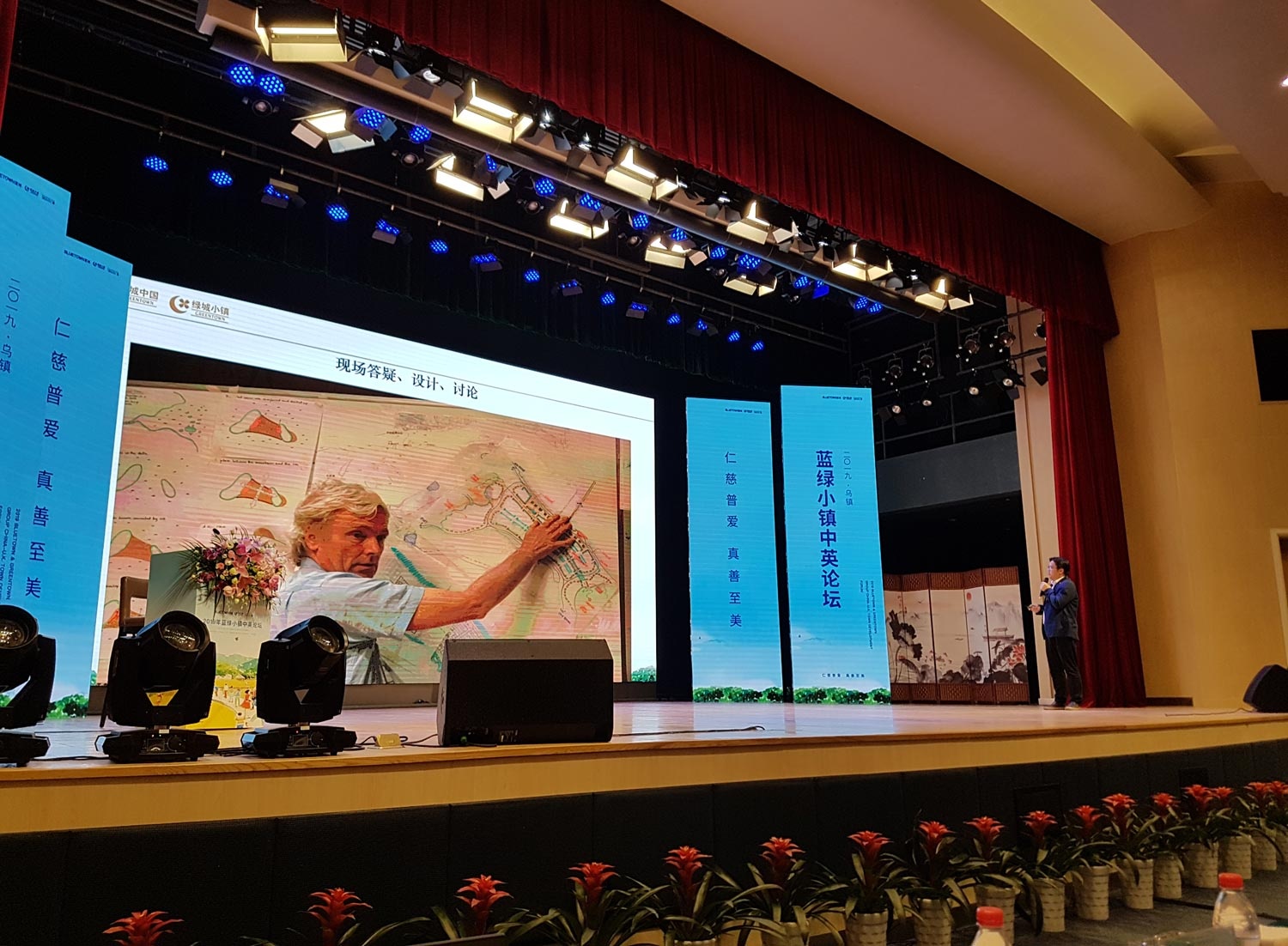 Mr. Mao reviewed the 10-year planning and development process of Changzhi Town project. The involvement of JTP team led by John Thompson was a turning point for this project.
All the lectures in this forum have a shared focus which is the awareness to build a better community, which reflects the shift of Bluetown & Greentown's focus from building a town's infrastructure to providing a better life for people. More considerations have been taken to provide more facilities and services to certain groups such as the elderly, children and the "inactive group". It is expected to enhance people's quality of life in towns by providing livable environment, good community facilities and services. This conference provided a platform for the idea exchange between China and Western, and between theory and practice. The in-depth research and lectures would lead to a lot of follow-up thinking, discussions and exploration of building sustainable towns in Bluetown/Grentown, and encourage further thoughts like the ripple caused by a stone thrown into the water.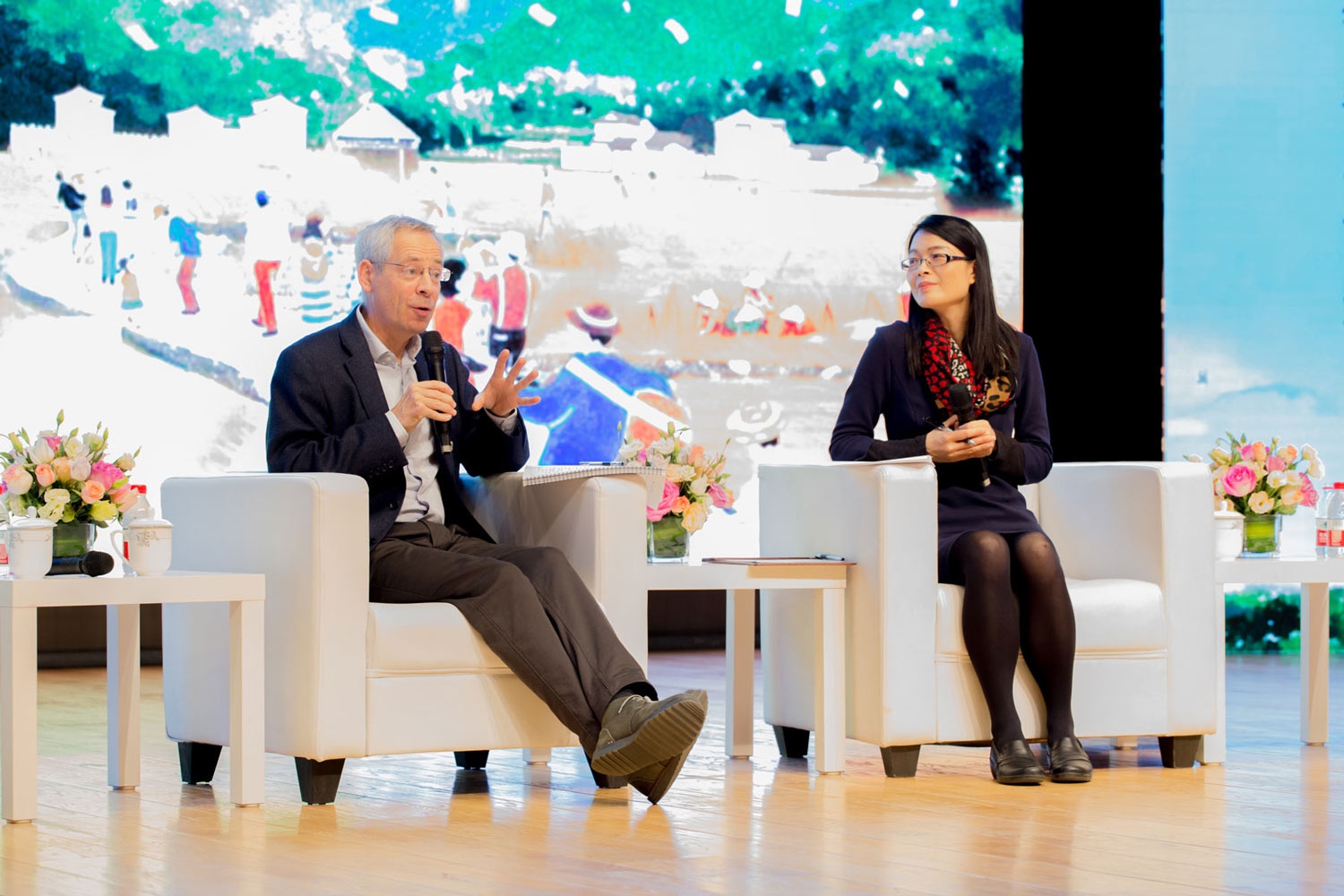 Mr. Gill explained how to handle playground risk management at the Q&A session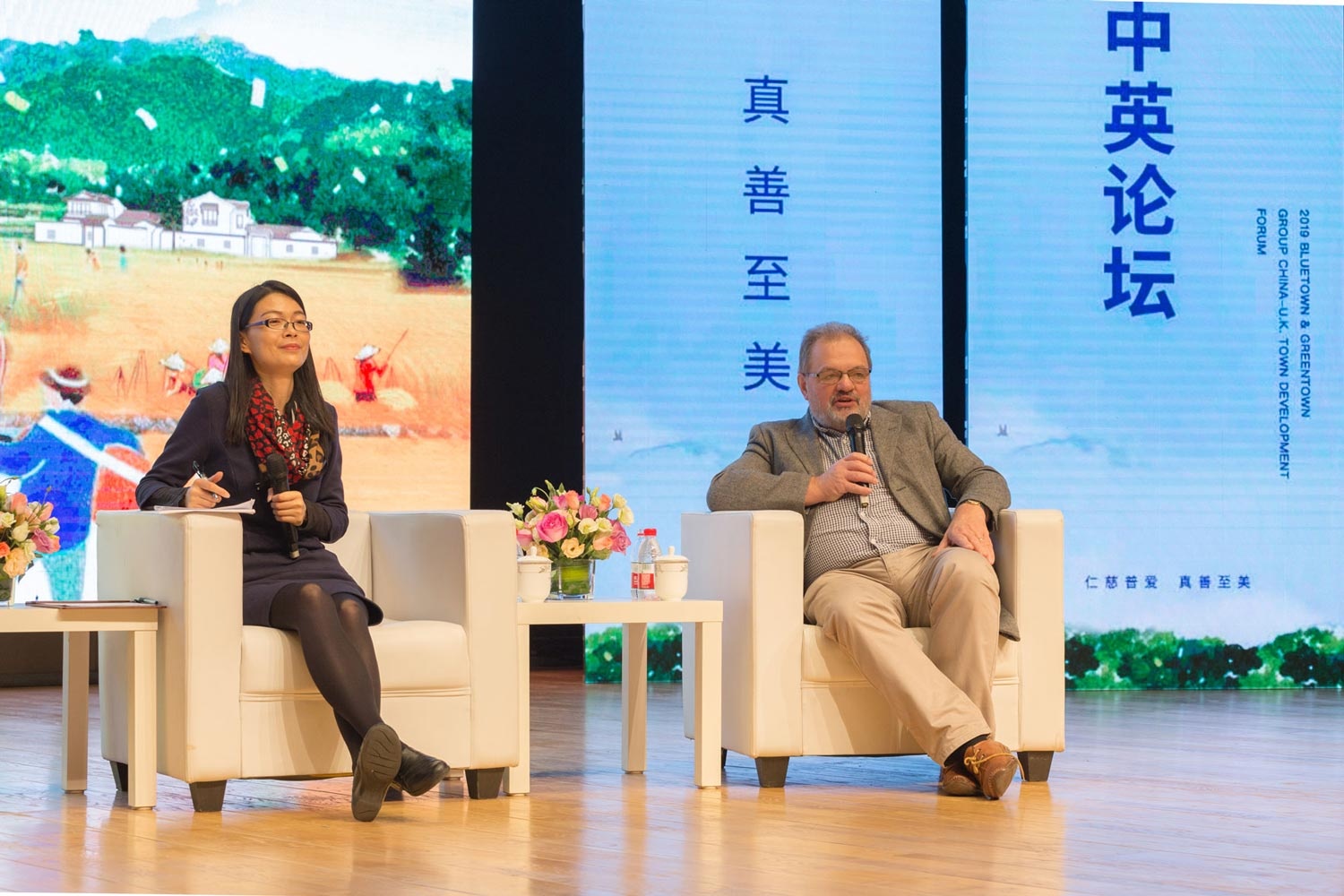 Dr. Baines had an interactive discussion with the audience at the Q&A session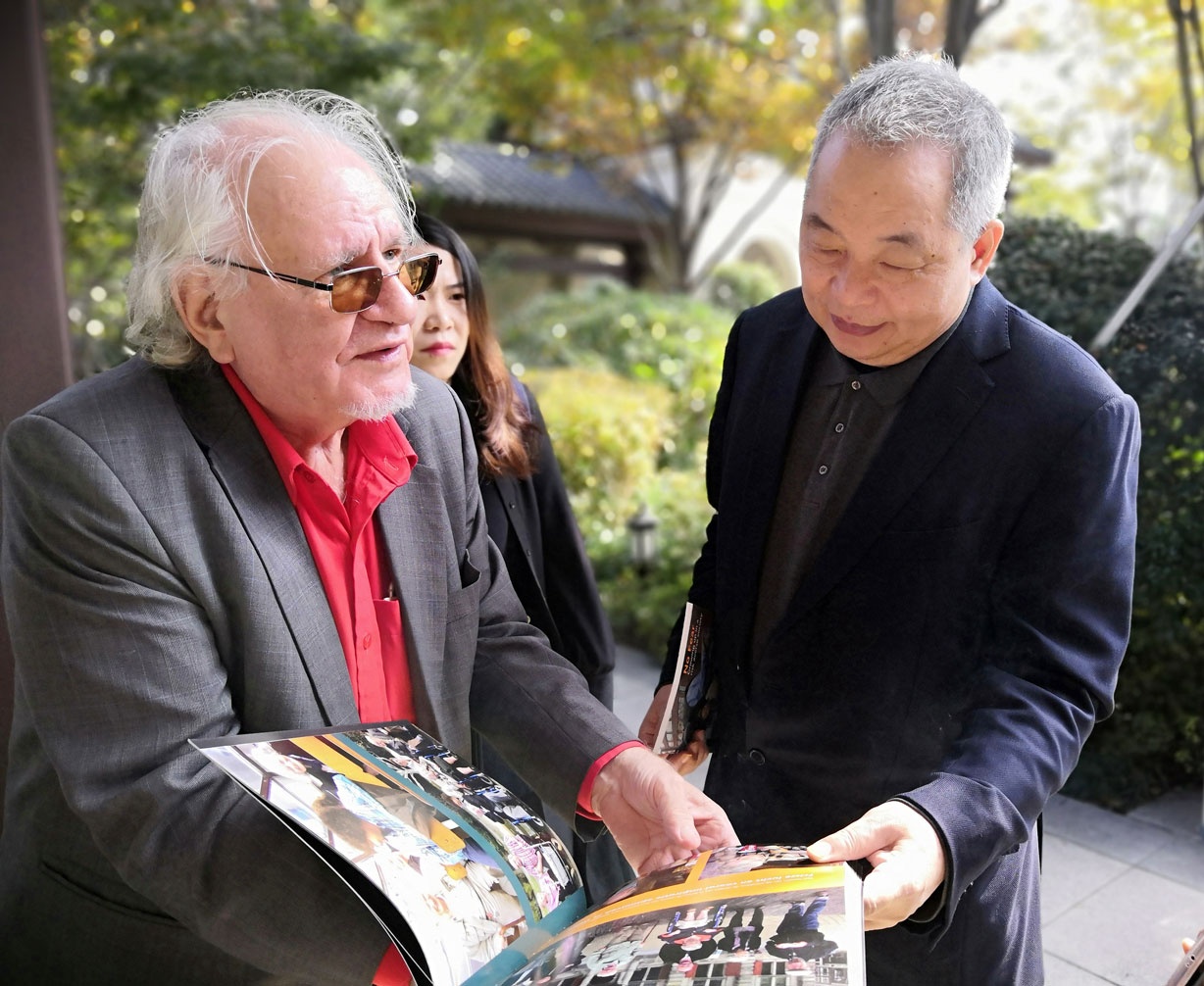 Dr. Baker presented his book to President Song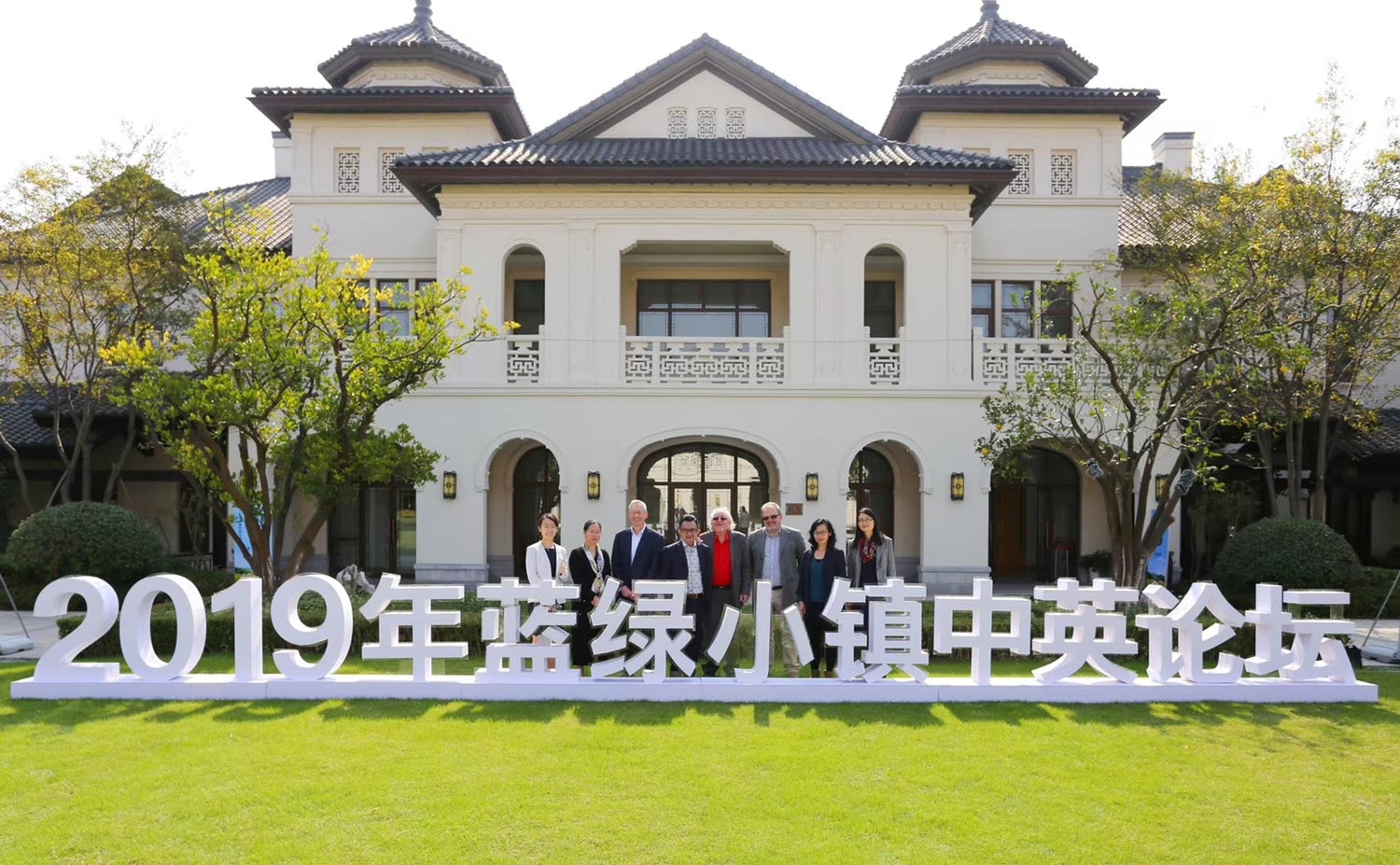 The international team and the host team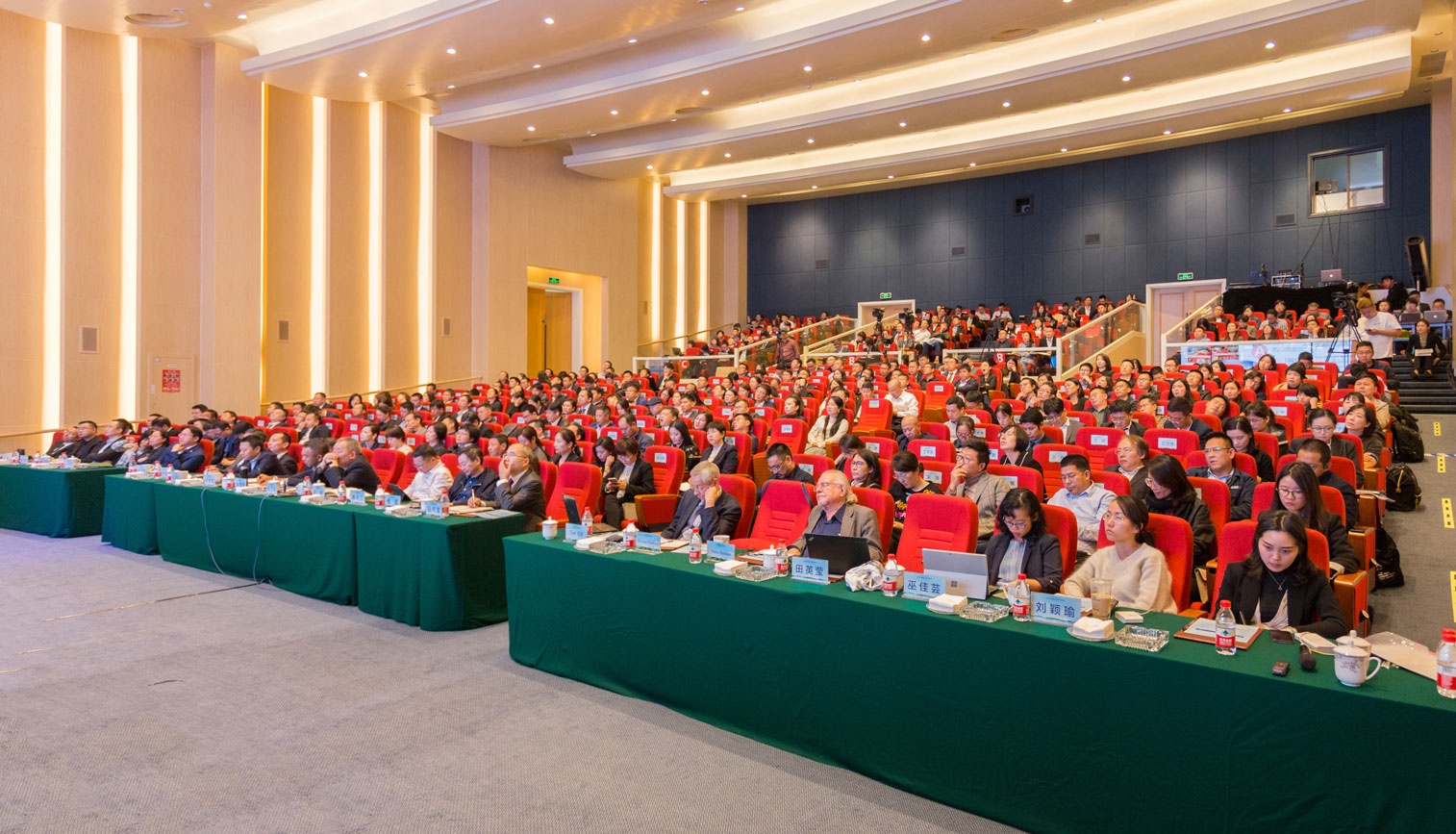 The 3rd Bluetown & Greentown China-UK Conference