Exhibition name:
Craft+ Gaeml?Kam?"侗"
Exhibition time:
Private view: 15 July 2016 | 6PM - 10PM
Opening dates: 16 - 19 July 2016 | 10:30AM - 5PM
Exhibition address:
China Design Centre
The Building Centre
26 Store Street
London WC1E 7BT
Exhibition statement:
"When design meets folk art, emotional expression begins to unfurl across the scenery. Every appealing design comes from the feeling in which humans react to their nature."
Craft+'s first exhibition portrays design products, which are the combination between Chinese traditional folk art and modern design. With the content of "Kam minority" , the first Craft+ designer group, consisting of 7 designers, has completed its first folk art research journey and design at Kam minority, in southeast Guizhou Province on December 2015. Designers did research, reflection of the intangible culture heritage area, used their art and design background to communicate and study from the local crafters, in order to, create crossover cultural products. These co-design products show the artists' creative thinking and what they have been inspired by from the Kam culture.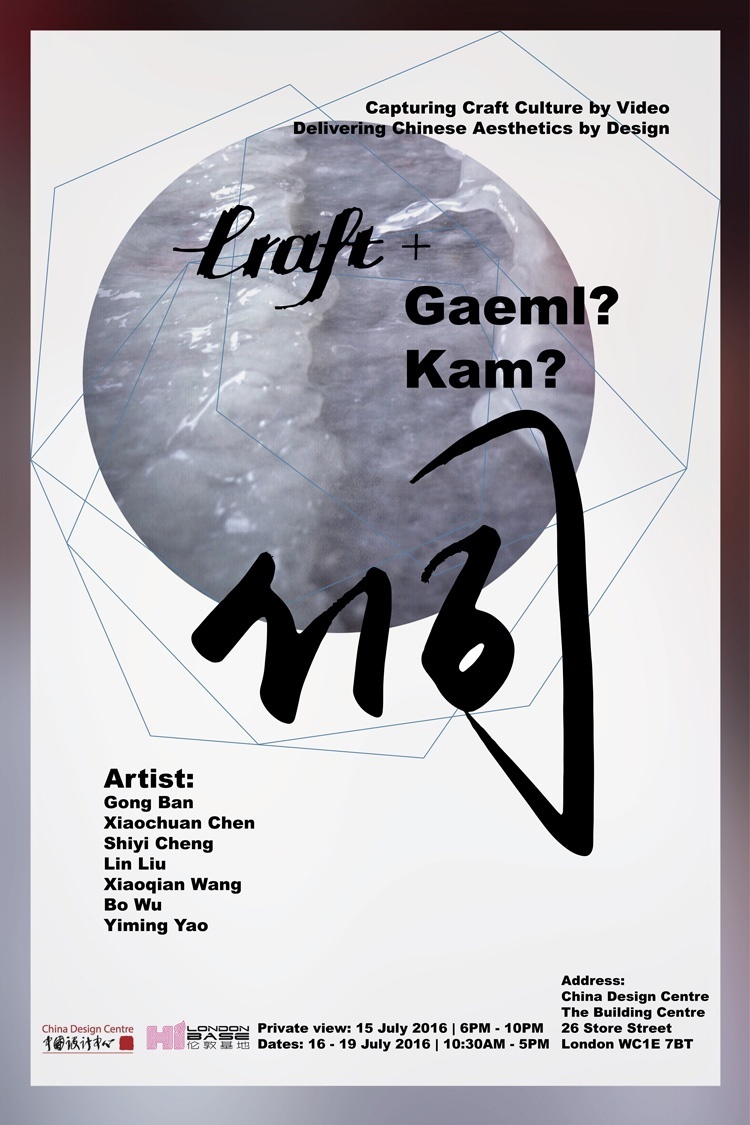 「"侗" Kam 」
侗:Dong (Chinese: pinyin: Dòngzú)a Kam–Sui people of southern China, are one of the 56 ethnic groups officially recognized by the People's Republic of China. Southwest Guizhou Province which owns abundant rain, luxuriant plants and bamboo, it nourishes a special nationality named Kam. There is navy blue dyed cloth everywhere hanging straight from bamboo house. Fanyou, a bamboo basket has its own character of firm weaving and waterproof. A drum-tower has its unique delicate structure. From the ancient times to present, the craft skill has never stopped.
「 Craft+ 」
The craft skill has never stopped since the ancient times. In this broad landscape, each minority has abundant intangible heritage, and a significant amount of surprising traditional craft that's quietly existed for a long period of time. However, there are a lot of reasons which make our craft skill hard to be inherited. Inconceivably, those cultural treasures which are supposed to be respected have been wrongly labeled. Gradually, the meaning of 'Made in China' is marginalized to cheap, low quality and copy in most of people's eyes.
By following tendency, 'Craft+' has been established. Craft+ is consisted of a group of young designers, team members and co-designers who used to study at University of the Arts London. They expertise in different art and design fields, such as, product design, furniture design, jewelry design, installation art and fashion design, etc. By experiencing many years' living and studying abroad, and being influenced by European humanistic knowledge, they have deeply felt and confirmed the value of Chinese national culture, and decision of inheriting Chinese traditional culture. Young designers walk into Chinese local area, deeply investigate traditional culture, combine the national inherited crafts with western design thought and personally explore the barely lost value folk design.
We hope to refresh people's misunderstanding of Chinese aesthetics by showing our designers' result, to bring the new idea of 'Craft in China' into people's mind.
Let's start...