World's number one art and design university, Royal College of Art, exhibits the latest trends in ceramics and glass design, craft and innovation from this year finest graduating students.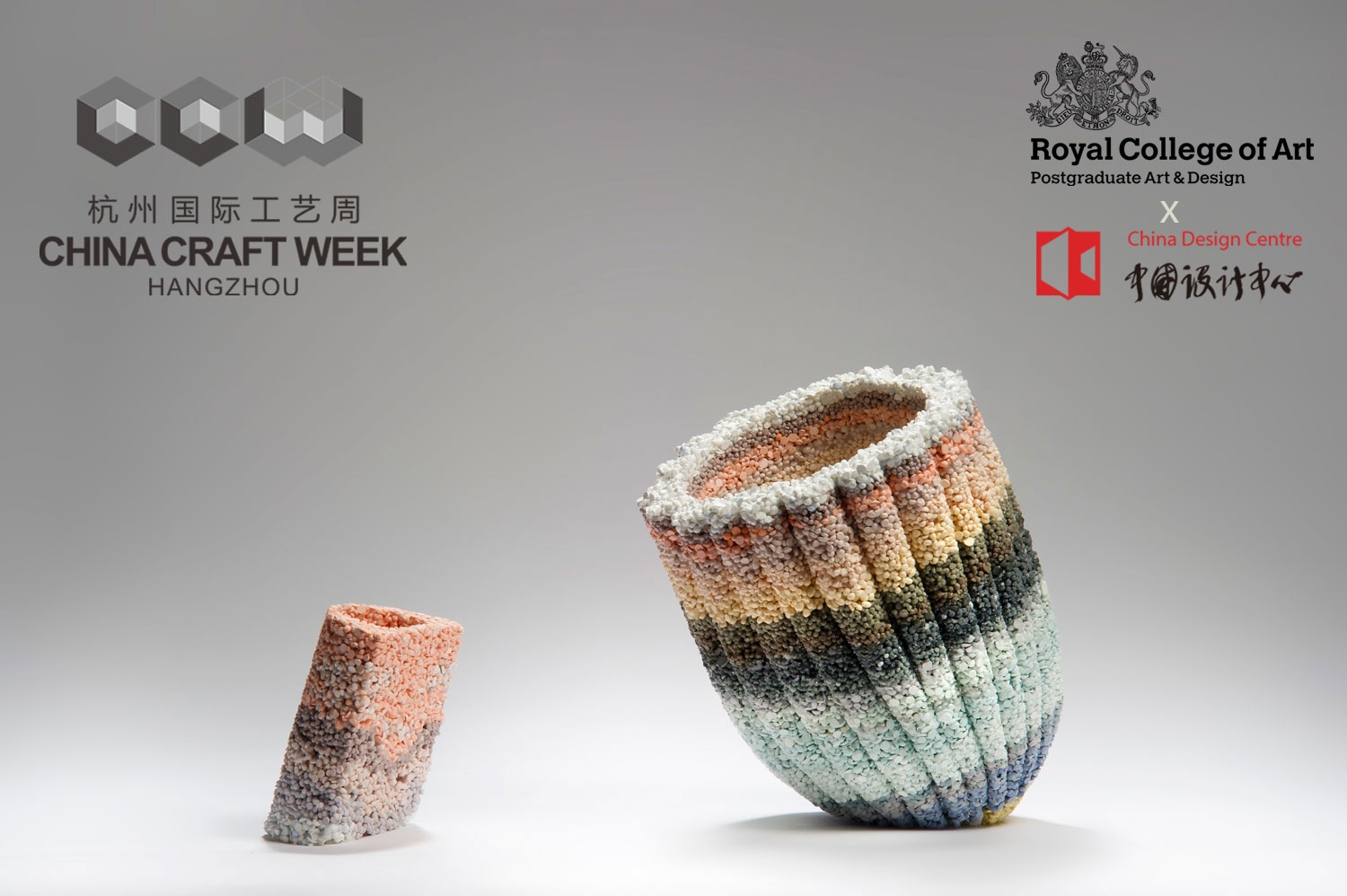 Royal College of Art (RCA) in collaboration with China Design Centre will showcase their critically acclaimed 2018 graduates of MA Ceramics and Glass at China Craft Week (1st – 5th November) and then in Shanghai during the West Bund Expo from the 8-11th November 2018.
The RCA is the world's most influential postgraduate art and design school. It leads the league table of 200 of the world's top programmes for the study of art and design, ranking ahead of Parsons The New School for Design, Rhode Island School of Design, MIT and Stanford.
This is the fourth consecutive year that the RCA has taken the top spot, and consolidates its position as the world's most influential university of art and design.
Engaging in teaching and research, the Royal College of Art offers the degrees of Graduate Diploma, MA, MRes, MPhil and PhD across the disciplines of art, architecture, design, communications and humanities. It offers 28 highly specialised programmes in Art & Design to over 2,000 Master's and doctoral students and more than 800 professionals interacting with them – including researchers, art and design practitioners, along with advisers and distinguished visitors.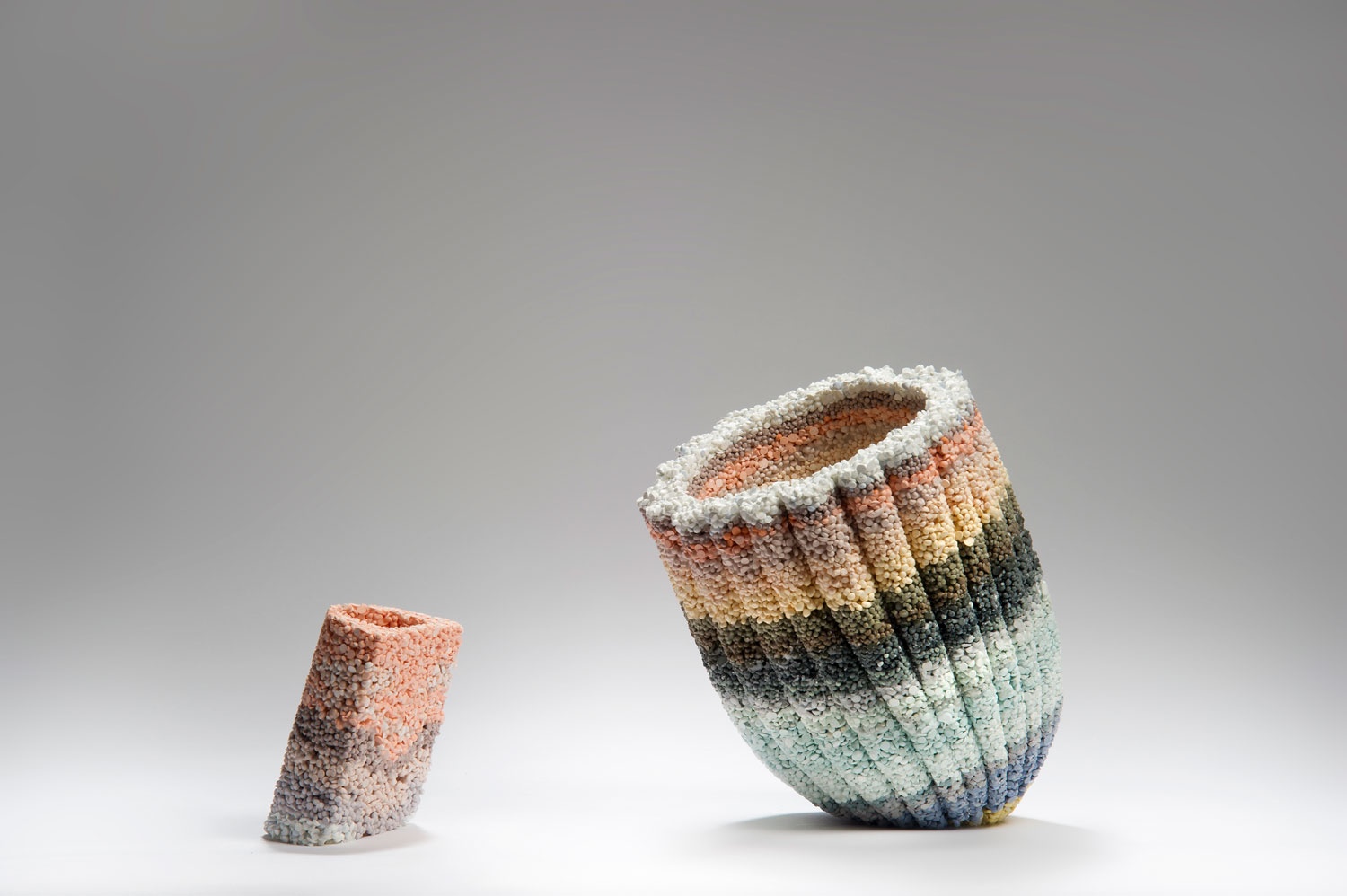 Alice Walton, Fountain Rishi, 2018
This is the first time that this exhibition will have been shown internationally and it expresses the true spirit of the Ceramics & Glass course at the RCA, which springs from a belief in the transformative power of material thinking, research and making to enrich our world in imaginative and meaningful ways. The course embraces the diversity of contemporary practice in this hyper-material age, and the idea that thinking and making are inseparable and inform one another.
This years' graduates have received critical acclaim from several established art and design publications and critics and we think that visitors to Shanghai West Bund Art Fair will enjoy looking at the latest craft innovation and design from the RCA.
The showcase will feature a selection of work from all graduating students including vases made from tiny "bricks" of coloured clay, hot sculpted glass inspired by spinning tops, and vessels made from equal parts slip-casting and hand-building, showcasing the divide between the industrial and the handmade. Take note of these names; we expect you'll be hearing a lot more from them. Sight Unseen, 12th July 2018
Along with this exhibition of the RCA's finest will be the opportunity to join a 3 hour masterclass workshop run by those exhibiting as well as Felicity Ayleiff, who is acting course leader for MA Galls and Ceramics at the RCA, but also an artist of international standing recognised for her research into large scale ceramics. There will also be sort 1 hour demonstrations throughout the event to showcase the skills of the visiting tutors and graduates from the RCA.
Details of the masterclass workshops are below. Please visit here to purchase your ticket to China Craft Week and contact CCW to book your place on the masterclass workshop. Please note, workshops are limited to 12 places each and will be allocated on a first come first served basis.
| | | |
| --- | --- | --- |
| Date | Morning (10am – 1pm) | Afternoon (2pm- 5pm) |
| Thursday 1st November | 3 x Demonstrations (1 hour long) | 1 x Workshop (max 12 people, 2 hours) |
| Friday 2nd November | 1 x Workshop (max 12 people, 2 hours) | 3 x Demonstrations (1 hour long) |
| Saturday 3rd November | 3 x Demonstrations (1 hour long) | 1 x Workshop (max 12 people, 2 hours) |
| Sunday 4th November | 1 x Workshop (max 12 people, 2 hours) | 3 x Demonstrations (1 hour long) |
| Monday 5th November | 3 x Demonstrations (1 hour long) | 1 x Workshop (max 12 people, 2 hours) |
Instructors
Felicity Aylieff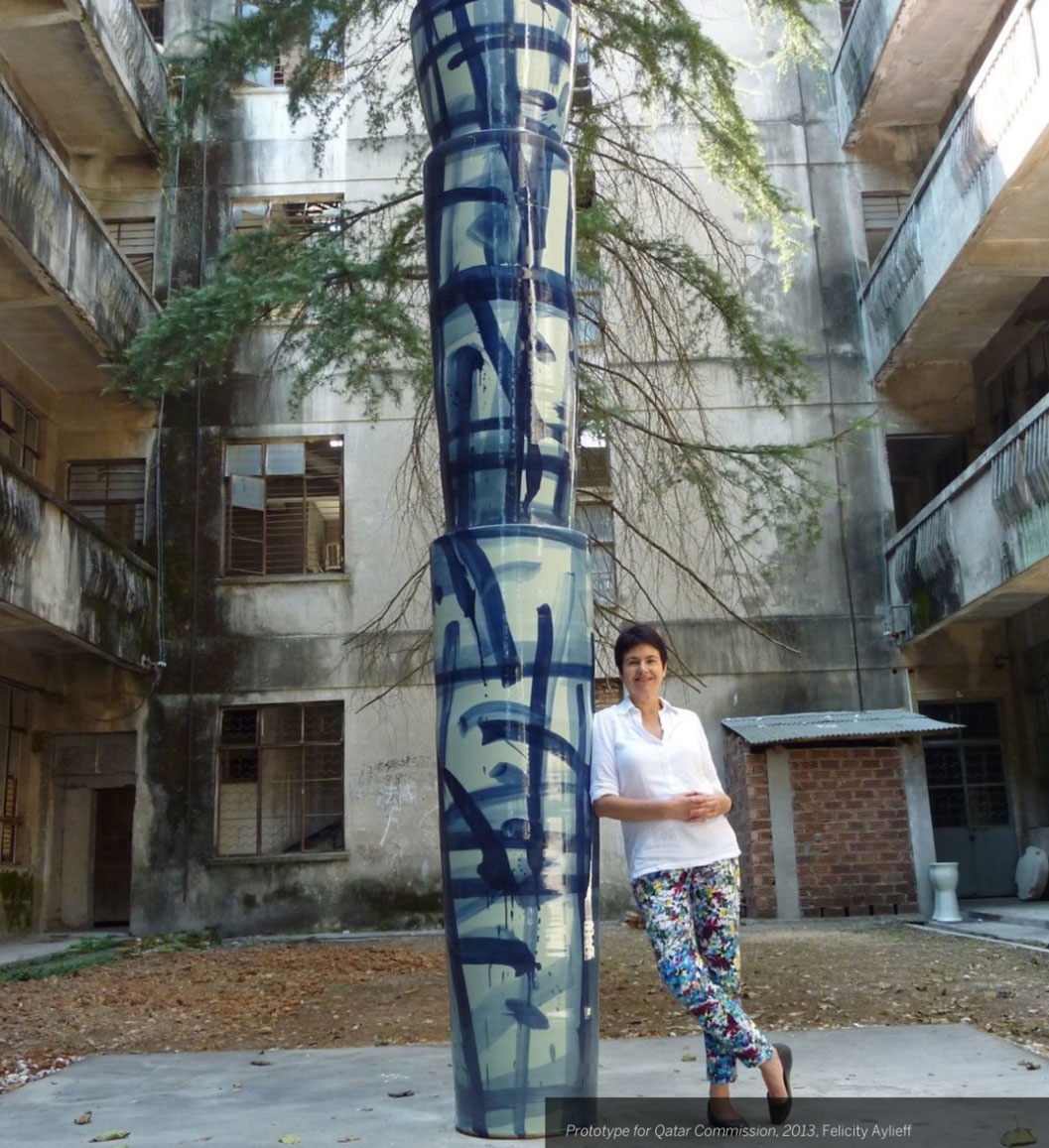 Felicity Aylieff is Senior Tutor in Ceramics & Glass and an artist of international standing, recognised for her research into large-scale ceramics. Working from her studio in Bath for more than three decades, she has more recently developed a collaborative relationship with factories in Jingdezhen, China, where she makes monumental pots. The surfaces of these pots explore contemporary translations of traditionally used techniques. Her work shows her passion for material and process through its use of colour, pattern and decorative techniques.
Education has always played a prominent role in her career. She was awarded a Professorship in Ceramics from Bath Spa University in 2000 and has been teaching Ceramics & Glass at the Royal College of Art since 2001. She has work in numerous international private and public collections including the Victoria and Albert Museum, London, and she is represented by Adrian Sassoon, London.
Celia Dowson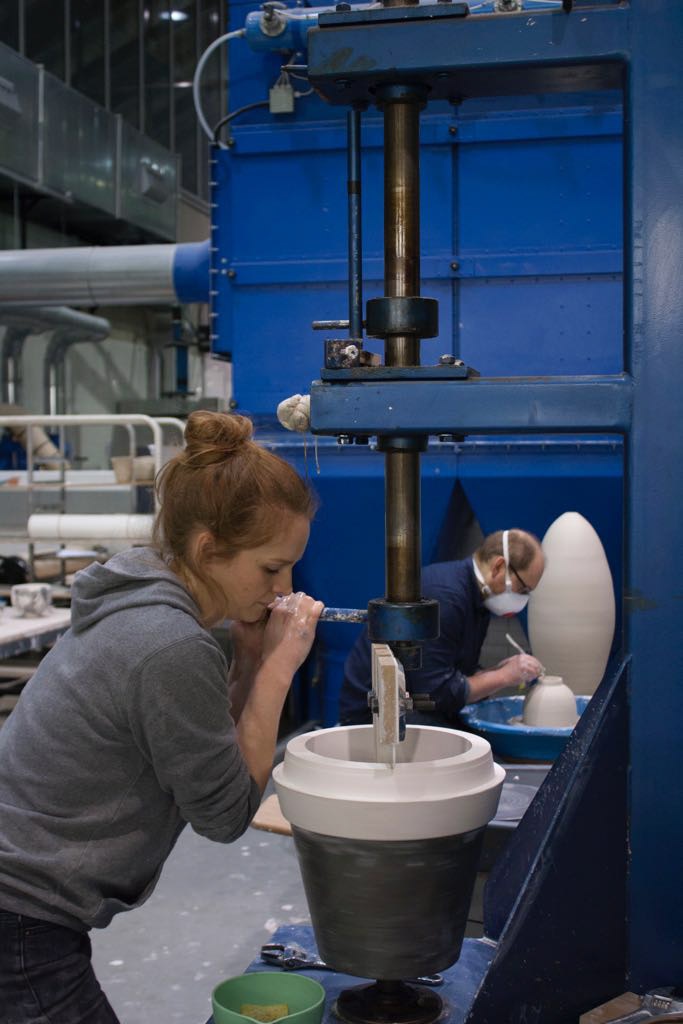 Celia Dowson is a British artist and designer whose practice in ceramic & glass is informed by the natural world and qualities of movement and light in landscape.
She is excited by industry and process and adapts traditional production techniques to make uniquely handcrafted design for the interior. "I am excited by how an extensive understanding into a craft offers the opportunity to push and explore a material."
Celia completed her BA in Ceramic Design at Central Saint Martins in 2014 and went on to be awarded the QEST Tom Helme Scholarship in 2017, obtaining her MA from the Royal College of Art in 2018.
Using both porcelain this body of work is informed by the changing landscape and rolling skies that are particular to the Gower Peninsula in Wales. "I use black and white porcelain to explore qualities of tone, touch and immersion. While cast glass, with its translucent qualities, has the potential to reflect the colours, the changing light and mystery of this wild landscape."
Judy McKenzie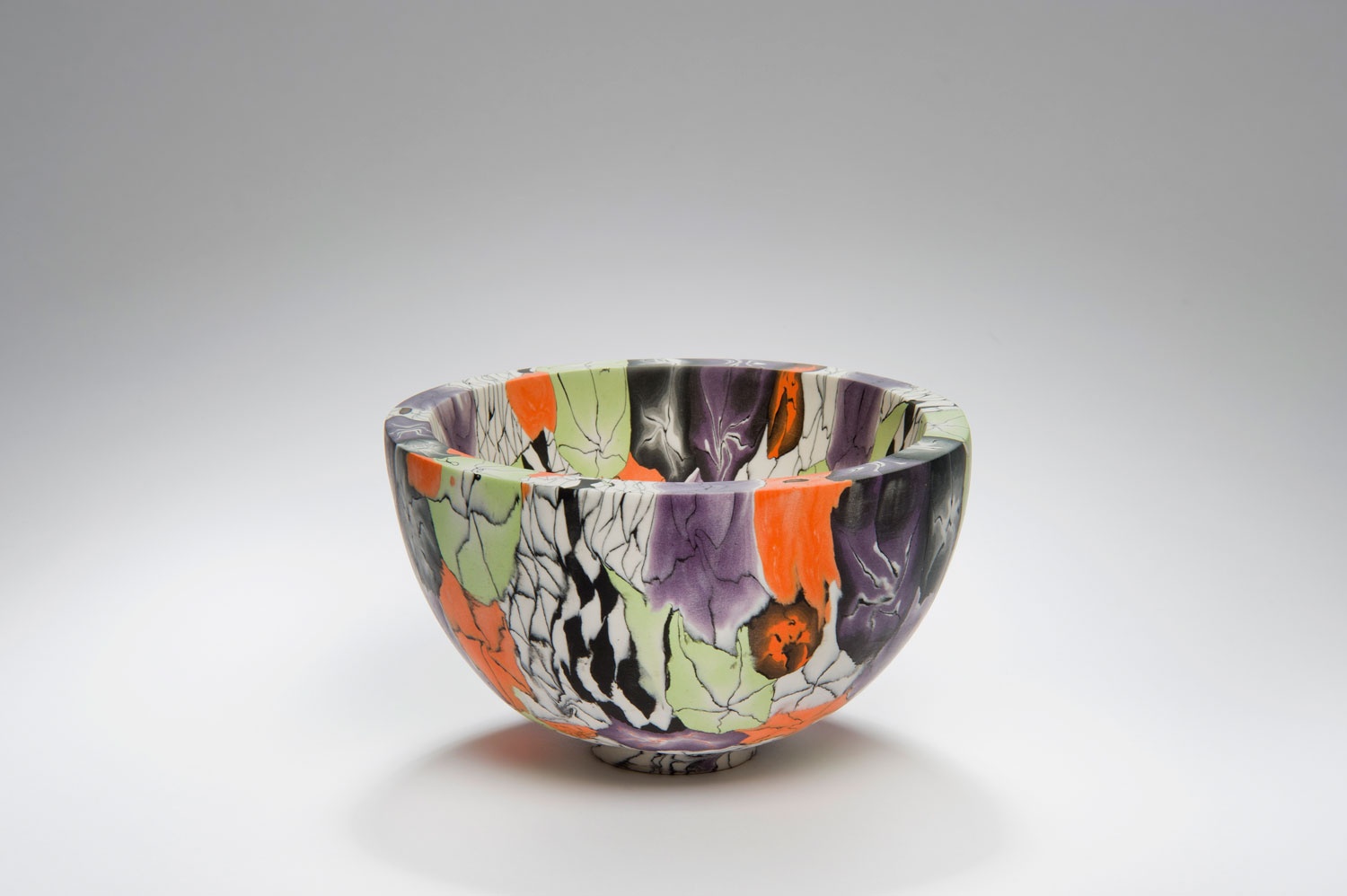 Passionate about clay and its magical properties of malleability, the body of work for Judy's MA graduation show explores both processes of Nerikomi and Kintsugi for the creation of unique and decorative ceramic objects.
Theis Lorentzen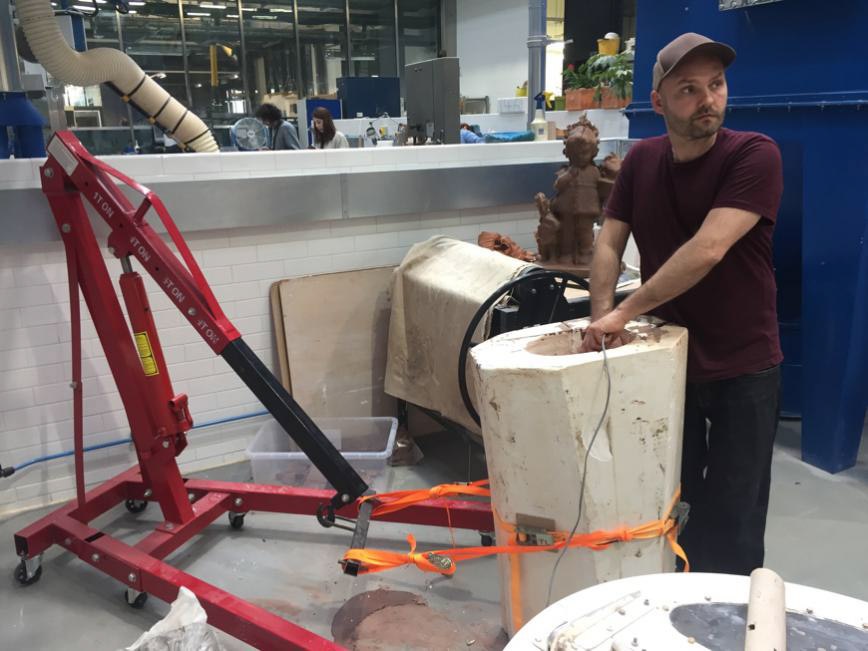 Theis' work is concerned primarily with a range of processes involved in ceramic production. He wants to reveal these processes and leave visible traces of making for the viewer to see and contemplate.
His current work is based on a cheap and sentimental ceramic ornament from the past, in which he tells a new story in which it is looked upon in a new light. Through resizing and leaving the marks from the process, a contradictory tale of neglect and decay is set against one of glorification.
Hua Wang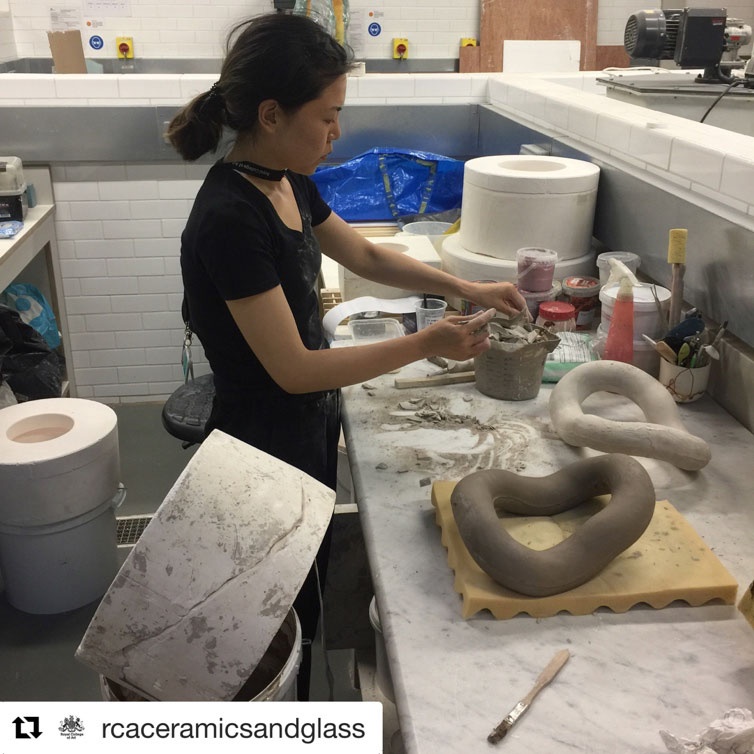 Hua was born in 1990 in Xinjiang Autonomous Region, China, and lives and works in China and Europe. She studied Fine Art for her BA at Central Saint Martins College of Art and Design, London in 2012, completed her MA in Ceramics and Glass at Royal College of Art in 2018.
The notion of human labour is a form of guidance through Hua's installation. For this sculpture, a massive five link chain went through 4 firings, and was painted with more than five layers of silver. It took her 60 hours to complete. The chain as a symbol of industry, reflects China's industrial mass-production and its unstoppable process of modernisation and urbanisation.
Image Source © RCA Ceramics and Glass