Since the first Bluetown & Greentown China–UK Conference was held in Hangzhou in 2016, members of Blue-Green Town have visited UK several times for study tours to learn town development, design and management from UK's Garden Cities, New Towns and New Garden Towns. On 20-21 March 2018, after more than six months of preparation by China Design Centre, the Second Bluetown & Greentown China–UK Conference, was successfully held in Peach Blossom Valley in Hangzhou. Led by Song Weiping, President of Bluetown Group and co-chairman of Greentown China, about 300 people attended the conference. The audiences included the senior managers of Bluetown and Greentown development companies, the town principals of the blue-green towns, the Bluetown Group platform companies, as well as the trainees of 'Blue-Green Town Blueprint Plan'.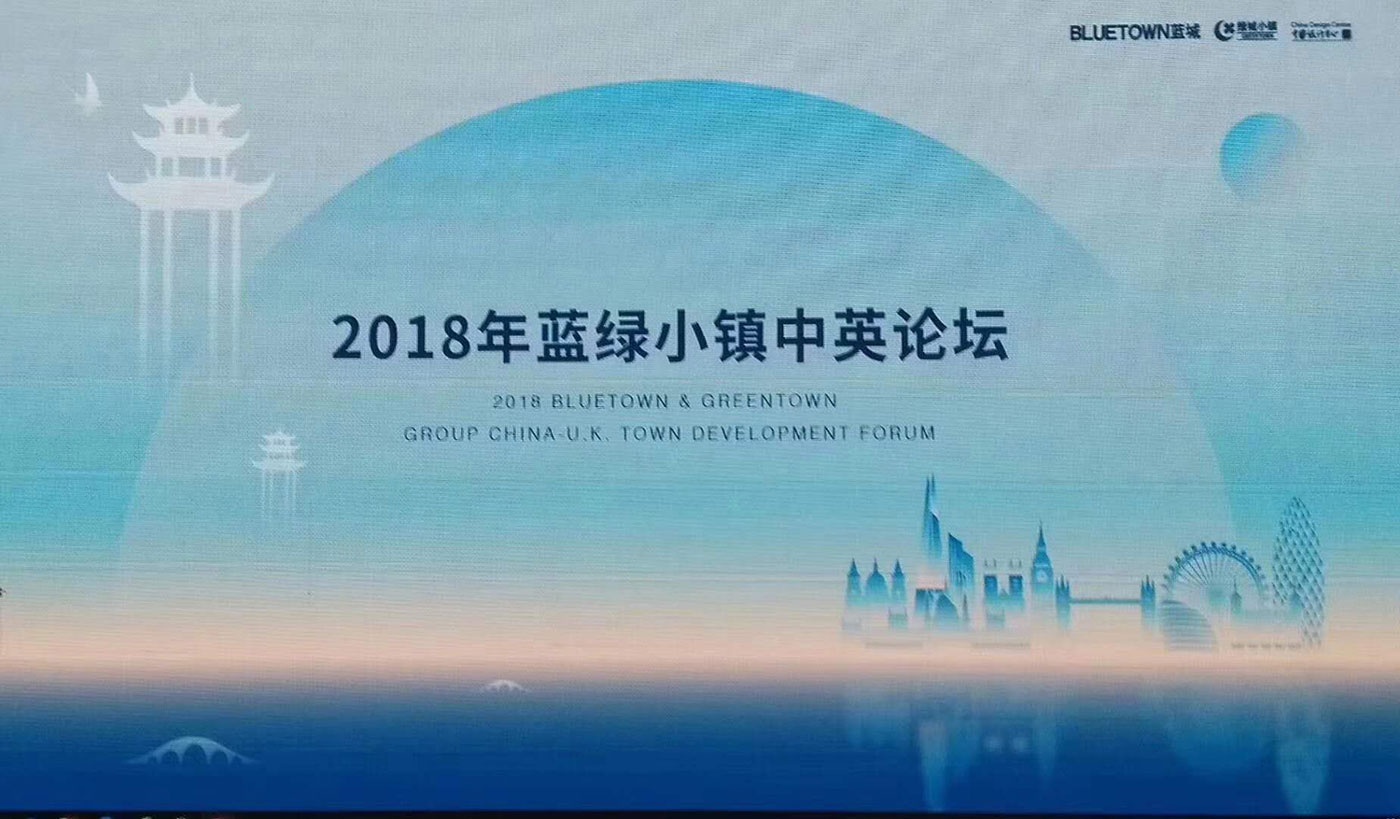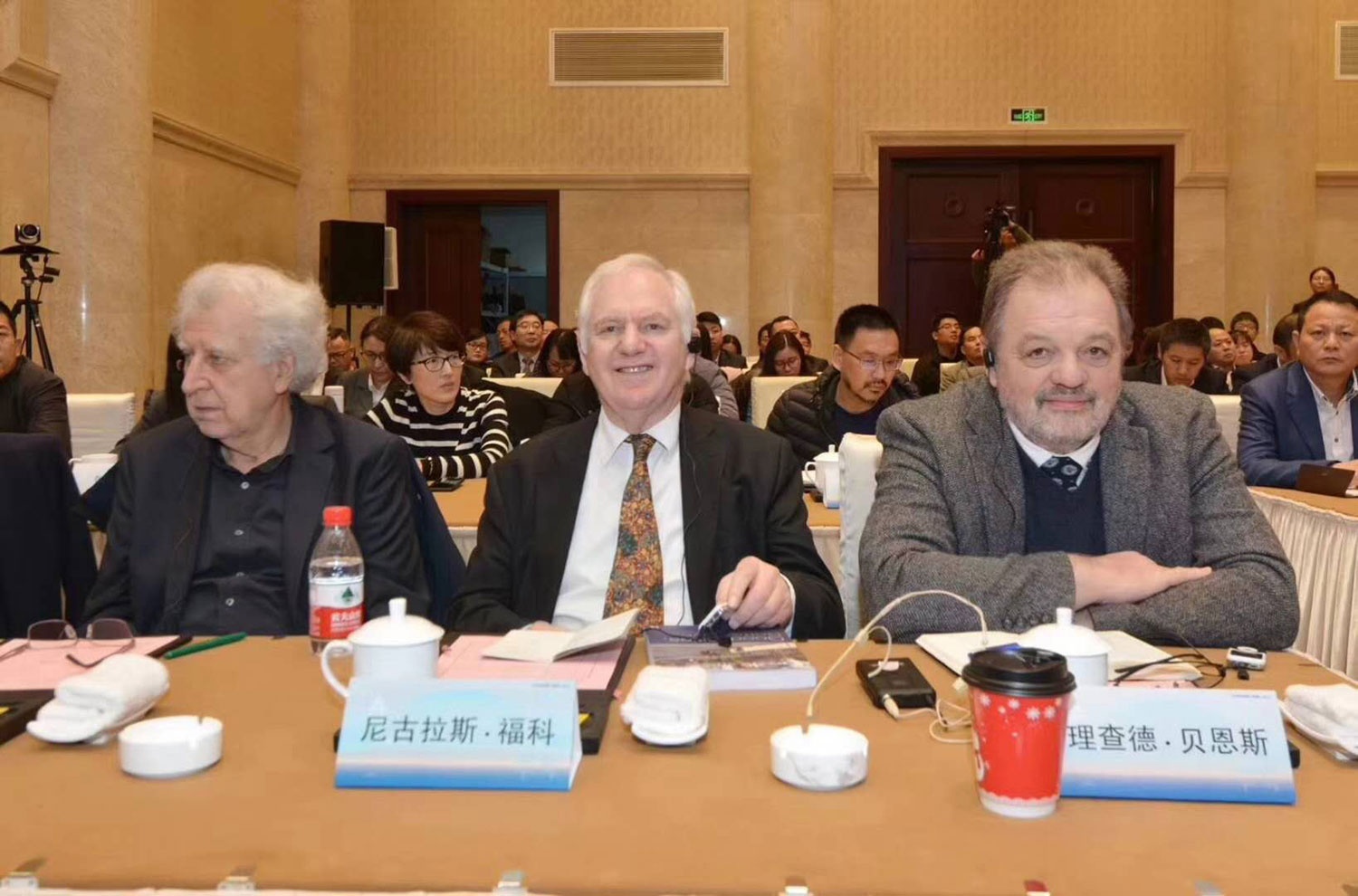 China Design Centre invited the following experts to carry out research on four themed topics and presented in the conference: Dr Richard Baines, senior academia at Royal Agricultural University, Director and Founder of Agri-Business & Community Development; Dr Nicholas Falk, economist, urban planning expert and strategic planner, visiting professor at the University of the West of England; Joachim Eble, Founder Director at Architektur Eble Messerschmidt Partner, visiting professor at the University of Stuttgart, Technical University of Berlin and Karlsruhe Institute of Technology; Dr Yingying Tian, Director of the China Design Centre in London and Partner of Shanghai STP Planning and Architectural Design Company. Each speaker delivered a lecture at this conference.

The topics included agriculture and town development, smart cities, town management, renewable energy and eco-masterplanning. The presentations have provided valuable suggestions to the strategic concepts that support the development of Bluetown and Greentown's ideal towns.
In the presentation 'Study on Agriculture and Town Development', Dr Richard Baines introduced large-scale modern agriculture model of the Netherlands and the local agriculture model of the United Kingdom. The presentation emphasized the importance of linking urban and rural food circles, and articulating agricultural production, smart technology, supply chain and agriculture business. In addition, Dr Baines pointed out that the key is to use innovation and education to link all relevant industries, communities, and residents together.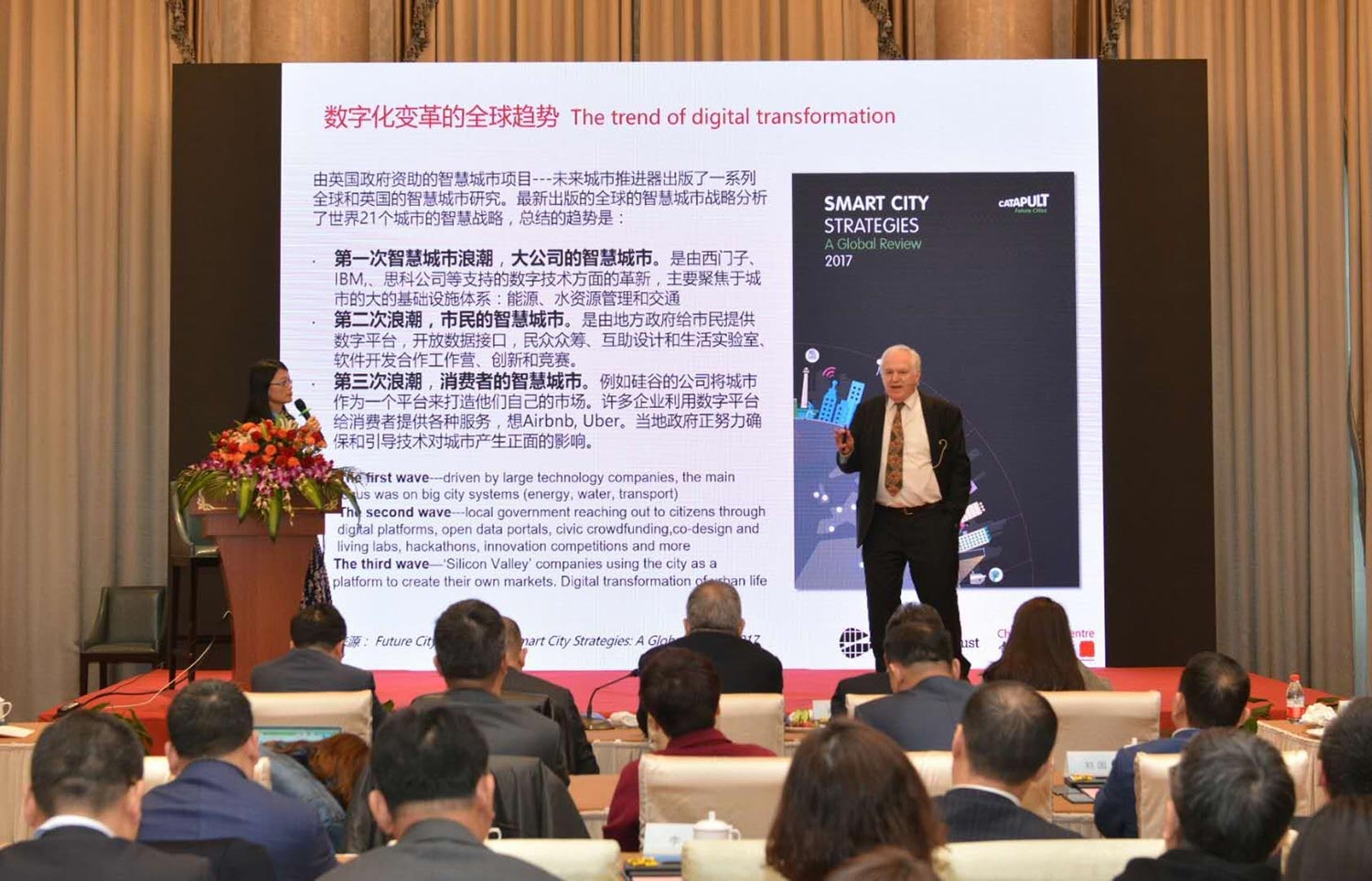 Dr. Nicholas Falk presented 'Building Real Smart Towns for People' , and explained why China need smarter urbanization in this fast growing stage and new town development. He uses six case studies: Copenhagen, Singapore, Freiburg, Vienna, Grenoble and Cambridge, to explain where smart technologies can add value. Then, he examined different hard and soft technologies and the application on enhancing the management of infrastructure, transport, healthcare, shopping street and education. He stated that despite the fast-developing technologies, we should always aim for 'good cities and better lives'.
Dr. Yingying Tian and her colleague Ivy Yi worked with David Ames from Letchworth Garden City Heritage Foundation and Dr. Susan Parham from International Garden City Institute, to carry out the research on the business and economic management of Letchworth Garden City. After reviewing the history of Letchworth Garden City in the past 115 years , Dr. Tian elaborated the management of Letchworth Garden City in industry, town centre, agriculture and environment quality. Finally, Dr. Tian presented a summary of recommendations to help the economic strategies of the ideal town practice in China. These include keeping good balance between market mechanism and quality of life, encouraging diversity and flexibility in adjusting industry sectors, improving education and culture facilities to attract more people, and the land value capture model to ensure town's long term development.
Professor Joachim Eble presented the eco-city masterplaning strategies in his speech called 'Community-based Renewable Energy and Eco Masterplanning'. He stated that the eco-masterplan should be based on a holistic approach, with integrated considerations of urban structure, transportation, social and economic issues, energy and resources, natural and cultural contexts. Through comprehensive analysis and strategic design, all these elements can contribute to a liveable environment and healthy life.
All speakers highlighted the idea of 'being integrated and symbiotic'. The shared key message was to advise the audience that, to develop a 'successful new town', we should firstly fully understand and consider all aspects of a town including a natural environment, history, culture, business and communities, in a holistic manner. When it comes to the planning, the development and management of the town, we must view it as one integrated, interrelated and complex system.

The conference aims to introduce advanced new urban development theories, experiences and practices to Chinese developers and town managers. It provides valuable information and references for the audience, and received numerous positive comments and feedbacks. China Design Centre looks forward to contributing further to the design and development for China's town development.
Image source: China Design Centre