The 1st International Conference on Sustainable Buildings and Structures & The 2nd Low Carbon Construction Industrialization Forum -- 'World Cities Day' Series
Advanced Academic Exchange Activities of Suzhou in 2015

Angela Brady
China Design Centre recommended Angela Brady as the keynote speaker at the Conference on Sustainable Buildings and Structure & The 2nd Low Carbon Construction Industrialisation Forum being held from 29-31 October, at Suzhou Xi'an Jiaotong University. The theme of the conference is facing up to the challenge of climate change and how to mitigate its effects on socio-economic and environmental conflicts in urban development. Brady is a past president of RIBA (the Royal Institute of British Architects) and Director of Brady Mallalieu Architects, who celebrate 27 years as an award winning RIBA Chartered practice, specialising in quality
contemporary sustainable design. Current projects include high end office fit outs and quality mixed tenure social & private housing projects in London and master planning projects in China.
Recent climate change has become a worldwide challenge due to its widespread impacts on human and natural systems. Many action plans have been proposed in order to help people adapt to climate change and mitigate its effects. Particular attention has been paid to the construction sector considering it contributes significantly to the overall energy consumption and carbon dioxide emissions. In China, the national government enacted the 'Action Plans for Green Buildings' in January 2013 in order to promote the research and development of green buildings and relevant technologies, and thereby to facilitate sustainable urban and rural development.
In response to this, Xi'an Jiaotong-Liverpool University (XJTLU) and Suzhou University of Science and Technology (SUST), together with Chinese Built Environment Experts (CBEEs), plan to hold the '1st International Conference on Sustainable Buildings and Structures' & the '2nd Low Carbon Construction Industrialization Forum' in Suzhou on 29-31 October 2015. It aim to nurture an interdisciplinary Research&Development environment that can support innovation in the whole lifecycle of a green building. It also intends to found a high-end network to get the message across different stakeholder groups (e.g. governments, industries, enterprises, academia, R&D and other relevant stakeholder groups) and thereby facilitate cross-departmental collaborations. We hope this early initiative could drive the current/future urban and rural development towards sustainability standards from an integrated perspective.
As part of the 'World Cities Day' series initiated by the UN-Habitat (http://unhabitat.org/wcd/), this Conference&Forum has been financed by Suzhou Office for Talents and Suzhou Association for Science and Technology and has been listed as one of the 'Advanced Academic exchange Activities of Suzhou in 2015'. It has also been supported by Shanghai Architectural Society of China, Royal Institute of British Architects (RIBA), Wujiang Taihu New City, XJTLU-Huai'an Research Institute of New-type Urbanization, etc.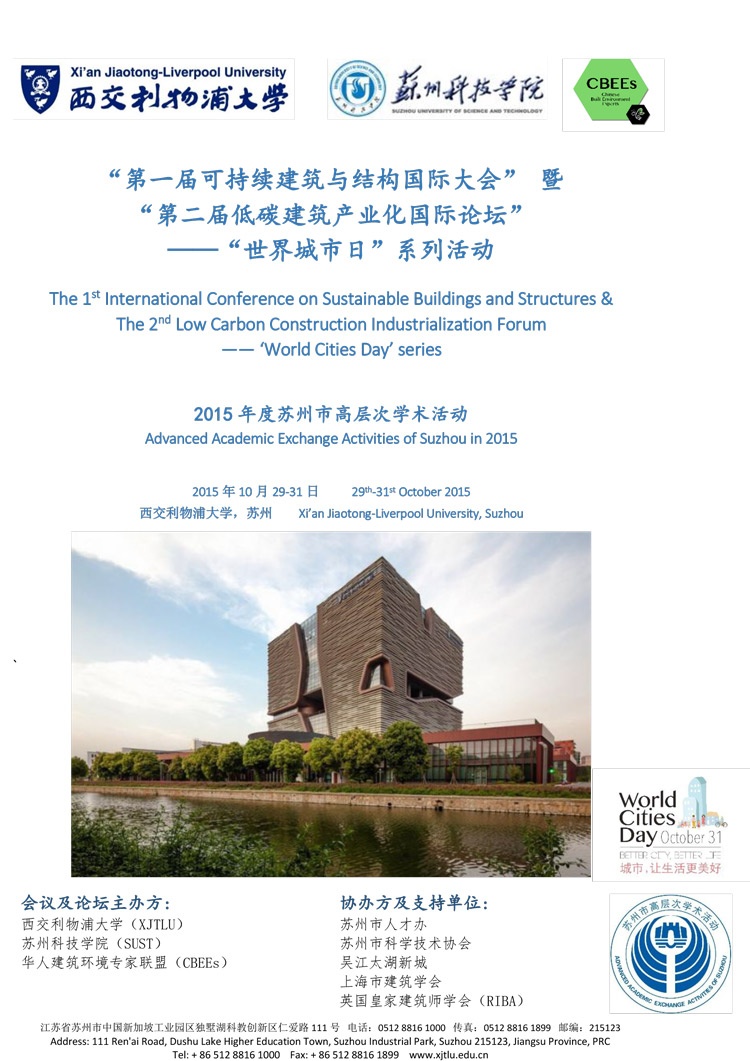 For Registration Form 2015 ICSBS, Email: Bing.Chen@xjtlu.edu.cn
For more information please visit:http://unhabitat.org/wcd/ and http://www.tianyouwang.net/qualViewer/1686.html