China Design Centre worked with Bicester Village to provide furnishings and gifts for the first-ever Chinese designer pop-up boutique 'Celebrating China' at the Oxfordshire-based shopping destination. The special event is to celebrate China's most important holiday, Chinese New Year.
Curated exclusively by leading fashion influencer Susie Bubble, this pop-up boutique features a unique edit of 10 cutting-edge young Chinese designers and opens exclusively at Bicester Village until Sunday 17 February 2019. The names includes Huishan Zhang, Ryan Lo, Anaïs Jourden, Mukzin, I Am Chen, Marie Yat, Xu Zhi, Matter Matter, Yang Li and Snow Xue Gao; all leading lights on the catwalks of global fashion weeks and many recipients of the world's most prestigious new-talent awards.
"Chinese designers have come into their own in the last few years with so many graduating from the world's top fashion schools, launching their own labels and showcasing these in London, New York and Paris. Their work covers the spectrum of aesthetics and extends far beyond their own cultural parameters. It's a really exciting time for young Chinese designers today," says Susie Bubble, AKA Susie Lau, whose immensely popular blog Style Bubble firmly established the writer-editor as a respected voice on the British fashion scene.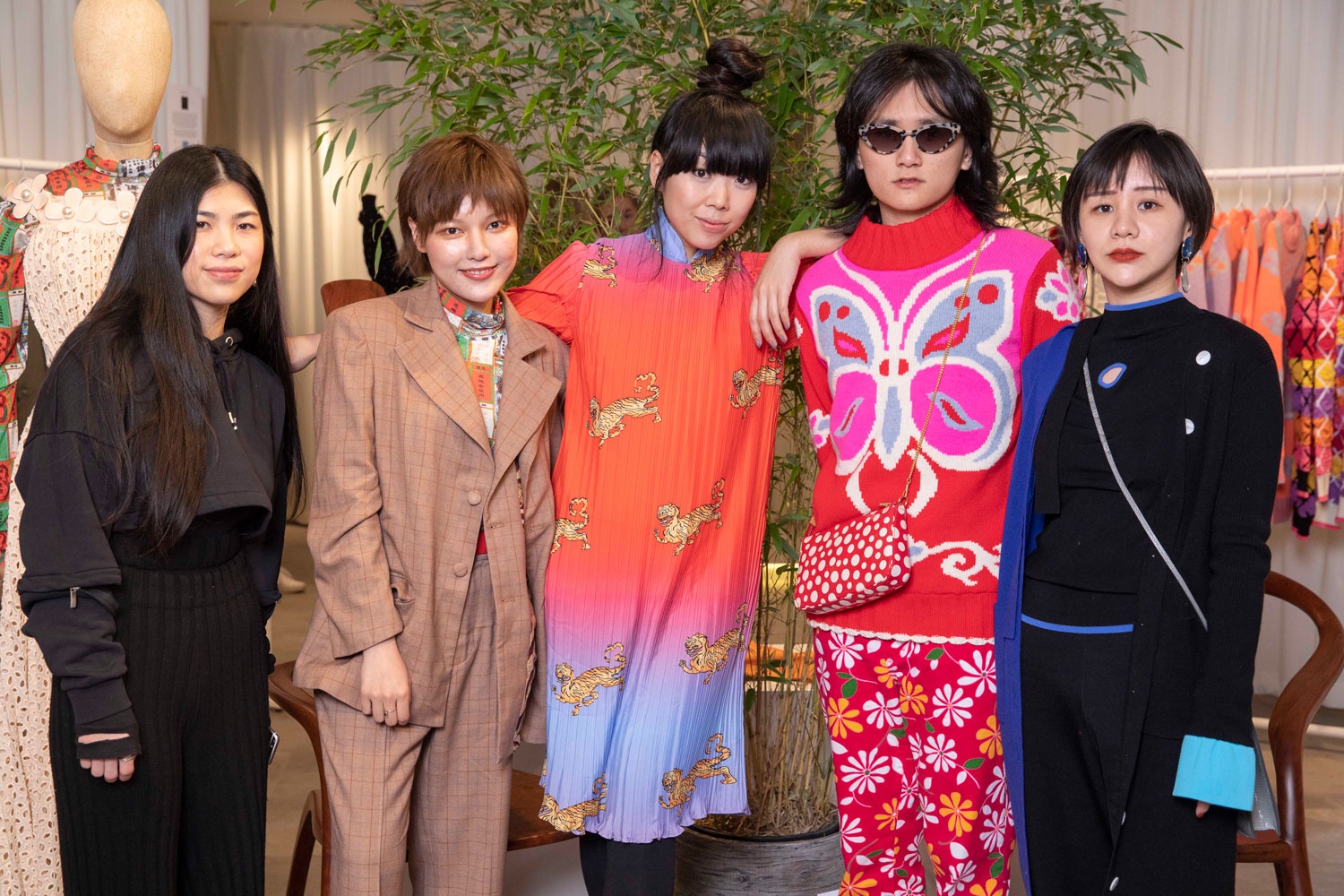 Susie Bubble with the designers
Furniture on exhibition includes 'Tree Chair' by Zhilong Zheng, 'Yuanyuan Armchair' by Zhigang Lu, and 'Stool' by Tianyi Shi.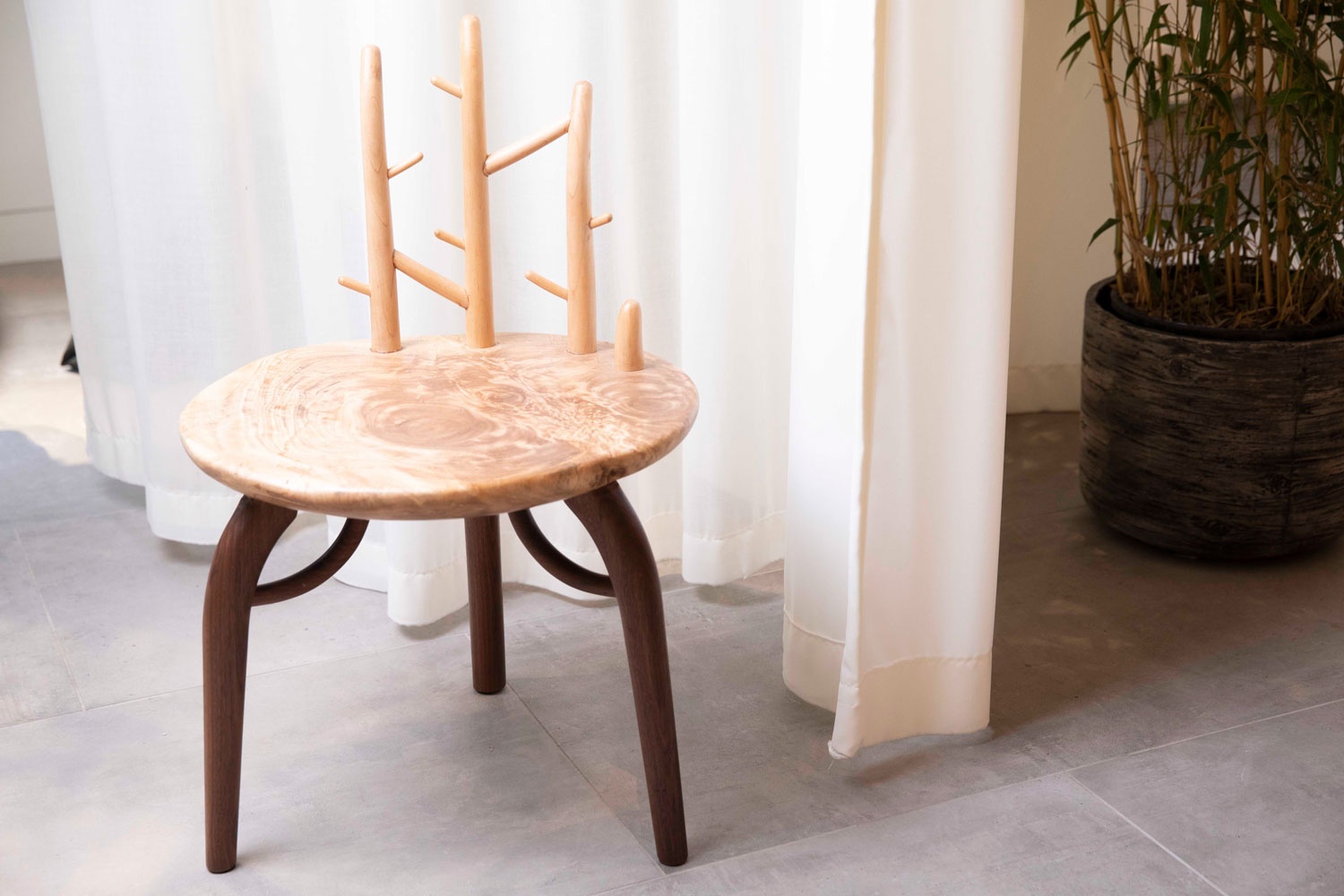 Zhilong Zheng's design story dates back to 13 years ago when he headed south to Guangzhou, over 400 miles away from his home, to study architecture and environmental art. 'Tree Chair' adopts North American black walnut, birth tumour and hard maple, balances the colour by adjusting the proportion of the size of different wood and retains the natural shadow of the tree.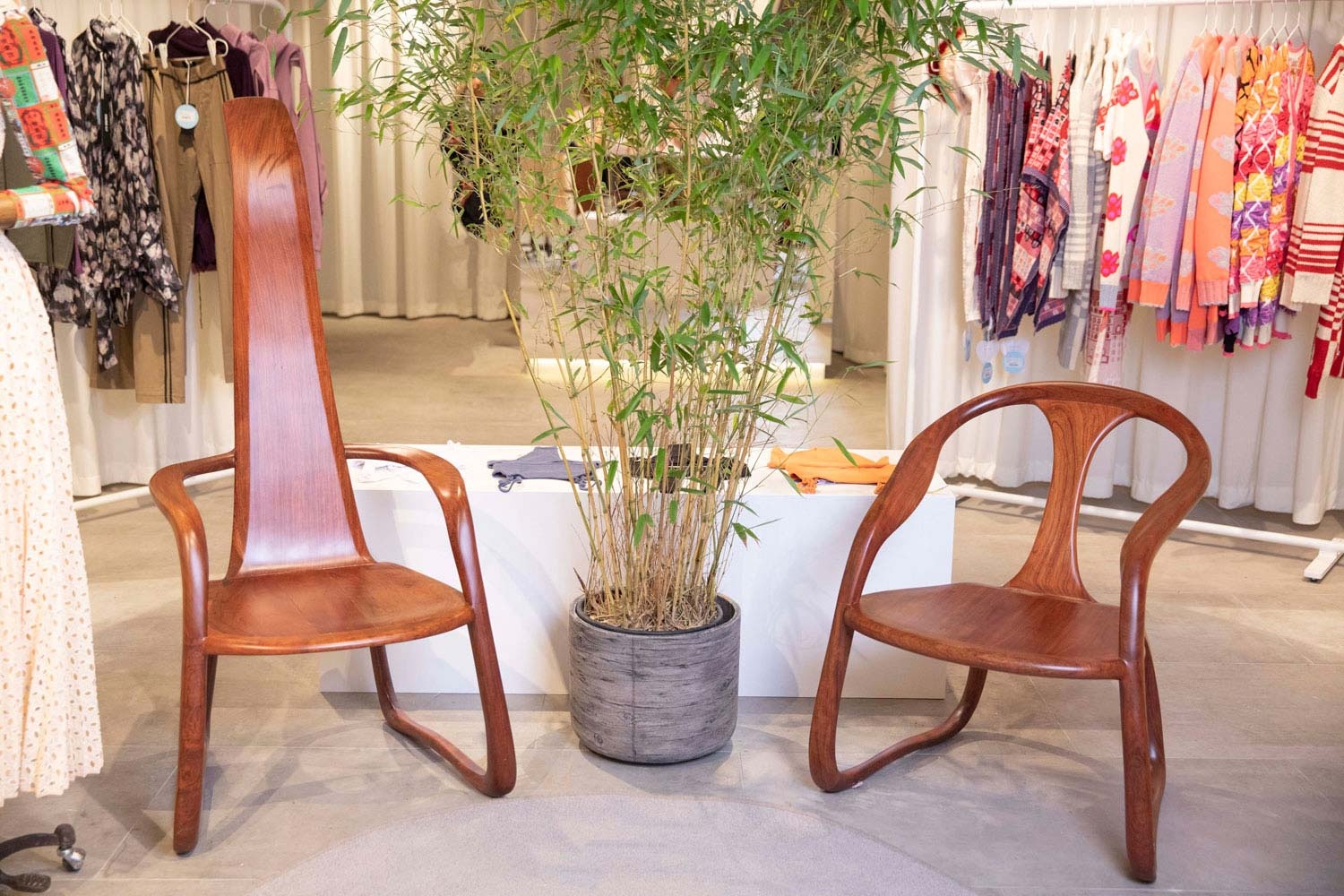 YUANYUAN ARMCHAIR by ZHIGANG LU
Zhigang Lu was inspired by techniques of Chinese calligraphy: the moves, turns, contours, inclination and direction of the strokes of Chinese characters. 'Ease' embodies the 'dignified and fair' aspect of Chinese tradition and applies ergonomics for the highest possible comfort. 'Vigor' is a high-backed chair. Hand-crafted from superior rosewood, it has a smooth shape and lines and a beautiful wood-grain texture.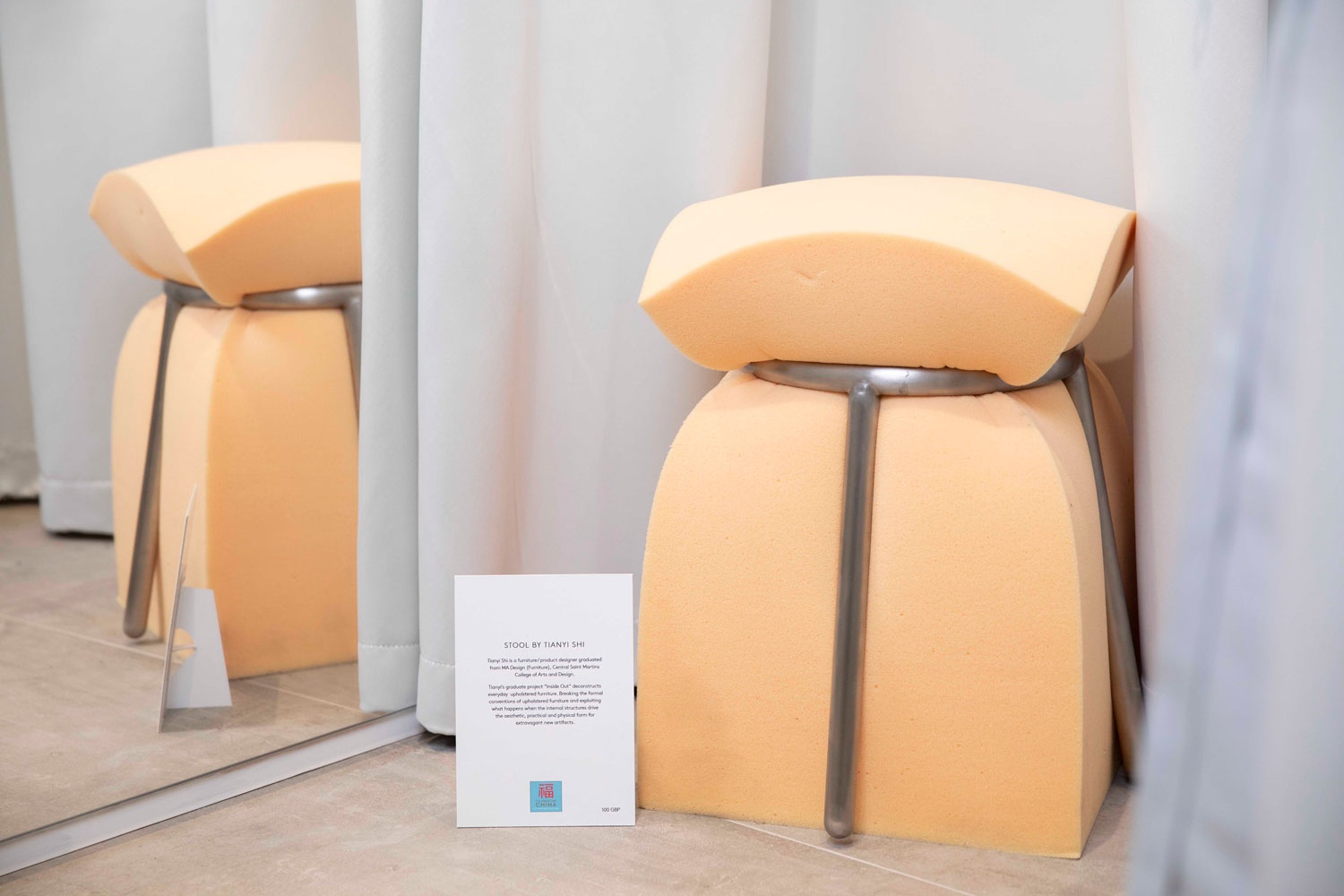 Tianyi Shi is a furniture / product designer graduated from MA Design (Furniture), Central Saint Martins College of Arts and Design. Tianyi's graduate project 'Inside Out' deconstructs everyday upholstered furniture. Breaking the formal conventions of upholstered furniture and exploiting what happens when the internal structure drive the aesthetic practical and physical form for extravagant new artefacts.
In addition, China Design Centre also invited Zhenpeng Fang, the industrial designer, architect and artist to create the gift for VIP guests: '5 Lucky Piglets' ceramic collection. This collection was inspired by the five blessings (Wufu) described in the Book of Documents (Shujing, one of the Five Classics of ancient Chinese literature): health, wealth, long life, love of virtue and peaceful death; the term 'Wufu' later becomes a common auspicious word in Chinese culture. Fang tried to think of the piglets as more than just a pig, by putting them into different emotions, giving them a new possibility to have more movements and adding playfulness.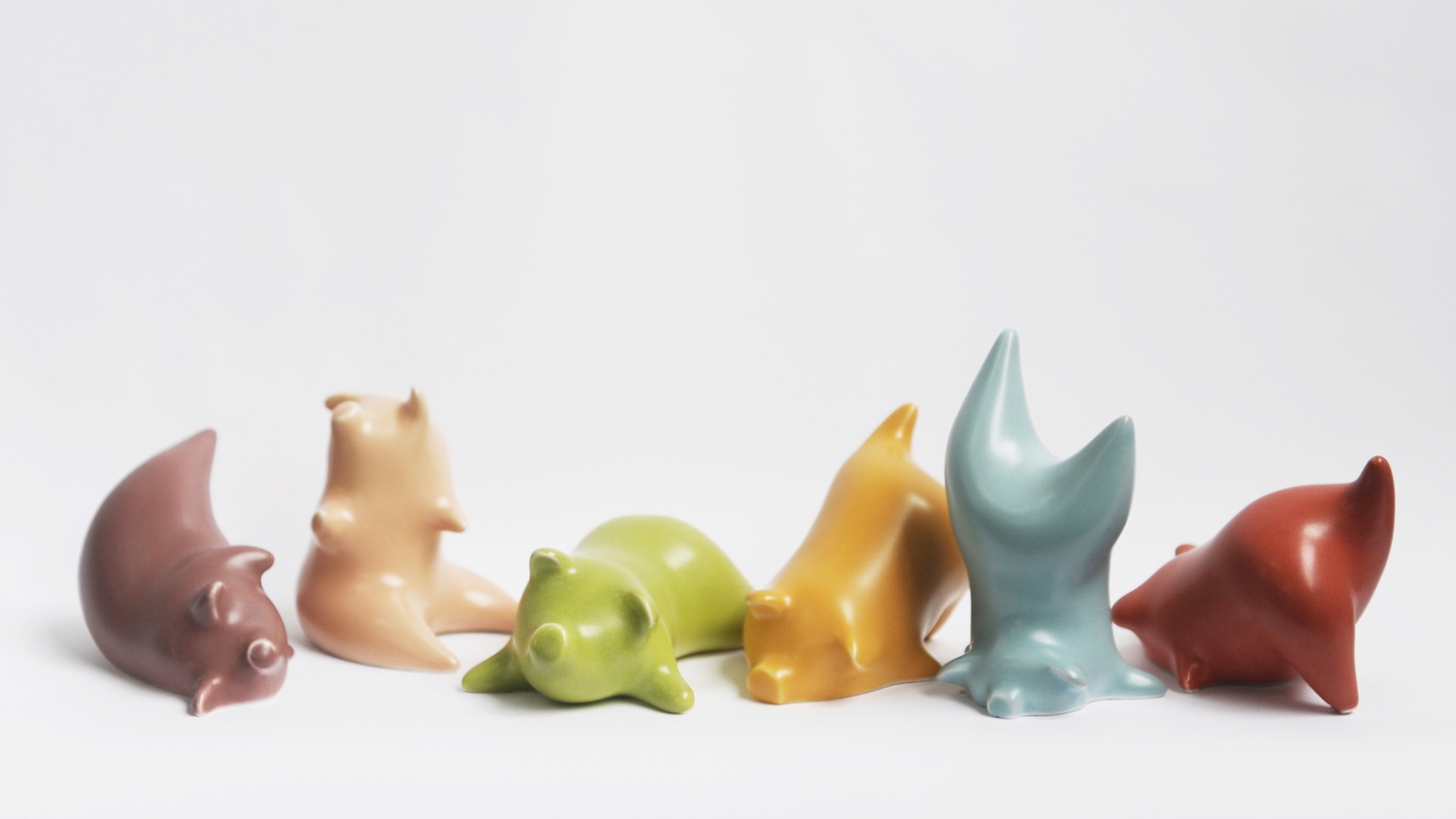 5 LUCKY PIGLETS by ZHENPENG
FANG
Event photos by Bicester Village